Are you seriously looking into getting admission to business management in Canada? Good choice. Canada is the best place to get trained in business management owing to its fastest-growing businesses and industries. However, there is a hurdle to cross before getting admission there. SOP for business management in Canada. The good news is that you are on the right track. Here in this blog, we will help you get to know everything about this most crucial document that will help you take off your journey.
By the end of reading this blog, you will have a fair idea about:
How to write a statement of purpose for business management in Canada?
What sort of information to supply in your SOP for business management in canada?
What to take away from sample sop for business management in Canada
What is SOP for Business Management in Canada?
SOP is a document you will need to supply in your application for business management admission in Canada. The document sheds light on some major questions about you such as who you are, why you want to study in Canada and what you aim to achieve in your professional career in business management.
Why Is SOP for Business Management in Canada Important?
SOP is considered as an important document in the application by the selection panel of academic institutions for the following reasons.
SOP enables the selection committee to distinguish between the numerous candidates who have applied for their course.
SOP shows how efficiently candidates can establish their points in written form.
SOP for Canada study visa business management reveals how much a candidate has understood about the domain of business management in Canada.
Institutions would rather shortlist candidates who have shown their willingness in their SOPs to contribute to their institute and student community.
Need Help In Writing SOP for Business Management in Canada?
Five Things to Consider Before Starting Your SOP for Business Management Diploma in Canada
Losing a chance of admission will waste a pretty huge amount of your time. Therefore, before starting to write your SOP for business management admission in Canada, consider the following factors.
| | |
| --- | --- |
| Correct format: | Ensure that you have a fair knowledge of the SOP writing format. Most Canadian institutes accept SOPs written in a specific format which is different from other countries. |
| University requirements: | Your university or college in Canada may want you to shed light on certain specific points or want to adhere to a specific word count. Write your SOP adhering to those aspects. |
| Major points to address: | Before starting to write your SOP, review all the points you are required to supply in the SOP and brainstorm. Pick up the most relevant and recent points in the SOP. |
| Deadline to submit: | Find out when you are supposed to submit your application and have your SOP ready at least two weeks before that. This will give you enough time to modify your document in case any changes are necessary. |
| Samples: | It is advisable to go through one or two sample SOP for business management in Canada before you attempt your write-up to get better clarity about what to write and how to write. |
Guidelines to Write an Impactful SOP for Business Management in Canada
Write a catchy introduction:
The first impression of your SOP is derived from the introduction. So, write a catchy and intriguing introduction reflecting how you got interested in business management.
Organize your points:
Don't stuff numerous points in a single paragraph or write confusingly. Let each paragraph describe one aspect of you
Paragraph One: Your academic background
Paragraph two: Your professional background
Paragraph three: Your motivation for choosing business management
Paragraph four: Why do you want to study at this college/university?
Paragraph five: Why Canada and not your home country or any other country (UK, USA etc.)
Paragraph six: Career aspirations in the domain of business management
Write a strong conclusion:
Write a conclusion that contains the essence of the whole SOP. The few lines in the conclusion are what your selection panel will consider for the final decision-making.
Proofread:
After you are done with the writing part, go through each sentence carefully. Check if correct punctuation, spelling, grammar and sentence construction style are followed.
Get feedback:
It is good to get feedback from a second person about your SOP. They could tell you how smooth, logical and engaging your document is and suggest edits if needed.
Submit on time:
Most students wait until the due date to submit the application which will leave the selection panel with so many SOPs to review. By submitting earlier, your SOP will have a chance of getting a closer review.
Need Help In Writing SOP for Business Management in Canada?
Sample SOP for Business Management in Canada
The following sample SOP for business management in Canada pdf will give you an overview of the points, writing tone, required word count, and paragraph organization style. Read it carefully before starting your SOP.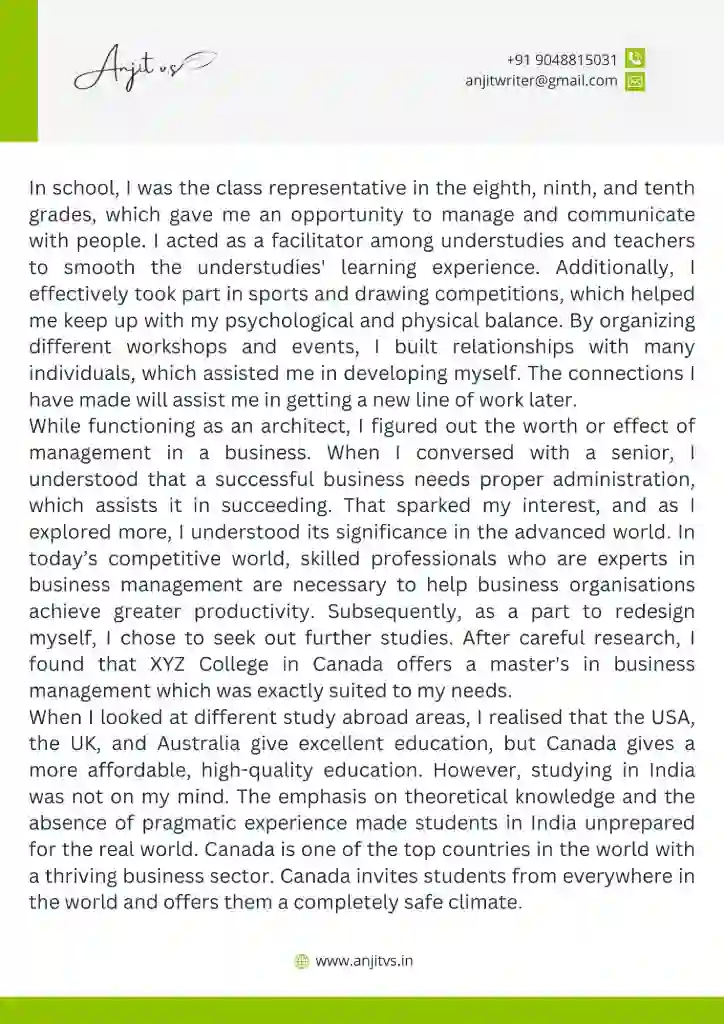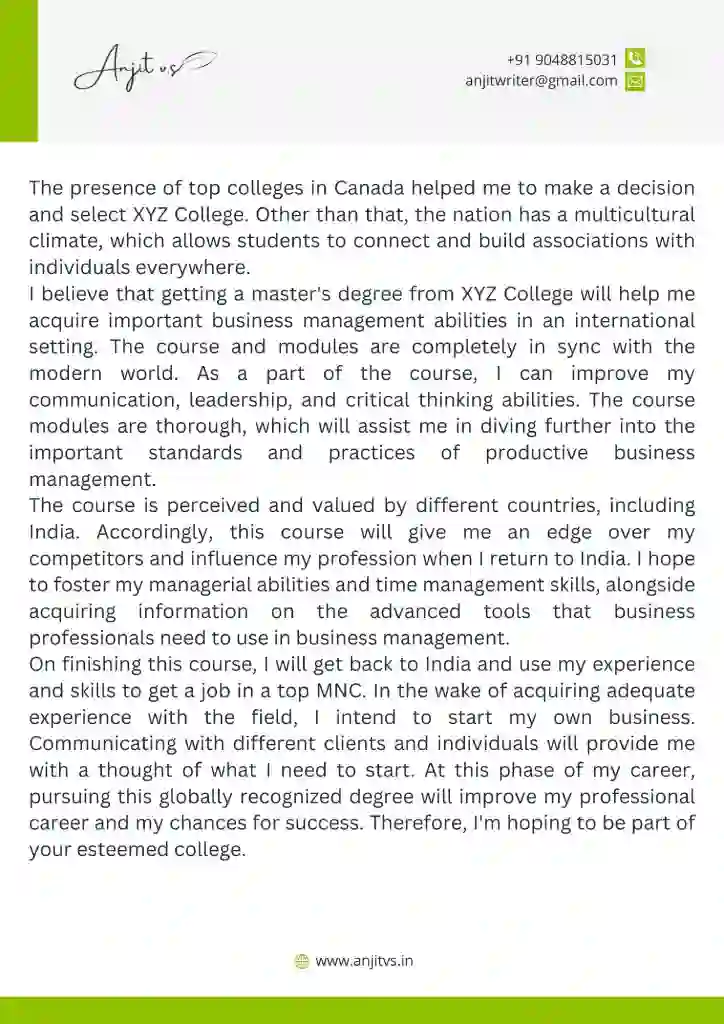 As the business sector is developing rapidly, each business association needs proper preparation and execution to achieve effective results. Functioning as an architect offered me the chance to work with the public authority and different organizations on many tasks that tested my administrative abilities. Managing different projects and tasks requires a careful comprehension of the project alongside different skills like cooperation, communication, administration and time management abilities. I believed that each task required a proper mix of both to produce effective results. Working in the architecture sector assisted me in getting a top-to-bottom comprehension of the worth and significance of management. Subsequently, I chose to seek a master's in business management from XYZ College in Canada to update my abilities and information in the field of business, which will help me utilize my abilities more effectively.
I completed my SSC and intermediate studies at XXX School with x and y grades, respectively. During my bachelor's in architecture, my class teacher always said that what makes a project or program fruitful is the way in which you can team up with others and combine your abilities to create results. The scholarly life offered me adequate chances to upgrade and reinforce my adaptable abilities. I have an undergraduate degree in architecture from XXX College in ABC with a X grade. When I finished my studies, I joined as a junior architect at XYZ Organization, which encouraged me to improve my profile with satisfactory information in business management.
My scholarly and professional lives were balanced with different extracurricular activities. In school, I was the class representative in the eighth, ninth, and tenth grades, which gave me an opportunity to manage and communicate with people. I acted as a facilitator among understudies and teachers to smooth the understudies' learning experience. Additionally, I effectively took part in sports and drawing competitions, which helped me keep up with my psychological and physical balance. By organizing different workshops and events, I built relationships with many individuals, which assisted me in developing myself. The connections I have made will assist me in getting a new line of work later.
While functioning as an architect, I figured out the worth or effect of management in a business. When I conversed with a senior, I understood that a successful business needs proper administration, which assists it in succeeding. That sparked my interest, and as I explored more, I understood its significance in the advanced world. In today's competitive world, skilled professionals who are experts in business management are necessary to help business organisations achieve greater productivity. Subsequently, as a part to redesign myself, I chose to seek out further studies. After careful research, I found that XYZ College in Canada offers a master's in business management which was exactly suited to my needs.
When I looked at different study abroad areas, I realised that the USA, the UK, and Australia give excellent education, but Canada gives a more affordable, high-quality education. However, studying in India was not on my mind. The emphasis on theoretical knowledge and the absence of pragmatic experience made students in India unprepared for the real world. Canada is one of the top countries in the world with a thriving business sector. Canada invites students from everywhere in the world and offers them a completely safe climate. The presence of top colleges in Canada helped me to make a decision and select XYZ College. Other than that, the nation has a multicultural climate, which allows students to connect and build associations with individuals everywhere.
I believe that getting a master's degree from XYZ College will help me acquire important business management abilities in an international setting. The course and modules are completely in sync with the modern world. As a part of the course, I can improve my communication, leadership, and critical thinking abilities. The course modules are thorough, which will assist me in diving further into the important standards and practices of productive business management.
The course is perceived and valued by different countries, including India. Accordingly, this course will give me an edge over my competitors and influence my profession when I return to India. I hope to foster my managerial abilities and time management skills, alongside acquiring information on the advanced tools that business professionals need to use in business management.
On finishing this course, I will get back to India and use my experience and skills to get a job in a top MNC. In the wake of acquiring adequate experience with the field, I intend to start my own business. Communicating with different clients and individuals will provide me with a thought of what I need to start. At this phase of my career, pursuing this globally recognized degree will improve my professional career and my chances for success. Therefore, I'm hoping to be part of your esteemed college.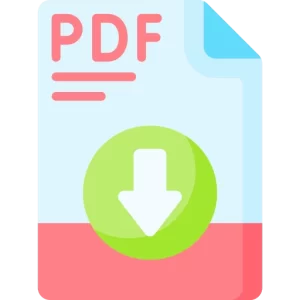 Download Sample SOP for Business Management in Canada PDF
Common Mistakes to Avoid While Writing Canada Business Management SOP
Repetition:
This will happen if you start writing your SOP without an outline. Repetition will make your SOP lengthier and make the reading boring.
Irrelevant points:
Be choosy when you pick points for your SOP. Do not let in irrelevant or older points since each point requires supporting information that can be proved.
Errors:
Grammar mistakes, incorrect spellings, wrong punctuation etc. are to be avoided to make your SOP seem more appealing to the reader.
Plagiarism:
While it is quite okay to review SOP samples, copying from them should be avoided. Remember that your SOP will be tested for plagiarism and rejected if found positive.
Last-minute rush:
Last-minute rush to write an SOP will most likely result in producing an imperfect or unimpressive SOP. Write your SOP with a confident mind taking your own time.
Need Help In Writing SOP for Business Management in Canada?
Is Business Management A High-Demand Profession In Canada?
Yes. Business management is a profession that is in high demand for qualified candidates. Canada has a shortage of skilled professionals in the domain of business management.
Writing SOP for Top Business Management Courses in Canada
SOP for Business Management Undergraduate in Canada
If you have only completed your senior secondary school, the best option is to pursue an undergraduate program in business management. In that case, write an SOP for business management undergraduate in Canada for your admission.
SOP for Diploma in Business Management in Canada
A diploma in business management is opted for by many for its lower duration and fee. You will need an SOP for Diploma in Business Management in Canada while applying.
SOP for Masters in Business Management in Canada
Masters in business management is an advanced level program in business management. You will need an SOP for masters in business management in Canada to show that you have chosen the course with a proper understanding.
SOP for Global Business Management in Canada
Global business management is chosen by students who want to get a better perspective of the nature and culture of businesses across different countries. While applying for this program, you need a customized SOP that shows your true understanding and motivation. Refer to the sample SOP for global business management in Canada.
How to write SOP for International Business Management in Canada?
International business management is slightly different from the usual business management programs. The former is recommended for those who want to channel their future towards a career like international product manager, international supply chain manager etc. Refer to a sample SOP for international business management in Canada to get a clearer perspective.
Need Help In Writing SOP for Business Management in Canada?
Top Universities and Colleges in Canada for Business Management
Below is the list of the top colleges and universities in Canada for pursuing higher studies in business management. Admission to these institutes is strictly conducted on a merit basis. Hence, include a tailor-made SOP for business management in Canada in your application.
| | |
| --- | --- |
| Humber College | Dalhousie University |
| Centennial College | University of Alberta |
| Toronto School of Management | University of Calgary |
| Fleming College | York University |
| Conestoga College | University of British Columbia |
| Fanshawe College | University Canada West |
| Durham College | University of Waterloo |
| Vancouver Island University | Thompson Rivers University |
Conclusion
Well, we hope that you have got a fair idea about writing SOP for business management in Canada.
Follow the tips, guidelines, and information in this blog to craft the best SOP.
In case you have got any questions or doubts regarding any of the topics we covered in this blog, don't hesitate to write to us in the comments below.