UK is attracting a lot of higher study aspirants, especially for master's programs. Your chances of getting selected by a UK university or college for a master's program depends on how well you write your SOP for masters in UK.
In this article, we are covering:
What is an SOP for masters in UK?
How to write a statement of purpose for UK masters?
SOP Samples for UK Universities
What is SOP for Masters in UK?
SOP for masters in UK is a requirement to get admission approval from universities or colleges. Usually, it is sent with your application and covers many areas such as your background, exposure, future plans etc. It helps selectors take a more accurate decision about your application.
Why is SOP Important for Studying MS in the UK?
The importance of SOP for MS in UK is huge. Many student applications get rejected due to even minute flaws in their SOP.
SOP enables you to create a strong first impression.
Statement of purpose for MS in UK equips you to demonstrate your attitude.
SOP helps you show why you are fit for the program.
With a good SOP, you can have a competitive edge over other applicants.
Need Help In Writing Statement of Purpose for MS in UK?
How to Write SOP for Masters in UK?
Given that SOP is a crucial document for securing admission for MS in the UK, writing it must be a careful activity. The applicant should try to get his points across and incorporate his character and intent with the write-up. Follow the below steps to write your SOP for UK masters.
Make a strategy for your SOP:
Having a strategy for your SOP writing is necessary because it will save you a lot of time as well as keep you focused on the relevant points.
Gather relevant information:
Gather information such as the recommended SOP format for MS in UK by the particular university, requirements etc. Start writing your SOP with all details in hand.
Begin early:
By starting to work on your statement of purpose for masters in UK a bit earlier, you can avoid last-minute rush and all mistakes by it. Also, it will give you more peaceful time to reread and correct.
Address all points:
Based on the strategy that you prepared, verify whether your SOP ticks all checkboxes when it comes to addressing points. Each point is like an answer to a specific question by the selection panel.
Proofread your draft:
After you have finished the writing, it is important to proofread and make corrections. No matter how good you are at writing, each round of proofreading will help you identify a weak area in the write-up.
Seek a second opinion:
Certain mistakes or writing flaws that you overlook can easily be identified by a second person. It is good to have an expert or a colleague read your SOP for MS in UK and give you constructive feedback.
Pro Tip: The best way to begin your statement of purpose for UK masters is by writing a personal story or experience. It will help you establish a good rapport with the reader and also trigger their curiosity.
Hire an Expert SOP Writer for Masters in UK! Click Here
SOP Samples for Masters in UK
Sop samples for masters in UK will help you a great deal as you start to write it because they show you the structure, format and important points that must be talked about. Take a look at the sample below for your reference.
Sample SOP for UK Universities Postgraduate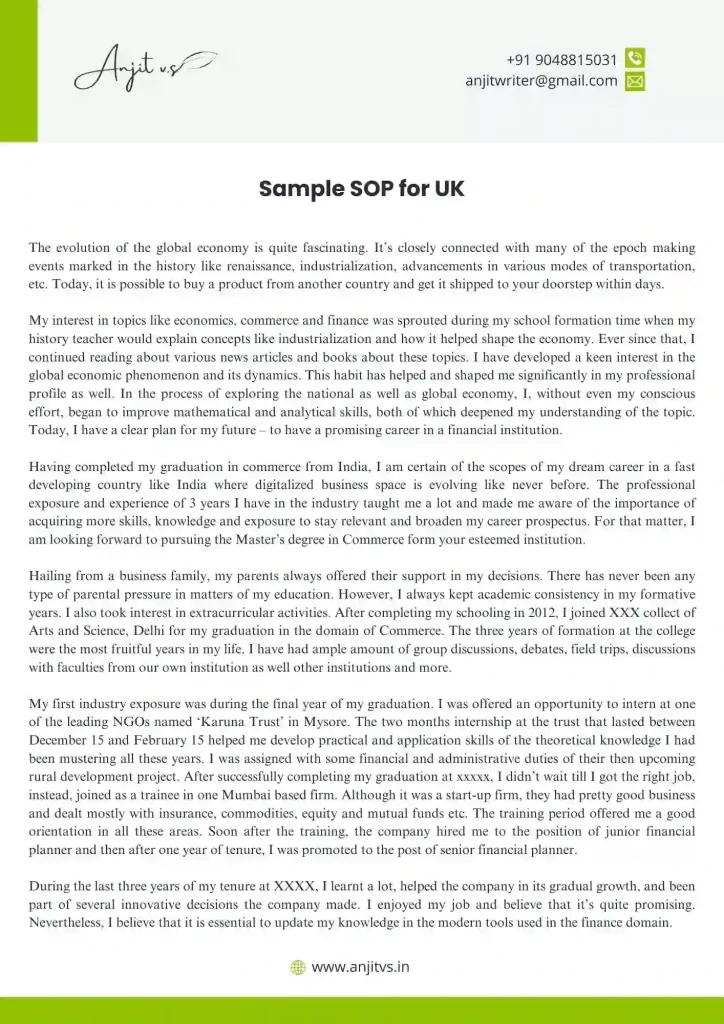 The evolution of the global economy is quite fascinating. It's closely connected with many of the epoch making events marked in the history like renaissance, industrialization, advancements in various modes of transportation, etc. Today, it is possible to buy a product from another country and get it shipped to your doorstep within days.
My interest in topics like economics, commerce and finance was sprouted during my school formation time when my history teacher would explain concepts like industrialization and how it helped shape the economy. Ever since that, I continued reading about various news articles and books about these topics. I have developed a keen interest in the global economic phenomenon and its dynamics. This habit has helped and shaped me significantly in my professional profile as well. In the process of exploring the national as well as global economy, I, without even my conscious effort, began to improve mathematical and analytical skills, both of which deepened my understanding of the topic. Today, I have a clear plan for my future – to have a promising career in a financial institution.
Having completed my graduation in commerce from India, I am certain of the scopes of my dream career in a fast developing country like India where digitalized business space is evolving like never before. The professional exposure and experience of 3 years I have in the industry taught me a lot and made me aware of the importance of acquiring more skills, knowledge and exposure to stay relevant and broaden my career prospectus. For that matter, I am looking forward to pursuing the Master's degree in Commerce form your esteemed institution.
Hailing from a business family, my parents always offered their support in my decisions. There has never been any type of parental pressure in matters of my education. However, I always kept academic consistency in my formative years. I also took interest in extracurricular activities. After completing my schooling in 2012, I joined XXX collect of Arts and Science, Delhi for my graduation in the domain of Commerce. The three years of formation at the college were the most fruitful years in my life. I have had ample amount of group discussions, debates, field trips, discussions with faculties from our own institution as well other institutions and more.
My first industry exposure was during the final year of my graduation. I was offered an opportunity to intern at one of the leading NGOs named 'Karuna Trust' in Mysooru. The two months internship at the trust that lasted between December 15 and February 15 helped me develop practical and application skills of the theoretical knowledge I had been mustering all these years. I was assigned with some financial and administrative duties of their then upcoming rural development project. After successfully completing my graduation at xxxxx, I didn't wait till I got the right job, instead, joined as a trainee in one Mumbai based firm. Although it was a start-up firm, they had pretty good business and dealt mostly with insurance, commodities, equity and mutual funds etc. The training period offered me a good orientation in all these areas. Soon after the training, the company hired me to the position of junior financial planner and then after one year of tenure, I was promoted to the post of senior financial planner.
During the last three years of my tenure at XXXX, I learnt a lot, helped the company in its gradual growth, and been part of several innovative decisions the company made. I enjoyed my job and believe that it's quite promising. Nevertheless, I believe that it is essential to update my knowledge in the modern tools used in the finance domain. The dynamic nature of the sector makes it more challenging and demanding one's consistent upgrading of knowledge and skills. As such, I believe that it's right time for me to take the next critical decision in my life – to do higher study with specialization in my domain of interest.
Obtaining a master's degree in commerce from an internationally reputed institution will not only let me have a global perspective of financial sector and economy but also will put me in an authentic position to use my skills in the real-world context in a more pragmatic manner. The corporate experience I have and the strong basis of mathematical and analytical skills will certainly facilitate my acquiring of new skills.
For my higher study destination, I have zeroed in on UK for obvious reasons like the superior quality of education over there and the country's fastest growing and evolving economy in the milieu of Brexit. Warm welcoming nature of people there and pleasant climatic conditions were other upsides. XXX College that I have chosen has great reputation and is one of the oldest colleges in UK. XXX offers the right commerce program I have been thinking about for a while. Going through the program details and modules, I could learn that students are provided with frequent industry exposures and learning is more practical oriented. The college's multicultural nature of both students and faculties add weight to my choicest decision.
Following the completion of the course, I will return to India to pursue my career goal of finding a more independent and promising position in the country's growing financial sector.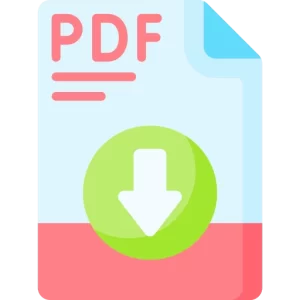 Download SOP Samples for UK Universities
Sample SOP for MSc Management in UK
My teenage life paralleled with an era when intelligent technologies were making their way into the IT sector of India. Being a technophile, I could hardly resist my impulse to delve into these technologies. As always, computers have intrigued me, and shaped my academic and professional insights. I often find myself obsessed with tech journals and eBooks, trying to figure out where computers will take us in the future.
Although my first encounter with computers took place to cater to my interest in gaming, I was prompt to grasp the broader applications of this amazing machine. Now that I have already completed my Bachelor's degree in Computer Science, I look forward to balance my professional profile by pursuing my Master's degree in Management, specializing in IT. The University of Birmingham seems to be the right academic destination for me to pursue this course in the UK. An industry-oriented program at this stage of my career will help me embrace my long-term professional goals. I visualize myself walking in the shoes of an accomplished manager in the IT domain. This explains why I am applying for this course at your revered institution.The MSc program in IT combines the principles of management and computing. As a result, aspirants can operate with greater efficiency after evaluating the data at their disposal. In a world of soaring competition, one cannot possibly overlook the value of data. As a part of this course, I will gain adequate knowledge and competence to harvest the data. In the process, I will be able to elicit valuable insights and draw insights to leverage my organization. Managing data will also help me make better decisions. Therefore, the Master's program in IT will help me make better decisions using automation.After completing my graduation, I got the opportunity to work as an IT Associate. Working with ABS Technologies for 1.5 years, I gained hands-on experience in dealing with application-oriented problems. In the process, I learnt how to assist customers and end users with answers to their problems. At the same time, I became well-versed in working with several tools that help organize work and benefit from huge stacks of data. Working with this company, I was responsible to oversee the license assigned to applications of clients. Operating closely with the licensing team, I gained significant skills to sustain myself. However, I was also able to identify my knowledge gaps and overcame my challenges. This explains why I am willing to pursue this course at this stage of my career. I have always been open to learning fresh skills. With this master's degree, I will be able to address the challenges related to data overflow. In the coming years, I look forward to evolve as a business analyst or a data scientist in India.
Academically, I have maintained consistency all these years. In 2021, I completed my graduation from JNTU, Hyderabad with a CGPA of 8.4. Prior to that, I cleared my secondary and higher secondary examinations in 2017 and 2019, aggregating 89% and 87% marks, respectively. Academically, I have always been consistent, besides being proactive in extracurricular activities. It was during my graduation that I got the opportunity to work on different academic projects. In one of these projects, I developed a library management mechanism. This was a database that would boost the operating efficiency of the current system. We devised a mechanism that would leverage interactions between the librarian and the user. Also, I experimented a lot using hardware and software components and planned the operations innovatively. This was the first instance when I got an opportunity to work on systems testing and integration.
Along with all these practical tasks, I was a voracious learner. I focussed on the daily lessons and clarified my analytical problems with the professors. My inquisitive mind was full of questions, and I feel fortunate to have been a part of an institute that catered to my intellectual needs. Among all the modules in my academics during the graduation, I was intrigued by software engineering. Particularly, I was keen to learn the different stages of software development. On exploring these aspects deeply, I understood how the software and hardware resources of a system need to be managed. Besides, I explored the modules on database management that helped me learn database administration and analytics.
Beyond academics, I was active in extracurricular activities and sports. Among the indoor games, I love chess. I also spend my time playing volleyball and tennis. Besides, I have a taste for music, and am decent with the Spanish Guitar. So, I have quite a few varieties of recreation to keep myself engaged during my leisure hours.
Studying in the UK would be a logical decision for me, considering the quality of education in this country. The UK has got a sound academic infrastructure. The courses offered by the leading universities in this country are closely aligned with the industry. This makes the learning outcome relevant for the aspirants. Besides, the UK is a safe country for international students. I would like to study in this multicultural academic environment here, so that I can broaden my industry insight. Besides, the degrees obtained from reputed universities in the UK are recognized by recruiters across the world. On returning to India after completing this course, I wish to work with some of the reputed MNCs like Infosys, TCS, Cognizant, or Accenture. In the coming years, I look forward to lead teams, working in the managerial profile with one of these companies. Balancing my existing knowledge with the fresh set of skills, I look forward to craft a happening career for myself in India.
The MSc program in IT from your esteemed university will put me on track for a happening career back in my homeland. It would be a privilege for me to study in your institution and mature as an accomplished IT professional.
Download Sample SOP for UK Universities
Guidelines for Writing SOP for Masters in UK
Statement of purpose for postgraduate studies in UK is a strict admission requirement. If you are required to write it, make sure that you follow the below set of guidelines.
| | |
| --- | --- |
| Length of SOP: | Most universities and colleges in the UK recommend two pages in the standard statement of purpose format for masters in UK. If it is not the case, you would know about it from the specific SOP requirements. |
| Format: | Any academically recognised font – Times New Roman or Ariel – are okay. Font size is ideal at 12 points. 1.5-inch line spacing and paragraph indenting are recommended. |
| Originality: | Your uniqueness as an applicant is determined by your past experiences, courses you studied and how much relevant they are or how they have shaped your interest in this particular master's program in the UK. |
| Medium: | UK institutes prefer SOPs written in UK English. Use the British variants of spellings when you draft your write-up. Also, be careful with grammar and sentence construction. |
| Requirements: | Follow all university-specified requirements while writing your SOP. Writing an SOP without meeting those will mean that you haven't cared to review the instructions. |
Do's and Don'ts for SOP for MS in UK
Do's
Be true to yourself in your SOP
Use a customized SOP for each application
Maintain a positive and optimistic tone throughout
Don'ts
Don't let repetition of points.
Avoid using passive voice
Don't make empty claims. Back them up with evidence/examples.
Need Help In Writing SOP for Masters in UK?
Important Tips to Write an SOP for Masters in UK
Customize your SOP by incorporating your personal story
Enhance your perspective through SOP samples for masters in UK
Match your profile to the course requirements and university expectations
Emphasize why the UK and this particular university in your SOP
Talk about your future plans -both short-term and long term
Try to strike a chord with the reader/audience with an engaging tone
Top Universities in the UK which Require SOP for Masters
UK has some of the finest academic institutions in the world. Your admission to these institutes will be after careful scrutiny of your application including SOP for UK Universities.
London School of Economics
Imperial College Business School
University of Greenwich
King's College London
University College London
University of Central Lancashire
De Montfort University
Coventry University
University of Cambridge
University of Oxford
Bangor University
University of Hertfordshire
University of West Scotland
Note: Plagiarism is the number one reason for application rejection by UK universities. If your SOP is detected with more than an 8% plagiarism match, your application will either be rejected or you will be asked for an explanation.
Click Here for SOP Writing Help
Top Ten Masters Courses in the UK which Require Statement of Purpose
UK institutes offer a holistic list of courses that cover every branch of academia. The following are the top ten MS courses in the UK that you will need a powerful SOP for. Try to read Sample SOP for masters in UK for your specific course before starting to write it.
SOP for MS in Supply Chain Management
SOP for MS in Data Science/Analytics
SOP for MS in Medicine/Dentistry
SOP for MS in Engineering Management
SOP for Masters of Science (MSc)
SOP for MS in Civil Engineering
SOP for MS in Law Education
SOP for MS in Architecture
SOP for MS in Computer Science
SOP for Master of Business Administration (MBA)
Conclusion
We are assured that this blog has helped you.
Do you still have any other questions about SOP for masters in UK?
If yes, kindly share them with us. We will be more than happy to assist you.
For sharing your feedback or raising your questions, use the comment section below.