Do you want to build your career around today's fast-evolving market? If so, getting your professional qualification in Business Administration would be helpful in that pursuit. And the first step to that is drafting your SOP for MBA.
If you don't have any idea as to how to write an SOP for MBA admission, rest assured that this blog has all the answers you would want to know.
Through this detailed blog, we will help you understand:
What is a Statement of Purpose for MBA?
SOP samples for MBA to show you how it is written in a real-world scenario
Common mistakes to be careful with during SOP writing.
What Is an SOP For MBA?
SOP for MBA is an admission document you submit to the university explaining your interest in the course and eligibility for the MBA program. It enables you to emphasise your motivation and highlight how your career goals can be achieved through the program. As it is one of the deciding factors in university admission, it plays a vital role in the selection of the candidate.
Why Do Universities Ask for a Statement of Purpose for MBA?
Institutions would ask you to draft the statement of purpose for MBA in order to have a general idea about you before selecting you. SOP helps them:
To shortlist the right candidates for the final selection
To know whether their candidates have the eligibility to apply for their specific MBA program
To verify whether the applicants have gained sufficient exposure and knowledge of their chosen field of business administration.
To know whether the applicants will serve as better assets to the institute and its reputation.
Need Help In Writing a Statement of Purpose for MBA?
How to write SOP for MBA Admission?
SOP for MBA for each institute differs in terms of the points you need to highlight, word count, format etc. However, the general structure remains the same as you may have noted in the statement of purpose sample for MBA. Here is a step-by-step method to write your SOP.
Introduction
Start your SOP with an introduction that gives the reader an idea about what you are writing and what to expect from your write-up. In the introduction:
Show how you were introduced to the domain of business management.
Illustrate your motivation behind choosing to study MBA.
Educational Background
Next, write about your academic background such that the reader knows how it is related to the MBA program you are going to apply to.
Outline what skills, exposure, knowledge you acquired from the courses you studied.
Give examples of your participation in various programs like seminars, projects, etc.
Work History
Write about your work experiences.
Show what you learnt.
How you contributed to your job
How your work shaped you for a more responsible type of career in the domain of business administration.
Career Goals
Write about the career goals you have set for yourself. Show how studying MBA will prepare you for a type of career that you have envisioned.
Write about both short term and long-term goals.
Show how you will contribute to the field of business administration.
Why this university
Give your justifications for choosing this university for your higher education in MBA.
Show how the university is capable of meeting your expectations.
Write how the university's student community will empower your learning.
Conclusion
Next, conclude your SOP by writing an apt conclusion that boils down all points you discussed into one or two sentences.
Show how confident and hopeful you are about getting selected for the MBA program.
Reassure that you will be a good addition to the institute.
Thank the selection committee for taking the time to review your MBA SOP and application.
Need Help In Writing a Statement of Purpose for MBA?
How Long Should an SOP for MBA Be?
Write your SOP for MBA in 800 to 1000 words or 3200 to 5000 characters. When formatted correctly as in the statement of purpose sample for MBA, it will be 2 to 3 pages.
Sample SOP for MBA Freshers
You will get a better picture about how to execute the above SOP writing instructions after reviewing a sample. Read this sample SOP for MBA freshers and see how various aspects like the introduction, career goals and conclusion are developed.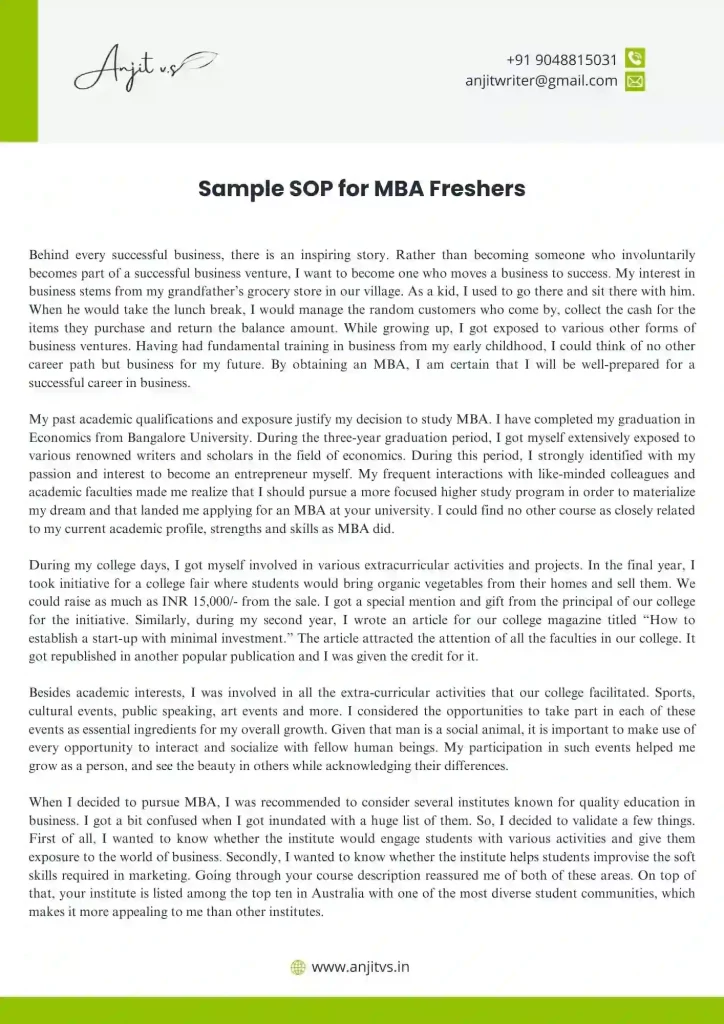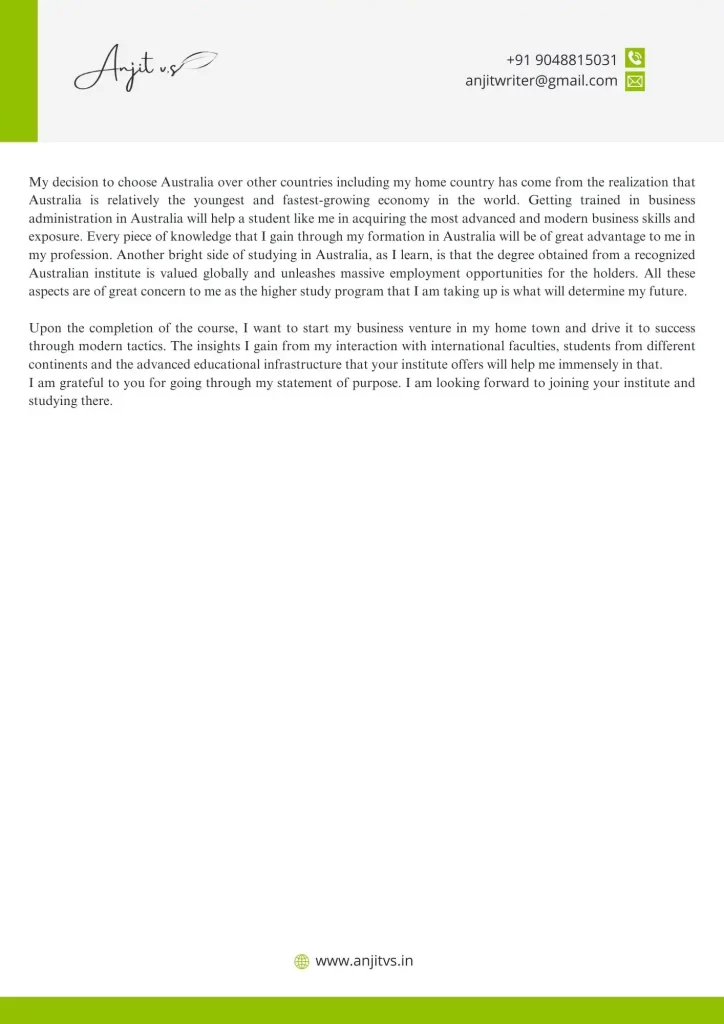 Behind every successful business, there is an inspiring story. Rather than becoming someone who involuntarily becomes part of a successful business venture, I want to become one who moves a business to success. My interest in business stems from my grandfather's grocery store in our village. As a kid, I used to go there and sit there with him. When he would take the lunch break, I would manage the random customers who come by, collect the cash for the items they purchase and return the balance amount. While growing up, I got exposed to various other forms of business ventures. Having had fundamental training in business from my early childhood, I could think of no other career path but business for my future. By obtaining an MBA, I am certain that I will be well-prepared for a successful career in business.
My past academic qualifications and exposure justify my decision to study MBA. I have completed my graduation in Economics from Bangalore University. During the three-year graduation period, I got myself extensively exposed to various renowned writers and scholars in the field of economics. During this period, I strongly identified with my passion and interest to become an entrepreneur myself. My frequent interactions with like-minded colleagues and academic faculties made me realize that I should pursue a more focused higher study program in order to materialize my dream and that landed me applying for an MBA at your university. I could find no other course as closely related to my current academic profile, strengths and skills as MBA did.
During my college days, I got myself involved in various extracurricular activities and projects. In the final year, I took initiative for a college fair where students would bring organic vegetables from their homes and sell them. We could raise as much as INR 15,000/- from the sale. I got a special mention and gift from the principal of our college for the initiative. Similarly, during my second year, I wrote an article for our college magazine titled "How to establish a start-up with minimal investment." The article attracted the attention of all the faculties in our college. It got republished in another popular publication and I was given the credit for it.
Besides academic interests, I was involved in all the extra-curricular activities that our college facilitated. Sports, cultural events, public speaking, art events and more. I considered the opportunities to take part in each of these events as essential ingredients for my overall growth. Given that man is a social animal, it is important to make use of every opportunity to interact and socialize with fellow human beings. My participation in such events helped me grow as a person, and see the beauty in others while acknowledging their differences.
When I decided to pursue MBA, I was recommended to consider several institutes known for quality education in business. I got a bit confused when I got inundated with a huge list of them. So, I decided to validate a few things. First of all, I wanted to know whether the institute would engage students with various activities and give them exposure to the world of business. Secondly, I wanted to know whether the institute helps students improvise the soft skills required in marketing. Going through your course description reassured me of both of these areas. On top of that, your institute is listed among the top ten in Australia with one of the most diverse student communities, which makes it more appealing to me than other institutes.
My decision to choose Australia over other countries including my home country has come from the realization that Australia is relatively the youngest and fastest-growing economy in the world. Getting trained in business administration in Australia will help a student like me in acquiring the most advanced and modern business skills and exposure. Every piece of knowledge that I gain through my formation in Australia will be of great advantage to me in my profession. Another bright side of studying in Australia, as I learn, is that the degree obtained from a recognized Australian institute is valued globally and unleashes massive employment opportunities for the holders. All these aspects are of great concern to me as the higher study program that I am taking up is what will determine my future.
Upon the completion of the course, I want to start my business venture in my home town and drive it to success through modern tactics. The insights I gain from my interaction with international faculties, students from different continents and the advanced educational infrastructure that your institute offers will help me immensely in that.
I am grateful to you for going through my statement of purpose. I am looking forward to joining your institute and studying there.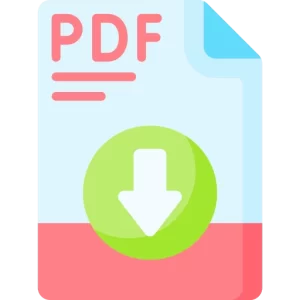 Sample SOP for MBA Freshers
Statement of Purpose for MBA with Work Experience Sample
Candidate profiles with relevant work experience get special attention from the selection committee. If you have any relevant work experience and want to know how to outline it in your SOP, look at this statement of purpose for MBA with work experience sample.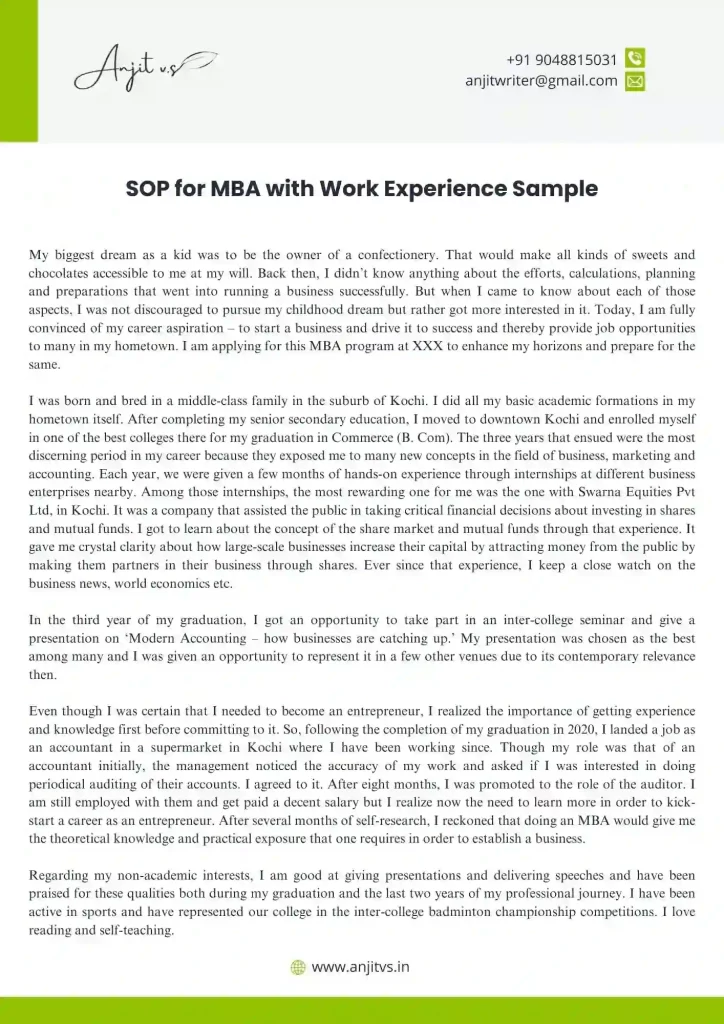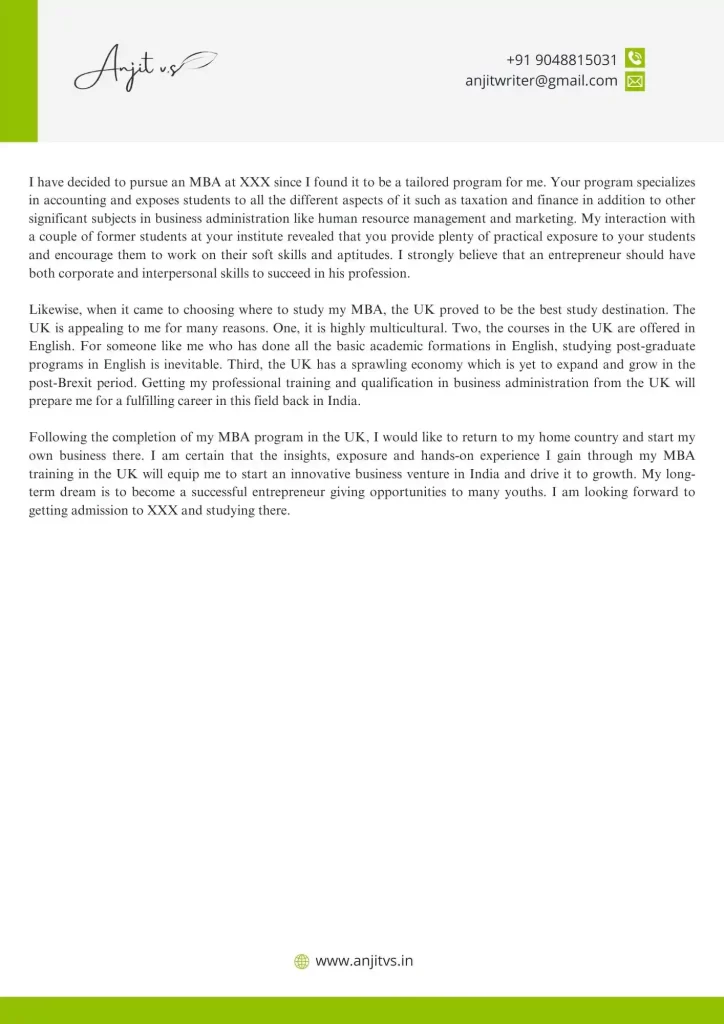 My biggest dream as a kid was to be the owner of a confectionery. That would make all kinds of sweets and chocolates accessible to me at my will. Back then, I didn't know anything about the efforts, calculations, planning and preparations that went into running a business successfully. But when I came to know about each of those aspects, I was not discouraged to pursue my childhood dream but rather got more interested in it. Today, I am fully convinced of my career aspiration – to start a business and drive it to success and thereby provide job opportunities to many in my hometown. I am applying for this MBA program at XXX to enhance my horizons and prepare for the same.
I was born and bred in a middle-class family in the suburb of Kochi. I did all my basic academic formations in my hometown itself. After completing my senior secondary education, I moved to downtown Kochi and enrolled myself in one of the best colleges there for my graduation in Commerce (B. Com). The three years that ensued were the most discerning period in my career because they exposed me to many new concepts in the field of business, marketing and accounting. Each year, we were given a few months of hands-on experience through internships at different business enterprises nearby. Among those internships, the most rewarding one for me was the one with Swarna Equities Pvt Ltd, in Kochi. It was a company that assisted the public in taking critical financial decisions about investing in shares and mutual funds. I got to learn about the concept of the share market and mutual funds through that experience. It gave me crystal clarity about how large-scale businesses increase their capital by attracting money from the public by making them partners in their business through shares. Ever since that experience, I keep a close watch on the business news, world economics etc.
In the third year of my graduation, I got an opportunity to take part in an inter-college seminar and give a presentation on 'Modern Accounting – how businesses are catching up.' My presentation was chosen as the best among many and I was given an opportunity to represent it in a few other venues due to its contemporary relevance then.
Even though I was certain that I needed to become an entrepreneur, I realized the importance of getting experience and knowledge first before committing to it. So, following the completion of my graduation in 2020, I landed a job as an accountant in a supermarket in Kochi where I have been working since. Though my role was that of an accountant initially, the management noticed the accuracy of my work and asked if I was interested in doing periodical auditing of their accounts. I agreed to it. After eight months, I was promoted to the role of the auditor. I am still employed with them and get paid a decent salary but I realize now the need to learn more in order to kick-start a career as an entrepreneur. After several months of self-research, I reckoned that doing an MBA would give me the theoretical knowledge and practical exposure that one requires in order to establish a business.
Regarding my non-academic interests, I am good at giving presentations and delivering speeches and have been praised for these qualities both during my graduation and the last two years of my professional journey. I have been active in sports and have represented our college in the inter-college badminton championship competitions. I love reading and self-teaching.
I have decided to pursue an MBA at XXX since I found it to be a tailored program for me. Your program specializes in accounting and exposes students to all the different aspects of it such as taxation and finance in addition to other significant subjects in business administration like human resource management and marketing. My interaction with a couple of former students at your institute revealed that you provide plenty of practical exposure to your students and encourage them to work on their soft skills and aptitudes. I strongly believe that an entrepreneur should have both corporate and interpersonal skills to succeed in his profession.
Likewise, when it came to choosing where to study my MBA, the UK proved to be the best study destination. The UK is appealing to me for many reasons. One, it is highly multicultural. Two, the courses in the UK are offered in English. For someone like me who has done all the basic academic formations in English, studying post-graduate programs in English is inevitable. Third, the UK has a sprawling economy which is yet to expand and grow in the post-Brexit period. Getting my professional training and qualification in business administration from the UK will prepare me for a fulfilling career in this field back in India.
Following the completion of my MBA program in the UK, I would like to return to my home country and start my own business there. I am certain that the insights, exposure and hands-on experience I gain through my MBA training in the UK will equip me to start an innovative business venture in India and drive it to growth. My long-term dream is to become a successful entrepreneur giving opportunities to many youths. I am looking forward to getting admission to XXX and studying there.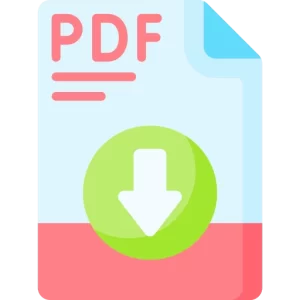 Download Statement of Purpose for MBA Sample PDF
Guidelines to Write Statement of Purpose for MBA Specializations
Your statement of purpose for MBA must be customized according to the specialization you are opting for in MBA. Find the course specific SOP writing guidelines below.
SOP for MBA in General Management
Show your motivation for picking general management as your MBA specialization.
Demonstrate how you can contribute to the field.
Outline your management skills. Refer to statement of purpose for MBA sample pdf to get an overview of the type of skills you can consider.
Share provable evidence to show how apt you are for the program.
SOP for MBA in Banking and Finance
Demonstrate your knowledge and familiarity with banking and finance.
Show what you have done to enhance your knowledge in the field.
Share examples of any projects or writings you have done in the field.
Write your SOP in a simple and engaging language as you noticed in the statement of purpose for MBA sample pdf.
SOP for MBA in Operations
Share your story of getting introduced to the field of operations and how you were motivated to pursue MBA in operations.
Solidify your points with verifiable examples and evidence.
Show what you intend to do after completing your graduation in MBA in operations.
Elaborate on how you are planning to contribute to the field.
SOP for MBA in Marketing
Show how your previous education will benefit you while pursuing an MBA in marketing.
Share your story of getting introduced to the field of marketing.
Show how motivated you are about doing MBA in marketing.
Explain your short term and long-term career plans after the completion of MBA in marketing.
SOP for MBA in Human Resource Management
Highlight your people skills, communication skills and social skills. These are important to succeed as a professional in the domain of human resource management.
Share your previous exposure to Human Resource Management.
Write about your career goals as an HR professional
Give examples of your relevant achievements, for instance, efficiently handling a team.
SOP for MBA in Healthcare Management
What motivates you to dedicate your career to healthcare management.
What relevant work experiences and academic background do you have in healthcare management?
What are your achievements in healthcare management or a related field?
How will you design your future as a professional in healthcare management?
SOP for MBA in Entrepreneurship
Write a customized SOP that reflects your suitability to do an MBA in entrepreneurship.
Show what you know about entrepreneurship and what relevant experiences and skills you have in this field.
Be specific about including the most relevant and recent information in your SOP.
Do not hesitate to show if you have had any challenges, for instance, arrears or course change.
Write about the challenges from a positive perspective – as something that helped you discern your future.
SOP for MBA in Information Technology
Write your SOP using simple and engaging language.
Write a strong introduction that shows the purpose of your SOP and what the reader must expect from your writeup.
Try to know what your institute expects you to supply through your SOP for MBA in Information Technology.
Proofread your SOP and eliminate all grammatical and spelling mistakes before submission.
SOP for MBA Freshers
Try to highlight your exposure to business management through various means like internship, seminars, and research.
Talk about any of your projects or published works in business management.
Show the depth of your motivation for pursuing an MBA.
Share strong evidence or examples while listing your relevant skills and strengths.
SOP for MBA after B. Com
Show how your B. Com background will be of benefit when you pursue a career in business management.
Talk about the various skills you have acquired from your B. Com, for instance, problem-solving skills, analytical skills, data processing skills etc.
Identify the strengths that would help you in business management. Managerial skills, organizational skills, communication skills, people management skills etc. can be highlighted.
SOP for MBA after Engineering
Your SOP must explain why you have opted for a career change – from engineering to business management.
Establish that you have a strong motivation to dedicate your career to business management.
Show what you can contribute to the domain of business management.
Outline any relevant skills, strengths, or achievements you have.
SOP for MBA with Science Background
Give strong reasons for your course change – from science to MBA.
Show how your knowledge, skills and exposure in science will benefit you in MBA.
Talk about your key strengths like managerial skills, business acumen, leadership qualities etc. and show how they will help you in MBA.
Share your after-study plans – what you want to do immediately after the course and what you intend to do in 10 years down the line.
SOP for MBA with Commerce Background
What relevant skills and knowledge you acquired from your commerce graduation which will support you during the MBA program.
What is your motivation behind choosing MBA after commerce?
How can you convince us that you will succeed in MBA?
What are your future plans after MBA?
Need Help In Writing a Statement of Purpose for MBA?
SOP Requirements for MBA in Top Countries
Just like you need to follow a unique approach while writing SOP for MBA for each specialization, you must meet specific requirements while drafting it for each country.
SOP for MBA in UK
Your SOP for MBA in UK must meet the following criteria:
The document must be written in Standard British English.
The SOP must meet the recommended word count which is about 800 words.
Your SOP should explain why you opted for the UK and not any other country.
SOP for MBA in USA
Adhere to the following guidelines to write a winning SOP for MBA in USA.
Write an introduction that gives a brief introduction of who you are and what you are conveying through the SOP.
Beware of plagiarism and make your SOP 100% free from it.
Show your eligibility to study MBA in USA and what gives you a competitive edge.
SOP for MBA in Canada
SOP for MBA in Canada is remarkably like SOP for most other countries. Here are some guidelines that may be useful to you.
Before writing the SOP, find out what the institute in Canada is expecting you to answer. Answer all questions they want you to.
Focus on your goals and how studying in Canada will help you materialize them.
Submit a foolproof SOP. Consider getting it proofread by an expert if possible. Else, proofread at least five times and eliminate all mistakes.
SOP for MBA in Australia
How does SOP for MBA in Australia differ? What specific information should it carry? Follow the below guidelines.
Give a clear account of your academic and professional background and show how both are relevant in the context of MBA.
Provide strong reasons for choosing Australia for your MBA training.
Keep your SOP straight to the point and avoid repetition.
SOP for MBA in New Zealand
If you are considering studying for an MBA in New Zealand at the best college or university there, write an impeccable SOP for your admission. And when you draft it, remember to follow the below guidelines.
Write a 100% genuine and authentic SOP. Do not provide any false information. There will be strict verification of your claims.
Make sure that your SOP is error-free and well-written. Consider proofreading it several times before submission.
Demonstrate you are fit for the MBA program at the institute in New Zealand.
Talk about your post-study plans. Be reminded to mention your plans to return to your home country.
SOP for MBA in India
Most of the top business schools, colleges, and universities in India demand SOP from their MBA applicants. So, include a tailor-made SOP for MBA in India in your application.
Avoid jargon in your SOP. Instead, use simple vocabulary.
Underscore your relevant achievements and show how they can support you in the MBA program.
Give your reasons for opting India as the MBA study destination. You may highlight India's unique position at the global scale in terms of business growth.
Need Help In Writing a Statement of Purpose for MBA?
Conclusion
Remember that even if you don't have the best GPA, a powerful SOP for MBA can compensate you sometimes.
Before we wind up, we would like to ask you a couple of questions.
Have you found this blog and the SOP samples for MBA we shared useful to prepare your document?
Do you have any other questions to ask us in this regard?
Don't hesitate to share your feedback and doubts with us in the comments below.
Frequently Asked Question
Is the SOP for MBA the same as Personal Statement for MBA?
No. Both documents are different. In the SOP for MBA, you will give your detailed academic background, professional experience, achievements, accomplishments, motivations, goals etc. In a personal statement, the core focus is on establishing how apt you are for the particular MBA program.
Can I write SOP for MBA in 100 Words?
No. You have to write it to about 750 to 1000 words at least if the institution hasn't instructed you to maintain any specific word count.
Do I need to submit an SOP for MBA in India?
It depends on the college or university you are planning to study. While the majority of the institutes in India ask for it from the applicants, there are a few which don't. Check with the institute and confirm whether SOP is mandatory for your application.
Can I submit the same SOP for MBA in different universities?
No. It is strongly advised to write a customized SOP for each university if you are applying at multiple a time. When there are more applicants, universities would shortlist candidates on the basis of merits. As SOP is one of the merit criteria of universities, a unique and customized SOP would always give you a competitive edge over applicants who have submitted generic statement of purpose for MBA.
Can I write SOP for MBA on my own?
Yes. It is perfectly okay to write your SOP for MBA on your own if you can ensure that it is free from mistakes and written 100% in compliance with the SOP requirements and institute expectations.
How to start an MBA Statement of Purpose?