Fed up searching endlessly for useful tips on writing your SOP for Germany? We can imagine how stressful that can be. But rest assured that we have the answer for you here. We have been analysing how the statement of purpose for Germany differs from other countries for quite some time. We have compiled all our findings in this blog. You will find well-illustrated units covering:
What is SOP for German University?
How to write a statement of purpose for masters in Germany?
Germany SOP samples for your reading
What is SOP for Germany?
SOP for Germany is a well-illustrated self-portrayal of an applicant who will pursue higher education in Germany. It will help the admission panel to make the right choice of candidates from hundreds of applicants.
Importance of SOP for Germany Student Visa
As you apply for a student visa in Germany, you will have to include an SOP or LOM for German visa in your application for the following reasons.
Statement of purpose for German student visa is mandatory for your application
Through this document, an applicant is required to establish his motives for visiting Germany
The SOP for German student visa would verify that the applicant has secured admission from a German university.
It helps the visa authority to determine whether the applicant really deserves a seat at the German institute
Statement of purpose Germany will also showcase the future plans of the applicant.
Need Help In Writing a Statement of Purpose for Germany?
How Does SOP for Germany Differ from Other Countries?
You would need an entirely different approach while writing an SOP for Germany as it differs from SOP for other countries in a few aspects. Here are the key differences.
Statement of purpose for Germany is written in about 1000 words and it keeps a good amount of focus on the applicant's motivation to seek further studies in Germany. On the other hand, SOP for other countries may cover a series of other topics.
You will require a statement of purpose for MS in Germany. It is usually not asked for UG programs. In other countries like the USA and Canada, you will require it for all programs.
In most cases, you are not required to send your SOP or Letter of Motivation for Germany to the individual universities. Instead, you will be uploading it to the uni-assist portal.
It is recommended to highlight the academic qualifications you have acquired in a relevant or related field rather than your involvement in extracurricular activities in your SOP for Germany MS to prove your suitability for the program.
Things to Understand Before Writing an SOP for German Universities
Before starting to write your SOP for masters in Germany, make sure you have pixel clarity on the following factors. Reviewing a couple of SOP for Germany sample would clarify some of these aspects.
What is the German university looking to see in your SOP for MS in Germany?
What is the SOP format for Germany?
How to structure your statement of purpose for Germany?
Are there any specific requirements like word count to meet in your document?
Looking for the Best SOP Writer for Germany? Click Here!!
How to Write an SOP for Germany in Six Simple Steps?
Now that you know what an SOP for Germany is, here are the simple steps on how to draft a perfect piece for your upcoming admission.
Read deeply about your chosen program:
Try to enhance your knowledge about your chosen program. This will help you make your SOP more focused and in-depth and thus more impressive.
Research your chosen university:
You are expected to write a document that looks customized to the university you have in mind. Highlight how closely you fit into their program using the most appropriate SOP format for MS in Germany.
Understand the scope of your industry in Germany:
If you are choosing higher studies in mechanical engineering, try to understand how that industry performs in Germany and showcase how easy it is for you to acquire skills in your relevant field from Germany.
Write the first draft of your SOP:
Once you have had enough preparations and feel confident, begin writing the first draft of your write-up. Allow yourself to write as much as it takes you. Let your thoughts flow naturally as in SOP samples for MS in Germany.
Write the final draft and validate it:
Following the completion of the first draft, go through it paragraph by paragraph and improvise it. Finally, validate it against all the criteria you have set. If any area seems imperfect, make it perfect.
Proofread, get feedback and submit:
Proofreading is a very crucial phase. You can't allow any mistakes to slip through your Germany SOP. So, you must read it carefully multiple times. It's highly recommended to have a second person read it and give you feedback as well.
Pro Tip: Don't let your document seem like a copy of a sample SOP for MS in Germany as that will make it less appealing against the SOPs by other applicants.
Need Help In Writing a Statement of Purpose for Germany?
SOP for Germany Sample
Take a look at the below SOP for Germany Sample if you have any doubt regarding the SOP structure, format or specific points to include in the document.
Sample SOP for Germany Student Visa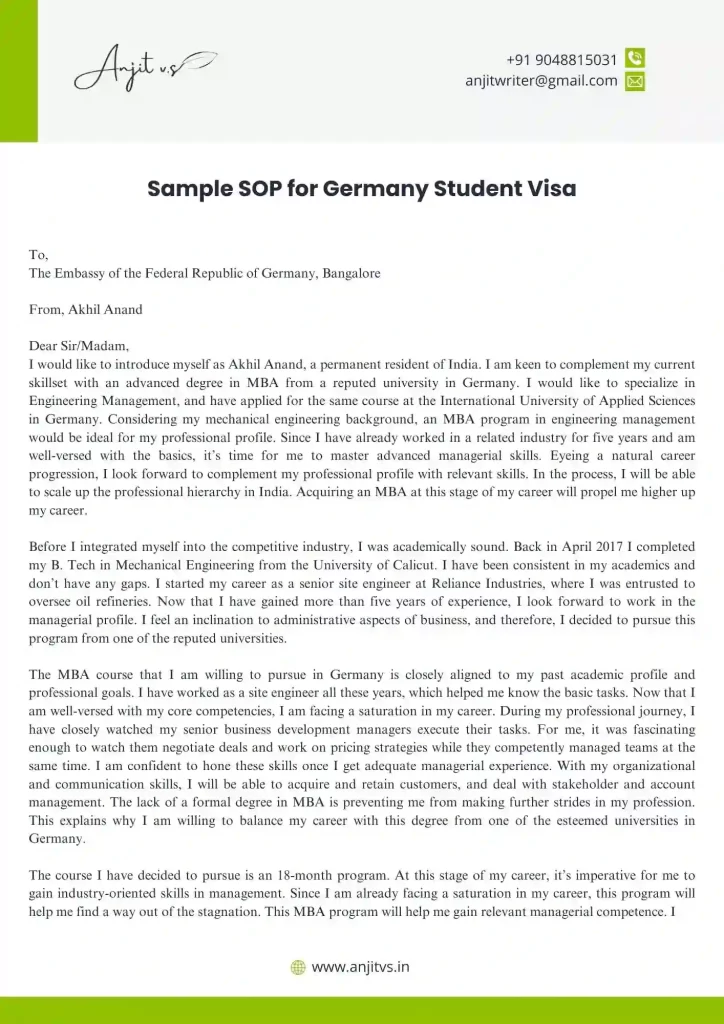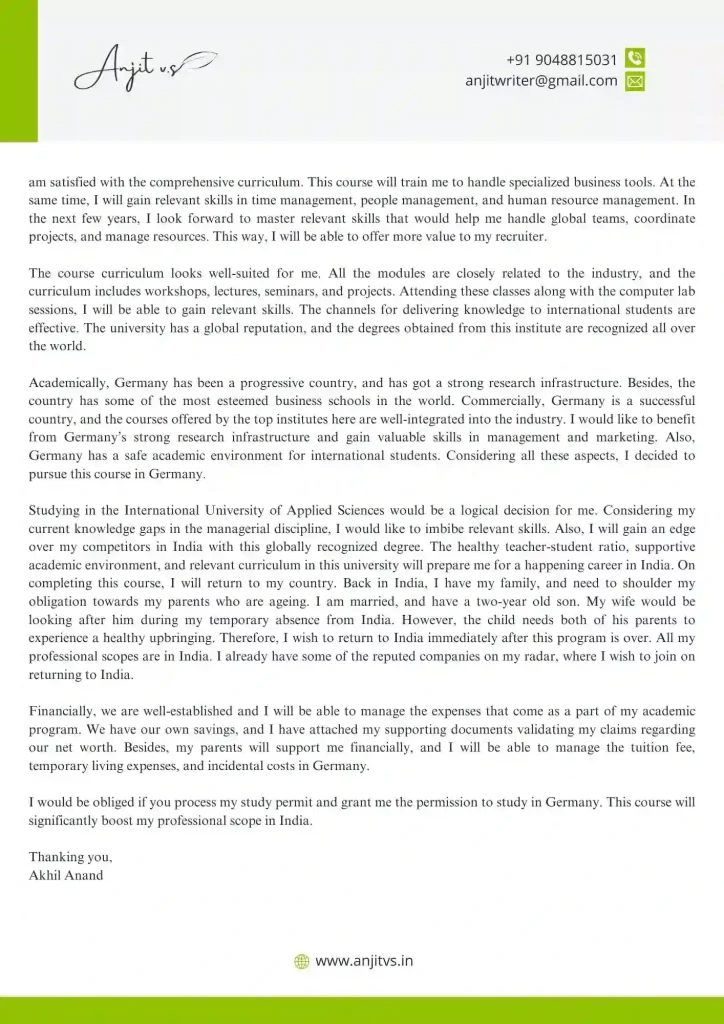 To,
The Embassy of the Federal Republic of Germany, Bangalore
From, Akhil Anand
Dear Sir/Madam,
I would like to introduce myself as Akhil Anand, a permanent resident of India. I am keen to complement my current skillset with an advanced degree in MBA from a reputed university in Germany. I would like to specialize in Engineering Management, and have applied for the same course at the International University of Applied Sciences in Germany. Considering my mechanical engineering background, an MBA program in engineering management would be ideal for my professional profile. Since I have already worked in a related industry for five years and am well-versed with the basics, it's time for me to master advanced managerial skills. Eyeing a natural career progression, I look forward to complement my professional profile with relevant skills. In the process, I will be able to scale up the professional hierarchy in India. Acquiring an MBA at this stage of my career will propel me higher up my career.
Before I integrated myself into the competitive industry, I was academically sound. Back in April 2017 I completed my B. Tech in Mechanical Engineering from the University of Calicut. I have been consistent in my academics and don't have any gaps. I started my career as a senior site engineer at Reliance Industries, where I was entrusted to oversee oil refineries. Now that I have gained more than five years of experience, I look forward to work in the managerial profile. I feel an inclination to administrative aspects of business, and therefore, I decided to pursue this program from one of the reputed universities.
The MBA course that I am willing to pursue in Germany is closely aligned to my past academic profile and professional goals. I have worked as a site engineer all these years, which helped me know the basic tasks. Now that I am well-versed with my core competencies, I am facing a saturation in my career. During my professional journey, I have closely watched my senior business development managers execute their tasks. For me, it was fascinating enough to watch them negotiate deals and work on pricing strategies while they competently managed teams at the same time. I am confident to hone these skills once I get adequate managerial experience. With my organizational and communication skills, I will be able to acquire and retain customers, and deal with stakeholder and account management. The lack of a formal degree in MBA is preventing me from making further strides in my profession. This explains why I am willing to balance my career with this degree from one of the esteemed universities in Germany.
The course I have decided to pursue is an 18-month program. At this stage of my career, it's imperative for me to gain industry-oriented skills in management. Since I am already facing a saturation in my career, this program will help me find a way out of the stagnation. This MBA program will help me gain relevant managerial competence. I am satisfied with the comprehensive curriculum. This course will train me to handle specialized business tools. At the same time, I will gain relevant skills in time management, people management, and human resource management. In the next few years, I look forward to master relevant skills that would help me handle global teams, coordinate projects, and manage resources. This way, I will be able to offer more value to my recruiter.
The course curriculum looks well-suited for me. All the modules are closely related to the industry, and the curriculum includes workshops, lectures, seminars, and projects. Attending these classes along with the computer lab sessions, I will be able to gain relevant skills. The channels for delivering knowledge to international students are effective. The university has a global reputation, and the degrees obtained from this institute are recognized all over the world.
Academically, Germany has been a progressive country, and has got a strong research infrastructure. Besides, the country has some of the most esteemed business schools in the world. Commercially, Germany is a successful country, and the courses offered by the top institutes here are well-integrated into the industry. I would like to benefit from Germany's strong research infrastructure and gain valuable skills in management and marketing. Also, Germany has a safe academic environment for international students. Considering all these aspects, I decided to pursue this course in Germany.
Studying in the International University of Applied Sciences would be a logical decision for me. Considering my current knowledge gaps in the managerial discipline, I would like to imbibe relevant skills. Also, I will gain an edge over my competitors in India with this globally recognized degree. The healthy teacher-student ratio, supportive academic environment, and relevant curriculum in this university will prepare me for a happening career in India. On completing this course, I will return to my country. Back in India, I have my family, and need to shoulder my obligation towards my parents who are ageing. I am married, and have a two-year old son. My wife would be looking after him during my temporary absence from India. However, the child needs both of his parents to experience a healthy upbringing. Therefore, I wish to return to India immediately after this program is over. All my professional scopes are in India. I already have some of the reputed companies on my radar, where I wish to join on returning to India.
Financially, we are well-established and I will be able to manage the expenses that come as a part of my academic program. We have our own savings, and I have attached my supporting documents validating my claims regarding our net worth. Besides, my parents will support me financially, and I will be able to manage the tuition fee, temporary living expenses, and incidental costs in Germany.
I would be obliged if you process my study permit and grant me the permission to study in Germany. This course will significantly boost my professional scope in India.
Thanking you,
Akhil Anand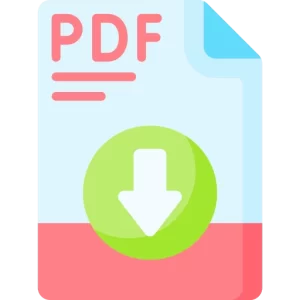 Download SOP for Germany Sample
Sample SOP for MS in Germany
Referring to good samples is vital to write faultless SOPs. Here is a collection of sop samples for ms in germany that can serve as a valuable reference to help you structure and articulate your own unique story and aspirations for pursuing a Master's degree in Germany.
As always, research work has fascinated me to an extent that I have seriously considered it as a part of my academic journey. My expectations turn out to be realistic when I consider pursuing a Master's degree in Germany. Growing up in a rapidly digitizing environment in India, I have nurtured my innate interest in Computer Science. Now that I have completed my B. Tech in Electrical Engineering from Amity University in India, I look forward to strengthen my career by undergoing training in an internationally recognized university. The core areas of my research include data mining, computer visualization, and software engineering. Currently, in am in quest to complete an industry-oriented course that would spearhead my career in India.
My fascination with electrical accessories obliged me to pursue Electrical Engineering during my graduation. However, being practical-minded, I was prompt to grasp the importance of an IT-oriented career. This explains why I completed a diploma program in advanced computing, that lasted for six months. This course helped me brace up for the challenges I am about to encounter in the competitive professional sphere. I have also worked for one year at Infosys as a software automation tester. On gaining adequate experience, I got the opportunity to work at Siemens in the same profile. This was a valuable learning period for me, as I got well-versed in working using Microsoft .Net Technologies. I liked the challenges at Siemens more than the rewards, as I was committed to serving my company better. I also mastered several tools that helped in developing our automation frameworks, scripts, and APIs. This helped us communicating with the hardware and we worked on several tools for automation testing to keep an eye on the stability, performance, and integrity of the system.
Well, it has been more than three years that I am working with Siemens. Currently, I am using MSUIA to work on automation testing framework and also deployed C#, .Net, and MS Silver Light to develop different automation tools, I am well-poised to undergo training through my Master's program. Over the last four years, I have worked on my core skills and have a sound understanding on how advanced technologies are propelling the IT sector in India. However, I need to make my career future-ready in India, as IT technologies become old too soon. Therefore, I wish to pursue a research-oriented career that would help me remain in the learning loop throughout my career. My approach to resolve problems and operate in a competitive environment will strengthen my research abilities.
In the last couple of years, I have used developed automation tools for two and three-dimensional imaging applications for Siemens. So, I have a comprehensive idea on how this technology is used in the healthcare department. Besides, I explored domains like Visualizations, trying to understand how it converts complex data to graphical representations. This boosts the meaning and perception of information. 3D visualizations are also in the ambit of my research interests. This technology is crucial in diagnosing ailments, and aids in coming up with less invasive treatments to cure disease. Now, developing countries like India are yet to benefit from these advanced technologies. Therefore, I would like to translocate the same kind of infrastructure in my homeland once I gain adequate knowledge in this discipline. This will help me make a positive difference in the life of patients. Also, I wish to embrace a gratifying career that aligns with the area of my interest.
In the coming years, I would like to specialize in Visualization and Computer Graphics. On gaining specialization, I wish to open up the doors for non-invasive methods of carrying out surgeries. This would also curtain expenses following an operation. The advanced research infrastructure in your university makes it the right academic platform for me to master the skills. In course of time, I would like to work at Siemens Corporate Technology a research institute under the company that I am currently working in.
Now that I have also worked on automation testing tools all these years, I am looking for a possible avenue to bridge my knowledge. So, I would also be keen to explore domains like software engineering. Software testing comes under the ambit of software engineering. Since I have already worked on automation technologies, it would be easier for me to hone the fresh skillset. Considering the importance of the entire software development lifecycle one cannot possibly undermine the value of the testing phase. Particularly, the integration of IT and healthcare domain requires professionals and software testers to come up with more competent means to assure foolproof testing. Since I have grasped the value of mastering the latest technologies in automation, I look forward to develop my skillset and delve into a happening career in India. Specializing in software engineering will open up the gateways for me to work on software testing and automation. Further broadening my career, I will also be able to deploy the fresh skillset in product development while expediting software testing.
Finding a berth in your revered university would give me a gratifying learning experience. Germany has been one of the most valued seats of learning in the world. Besides, I have researched on the highly industry-oriented learning infrastructure at your institute. Considering the holistic learning environment and progressive academic ambiance in Germany, I look forward to pursue this course from your institute. As always, I remain open to knowledge acquisition. I consider actual gaining of knowledge to find its ultimate manifestation on the practical front. Therefore, I look forward to pursue this Master's program in Computer Science at your esteemed university in Germany.
SOP Format for Germany
When writing your Statement of Purpose (SOP) for a Master's degree in Germany, it's essential to structure your content in a clear and concise manner. Understanding the format and structure of an SOP is crucial while writing your SOP. Below is the widely used SOP format for MS in Germany, but if your University has specified the format, do follow the same.
Introduction
In this section, provide a brief overview of your educational background, career goals, and motivation for pursuing a Master's degree in Germany. Highlight any relevant experiences or achievements that demonstrate your passion for your chosen field of study.
Academic Background
Describe your undergraduate degree, including the name of the institution, the duration of the program, and any specialized coursework or projects you undertook. Emphasize how your academic background has prepared you for the specific Master's program you are applying to in Germany.
Research and Professional Experience
Discuss any research or professional experiences that are relevant to your field of study. Highlight projects, internships, or work experiences that have enhanced your skills and knowledge in the subject area. Explain how these experiences have influenced your decision to pursue further studies in Germany.
Motivation for Choosing Germany
Explain why you have chosen to pursue your Master's degree in Germany. Discuss the specific factors that make Germany an attractive destination for your field of study, such as its academic reputation, research opportunities, industry connections, or cultural aspects. Showcase your knowledge of Germany's educational system and how it aligns with your academic and career aspirations.
Fit with the Program
Demonstrate how your academic and research interests align with the Master's program you are applying to. Discuss specific courses, faculty, research projects, or resources offered by the program that resonate with your goals and aspirations. Show how your skills, experiences, and future research interests make you a suitable candidate for the program.
Future Goals
Articulate your long-term career goals and how the Master's program in Germany will help you achieve them. Describe how the program's curriculum, research opportunities, and industry connections will contribute to your professional development. Discuss how obtaining a Master's degree in Germany will enhance your knowledge and skills, and how you plan to apply them in your future career.
Conclusion
Summarize your key points and reiterate your enthusiasm for the Master's program in Germany. End with a strong statement highlighting your commitment, readiness, and motivation to contribute to the academic community and excel in your studies.
Remember to tailor your SOP to reflect your own experiences, goals, and aspirations, and ensure it is well-structured, concise, and free of grammatical errors. Good luck with your application!
Need Help In Writing a Statement of Purpose for Germany?
Tips to Improve Your Statement of Purpose for Germany
Before you start to write your SOP, it is advisable to refer to samples available at DAAD and the official websites of German Universities.
Work extensively on the first draft of your SOP and analyze what you really want to include in your SOP.
Adhere to word and page limits and never exceed the specified word limit. Remember, the ideal length of an SOP for Germany is one to two pages.
Never replicate your CV
Never over explain any information, but ensure that you have included vital details.
Best Courses to Study in Germany
Most people move to Germany to do their masters. Here is the list of SOPs for the best courses in Germany.
Statement of Purpose for Masters in Germany
SOP for Mechanical Engineering in Germany
SOP for MS in Computer Science in Germany
SOP for MS in Electrical Engineering in Germany
SOP for Law in Germany
SOP for Industrial Engineering in Germany
SOP for Nursing in Germany
Globally Ranked German Universities
Germany hosts a series of globally ranked universities. Below is the list of German universities that have found a place in the international ranking. Remember to write a tailor-made SOP for Germany university to make your application strong.
Ludwig Maximilian University of Munich
Humboldt University of Berlin
Karlsruhe Institute of Technology
Technische Universität Berlin
Eberhard Karl University of Tübingen
Technical University of Munich
Ruprecht Karl University of Heidelberg
Free University of Berlin
RWTH Aachen University
Dresden University of Technology
University of Freiburg
Conclusion
Congratulations.
You have learnt how to write SOP for Germany now.
We hope that the steps and tips we shared in this blog helped you in drafting a powerful SOP.
If you have any questions or doubts to clarify with us regarding writing the SOP or any of the SOP samples for Germany that we shared, we are happy to help. Don't hesitate to write them in the comment sections below.
Frequently Asked Questions
Is an SOP required for Germany?
Yes, most German universities require a Statement of Purpose (SOP) as part of the application process for Master's programs. The SOP provides insights into your academic background, research interests, and motivation for choosing Germany as your study destination.
How long should an SOP be for Masters in Germany?
Ideally, an SOP for a Master's in Germany should be written within a word limit of 500 – 1000 words and should not exceed 2 pages.
Do German universities need personal statements?
German universities often require applicants to submit a Statement of Purpose (SOP) rather than a traditional personal statement. The SOP serves as an opportunity for you to explain your academic background, research interests, and motivation for pursuing a Master's degree in Germany.
How do I start a SOP for German Universities?
You can start your SOP with an anecdote explaining your interest in the chosen field of study.
Is it important to address why I want to study in Germany in my SOP?
Yes, you have to address your reason for choosing Germany as your study destination in your SOP.
What is an SOP for German visa application?
While an SOP is not directly required for a German visa application, it is recommended to have a well-prepared SOP as it demonstrates your purpose and intention to study in Germany. The SOP can be useful in the visa interview process as it showcases your academic background, career goals, and motivation for choosing Germany.
Do German universities require a letter of motivation?
Yes, many German universities require applicants to submit a letter of motivation as part of the application process for Master's programs. The letter of motivation serves a similar purpose to a Statement of Purpose (SOP) and allows you to explain your academic background, research interests, and reasons for choosing the specific program.
What are the guidelines for an SOP for an MBA in Germany?
When writing an SOP for an MBA program in Germany, ensure that you highlight your relevant work experience, leadership skills, and career goals. Discuss how the MBA program in Germany will contribute to your professional growth, and emphasize the specific aspects of the program that attracted you, such as faculty expertise, industry connections, or international opportunities. Tailor your SOP to demonstrate your motivation and preparedness for a successful MBA journey in Germany.