When you decide to study a higher study program in project management, the immediate question you will face is how to write an SOP for project management. Because this seemingly insignificant document is going to be the path-breaker for you. Well, if you haven't thought about it yet, this is the time to. This blog covers a whole bunch of topics about the statement of purpose for project management such as:
What is a statement of purpose for project management?
How to write an SOP for project management?
Best SOP samples for project management
What is SOP for Project Management?
SOP for project management is a written piece of document that admission officers review while shortlisting candidates for their project management programs. Written by the applicants themselves, it explains all about their backgrounds, motivations, interests, future plans and more.
How to Write SOP for Project Management?
Writing a perfect SOP in the same way or better than the project management sop sample you see in this blog takes a few steps. We have simplified them here for you to use with ease while drafting your document.
Know your institute:
Selection officers want to see how and why you are fit for their program. So, you need to know about their program, the institute's values and motto and student community and more. Do your share of research about the institute as the first step.
Review Guidelines:
Check if your program or university wants you to adhere to any specific requirements like word count, particular questions or format or anything of the sort. If there is any, make sure your document aligns with all of that.
Read a lot:
Read about project management as much as you can. See how it fares in the country you have opted to study it. You need to share some really convincing points to show your motivation for choosing project management as your career option.
Draft an outline:
After you have gathered all points to talk about in the SOP and got familiar with the structure, format and requirements, draft an outline incorporating all of these. Having an outline will let you identify the missing points easily.
Write your narrative:
The next step is connecting the dots. Develop the outline with proper sentences that flow naturally from start to end. Focus on one theme or point in each paragraph of your SOP, for instance, academic background, and future plans.
Proofread:
Proofreading is the most important step in the writing of an SOP for construction project management or any other discipline. An error-free SOP will read well, impress the reader and make them take positive action regarding your admission.
Need Help In Writing SOP for Project Management?
What is the Format of a Project Management SOP?
The strength and appeal of your SOP invariably rely on how you structure it. Here is the generally accepted format to write an SOP for project management.
| | |
| --- | --- |
| Introduction: | Start your SOP with a strong introduction that defines who you are, and why you want to study project management. Use a personal experience as the backdrop for your introduction to make it more appealing to the reader. |
| Background: | Next, write about your academic and professional backgrounds. The focus should be on explaining how they are relevant to your choice of project management and what and how you benefited from both and how that will set you apart in your career in project management. |
| Skills and strengths: | Highlight some of your major strengths and skills that will be helpful to you during your higher education in project management. Soft skills like leadership qualities, communication skills, collaboration and management skills are good to mention. |
| Motivation: | Clearly establish your motivations for choosing a higher study program in project management. It should clearly tell the reader why you opted for it rather than any other program. Discuss your passion for project management and how you want to contribute to this field. |
| Why this institute/country: | List out the defining reasons for choosing to study project management at a particular institute and country. Show how your chosen country is ideal for studying project management owing to its emerging scope there. Also, write about the unique factors that attract you to the particular college/university. |
| Future plans: | Discuss your short-term as well as long-term goals and explain how your qualification in project management will help you materialize them. Don't forget to mention your intention to return to your home country after completing your higher studies. |
| Conclusion: | Finish your SOP with a conclusion that beefs up all the points you discussed. It should be a one or two-line summary of the entire write-up. Also, show your gratitude to the selection committee for considering your application and express your confidence in admission. |
Project Management SOP Sample
Here we share a project management SOP sample for you to download and review. Go through it carefully and evaluate how the narrative has been developed.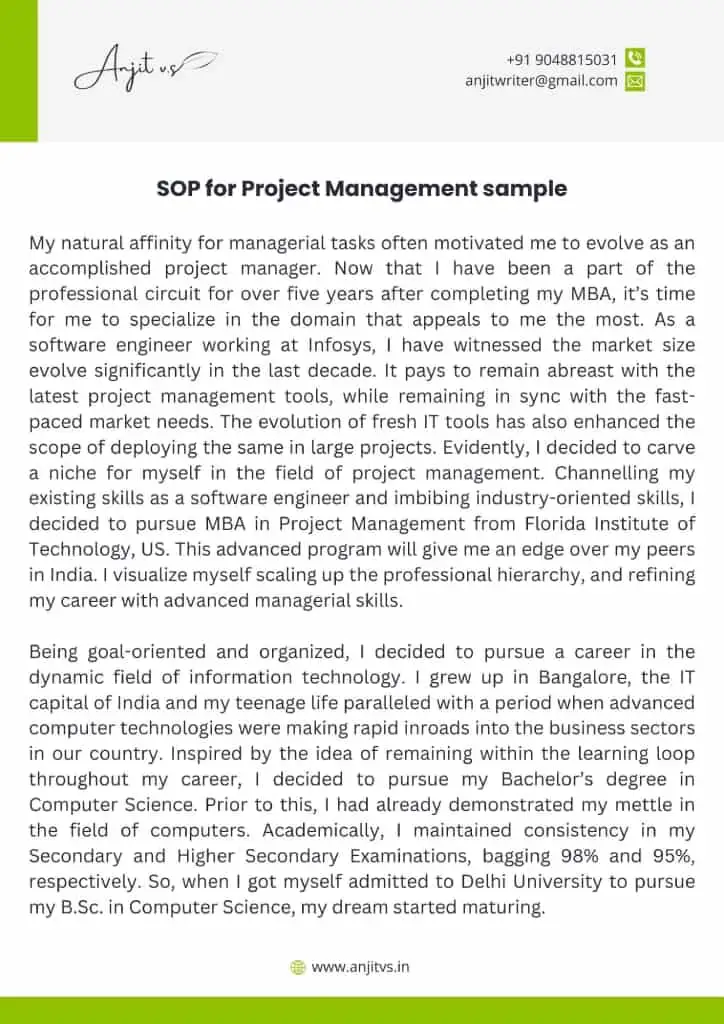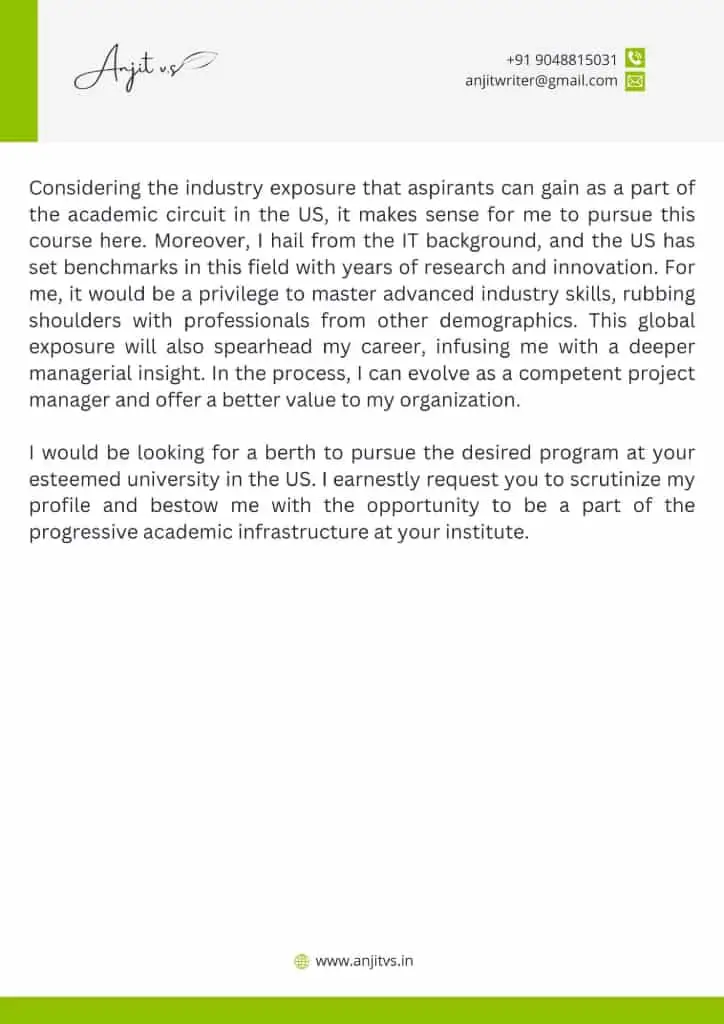 My natural affinity for managerial tasks often motivated me to evolve as an accomplished project manager. Now that I have been a part of the professional circuit for over five years after completing my MBA, it's time for me to specialize in the domain that appeals to me the most. As a software engineer working at Infosys, I have witnessed the market size evolve significantly in the last decade. It pays to remain abreast with the latest project management tools, while remaining in sync with the fast-paced market needs. The evolution of fresh IT tools has also enhanced the scope of deploying the same in large projects. Evidently, I decided to carve a niche for myself in the field of project management. Channelling my existing skills as a software engineer and imbibing industry-oriented skills, I decided to pursue MBA in Project Management from Florida Institute of Technology, US. This advanced program will give me an edge over my peers in India. I visualize myself scaling up the professional hierarchy, and refining my career with advanced managerial skills.
Being goal-oriented and organized, I decided to pursue a career in the dynamic field of information technology. I grew up in Bangalore, the IT capital of India and my teenage life paralleled with a period when advanced computer technologies were making rapid inroads into the business sectors in our country. Inspired by the idea of remaining within the learning loop throughout my career, I decided to pursue my Bachelor's degree in Computer Science. Prior to this, I had already demonstrated my mettle in the field of computers. Academically, I maintained consistency in my Secondary and Higher Secondary Examinations, bagging 98% and 95%, respectively. So, when I got myself admitted to Delhi University to pursue my B.Sc. in Computer Science, my dream started maturing.
Capitalizing on the sophisticated laboratories and academic infrastructure, I made the most of the opportunities that came across my way. Participating in college fests, seminars, and conferences, I tried to remain abreast with the latest developments in the field of AI, IoT, and ML. Meanwhile, I became inclined to software engineering, and interned at TCS and Accenture for three months each as a part of my academic program. This practical learning experience worked wonders for me, as I got directions for my next academic course. Realizing that managerial skills matter to scale up the professional ladder in the competitive corporate sphere, I decided to complete my MBA. So, while most of my peers went for a Master's degree in Computer Science or IT, I found my forte in MBA.
After my 3-year graduation program, I completed my 2-year MBA from Symbiosis University in India. This decision clicked for me, as I was instantly picked by Infosys for an annual package of INR 25 lakhs. It has been five years that I am working with this indigenous company. Apart from performing my core tasks, I have gained significant exposure in leading teams and interacting with clients. For me, it has been a privilege to collaborate with some of the Fortune 500 Companies, bringing in projects and escalating our sales. Now that I feel saturated with my current job position, my appetite for further knowledge has driven me to the domain of project management.
While working at Infosys, I observed my senior colleagues scale up their professional designation once they completed project management courses from internationally recognized universities. Following their suit, I decided to transform my career to something more productive and appealing to my intellect. The course that your institution offers is pragmatic and industry-oriented. This program will bestow me with hands-on experience in managing and executing large-scale software projects to sustain our business amidst raging global competition. The course modules, as I have observed, as perfectly in sync with my aspiration. This project management program will open up fresh career avenues in my professional career. The practical nature of this course will help me master valuable traits like leadership in the global context, project analytics, and project management. Apart from understanding the core business fundamentals, I look forward to refine my career with adequate knowledge on time, cost, quality, and scope management. This way, I can brace up for a more happening career across the borders. I also want to train myself with the latest project management tools that can bring about a visible difference in managing our software lifecycle.
After completing this project management program, I would like to evolve as a senior program manager, or put on the professional hat of a project management consultant. Other profiles where I can work include those of a quality assurance manager and environmental project manager. I already have some of the leading IT companies in India on my radar, including Cognizant, IBM, Accenture, and TCS. Besides, I have my professional contacts in the industry to bank on. This course will significantly transform my career, opening up scopes of promotion and bagging better remuneration packages in India. With the IT industry in our country transforming with the advent of a plethora of fresh tools and technologies, skilled and certified professionals can tap the scope.
The US would be the right academic destination for me to pursue this project management program. Considering the industry exposure that aspirants can gain as a part of the academic circuit in the US, it makes sense for me to pursue this course here. Moreover, I hail from the IT background, and the US has set benchmarks in this field with years of research and innovation. For me, it would be a privilege to master advanced industry skills, rubbing shoulders with professionals from other demographics. This global exposure will also spearhead my career, infusing me with a deeper managerial insight. In the process, I can evolve as a competent project manager and offer a better value to my organization.
I would be looking for a berth to pursue the desired program at your esteemed university in the US. I earnestly request you to scrutinize my profile and bestow me with the opportunity to be a part of the progressive academic infrastructure at your institute.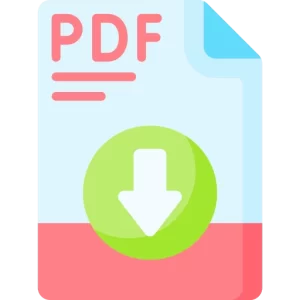 Download Statement of Purpose for Project Management PDF
What is Statement of Purpose for Masters in Project Management?
You will require an SOP for masters in project management when you apply for programs like MBA or MSc. Again, SOP for MSc in project management needs to be treated differently from an SOP for MBA in project management.
Sample Statement of Purpose for Masters in Project Management
Take a look at the sample SOP for MS in project management shared below. See how a more pressing motivation is incorporated into the write-up to make it more convincing to the selection committee.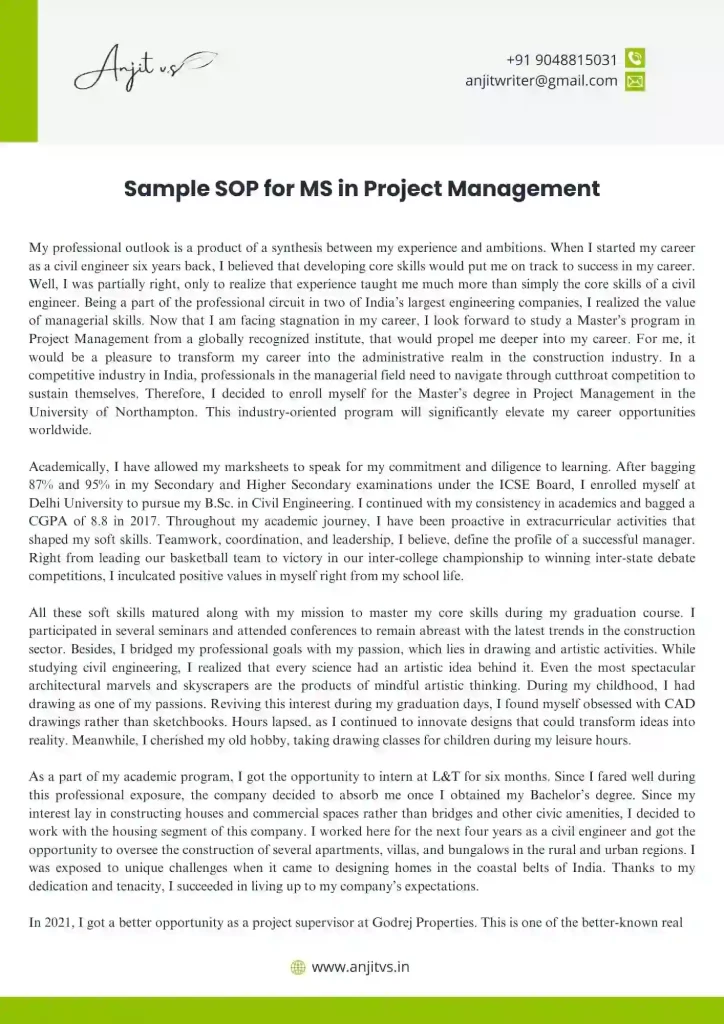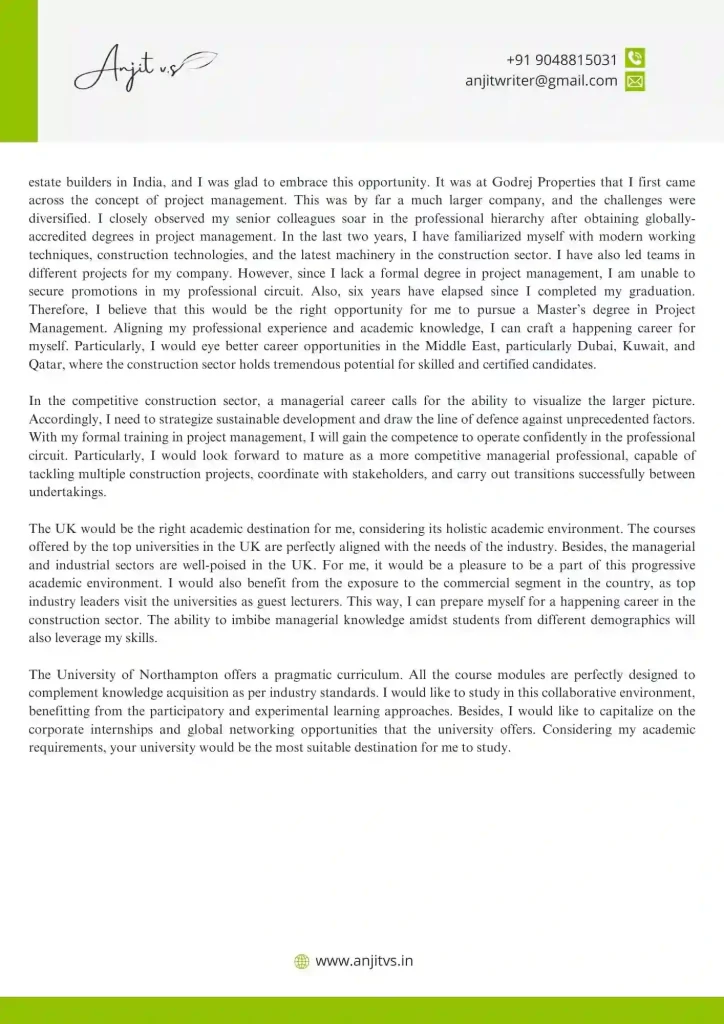 My professional outlook is a product of a synthesis between my experience and ambitions. When I started my career as a civil engineer six years back, I believed that developing core skills would put me on track to success in my career. Well, I was partially right, only to realize that experience taught me much more than simply the core skills of a civil engineer. Being a part of the professional circuit in two of India's largest engineering companies, I realized the value of managerial skills. Now that I am facing stagnation in my career, I look forward to study a Master's program in Project Management from a globally recognized institute, that would propel me deeper into my career. For me, it would be a pleasure to transform my career into the administrative realm in the construction industry. In a competitive industry in India, professionals in the managerial field need to navigate through cutthroat competition to sustain themselves. Therefore, I decided to enroll myself for the Master's degree in Project Management in the University of Northampton. This industry-oriented program will significantly elevate my career opportunities worldwide.
Academically, I have allowed my marksheets to speak for my commitment and diligence to learning. After bagging 87% and 95% in my Secondary and Higher Secondary examinations under the ICSE Board, I enrolled myself at Delhi University to pursue my B.Sc. in Civil Engineering. I continued with my consistency in academics and bagged a CGPA of 8.8 in 2017. Throughout my academic journey, I have been proactive in extracurricular activities that shaped my soft skills. Teamwork, coordination, and leadership, I believe, define the profile of a successful manager. Right from leading our basketball team to victory in our inter-college championship to winning inter-state debate competitions, I inculcated positive values in myself right from my school life.
All these soft skills matured along with my mission to master my core skills during my graduation course. I participated in several seminars and attended conferences to remain abreast with the latest trends in the construction sector. Besides, I bridged my professional goals with my passion, which lies in drawing and artistic activities. While studying civil engineering, I realized that every science had an artistic idea behind it. Even the most spectacular architectural marvels and skyscrapers are the products of mindful artistic thinking. During my childhood, I had drawing as one of my passions. Reviving this interest during my graduation days, I found myself obsessed with CAD drawings rather than sketchbooks. Hours lapsed, as I continued to innovate designs that could transform ideas into reality. Meanwhile, I cherished my old hobby, taking drawing classes for children during my leisure hours.
As a part of my academic program, I got the opportunity to intern at L&T for six months. Since I fared well during this professional exposure, the company decided to absorb me once I obtained my Bachelor's degree. Since my interest lay in constructing houses and commercial spaces rather than bridges and other civic amenities, I decided to work with the housing segment of this company. I worked here for the next four years as a civil engineer and got the opportunity to oversee the construction of several apartments, villas, and bungalows in the rural and urban regions. I was exposed to unique challenges when it came to designing homes in the coastal belts of India. Thanks to my dedication and tenacity, I succeeded in living up to my company's expectations.
In 2021, I got a better opportunity as a project supervisor at Godrej Properties. This is one of the better-known real estate builders in India, and I was glad to embrace this opportunity. It was at Godrej Properties that I first came across the concept of project management. This was by far a much larger company, and the challenges were diversified. I closely observed my senior colleagues soar in the professional hierarchy after obtaining globally-accredited degrees in project management. In the last two years, I have familiarized myself with modern working techniques, construction technologies, and the latest machinery in the construction sector. I have also led teams in different projects for my company. However, since I lack a formal degree in project management, I am unable to secure promotions in my professional circuit. Also, six years have elapsed since I completed my graduation. Therefore, I believe that this would be the right opportunity for me to pursue a Master's degree in Project Management. Aligning my professional experience and academic knowledge, I can craft a happening career for myself. Particularly, I would eye better career opportunities in the Middle East, particularly Dubai, Kuwait, and Qatar, where the construction sector holds tremendous potential for skilled and certified candidates.
In the competitive construction sector, a managerial career calls for the ability to visualize the larger picture. Accordingly, I need to strategize sustainable development and draw the line of defence against unprecedented factors. With my formal training in project management, I will gain the competence to operate confidently in the professional circuit. Particularly, I would look forward to mature as a more competitive managerial professional, capable of tackling multiple construction projects, coordinate with stakeholders, and carry out transitions successfully between undertakings.
The UK would be the right academic destination for me, considering its holistic academic environment. The courses offered by the top universities in the UK are perfectly aligned with the needs of the industry. Besides, the managerial and industrial sectors are well-poised in the UK. For me, it would be a pleasure to be a part of this progressive academic environment. I would also benefit from the exposure to the commercial segment in the country, as top industry leaders visit the universities as guest lecturers. This way, I can prepare myself for a happening career in the construction sector. The ability to imbibe managerial knowledge amidst students from different demographics will also leverage my skills.
The University of Northampton offers a pragmatic curriculum. All the course modules are perfectly designed to complement knowledge acquisition as per industry standards. I would like to study in this collaborative environment, benefitting from the participatory and experimental learning approaches. Besides, I would like to capitalize on the corporate internships and global networking opportunities that the university offers. Considering my academic requirements, your university would be the most suitable destination for me to study.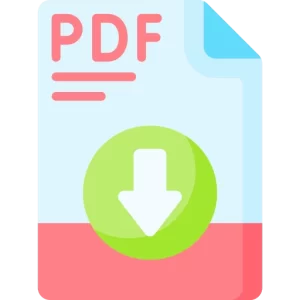 Download Statement of Purpose for Project Management Sample
Do's and Don'ts of an SOP for Project Management
Here are some Do's and Don'ts that will help you get closer to writing a perfect SOP for project management.
Dos
Be specific about your future plans and how the project management course gets you closer to that.
Ensure 100% adherence to the program guidelines
Supply concrete examples while listing your soft skills, strengths and other qualities
Seek the advice of an expert if you come across any doubt while writing
Get ready with your SOP on time. Nothing can ruin your SOP as much as a late start.
Don'ts
Copy partly or fully from any other project management statement of purpose sample.
Stuff numerous points into a paragraph making it confusing or ambiguous.
Submit without proper proofreading and spelling/grammatical corrections.
Exaggerate your skills/strengths/achievements to impress the selectors
Fail to provide enough reasons to demonstrate why the institute especially attracts you
Looking for Expert Writers for SOP for Project Management?
Top Countries to Write SOP for Project Management
Being a top course for international education, project management sop has to be crafted with great care and attention. Glance through the below-mentioned countries and choose the one that perfectly matches you.
SOP for Project Management in Canada
Canada is an ideal place to study project management due to its emerging economy that depends heavily on industries. Prepare an excellent project management sop for Canada to study there.
SOP for Project Management in UK
The UK has long been the best destination for higher education in myriad disciplines including project management. Your admission to the best UK university/college will be based on how you articulate your points in the project management SOP for UK.
SOP for Project Management in USA
Admission to colleges and universities in the USA is purely done on a merit basis. So, an impeccable SOP for project management in USA, if you want to study there, is inevitable.
SOP for Project Management in Australia
For the last few years, Australia has seen impressive growth in infrastructural development. And the demand for qualified project managers has been souring. This makes studying project management in Australia a great choice. With an error-free SOP for Project Management in Australia, admission gets much easier.
Get an Error Free SOP for Project Management. Click Here
Top Universities to Write SOP for Project Management
It's hard to get admission to the top universities in the world. But a great SOP can make a lot of difference. Check out the below guidelines as you write SOP for project management for the following universities.
SOP for Project Management in Harvard University
Write your SOP for masters in project management not exceeding the word limit which is 1000.
Substantiate your motivation for taking up project management as the career path
Show how your past experiences and formations prepared you for a course in project management at Harvard
Explain your short-term and long-term plans after completing the project management course
SOP for Project Management in MIT School Of Management (USA)
Write your statement of purpose for MSc project management for MIT in 1-2 pages with a word count between 500 and 1000.
Show the depth of your motivation.
Illustrate how your academic and professional backgrounds are relevant to the program
Highlight how closely you apt for the program
SOP for Project Management in University of Cambridge
Show the depth of your passion for project management
Include only the most relevant and recent points in your SOP
Illustrate how you can contribute to the Cambridge student community
List your skills with provable evidence
SOP for Project Management in Stanford University
Write your SOP in 1 to 2 pages.
Highlight what drew you to Stanford – mention the specific features that attracted you
Show the relevance of your academic and professional backgrounds to the program
Discuss your goals and how the program aligns with those
SOP for Project Management in Oxford University
Keep your SOP short and concise not exceeding 2 pages.
Demonstrate how studying project management will help you realize your ambitions
Show what you have done so far to facilitate your higher studies in project management
Substantiate your relevant skills and strengths
Conclusion
That brings us to the end of this blog on SOP for project management.
We are excited to know how helpful it was to you.
Did the tips, guidelines and format we shared ease your SOP writing?
Is there anything that you want us to add to this blog?
Share your feedback and suggestions in the comments below.