Have you ever wondered looking at the various gadgets, innovations and technology that mobilize our day-to-day life? It is through the advancements in electrical engineering that all of these have happened and are happening. If you are fascinated by a career in this domain, the first step is getting qualified with a degree in electrical engineering from a reputable institute. SOP for electrical engineering holds the power to pave your path to this fulfilling career. Through this blog, we will unravel the secrets of writing a powerful statement of purpose for electrical engineering. As you read on, you will have crystal clarity on:
What is an SOP of electrical engineer?
Dos and Don'ts in writing SOP for EEE students
How to use a sample SOP for electrical engineering as a reference
What is SOP for Electrical Engineering?
A statement of purpose or sop for electrical engineering is a self-written document that an EEE student has to include in his or her application for electrical engineering admission. The admission panel of colleges would inspect this to determine whether the candidate is indeed eligible for their program.
Why Do You Need a Stellar Statement of Purpose for Electrical Engineering Admission?
With the help of a super-scripted SOP for masters in electrical engineering, you can:
Show in what areas you are unique and different from other applicants
Give examples of your innovative thinking and research skills
Demonstrate that you are fit for the program
Showcase your technical and academic competence
Show that you are indeed passionate and motivated to pursue electrical engineering
SOP for Electrical Engineering Format
Remember that the selection officers would evaluate your SOP not only on the basis of the content but also the format. Therefore, it is important to familiarize yourself with a standard format.
Text formatting:
Write your SOP in about 800 words.
Use a popular academic font – Ariel or Times New Roman
Set the font size to 12 and use 1.5 or double spacing.
Leave additional space between paragraphs.
Keep the paragraph size to approximately 100 words.
Divide the SOP for masters in electronics engineering into paragraphs.
Paragraph formatting:
Introduction
Start your SOP with an anecdote of a childhood experience or incident that caught your interest in the domain of electrical engineering. Follow this up with who you are and why you are writing this SOP for electrical engineering pdf.
Academic background
Write about your academic background and how that is aligned with your decision to pursue electrical engineering. Give examples of your key learnings/achievements from the previous studies.
Professional background
Write about any professional experiences you have gained and discuss how that is relevant to electrical engineering. Specify some of your achievements and show how that adds to your suitability for this program.
Extracurricular skills
If you strongly identify with any extra-curricular skills such as leadership, communication, project management etc. write about them with specific examples in your statement of purpose for ms in electrical engineering.
Challenges
If there is any noticeable challenge in your profile like a change of course or gap or arrears, write about them in a positive shade. Show how that helped you get more clarity about what you wanted in life.
Motivation for electrical engineering
Pick up a couple of strong reasons for your motivations for choosing electrical engineering.
Why this institute and country
List out the factors that made you believe this is the right institute for you to study electrical engineering. Also, highlight the factors for choosing a specific country to pursue the degree from.
Future plans
Talk about your future plans as an electrical engineer. Show that you have bigger goals in your home country and that you are indeed planning to return to your home country after course completion.
Conclusion
End your statement of purpose by summarizing the key points you discussed through it. Also, thank the admission panel for taking the time to review your application and express your hope of getting selected and studying at their institute.
How to Write SOP for MS in Electrical Engineering?
SOP writing is a multilayer process which involves understanding, brainstorming, executing and validating. Imperfection at any of these stages can ultimately affect the quality of your SOP. Here is the step-by-step methodology for writing a strong SOP for electrical engineering.
Know the requirements: Have a clear understanding of what your SOP requirements are – what the institute is specifically asking you to answer.
Get to know the institute: Read about the institute you are applying to – the faculty, research scope, student community, course structure and other facilities.
Collect relevant points: Brainstorm the most relevant points you want to include in your SOP. If you have many points, be careful to choose the most recent ones for clarity.
Familiarize with a structure: Take a minute quickly go through a couple of SOP samples to understand the SOP structure, format and writing.
Write an outline: Prepare an outline covering all your points and involving the key components you have identified from the samples.
Write the final: Make the final copy of your SOP. This is ideally done by expanding the outline with engaging sentences.
Validate your document: Proofread your SOP and then validate it for the right grammar, sentence construction, spelling errors, punctuation, cohesion and coherence.
Pro Tip: Improper formatting and lack of a logical structure in your SOP will confuse the reader. Consequently, it will fail to impress the reader to make a decision in favour of you.
Sample SOP for MS in Electrical Engineering
The below-given statement of purpose sample for electronics engineering shows you a clear structure and would help you stay on the right track while writing it. Feel free to write to us if you would like to review more SOP samples for electrical engineering.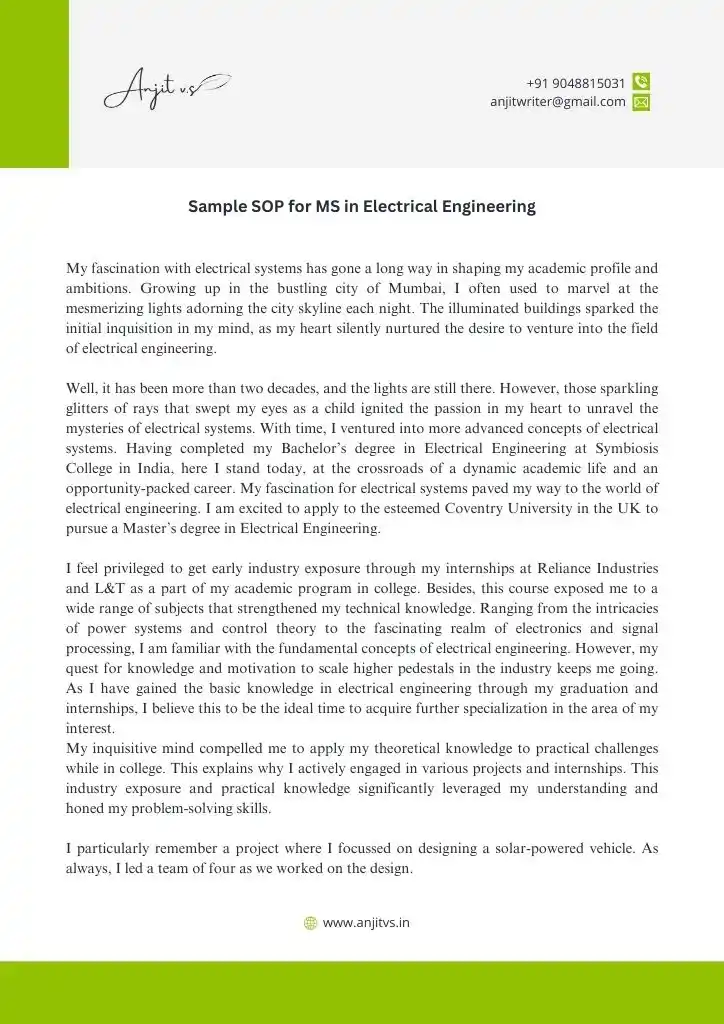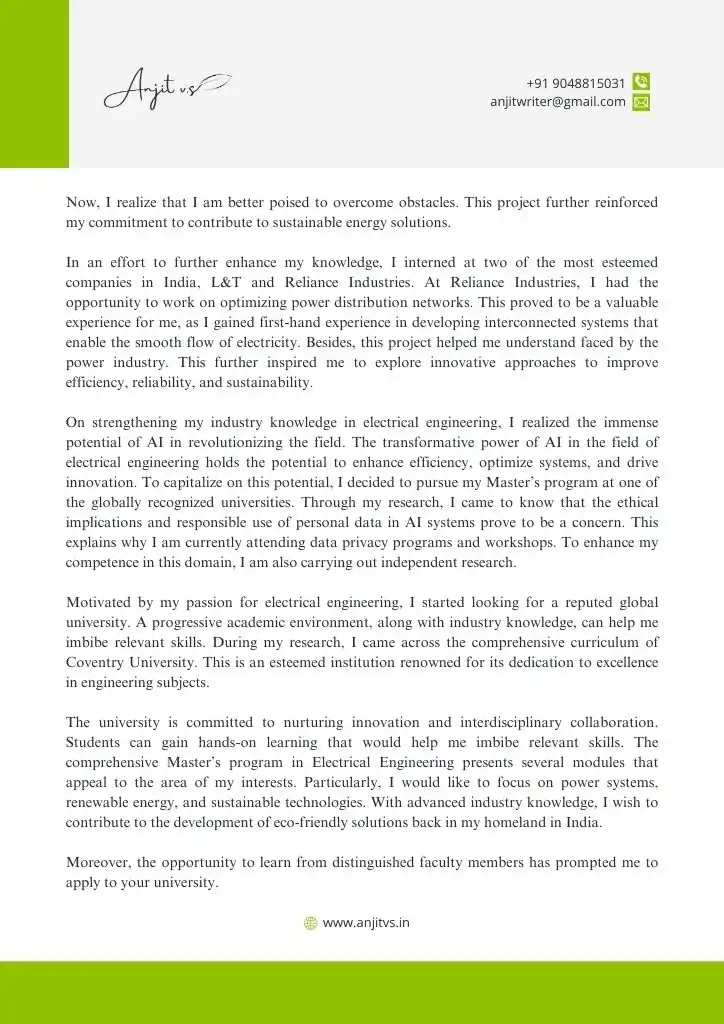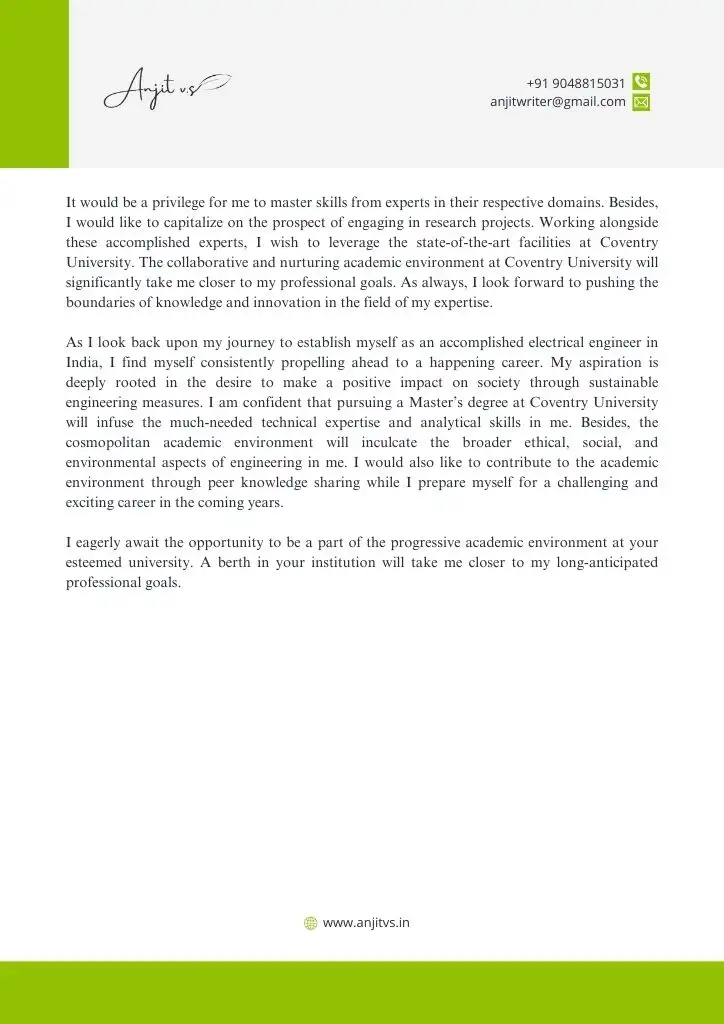 My fascination with electrical systems has gone a long way in shaping my academic profile and ambitions. Growing up in the bustling city of Mumbai, I often used to marvel at the mesmerizing lights adorning the city skyline each night. The illuminated buildings sparked the initial inquisition in my mind, as my heart silently nurtured the desire to venture into the field of electrical engineering.
Well, it has been more than two decades, and the lights are still there. However, those sparkling glitters of rays that swept my eyes as a child ignited the passion in my heart to unravel the mysteries of electrical systems. With time, I ventured into more advanced concepts of electrical systems. Having completed my Bachelor's degree in Electrical Engineering at Symbiosis College in India, here I stand today, at the crossroads of a dynamic academic life and an opportunity-packed career. My fascination for electrical systems paved my way to the world of electrical engineering. I am excited to apply to the esteemed Coventry University in the UK to pursue a Master's degree in Electrical Engineering.
I feel privileged to get early industry exposure through my internships at Reliance Industries and L&T as a part of my academic program in college. Besides, this course exposed me to a wide range of subjects that strengthened my technical knowledge. Ranging from the intricacies of power systems and control theory to the fascinating realm of electronics and signal processing, I am familiar with the fundamental concepts of electrical engineering. However, my quest for knowledge and motivation to scale higher pedestals in the industry keeps me going. As I have gained the basic knowledge in electrical engineering through my graduation and internships, I believe this to be the ideal time to acquire further specialization in the area of my interest.
My inquisitive mind compelled me to apply my theoretical knowledge to practical challenges while in college. This explains why I actively engaged in various projects and internships. This industry exposure and practical knowledge significantly leveraged my understanding and honed my problem-solving skills.
I particularly remember a project where I focussed on designing a solar-powered vehicle. As always, I led a team of four as we worked on the design. Our united expertise proved vital in tackling the complex task of integrating renewable energy systems into the vehicle's powertrain. Apart from gaining practical knowledge, this project demonstrated the value of collaboration, innovation, and perseverance. Now, I realize that I am better poised to overcome obstacles. This project further reinforced my commitment to contribute to sustainable energy solutions.
In an effort to further enhance my knowledge, I interned at two of the most esteemed companies in India, L&T and Reliance Industries. At Reliance Industries, I had the opportunity to work on optimizing power distribution networks. This proved to be a valuable experience for me, as I gained first-hand experience in developing interconnected systems that enable the smooth flow of electricity. Besides, this project helped me understand faced by the power industry. This further inspired me to explore innovative approaches to improve efficiency, reliability, and sustainability.
On strengthening my industry knowledge in electrical engineering, I realized the immense potential of AI in revolutionizing the field. The transformative power of AI in the field of electrical engineering holds the potential to enhance efficiency, optimize systems, and drive innovation. To capitalize on this potential, I decided to pursue my Master's program at one of the globally recognized universities. Through my research, I came to know that the ethical implications and responsible use of personal data in AI systems prove to be a concern. This explains why I am currently attending data privacy programs and workshops. To enhance my competence in this domain, I am also carrying out independent research.
Motivated by my passion for electrical engineering, I started looking for a reputed global university. A progressive academic environment, along with industry knowledge, can help me imbibe relevant skills. During my research, I came across the comprehensive curriculum of Coventry University. This is an esteemed institution renowned for its dedication to excellence in engineering subjects.
The university is committed to nurturing innovation and interdisciplinary collaboration. Students can gain hands-on learning that would help me imbibe relevant skills. The comprehensive Master's program in Electrical Engineering presents several modules that appeal to the area of my interests. Particularly, I would like to focus on power systems, renewable energy, and sustainable technologies. With advanced industry knowledge, I wish to contribute to the development of eco-friendly solutions back in my homeland in India.
Moreover, the opportunity to learn from distinguished faculty members has prompted me to apply to your university. It would be a privilege for me to master skills from experts in their respective domains. Besides, I would like to capitalize on the prospect of engaging in research projects. Working alongside these accomplished experts, I wish to leverage the state-of-the-art facilities at Coventry University. The collaborative and nurturing academic environment at Coventry University will significantly take me closer to my professional goals. As always, I look forward to pushing the boundaries of knowledge and innovation in the field of my expertise.
As I look back upon my journey to establish myself as an accomplished electrical engineer in India, I find myself consistently propelling ahead to a happening career. My aspiration is deeply rooted in the desire to make a positive impact on society through sustainable engineering measures. I am confident that pursuing a Master's degree at Coventry University will infuse the much-needed technical expertise and analytical skills in me. Besides, the cosmopolitan academic environment will inculcate the broader ethical, social, and environmental aspects of engineering in me. I would also like to contribute to the academic environment through peer knowledge sharing while I prepare myself for a challenging and exciting career in the coming years.
I eagerly await the opportunity to be a part of the progressive academic environment at your esteemed university. A berth in your institution will take me closer to my long-anticipated professional goals.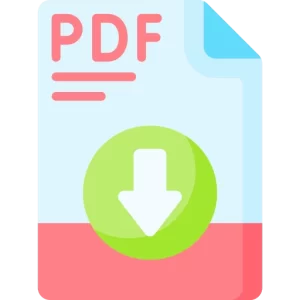 Download Sample SOP for Electrical Engineering PDF
Dos and Don'ts in Writing Electrical Engineering SOP
Here are some additional tips as a bonus to you. These are the Dos and Don'ts you should follow while drafting your SOP.
Dos
Covey your points using simple language and avoiding jargon.
Prioritize the use of active voice in your SOP.
Give emphasis to showing your genuine passion for electrical engineering.
Mention your relevant skills and achievements with examples
Seek the feedback of a second person before submitting.
Don'ts
Be careful not to add any cliches or generic statements to your SOP.
Don't write an overly lengthy SOP. Keep it within the recommended word count.
Stay away from copying content from online SOP for MS in electrical engineering pdf.
Don't write your SOP disregarding the program guidelines
Don't write in an overly formal tone. Use an engaging professional tone instead.
How Can an Expert Transform Your SOP for Electrical Engineering?
Struggling with your SOP writing? Consider hiring an expert. They can write your document like the best SOP samples for MS in electrical engineering. Here are five ways our experts can help you when you hire them for your electrical engineering SOP.
They match your SOP to the institute's expectations and unique requirements.
They understand your profile better and write the SOP from your personal and unique perspective.
They ensure that every point in the SOP is properly linked to a context, purpose and relevant example.
They ensure that your SOP has an engaging writing tone and native-life fluency.
They meticulously proofread your SOP and validate it for a number of quality-assuring criteria.
Top Countries to Study Electrical Engineering
Canada
Since the start of this century, Canada has been among the top ten destinations for electrical engineering programs. If you have a unique SOP for MS in electrical engineering in Canada and a good GPA, you can consider it as a great option.
The UK
The UK is a great place to study electrical engineering. When it comes to writing SOP for MS in electrical engineering in UK, the first thing to remember is to match how your career goals align with studying in the UK.
Germany
Germany is the hub of technology, innovation and thus electrical engineering. When you head to study EEE in Germany, perfect your application with a stellar SOP for MS in electrical engineering in Germany.
USA
A unique and well-drafted SOP for MS in electrical engineering in USA can change your fate forever. It helps you get admission to the best institute in the USA and thus have the best education in electrical engineering.
Popular Electrical Engineering Courses that Require SOP
An outstanding SOP helps you show how closely you suit the requirements and expectations when you apply for the following engineering programs.
SOP for electronics engineering
SOP for electrical engineering undergraduate
SOP for electrical engineering scholarship
SOP for masters in electronics engineering
SOP for EEE students
SOP for electronics engineering
Statement of purpose for ECE students
SOP for power engineering
SOP for PhD in electrical engineering
Top Universities That Offer Electrical Engineering Courses
These are the world's top ten universities that offer electrical engineering programs. Admission to these places calls for a customized electrical Engineering SOP.
Massachusetts Institute of Technology (MIT)
Stanford University
University of California, Berkeley (UCB)
University of Cambridge
Harvard University
National University of Singapore (NUS)
University of Oxford
Imperial College London
Georgia Institute of Technology
University of California, Los Angeles (UCLA)
Conclusion
SOP for electrical engineering is the only document that helps you sell yourself to the ideal institute to which you wish to get admission. We hope this blog helped you understand about this most crucial document.
We are looking forward to helping you further if you have any additional queries or doubts regarding any topics discussed in this blog. So, do not hesitate to write your questions in the comment below.
Frequently Asked Questions [FAQ]
What is the basic information to include in the statement of purpose for masters in electrical engineering?
In fact, there is a series of information you need to include in the SOP. The most basic information among them is to show 'how strongly you are motivated to study electrical engineering and have a career in it.' Secondly, you are expected to show your suitability to do the program. Check out our electrical engineering SOP samples to get an overview of the points to include.
Is there any difference between a statement of purpose for electronics engineering and ECE?
Yes. Both EEE and ECE are two different branches of engineering. EEE stands for Electrical and Electronics Engineering and ECE stands for Electronics and Communication Engineering. The former deals with electrical engineering materials, control systems, circuit analysis and so forth. Whereas the latter focuses on basic electronics with communication equipment, microwave engineering, digital analogue communication, satellite communication and so on. When you write an SOP for these programs, it is important to show that you clearly understand what each of these programs entail and why you are drawn to it.