You have made the most crucial decision in your career – to study Business Analytics. What next? Grab your seat at the best university. Yes. But that comes with a price – a flawless SOP for Business Analytics.
If you are wondering
What is an SOP for Business Analytics?
How to write it?
What to include in it?
Sample SOP for Business Analytics
We've got your back. This blog contains answers to all of the above questions.
What is SOP for Business Analytics?
A statement of purpose (SOP) for business analytics is a written document that conveys to the selection committee who you are, and why you fit into their Business Analytics program. It also reveals your future plans in Business Analytics and how and what you contribute to the institute as well as the field of Business Analytics.
Why do we need an SOP for Business Analytics?
SOP is a mandatory document to include in the application for almost all higher study programs. More than just a formality, it helps the candidates and admission panel in different ways.
Business Analytics SOP pdf helps the admission committee get the basic background information about the candidate.
Admission panel can easily understand or determine why the candidate is an apt choice for their Business Analytics program.
Based on the SOP submitted by the candidates, the selection panel can decide on the questions for the face-to-face interview.
For the selection committee that receives hundreds of applications, SOP helps them make the right choice without any biases.
Candidates can prove their skills and strengths through their Business Analytics SOP PDF.
Need Help In Writing SOP for Business Analytics?
SOP Format for Business Analytics
Introduction
Start with a catchy introduction explaining how you got interested in business analytics and why you want to pursue a career in it. Use an anecdote as a backdrop to make it more personal.
Academic/Professional Background
Supply information pointing to your work and education history and their relevance to business analytics. If there has been a course change, justify it too.
Motivation for Business Analytics
In this paragraph, convince the selectors that you are truly drawn to the field of business analytics. Show that you have done enough research to understand the field.
Skills, Strengths, and Achievements
Talk about your relevant skills, strengths and achievements that would help you during the program. Outline skills like problem-solving, analytical skills and critical thinking with examples from your past and show how they helped you stand out.
Career goals
Explain what you intend to do with your career after completing the course in business analytics. Outline how the skills, knowledge and experiences you obtained from the business analytics program will help you in materializing your goals.
Reasons for choosing the college/country
Specify your reasoning behind choosing the college as well as the country for your training in business analytics. For the institute, outline its unique facilities. For the country, highlight how it fares in the domain of business analytics.
Conclusion
Conclude your statement of purpose by summing up your whole essay into one or two sentences. Thank the selection committee for considering your application. Show your confidence in getting selected for the business analytics program.
Prop Tip: Given the utmost importance of a statement of purpose for masters in Business Analytics in candidate shortlisting, each mistake in it can push you back. So, ensure you have an error-free SOP.
Need Help In Writing Statement of Purpose for Business Analytics?
What to Include in an SOP for MS in Business Analytics?
Write your best SOP for MS in Business Analytics illustrating that you have the necessary skill set, experience, and exposure to take up your academic journey in Business Analytics. Here is a list of points you shouldn't fail to include in your MSBA SOP.
Academic achievements:
Talk about all the significant academic achievements you had during your graduation. Connect how each of them can benefit you during your masters in Business Analytics.
Highlight your analytical skills:
The admission panel will try to know about your Analytical skills since it is critical to succeeding in a program like Business Analytics. So, highlight them in your SOP for MSBA.
Show how past experiences moulded you:
Showing how your past experiences emboldened you to take up the Business Analytics program will create a very good first impression. Solidify them in the SOP for MS in Business Analytics with work experience.
Sample SOP For Business Analytics
Reading Sample SOP for Business Analytics is a recommended exercise before you start the preparation of the final SOP. Samples will not only inspire you while brainstorming but also will give you some ideas about formatting.
SOP for Business Analytics PDF
Sample SOP for MS in Business Analytics
Check the below-given sample SOP for MS in Business Analytics as you prepare your document. Figure out how you can present your points supported by an engaging narrative.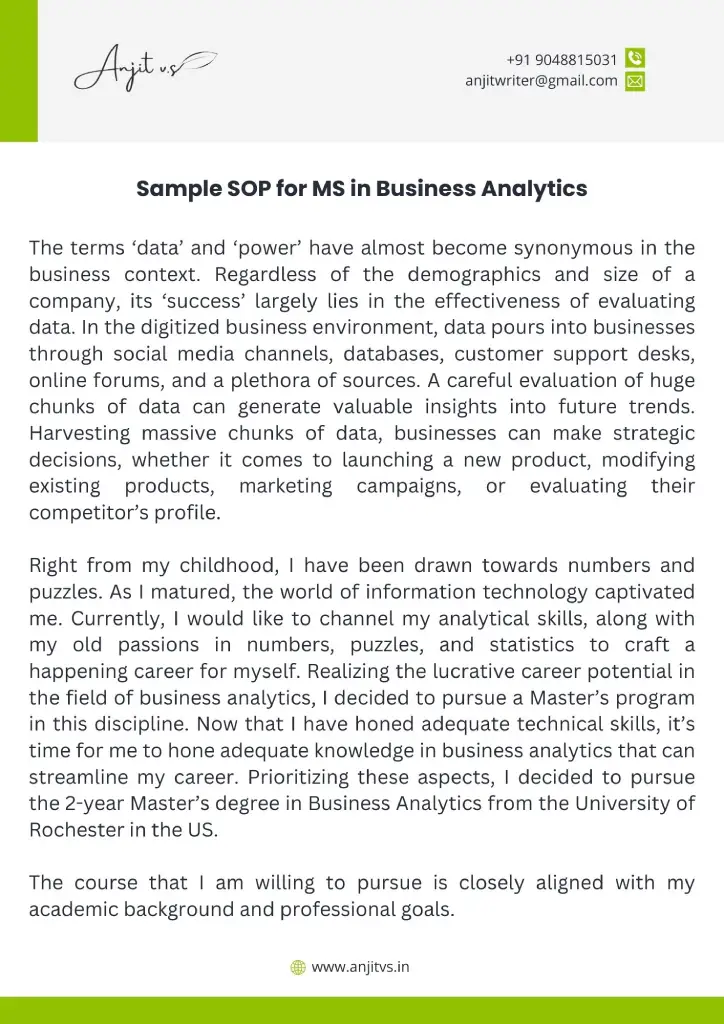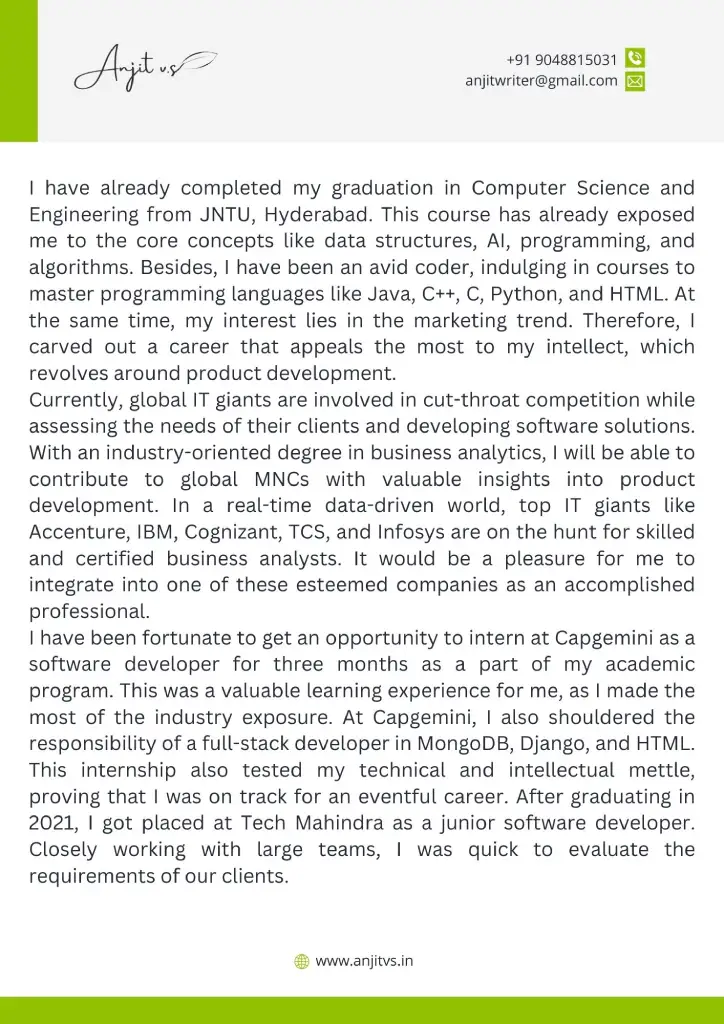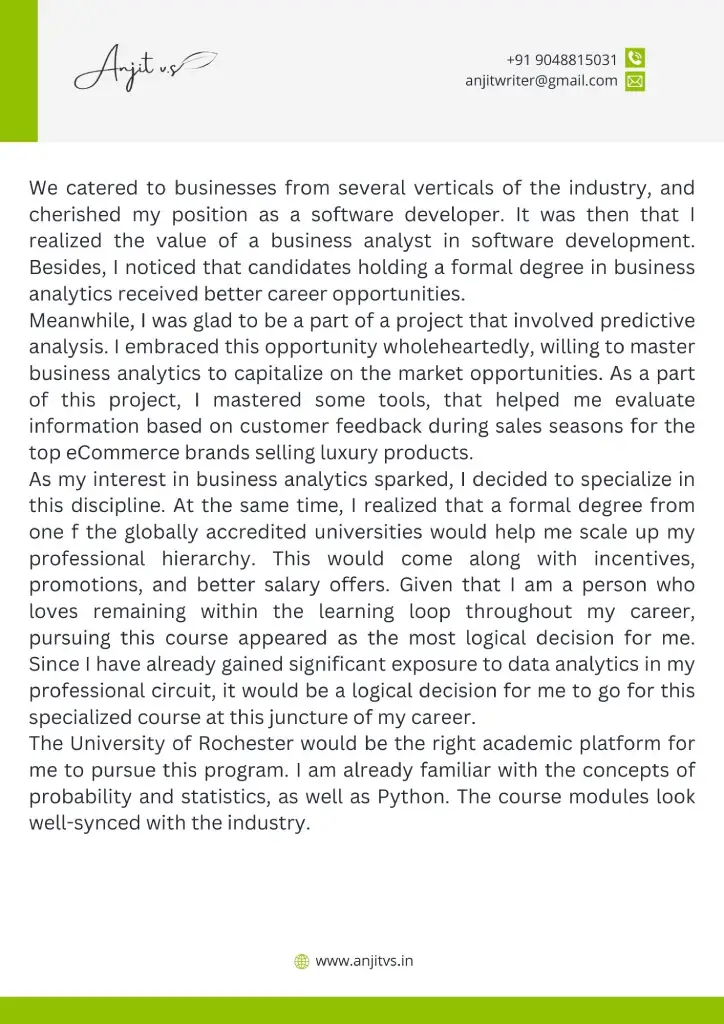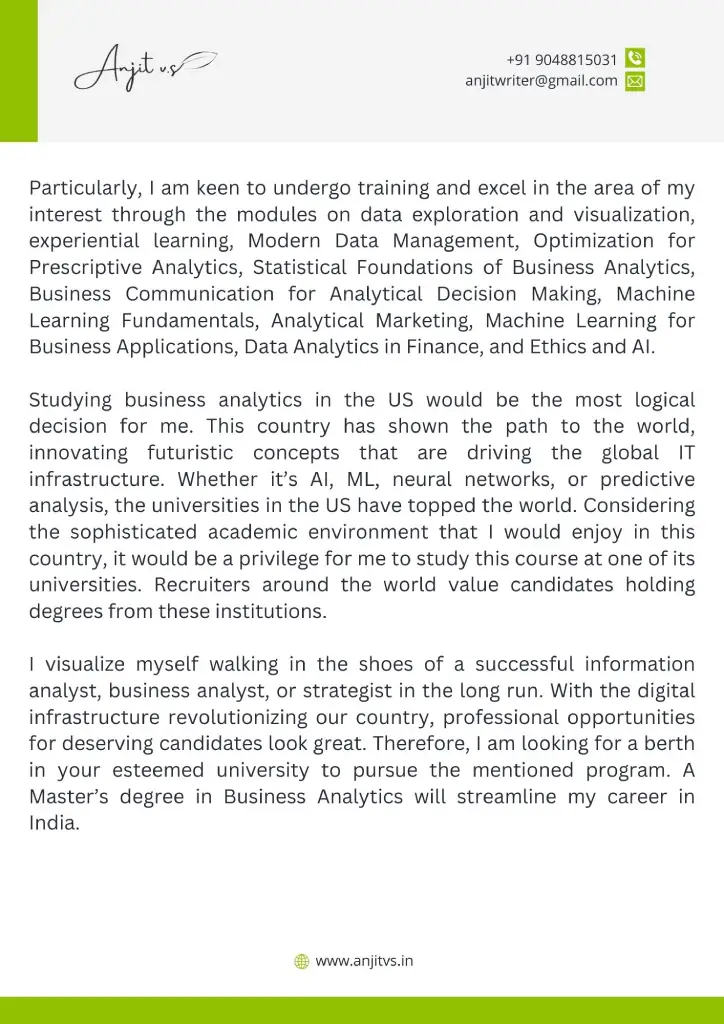 The terms 'data' and 'power' have almost become synonymous in the business context. Regardless of the demographics and size of a company, its 'success' largely lies in the effectiveness of evaluating data. In the digitized business environment, data pours into businesses through social media channels, databases, customer support desks, online forums, and a plethora of sources. A careful evaluation of huge chunks of data can generate valuable insights into future trends. Harvesting massive chunks of data, businesses can make strategic decisions, whether it comes to launching a new product, modifying existing products, marketing campaigns, or evaluating their competitor's profile.
Right from my childhood, I have been drawn towards numbers and puzzles. As I matured, the world of information technology captivated me. Currently, I would like to channel my analytical skills, along with my old passions in numbers, puzzles, and statistics to craft a happening career for myself. Realizing the lucrative career potential in the field of business analytics, I decided to pursue a Master's program in this discipline. Now that I have honed adequate technical skills, it's time for me to hone adequate knowledge in business analytics that can streamline my career. Prioritizing these aspects, I decided to pursue the 2-year Master's degree in Business Analytics from the University of Rochester in the US.
The course that I am willing to pursue is closely aligned with my academic background and professional goals. I have already completed my graduation in Computer Science and Engineering from JNTU, Hyderabad. This course has already exposed me to the core concepts like data structures, AI, programming, and algorithms. Besides, I have been an avid coder, indulging in courses to master programming languages like Java, C++, C, Python, and HTML. At the same time, my interest lies in the marketing trend. Therefore, I carved out a career that appeals the most to my intellect, which revolves around product development.
Currently, global IT giants are involved in cut-throat competition while assessing the needs of their clients and developing software solutions. With an industry-oriented degree in business analytics, I will be able to contribute to global MNCs with valuable insights into product development. In a real-time data-driven world, top IT giants like Accenture, IBM, Cognizant, TCS, and Infosys are on the hunt for skilled and certified business analysts. It would be a pleasure for me to integrate into one of these esteemed companies as an accomplished professional.
I have been fortunate to get an opportunity to intern at Capgemini as a software developer for three months as a part of my academic program. This was a valuable learning experience for me, as I made the most of the industry exposure. At Capgemini, I also shouldered the responsibility of a full-stack developer in MongoDB, Django, and HTML. This internship also tested my technical and intellectual mettle, proving that I was on track for an eventful career.
After graduating in 2021, I got placed at Tech Mahindra as a junior software developer. Closely working with large teams, I was quick to evaluate the requirements of our clients. We catered to businesses from several verticals of the industry, and cherished my position as a software developer. It was then that I realized the value of a business analyst in software development. Besides, I noticed that candidates holding a formal degree in business analytics received better career opportunities.
Meanwhile, I was glad to be a part of a project that involved predictive analysis. I embraced this opportunity wholeheartedly, willing to master business analytics to capitalize on the market opportunities. As a part of this project, I mastered some tools, that helped me evaluate information based on customer feedback during sales seasons for the top eCommerce brands selling luxury products.
As my interest in business analytics sparked, I decided to specialize in this discipline. At the same time, I realized that a formal degree from one f the globally accredited universities would help me scale up my professional hierarchy. This would come along with incentives, promotions, and better salary offers. Given that I am a person who loves remaining within the learning loop throughout my career, pursuing this course appeared as the most logical decision for me. Since I have already gained significant exposure to data analytics in my professional circuit, it would be a logical decision for me to go for this specialized course at this juncture of my career.
The University of Rochester would be the right academic platform for me to pursue this program. I am already familiar with the concepts of probability and statistics, as well as Python. The course modules look well-synced with the industry. Particularly, I am keen to undergo training and excel in the area of my interest through the modules on data exploration and visualization, experiential learning, Modern Data Management, Optimization for Prescriptive Analytics, Statistical Foundations of Business Analytics, Business Communication for Analytical Decision Making, Machine Learning Fundamentals, Analytical Marketing, Machine Learning for Business Applications, Data Analytics in Finance, and Ethics and AI.
Studying business analytics in the US would be the most logical decision for me. This country has shown the path to the world, innovating futuristic concepts that are driving the global IT infrastructure. Whether it's AI, ML, neural networks, or predictive analysis, the universities in the US have topped the world. Considering the sophisticated academic environment that I would enjoy in this country, it would be a privilege for me to study this course at one of its universities. Recruiters around the world value candidates holding degrees from these institutions.
I visualize myself walking in the shoes of a successful information analyst, business analyst, or strategist in the long run. With the digital infrastructure revolutionizing our country, professional opportunities for deserving candidates look great. Therefore, I am looking for a berth in your esteemed university to pursue the mentioned program. A Master's degree in Business Analytics will streamline my career in India.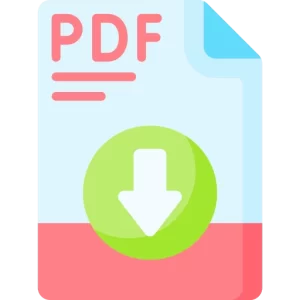 Download Sample SOP for MS in Business Analytics PDF
How to Write SOP for Business Analytics?
Writing SOP for Business Analytics for freshers involves three stages – preparation, execution, and validation.
Preparation
Know Business Analytics: Try to read as much as possible about Business Analytics and see how it attunes to your profile.
Read samples: Read a couple of SOP samples for Business Analytics to help yourself brainstorm points for your SOP for Business Analytics PDF.
Understand SOP requirements: Read about the college or university where you want to do your Business Analytics program. See if they require you to answer specific questions.
Execution
Organize your points: Brainstorm points and organize them for the different sections of your SOP such as the introduction, main body and conclusion.
Write the first draft: Free-write the first draft including all the points you have gathered and using your own personal narrative.
Perfect the first draft: Go through the finished first draft and modify the sentences/paragraphs that appear to be needing more attention.
Validation
Proofread: Make it mandatory to proofread your statement of purpose at least five times before finalizing it. Each proofreading will help you look at your SOP from a different angle and modify it.
Seek a second opinion: It is advisable to request a known professor or a reliable colleague for feedback on your SOP.
Need Help In Writing Business Analytics SOP?
Skills to Include in Your SOP for Business Analytics
Here is a list of skills to include SOP for business analytics. Identify the skills that you can identify with and highlight them in your SOP.
Critical thinking
Problem-solving skills
Managerial skills
Technical proficiency
Communication skills
Analytical skills
Business acumen
Hire an Expert SOP Writer for Business Analytics
Pro Tips for Writing a Statement of Purpose for Business Analytics
Beyond the basic SOP writing steps, there are pro tips that can transform an average statement of purpose for MBA Business Analytics into a really captivating one. Here we share some of them with you.
Make the introduction catchy. It is the introduction that creates the first impression.
Be true to yourself through the SOP. Lies and contradictions in SOP lead to outright rejections.
When you talk about challenges or failure, present them as turning points that helped you to improve your perspectives.
Adhere to the correct format, university requirements and the recommended word count.
Do not copy from the sample sop for business analytics pdf. The selection panel will easily detect them in plagiarism tests.
SOP for MS in Business Analytics Writing Guidelines for Top Countries
Over the last few years, the following countries have remained as the best destinations for pursuing higher education in Business Analytics. Review sample SOP for Business Analytics to understand how requirements vary from country to country.
SOP for Business Analytics in USA
Write the SOP for Business Analytics in the USA in about two to three pages.
Keep the word count in the range of 800 to 1000 words.
Address all university-specific questions in the SOP.
Do not forget to highlight the reasons for choosing the USA for your business analytics program.
SOP for Business Analytics in Canada
Avoid plagiarism while writing the SOP for business analytics in Canada.
Make the write-up engaging so that selectors would be impressed and take positive action.
Highlight your post-study plans in the SOP, giving a special emphasis on your plans to return home.
Avoid repetition of points.
SOP for Business Analytics in Australia
Keep your SOP for business analytics in Australia both short and precise.
Adhere to all university-specific SOP writing guidelines – format, questions to answer and word count.
Make sure that the content of your SOP matches the content in other application materials.
Avoid grammatical errors and spelling mistakes through careful proofreading.
SOP for Business Analytics in the UK
Show how your skills and experiences match the institute's expectations and requirements in the SOP for Business Analytics in the UK.
Make sure that your SOP is written in Standard British English.
Validate your completed SOP with a sample business analytics SOP for UK.
Make sure that each of your claims in the SOP is backed with evidence.
SOP for Business Analytics in Germany
Demonstrate in your SOP how you got interested in business analytics.
Prove that you have made a careful choice about deciding to study in Germany.
Elaborate on your plans after completing the business analytics program in Germany.
Prove that you have valid reasons to return to your home country.
SOP for Business Analytics in France
Write your SOP for business analytics in France in simple language.
Avoid writing a lengthy SOP. Keep it short and concise, in the range of 700 to 900 words.
Write a genuine SOP. Avoid writing anything that does not describe you.
Highlight your relevant skills and strengths to prove that you are eligible for admission to France.
SOP for Business Analytics in Ireland
Share your personal story that got you interested in Business Analytics.
Demonstrate why Ireland and why this university/college.
Write only what is needed. Avoid writing past events that hardly make any sense in the context.
Write your SOP using your unique style of presentation.
Need Help In Writing Statement of Purpose for Business Analytics?
Top Universities To Pursue Business Analytics And Their SOP Criteria
Here is yet another list with the names of the top universities for doing Business Analytics and what they expect in the Business Analytics SOP pdf from their applicants.
ESADE Business School, Spain
Recommended word count: About 1000
Major points to cover: A brief introduction about your background, motivation for choosing Business Analytics and future plans.
Writing tone: Professional and engaging
Imperial College Business School, UK
Applicants are required to comply with the guidelines given on the college website while writing the SOP.
The SOP should be written in British English.
Since the institute prefers candidates with a good command of English, it's important to write an SOP in perfect English
MIT Sloan School of Management, USA
MIT considers SOP at the forefront of the applications. A flawless and straight-to-the-point SOP is mandatory.
You must prove that you are a good fit for their program and institute's mission and vision.
Show how you can contribute to the institute highlighting your communication, leadership and social skills and strengths.
Ecole Polytechnique/ HEC Paris, France
The institute strongly encourages applicants to write genuine information.
You can put yourself in the bright shade by listing personal accomplishments as a student.
Show how closely you align with the Business Analytics program.
Texas McCombs School of Business, USA
Write the SOP in the range of 800 to 1000 words.
Outline how your university's facilities, vision and mission align with your skills and expectations.
Highlight individual efforts you have taken to enhance your knowledge of business analytics.
HEC Montreal, Canada
Highlight both your soft skills and technical skills that will help you succeed in business analytics.
Outline how you can contribute to HEC Montreal. Highlight your organizational skills, managerial skills, and leadership qualities to prove them.
Show your expectations about the institute and how you want to benefit from its program.
McGill Desautels Faculty of Management, Canada
Write a 100% genuine and unique statement of purpose reflecting your personality and character.
Focus on writing the SOP within the limit of 1000 words.
Try to sell yourself to the institute highlighting why you are a good fit for their program.
Why Should You Hire Professionals for Statement of Purpose for Ms in Business Analytics?
Worried about writing the SOP for Business Analytics on your own? Find out how hiring a professional writer can save you.
Professional writers know what universities expect in the Business Analytics SOP.
Hiring professional writers is the best alternative if you are not confident about your writing skills.
Professional writers will proofread your SOP multiple times and remove all mistakes before delivering it to you.
Professional writers will present your SOP for Business Analytics course with an engaging story which will ensure that the reader gets quickly impressed.
Conclusion
Have you found this blog on SOP for Business Analytics helpful?
We have tried to present it as comprehensively as possible.
However, if you think that there is anything missing, feel free to bring that to our attention.
We openly welcome your valuable feedback and suggestions.
Frequently Asked Questions [FAQ]
How do you prepare a business analytics SOP?
We prepare business analytics SOP by analyzing the inputs from the clients. After thorough research and analysis, writers write a customized statement of purpose that truly reflects your personality.
Why study business analytics statement of purpose?
Explain what motivated you to pursue a course in Business Analytics. Write about how qualified you are to pursue the course by mentioning your key analytical skills.
How to write SOP for MS in Business Analytics with work experience?
If you have any relevant work experience that would make you more eligible for the master's degree in business analytics, highlight them in the SOP. Show how your experiences enhanced your analytical and problem-solving skills and made you realize the areas that you needed to work more on. Likewise, explain how your previous experience and exposure would help you during your business analytics program.