Want to ace your career as a mechanical engineer? Get grounded in the domain of Mechanical engineering by studying MS in Mechanical engineering at the best university.
In addition to your good GPA, your admission to the top university will be finalized based on how you present yourself in the SOP for MS in mechanical engineering.
But don't worry if you are not confident to write your SOP. We have designed this blog to cover everything you need to know about a statement of purpose for mechanical engineering. As you read, you will learn/find:
What is a statement of purpose for ms in mechanical engineering?
How to write a unique SOP for ms in mechanical engineering?
Dos and Don'ts in writing the SOP for mechanical engineering
SOP samples for MS in mechanical engineering
What is SOP for MS in Mechanical Engineering?
A statement of purpose or SOP for MS in mechanical engineering is a document containing your claims regarding your suitability for an MS in mechanical engineering program offered by a certain college or university. It gives an explanation to a series of questions that selection committees want to know about you while reviewing your application.
Why Do You Need An SOP for MS In Mechanical Engineering?
Why do universities ask for an SOP while matching eligibility is the prerequisite for university admission? Well, here are the reasons why an SOP for ms in mechanical engineering asked for admission.
SOP for masters in mechanical engineering reveals how serious you are about focusing your career on mechanical engineering.
SOP helps the admission panel ascertain how you differ or excel from all other applicants with similar eligibility.
SOP helps you show how much you can contribute to your college while being a student there.
When selection chances are bleak due to different backgrounds, SOP helps you explain your reasons for course change and convince the admission committee.
Need Help In Writing SOP for MS in Mechanical Engineering?
Structure of SOP for Mechanical Engineering
| | |
| --- | --- |
| First Paragraph: | The first paragraph of your SOP for ms in mechanical engineering is the introduction. You can start by narrating a personal experience where you first encountered mechanical engineering and wondered about it. Explain why you think you are made for a career in mechanical engineering and how doing this MS in Mechanical engineering will benefit you. |
| Second Paragraph: | Smoothly transition to the second paragraph and solidify your motivation for choosing mechanical engineering. Show how your academic and professional backgrounds influenced you to choose mechanical engineering. List down the major achievements and accomplishments and point out how much you think they are worth to your decisions and ambitions. |
| Third Paragraph: | In the third paragraph, talk about your participation in extracurricular activities, for instance, organizing events, giving presentations at seminars etc. The idea is to show how many people skills you have to contribute to the institute as a responsible student. |
| Fourth Paragraph: | In the fourth paragraph, write about the things that make you different from other applicants. For instance, your experience of interning at an organization providing engineering solutions. If you have done any self-studies or research to learn mechanical engineering concepts, it is a great way to draw attention. |
| Fifth Paragraph: | Next, give reasons for your selection of the particular institute and the country. Highlight reasons like the research facilities offered at the institute, the excellence of the faculty, the student community etc. For the selection of the country, explore how mechanical engineering fares in that country and list out the specifics of that. |
| Sixth Paragraph: | In the upcoming paragraph of your statement of purpose for MS in mechanical engineering, talk about your future plans. Tell what you plan to do soon after the course completion and then after a few years into your professional journey. |
| Conclusion: | Conclude your SOP by boiling down all your points into one or two sentences. Also, don't forget to end on a positive note showing your hope and confidence in getting selected and thanking the selection panel for going through your SOP. |
Need Help In Writing SOP for MS in Mechanical Engineering?
5 Steps to Write a Powerful Statement of Purpose for Mechanical Engineering
Whether you are writing an SOP for MS in mechanical engineering with work experience or without it, it is important to know the right steps that will make it both impressive and impactful. So, here are the five useful steps to get started.
Know the structure:
Before you start writing your SOP for mechanical engineering, it is important to know the structure to use. We have given an acceptable structure to use above. Use it to make an outline before you start.
Finalize your points:
Once you start brainstorming points, you would be inundated with many. But don't use all. Stick to the most important and relevant ones that truly describe your motive, strength and suitability for the Mechanical engineering program.
Word your story unambiguously:
How appealing is your SOP is going to be decided by how you present it. Use simple words to write your story. It will help you ensure proper communication of your message.
Make use of good grammar:
Grammatical mistakes can cause your SOP to seem less impressive. Ensure that there are no grammatical or spelling mistakes through careful proofreading and corrections.
Bring in engagement:
An engaging SOP is all it takes to convince your selection committee. Use a tone that is both friendly and formal. Being more personal and truer to yourself is the right way to achieve it.
Need Help In Writing Statement of Purpose for Mechanical Engineering?
SOP Samples for MS in Mechanical Engineering
While it is not recommended to modify or copy from a sample sop for ms in mechanical engineering PDF, it is perfectly okay to review it to understand some of the basics. Referring to the following sample sop for mechanical engineering could boost your confidence to write your own unique SOP.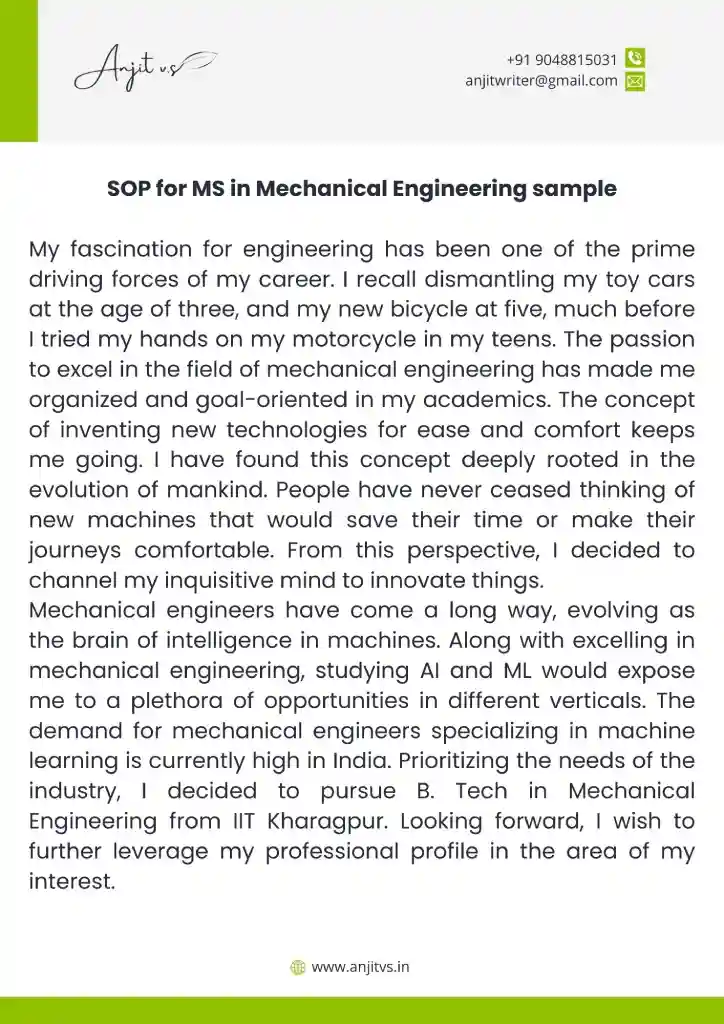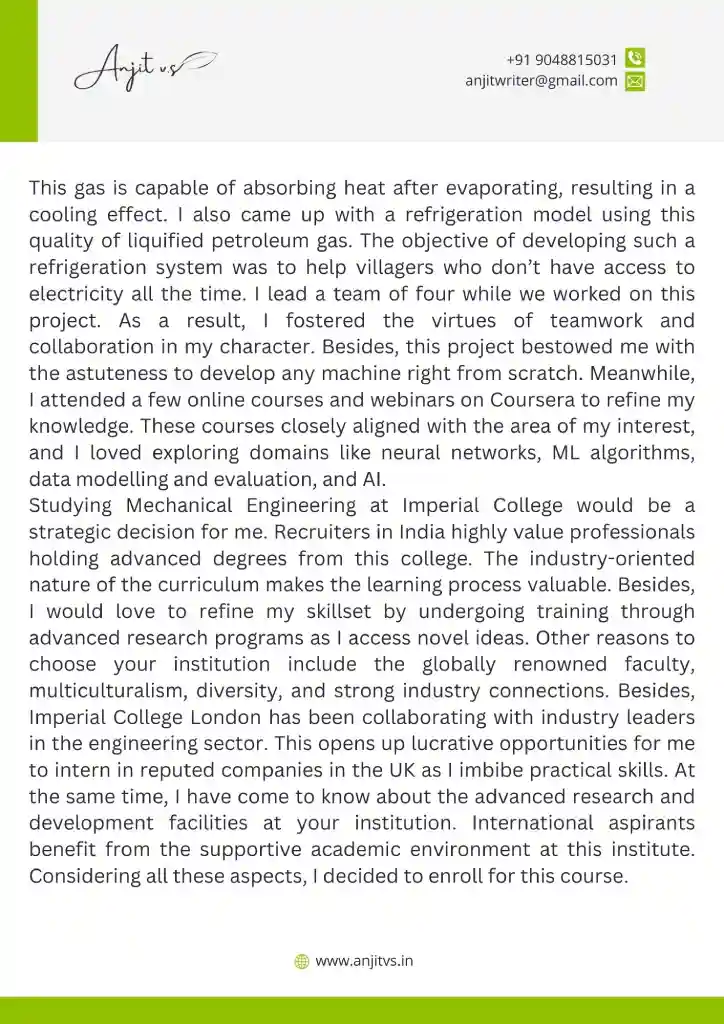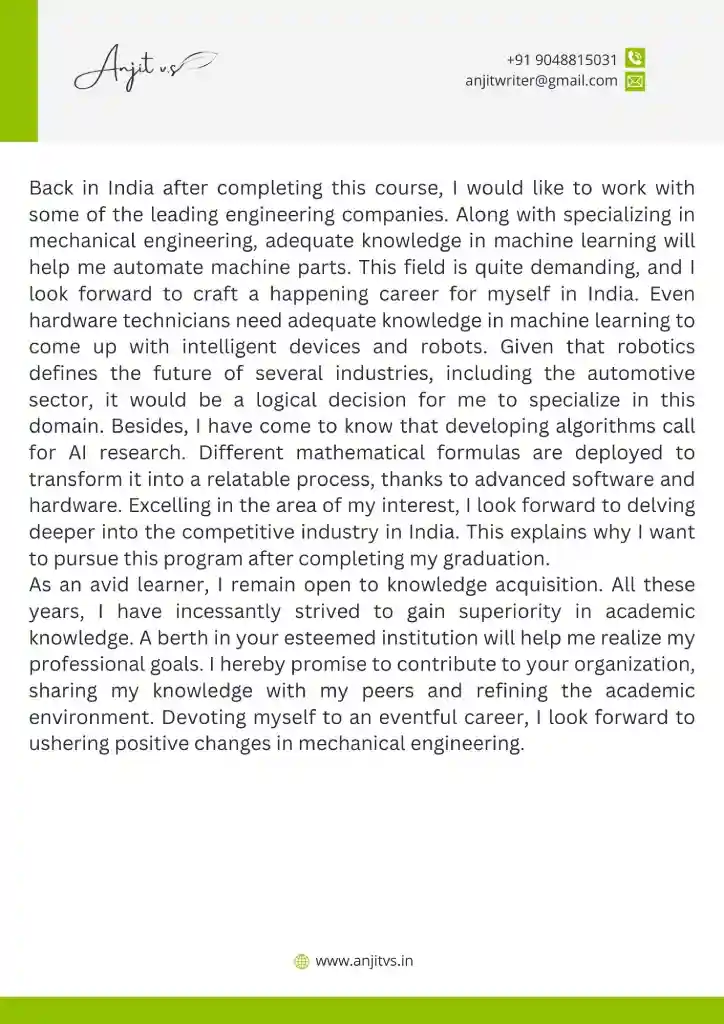 My fascination for engineering has been one of the prime driving forces of my career. I recall dismantling my toy cars at the age of three, and my new bicycle at five, much before I tried my hands on my motorcycle in my teens. The passion to excel in the field of mechanical engineering has made me organized and goal-oriented in my academics. The concept of inventing new technologies for ease and comfort keeps me going. I have found this concept deeply rooted in the evolution of mankind. People have never ceased thinking of new machines that would save their time or make their journeys comfortable. From this perspective, I decided to channel my inquisitive mind to innovate things.
Mechanical engineers have come a long way, evolving as the brain of intelligence in machines. Along with excelling in mechanical engineering, studying AI and ML would expose me to a plethora of opportunities in different verticals. The demand for mechanical engineers specializing in machine learning is currently high in India. Prioritizing the needs of the industry, I decided to pursue B. Tech in Mechanical Engineering from IIT Kharagpur. Looking forward, I wish to further leverage my professional profile in the area of my interest. This explains why I decided to pursue my Master's degree in Mechanical Engineering from Imperial College, London. I have been in quest for a career that would bridge my passion and professional goals. The field of mechanical engineering appeals to me more than any other domain. I have been consistent in my academics all these years. This is also evident from the grades I obtained in the entrance tests while I secured admission at an esteemed institution like IIT Kharagpur. It was during my graduation that I got the opportunity to explore the fundamental of thermodynamics, mechanics, designing, and developing thermal devices. It was a pleasure for me to work on several academic projects. I was an active participant in seminars and conferences, which helped me interact with industry experts. At the same time, I found the most gratifying pastime in the library. Here, I used to devour latest technology-related news published in global journals. Through all these efforts, I strived to stay abreast with the latest developments in the industry.
There's no denying that I used to find the most happening time at the workshops and laboratories, as I engaged myself with practical activities. The opportunity to study at a reputed college in India fetched me the privilege to attend several national conferences. Besides, I have attended machine learning workshops organized in other colleges too. For me, it was a pleasure to lead our department in inter-college fests and competitions. In the process, I could work on my leadership and managerial skills.
I bagged 87% and 93% in my Secondary and Higher Secondary examinations. I followed these grades up with a healthy CGPA of 9.2 in my graduation. It was in the last semester of my engineering course that I designed a refrigeration system to minimize cost, deploying LPG. This gas is capable of absorbing heat after evaporating, resulting in a cooling effect. I also came up with a refrigeration model using this quality of liquified petroleum gas. The objective of developing such a refrigeration system was to help villagers who don't have access to electricity all the time. I lead a team of four while we worked on this project. As a result, I fostered the virtues of teamwork and collaboration in my character. Besides, this project bestowed me with the astuteness to develop any machine right from scratch. Meanwhile, I attended a few online courses and webinars on Coursera to refine my knowledge. These courses closely aligned with the area of my interest, and I loved exploring domains like neural networks, ML algorithms, data modelling and evaluation, and AI.
Studying Mechanical Engineering at Imperial College would be a strategic decision for me. Recruiters in India highly value professionals holding advanced degrees from this college. The industry-oriented nature of the curriculum makes the learning process valuable. Besides, I would love to refine my skillset by undergoing training through advanced research programs as I access novel ideas. Other reasons to choose your institution include the globally renowned faculty, multiculturalism, diversity, and strong industry connections. Besides, Imperial College London has been collaborating with industry leaders in the engineering sector. This opens up lucrative opportunities for me to intern in reputed companies in the UK as I imbibe practical skills. At the same time, I have come to know about the advanced research and development facilities at your institution. International aspirants benefit from the supportive academic environment at this institute. Considering all these aspects, I decided to enroll for this course.
Back in India after completing this course, I would like to work with some of the leading engineering companies. Along with specializing in mechanical engineering, adequate knowledge in machine learning will help me automate machine parts. This field is quite demanding, and I look forward to craft a happening career for myself in India. Even hardware technicians need adequate knowledge in machine learning to come up with intelligent devices and robots. Given that robotics defines the future of several industries, including the automotive sector, it would be a logical decision for me to specialize in this domain. Besides, I have come to know that developing algorithms call for AI research. Different mathematical formulas are deployed to transform it into a relatable process, thanks to advanced software and hardware. Excelling in the area of my interest, I look forward to delving deeper into the competitive industry in India. This explains why I want to pursue this program after completing my graduation.
As an avid learner, I remain open to knowledge acquisition. All these years, I have incessantly strived to gain superiority in academic knowledge. A berth in your esteemed institution will help me realize my professional goals. I hereby promise to contribute to your organization, sharing my knowledge with my peers and refining the academic environment. Devoting myself to an eventful career, I look forward to ushering positive changes in mechanical engineering.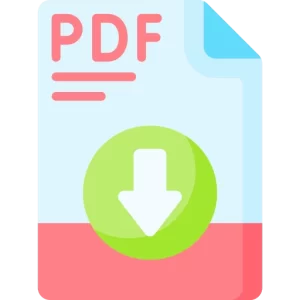 Download SOP for Mechanical Engineering PDF
Do's and Don'ts for a Mechanical Engineering SOP
Do's
Enhance your knowledge of mechanical engineering and the scope of your professional growth in it beforehand.
Go through the sample SOP for mechanical engineering pdf to prepare before writing.
Write in a friendly tone and reflect positivity throughout your document.
Have a clear picture of the SOP requirements.
Don'ts
Don't include any information that is not relevant or too outdated.
Don't plagiarize your SOP from samples found on the internet.
Avoid writing your SOP in the passive voice. Use active voice instead to make it more powerful.
Don't write a generic SOP for all colleges/universities you are applying to. Customize each SOP in accordance with the institute.
Need Help In Writing SOP for MS in Mechanical Engineering?
Soft Skills to Highlight in an SOP For MS in Mechanical Engineering
What qualities or soft skills will make you a good mechanical engineer? While writing the SOP, talking about some of the soft skills that make mechanical engineers do well in their job is a good sign. Here are some of them. Include the ones that you can relate to in your SOP.
Teamwork and collaboration
Problem-solving skills
Creative and critical thinking
Interpersonal skills
Mathematical reasoning
5 Important Things to Follow While Writing SOP for MS in Mechanical Engineering
Start early
Do enough preparation before writing
Back your claims with evidence
Include quantitative information
Seek a second opinion on your SOP's readability and impact
Why Should You Hire an Expert for Writing Your SOP for Mechanical Engineering?
Hiring an expert is time-saving.
Professional SOP writers have polished writing skills.
Experts would deliver an error-free SOP after meticulous proofreading.
Experienced writers know what universities look for in the SOP
A professional SOP writer will bring uniqueness and originality to your SOP.
Need Help In Writing SOP for MS in Mechanical Engineering?
Checklist to Verify Your Mechanical Engineering SOP
So, you have finished writing your mechanical engineering SOP. Have you written it as it is supposed to be? Here is a checklist to verify.
Have you written an impressive introduction for your SOP?
Have you adhered to the university guidelines regarding the format, points and length?
Does your SOP read smoothly?
Have you supplied your claims with sufficient pieces of evidence?
Does your SOP agree with other documents you have included in the application?
Does the conclusion look strong and leave a proper summary for the reader to take away?
Specific Guidelines to Write SOP for MS in Mechanical Engineering to Top 5 Countries
Don't assume that you can write a statement of purpose for masters in mechanical engineering for any country in the same pattern and style. There are some slight differences in the SOP for different countries.
SOP for Mechanical Engineering in UK
The UK hosts a number of esteemed institutes for higher education in mechanical engineering. You can apply there with a tailor-made SOP for mechanical engineering in UK.
Use British English for your SOP.
Give more emphasis on your academic achievements
Mention what you aspire to do as a mechanical engineer
Write up to 800 words or 4000 characters.
Below is the list of top universities in the UK ideal for studying mechanical engineering.
University of Nottingham
University of Cambridge
Imperial College London
University of Liverpool
University of Southampton
SOP for Mechanical Engineering in Canada
Keep the following things in mind while writing the SOP for mechanical engineering in Canada.
Keep the length of your SOP anywhere between 800 and 1200 words.
Be sure to highlight why you think Canada is best for your mechanical engineering formation.
Elaborate on your expectations about the desired college in Canada.
Grab the attention of the reader by writing a catchy introduction at the beginning.
The most popular universities in Canada for pursuing mechanical engineering are:
University of Waterloo
University of Alberta
McGill University
University of Toronto
University of British Columbia
SOP for Mechanical Engineering in Australia
Australia is emerging as a favourite destination for international students for a number of courses including mechanical engineering. Your SOP for mechanical engineering in Australia must:
Give a valid explanation for your choice of college and country.
Reveal why Australia
Be free from grammatical and spelling errors
Give a clear overview of your future plans.
Top Australian institutes for higher studies in Mechanical engineering in Australia are:
University of Sydney
Royal Melbourne Institute of Technology (RMIT)
University of Wollongong
The University of Technology Sydney
University of Queensland
SOP for Mechanical Engineering in Germany
The first name that pops up in our mind when we hear mechanical engineering is Germany. It has the most advanced mechanical engineering industry. Write your SOP for mechanical engineering in Germany:
In a format that is acceptable to the university or college you choose there.
Objectively giving quantitative examples and evidence
Without failing to show how you got interested in the domain of mechanical engineering.
Talking realistically about your career aspirations
The best German universities to study mechanical engineering are:
Brandenburg University of Technology
Technical University Darmstadt
Technical University Braunschweig
Otto von Guericke University Magdeburg
RWTH Aachen University
SOP for Mechanical Engineering in USA
Follow the below guidelines to make your SOP for mechanical engineering in the USA impactful.
Write in the US variant of English.
Write a short and concise SOP not exceeding 1000 and not less than 500 words.
Show your motive for applying for mechanical engineering
Highlight your professional objectives clearly
Below find the list of the top-ranking US institutes that are ideal for mechanical engineering programs.
Stanford University
California Institute of Technology
Massachusetts Institute of Technology
University of California, Berkeley
Georgia Institute of Technology
Looking for Expert Writers for SOP for Mechanical Engineering? Click here
Most In-demand Mechanical Engineering Programs
No matter what you have studied, there are mechanical engineering programs that you can study with your current qualification. With a decent GPA and SOP for mechanical engineering, you can forward your application.
SOP for Mechanical Engineering Undergraduate
SOP for Diploma in Mechanical Engineering
SOP for Mechanical Engineering Bachelors
SOP for Masters in Mechanical Engineering
SOP for PhD in Mechanical Engineering
Conclusion
Well done. You have learnt how to craft an impeccable SOP for MS in Mechanical engineering through this blog.
Now, don't wait any longer to start it. The earlier you have your SOP ready, the better it is.
Before we wind up, we would like to request you to share your feedback and suggestions about this blog. Please write it in the comments below.