The time is favourable now if you are looking forward to studying masters or MBA in the USA. A huge number of popular colleges and universities in the USA are open to international students. If you have the right qualification, experience, IELTS TOEFL score, and SOP for USA, you can also apply. If you are wondering what SOP for USA is and how to write it winningly, this blog has the solutions for you.
In this blog, we answer:
What is a SOP for USA?
How to write an SOP for USA student visa?
SOP sample for USA to help get familiar with its format and structure
What is SOP for USA?
A statement of purpose (SOP) for USA is an application requirement for students when they seek to apply for student visas or admission for higher education in colleges or universities in the United States. Through these detailed essays, students can justify their choice of an institution in the USA and establish why studying in the USA will help them materialize their career goals.
Is SOP Required for US Student Visa?
Yes, SOP is a mandatory requirement to apply for a student visa in the United States of America.
Importance of SOP for USA Student Visa
The following are the reasons why SOP is a mandatory requirement for student visa in USA.
SOP helps you show why it is important for you to study in the United States of America.
Through the SOP, you can convince the evaluation committee that you meet all requirement to deserve a student visa to USA.
In the SOP, you can clearly establish your plans to return to your home country once the study program is over.
SOP helps you point to the valid financial sources you are using to meet your study expenses in the USA.
How to Write SOP for USA Student Visa?
The following step-by-step instructions will help you write an SOP for USA student visa that impresses the readers.
Introduction:
Write an introduction that shows who you are, and why you are writing this SOP.
About Me:
In this paragraph, give more details about yourself and your family. Elaborate on what you do now.
Background:
Write in detail about your academic and professional background. Include details about some of your relevant achievements from both academics and profession.
Why USA:
In this paragraph, talk about your reasons for choosing to study the higher study program in the USA.
Financial source for your USA study trip:
Give clear and verifiable details for your financial sources to meet your educational expenses in the USA.
Future plans:
Give a clear roadmap of what you plan to do after completing the higher study program in the USA. Justify your strong reasons to return to your home country and the scope of thriving in your favourite field.
Conclusion:
Conclude your SOP for USA study visa by summarizing the whole essay into one or two sentences. Give your assurance that you will abide by the student visa regulations in the USA.
Best SOP Sample for USA
Remember that you will need to come up with a tailor-made SOP depending on the context. Here is a sample SOP for MBA admission in USA. If you are looking to write SOP for other programs, refer to our other samples.
SOP Samples for MS in USA
In this sample SOP for MS in Computer Science in USA, you may note how it differs from the previous sample which was tailored for MBA. By customizing the SOP in accordance with the program you apply, you can easily convince the selectors.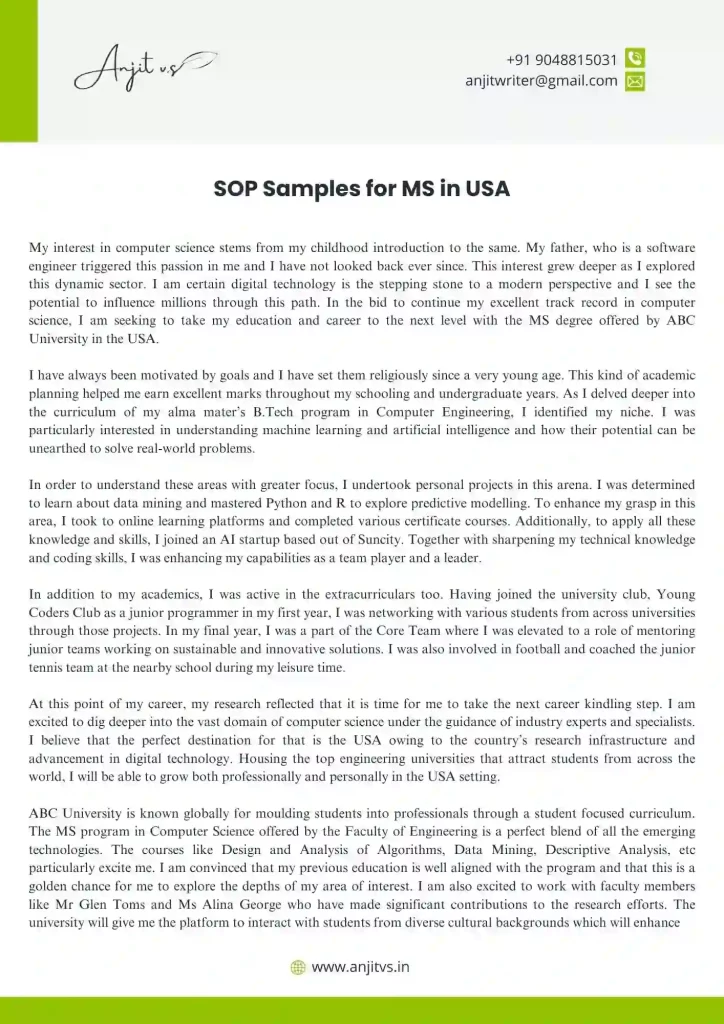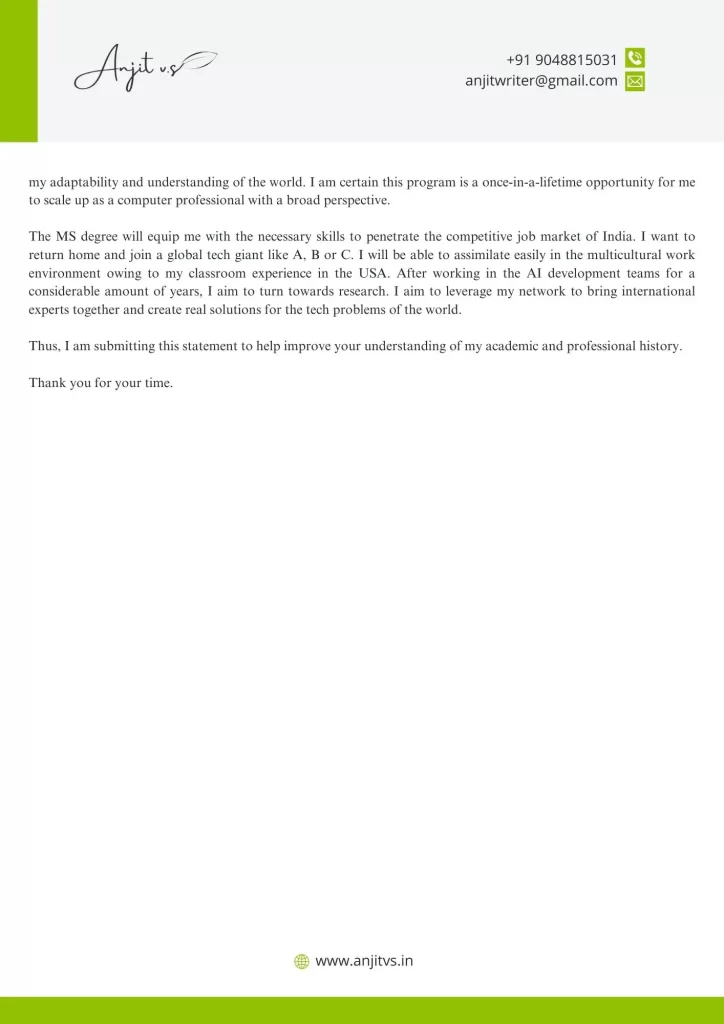 My interest in computer science stems from my childhood introduction to the same. My father, who is a software engineer triggered this passion in me and I have not looked back ever since. This interest grew deeper as I explored this dynamic sector. I am certain digital technology is the stepping stone to a modern perspective and I see the potential to influence millions through this path. In the bid to continue my excellent track record in computer science, I am seeking to take my education and career to the next level with the MS degree offered by ABC University in the USA.
I have always been motivated by goals and I have set them religiously since a very young age. This kind of academic planning helped me earn excellent marks throughout my schooling and undergraduate years. As I delved deeper into the curriculum of my alma mater's B.Tech program in Computer Engineering, I identified my niche. I was particularly interested in understanding machine learning and artificial intelligence and how their potential can be unearthed to solve real-world problems.
In order to understand these areas with greater focus, I undertook personal projects in this arena. I was determined to learn about data mining and mastered Python and R to explore predictive modelling. To enhance my grasp in this area, I took to online learning platforms and completed various certificate courses. Additionally, to apply all these knowledge and skills, I joined an AI startup based out of Suncity. Together with sharpening my technical knowledge and coding skills, I was enhancing my capabilities as a team player and a leader.
In addition to my academics, I was active in the extracurriculars too. Having joined the university club, Young Coders Club as a junior programmer in my first year, I was networking with various students from across universities through those projects. In my final year, I was a part of the Core Team where I was elevated to a role of mentoring junior teams working on sustainable and innovative solutions. I was also involved in football and coached the junior tennis team at the nearby school during my leisure time.
At this point of my career, my research reflected that it is time for me to take the next career kindling step. I am excited to dig deeper into the vast domain of computer science under the guidance of industry experts and specialists. I believe that the perfect destination for that is the USA owing to the country's research infrastructure and advancement in digital technology. Housing the top engineering universities that attract students from across the world, I will be able to grow both professionally and personally in the USA setting.
ABC University is known globally for moulding students into professionals through a student focused curriculum. The MS program in Computer Science offered by the Faculty of Engineering is a perfect blend of all the emerging technologies. The courses like Design and Analysis of Algorithms, Data Mining, Descriptive Analysis, etc particularly excite me. I am convinced that my previous education is well aligned with the program and that this is a golden chance for me to explore the depths of my area of interest. I am also excited to work with faculty members like Mr Glen Toms and Ms Alina George who have made significant contributions to the research efforts. The university will give me the platform to interact with students from diverse cultural backgrounds which will enhance my adaptability and understanding of the world. I am certain this program is a once-in-a-lifetime opportunity for me to scale up as a computer professional with a broad perspective.
The MS degree will equip me with the necessary skills to penetrate the competitive job market of India. I want to return home and join a global tech giant like A, B or C. I will be able to assimilate easily in the multicultural work environment owing to my classroom experience in the USA. After working in the AI development teams for a considerable amount of years, I aim to turn towards research. I aim to leverage my network to bring international experts together and create real solutions for the tech problems of the world.
Thus, I am submitting this statement to help improve your understanding of my academic and professional history. Thank you for your time.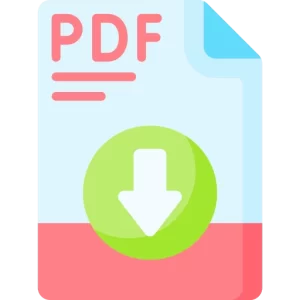 Download Sample SOP for USA PDF
What is the SOP format for MS in USA?
Format your SOP for MS in USA as per the following instructions.
Font style:
Times New Roman, Ariel
Font size:
12 points
Line spacing:
1.5 or Double
Indentation:
Indent the first line of the paragraph or leave an extra line between paragraphs
Paragraph structure
Introduction
Motivation for the MS program
Academic background
Professional background
Why this university?
Why USA?
Post-study plans/goals
Conclusion
How Long Should SOP for USA Be?
There is no strict guideline as to in how many words an SOP for USA should be written. Most university authorities in USA prefer short, concise, and straight-to-the-point SOPs. So, ideally, you can keep your letter of intent or SOP around 1000 words.
SOP Writing Guidelines for MS and MBA in Top Universities in the USA
Although the basic SOP requirements of SOP for MBA and MS across US universities are the same, there are slight differences in a few areas when you go from one university to another. Here is a USA Guide of SOP requirements for some of the top universities.
SOP for Harvard University, USA
Justify your strong reasons for choosing Harvard Business School
Highlight what you intend to do after course completion.
Establish how you can contribute to Harvard.
Highlight your extracurricular skills – leadership qualities, communication skills, etc.
SOP for Stanford University, USA
Go through the structure and details of the course you plan to do at Stanford.
Read the sample sop for usa written for Stanford and get your perspective right.
Write as naturally as you can and bring maximum engagement and originality.
Do not forget to proofread your SOP at least five times and make it foolproof.
SOP for Princeton University, USA
Keep your SOP strictly within the recommended word limit (1000 words).
Mention verifiable facts to make your points strong and legible.
Address the key questions – why Princeton and why this program?
Request someone to read your SOP and give you feedback.
SOP for California Institute of Technology (Caltech), USA
Highlight why you are the best candidate for Caltech rather than why you deserve admission.
Highlight your relevant skills, achievements, and strengths with quantifiable examples.
Convince that you could be a great addition to Caltech by way of your commitments and values.
Mention how you could contribute to your chosen domain.
SOP for Massachusetts Institute of Technology (MIT), USA
Pick the most relevant and latest point to include in your MIT SOP.
Strictly avoid repetition of points.
Highlight how you can live up to the expectations of MIT by way of your personal qualities and academic excellence.
Show how you intend to make use of the facilities, resources and internship scopes MIT offers.
Questions to Answer in an SOP for USA
You can say an SOP is perfect when it leaves no questions unanswered. Well, you cannot answer all questions in the SOP. However, there are some basic questions that the admission committee of universities and colleges expect from your SOP for USA. Here are those questions. Answer them while drafting your SOP.
How did your interest in the program get ignited?
What aspect of the program are you most attracted to?
How would you contribute to the field?
Talk about a challenge you faced in your academic or professional journey and how you overcame that.
Where do you see yourself in ten years' time?
Tips for Writing a Powerful SOP for US Universities
Use the following tips to write a powerful SOP for USA universities. Besides these tips, review sample SOP for US universities to understand how each of these tips is applied in the actual context.
Keep your SOP simple and straight to the point. Avoid jargon or complex sentence structures.
Ensure correct use of grammar, spelling, and punctuation. Proofread your SOP at least five times.
Customize your SOP according to the university you are applying to. Gather details about the university and the course prior to writing the SOP.
Bring engagement to your writing. Do not be too formal or too casual. Keep the right balance of both.
Try to reflect your true self and strike a chord with the audience by being original and unique.
After writing your SOP for USA, compare it with the sample SOP for USA we have shared to validate it and ensure that it passes all requirements.
SOP for the Top Courses in USA
Below is the list of SOP for top courses in the USA. As you have seen, it is important to draft a customized SOP for USA that aligns with the program and the university you are opting for.
SOP for MBA in USA
In your SOP for MBA admission in USA, highlight why it is important for you to study MBA in USA.
Keep your SOP for masters in USA engaging to read.
Avoid repetition of points.
SOP for MS in USA
Show how your experiences align with the MS program requirements in the statement of purpose for MS in USA with experience.
Talk about the relevant achievements and show you would repeat them in the MS program in USA.
Show why USA is better than any other higher study destination.
SOP for BBA In USA
Adhere to the recommended word count.
Keep your SOP for MBA in USA relevant to the context.
Avoid plagiarism. Institutes use plagiarism detection software to check SOPs.
SOP for Business Analytics in USA
Come up with a solid plan to write a winning SOP for Business analytics in USA
Gather points and prepare an outline.
Write the final copy and proofread it before submission.
Statement of Purpose for MS in Computer Science in USA
Show why you deserve admission for masters in computer science in USA
Talk about your relevant skills and strengths and how that would help you with the program.
Convince the admission representative about how you intend to thrive in a career in computer science.
SOP for Mechanical Engineering in USA
Show how your interest in mechanical engineering got ignited.
Prove that studying mechanical engineering in USA is worth your effort and choice.
Keep your SOP solid with examples of your skills and strengths.
SOP for Data Science in USA
Read a couple of SOP samples for data science in USA and do the preparation.
Write a first draft and verify that all important points are covered.
After writing the final copy, go through it carefully and eliminate mistakes.
SOP for MS in Finance in USA
Show how you were introduced to the domain of finance in your SOP for MS in Finance in USA.
Highlight your future goals as an aspiring professional in financial sector.
Prove that you have the potential to succeed in your chosen program.
SOP for MS in Electrical Engineering in USA
Write a simple and easy-to-read SOP for your masters in electrical engineering in USA.
Keep the SOP length within 800 to 1000 words.
Avoid last-minute SOP writing. Get it ready in advance and submit it on time.
Statement of Purpose for PhD in USA
Show that you are the best candidate for the given PhD program in USA.
Highlight your relevant work experiences and how they prepared you to pursue PhD in the domain.
Request someone to proofread your SOP and give you unbiased feedback.
Conclusion
Whether you apply for MBA or any other masters, PhD or graduate-level program in the USA, a unique, tailor-made, and engaging SOP for USA is unavoidable. We are eager to know if this blog helped you write a winning SOP.
In case you have any questions regarding any points discussed in this blog, write to us in the comment.
Best of luck with your admission to the best higher study program in the USA.
Frequently Asked Questions [FAQ]
How to write SOP for MBA in USA?
How many SOPs are required for admission to US universities?
You will need only one SOP for a single university application. If you want to apply to multiple universities, you need to write a customized SOP for each university.
How do I write an SOP for a master's in USA?
To write an SOP for a master's program in USA, highlight how your previous academic programs and experiences prepared you for the master's program. If you do not have any relevant experience, talk about any internship or self-research or learnings you have in the subject you have opted for the master's program.
How do you start a statement of purpose for USA?
Start your SOP for USA by sharing an experience or anecdote. Show how your interest in the subject got triggered in a natural, convincing, and engaging manner.
How do you end a statement of purpose for USA?
End your statement of purpose for USA by boiling down the entire essay into two or three sentences. It must reiterate your points and should not contradict anything. In the conclusion, thank the admission panel and show your enthusiasm for getting selected and studying in the USA.
Can I copy SOP for USA?
No. It is strictly not advisable to copy from another SOP for USA. If you are not confident to write a unique and engaging SOP on your own, we recommend that you hire an expert professional or writing specialist to draft your SOP.
Can the US deny a student visa?
Yes. The US immigration department can deny student visa of applicants on many grounds. The best way to avoid any such misfortune is to prepare a foolproof SOP for USA.