Are you worried about writing an SOP for PG Diploma in Canada?
SOP for each program is different and a unique approach is required for all. In the case of a PG Diploma, you need to focus on certain specific areas. Don't worry. We are sharing all information in this blog.
In this blog, we are painting a picture of:
What is an SOP for PG Diploma in Canada?
How to write a flawless statement of purpose for PG diploma in Canada?
Sample SOP for PG diploma in Canada PDF
What is SOP for PG Diploma in Canada?
SOP for PG Diploma in Canada is written by a course applicant wherein he will talk specifically about his reasoning behind choosing a PG diploma program in a particular discipline in a Canadian institute.
Why Is SOP Required for PG Diploma Admissions in Canada?
Like all other higher education programs, PG Diploma in Canada requires applicants to write a personalized statement of purpose for the following reasons.
From the SOP, selectors can evaluate your convictions about the PG diploma course
PG diploma SOP for Canada helps institutes assess your current subject knowledge in the particular domain
SOP is a good reflection of the applicant's communication skills
Through SOP, the selection panel can get a glimpse of the overall personality of the applicant
Need Help In Writing a SOP for PG Diploma in Canada? Click Here
How to Write an SOP For PG Diploma in Canada?
Use the below-mentioned steps to write an SOP for PG Diploma in Canada.
Avoid statements. Be engaging:
People love to read engaging content rather than boring statements. SOP is not an exception. Whatever you write in it, use a friendly and professional tone to make it engaging.
Establish a rapport with the reader:
Your SOP should strike a chord with the reader from the very beginning. This should be your first priority. For this, you need to write a catchy introduction.
Add value to your claims through examples:
Prove that you have all the right reasons to apply for the PG diploma program. Substantiate your claims about achievements via solid evidence that point to them.
Imprint your personality:
Your SOP should sound like a very personal story about you. It should reflect your personality in every sentence. To do that, introspect and write your thoughts as naturally as possible.
Bring perfection:
Bring perfection into all areas of your SOP – into the paragraphing, formatting, sentence construction, spelling and grammar. Several rounds of proofreading and editing will help.
Pro Tip: A course-specific SOP for PG Diploma in Canada will impress selectors faster and work in your favour. On the other hand, a generic-sounding SOP will easily get overlooked.
Need Help In Writing a SOP for PG Diploma in Canada? Click Here
Sample SOP for PG Diploma in Canada PDF
Read this sample SOP for PG diploma in Canada pdf with an eye open for the format and writing tone. After understanding how the tone works, use your own unique tone to draft the document.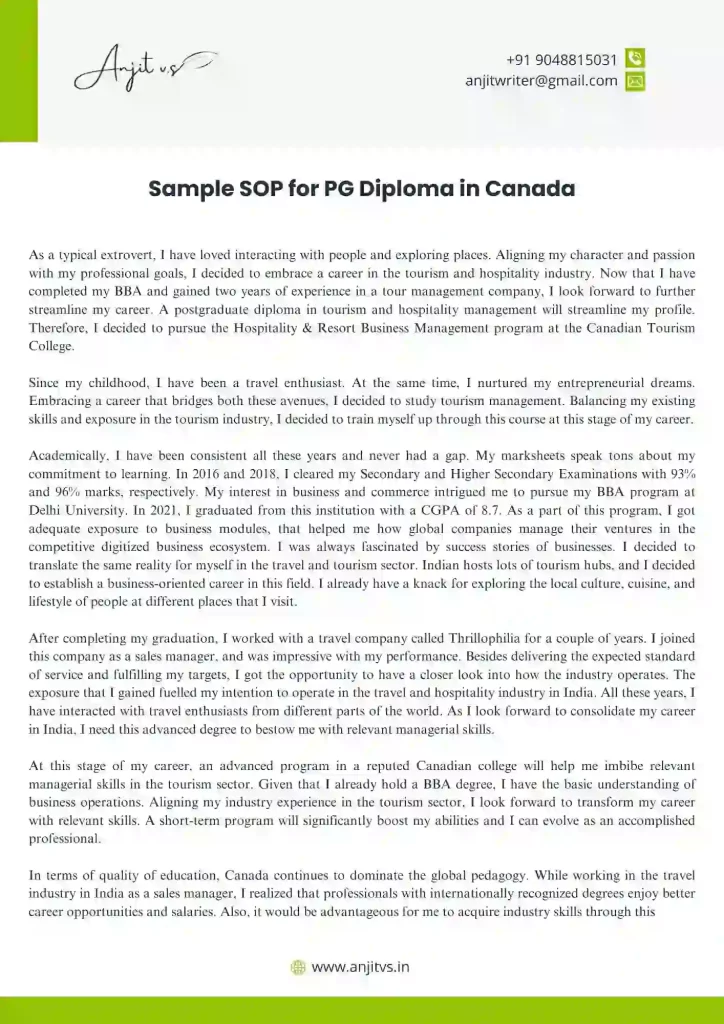 As a typical extrovert, I have loved interacting with people and exploring places. Aligning my character and passion with my professional goals, I decided to embrace a career in the tourism and hospitality industry. Now that I have completed my BBA and gained two years of experience in a tour management company, I look forward to further streamline my career. A postgraduate diploma in tourism and hospitality management will streamline my profile. Therefore, I decided to pursue the Hospitality & Resort Business Management program at the Canadian Tourism College.
Since my childhood, I have been a travel enthusiast. At the same time, I nurtured my entrepreneurial dreams. Embracing a career that bridges both these avenues, I decided to study tourism management. Balancing my existing skills and exposure in the tourism industry, I decided to train myself up through this course at this stage of my career.
Academically, I have been consistent all these years and never had a gap. My marksheets speak tons about my commitment to learning. In 2016 and 2018, I cleared my Secondary and Higher Secondary Examinations with 93% and 96% marks, respectively. My interest in business and commerce intrigued me to pursue my BBA program at Delhi University. In 2021, I graduated from this institution with a CGPA of 8.7. As a part of this program, I got adequate exposure to business modules, that helped me how global companies manage their ventures in the competitive digitized business ecosystem. I was always fascinated by success stories of businesses. I decided to translate the same reality for myself in the travel and tourism sector. Indian hosts lots of tourism hubs, and I decided to establish a business-oriented career in this field. I already have a knack for exploring the local culture, cuisine, and lifestyle of people at different places that I visit.
After completing my graduation, I worked with a travel company called Thrillophilia for a couple of years. I joined this company as a sales manager, and was impressive with my performance. Besides delivering the expected standard of service and fulfilling my targets, I got the opportunity to have a closer look into how the industry operates. The exposure that I gained fuelled my intention to operate in the travel and hospitality industry in India. All these years, I have interacted with travel enthusiasts from different parts of the world. As I look forward to consolidate my career in India, I need this advanced degree to bestow me with relevant managerial skills.
At this stage of my career, an advanced program in a reputed Canadian college will help me imbibe relevant managerial skills in the tourism sector. Given that I already hold a BBA degree, I have the basic understanding of business operations. Aligning my industry experience in the tourism sector, I look forward to transform my career with relevant skills. A short-term program will significantly boost my abilities and I can evolve as an accomplished professional.
In terms of quality of education, Canada continues to dominate the global pedagogy. While working in the travel industry in India as a sales manager, I realized that professionals with internationally recognized degrees enjoy better career opportunities and salaries. Also, it would be advantageous for me to acquire industry skills through this program. Canada is known for its quality of education, and all the universities here offer courses that are in sync with the industry. This makes the learning outcome relevant for the students. Prioritizing the academic excellence in Canada, along with its supportive academic environment for students, I decided to study this program in Canada.
The Canadian Tourism College offers the exact specialization that I was looking for. The Hospitality & Resort Business Management program is comprehensive and can help me acquire skills relevant to my career. Some of the modules that I am keen to explore include Housekeeping Management, Hospitality Supervision, Business Communications, Resort Management, Food Operations Management, Human Resources Management, Food Operations Service, and Hospitality Law. This course also covers areas like Convention Management & Special Events, and Accounting in the Hospitality Industry. I have checked out the reviews on the aggregator websites to get an idea about the quality of education in this institution. The college has an impressive reputation, and happens to be one of the most-sought seats of learning in the country. Top recruiters in India also prioritize candidates holding postgraduate diplomas from this institute. Considering the edge that I would gain in India after returning to my homeland, I decided to pursue the course from this college.
Currently, I am encountering stagnation in the tourism sector as a sales manager. Although I hold a BBA degree, I lack a professional certification in the area of my interest. Therefore, I look forward to balancing my profile with this diploma program and return to India, where I can tap my career opportunities. Also, I look forward to launch my travel agency in India after gaining adequate experience. With adequate knowledge and business skills in this sector, I wish to transform my career. Therefore, I am looking for an opportunity to pursue this program at your esteemed institution in Canada.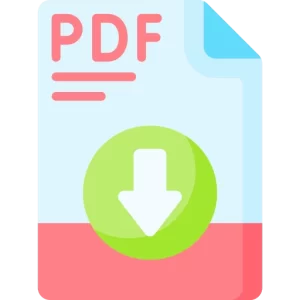 Download Sample SOP for PG Diploma in Canada
What is the Format of an SOP for PG Diploma in Canada?
To write a good SOP, you should have good command over English and at the same time a strong grasp of the correct format that is acceptable for the purpose. Here is a hand-picked SOP format for PG Diploma in Canada.
| | |
| --- | --- |
| Introduction: | You need to create an interest in the reader by making an engaging and catchy introduction wherein you should talk about your background, how this interest in a PG diploma in Canada became strong etc. |
| Academic history: | In this paragraph, you are giving a brief account of your academic formation so far, how it shaped who you are and what achievements you made. |
| Professional history: | This will be about your work experience and the various roles and responsibilities you handled during your professional tenure. You have to say how much value those experiences added to your skills and strengths. |
| Motivations: | In this paragraph, you will add more clarity to your motivation for choosing this particular Post Graduate Diploma program in Canada. |
| Why this institute/Canada: | Write your strong reasons for choosing this particular institute for your higher studies. You can consider the institute's take on practical activities as a factor that attracted you or similar points. Also, write about your decision to study in Canada in the correct context, particularly linking it to the particular program you have chosen. |
| Funding: | In this paragraph, talk about your source of funds to finance your studies, accommodation and other expenses while in Canada. |
| Conclusion: | Write an impressive conclusion that reminds the reader what to remember. Make sure to sound hopeful about studying your preferred PG Diploma at the institute and sign off by writing a thankful note. |
Looking for the Best SOP Writers for Diploma in Canada? Click Here
Popular Courses That Require SOP for PG Diploma in Canada
You can find PG diploma programs in almost all disciplines at various higher education institutions in Canada. Here is a list of the top ten programs.
SOP for Hospitality Management
SOP for Supply chain management
SOP for Project management
SOP for Tourism Management
SOP for Human Resource Management
SOP for Diploma in Business
SOP for Fashion Designing
SOP for Operation management
SOP for Finance and Accounting
SOP for Information Technology
Need Help In Writing a SOP for PG Diploma in Canada? Click Here
SOP Requirements for PG Diploma by Top Colleges in Canada
Almost all universities and more than 90% of the colleges in Canada ask students to write an SOP for PG diploma admission. If you have a brilliantly written SOP in the application, you will have a better chance of getting selected during the screening. Following are SOP requirements set by the top colleges in Canada.
SOP for PG Diploma in Durham College:
Requires students to write SOP for PG diploma for all major programs such as project management, data analytics, international business management, and artificial intelligence.
SOP for PG Diploma in Sheridan College:
The management of Sheridan college asks students to write an SOP equivalent to 800 words for their PG diploma program in Creative Industries Management (CIM).
SOP for PG Diploma in George Brown College:
Students will be required to undergo an English Assessment Test as part of their application procedure wherein they will have to write an essay of between 300 and 600 words. It will be a time-based test. Each applicant will receive 80 minutes to complete it.
SOP for PG Diploma in Algonquin College:
Applicants are required to write an essay in 500 to 700 words for admission to the music program. The word limit is 500 for the scriptwriting program.
SOP for PG Diploma in North Island College:
For admission to the PG Diploma program in the Human Service Department, be ready with a precise and short 300 word statement of purpose.
SOP for PG Diploma in Humber College
has provided students with a precise format to use in the SOP for their PG diploma admission. The SOP should be about 1 page long and single-spaced. The text should be sized to 10 points in Arial font.
SOP for PG Diploma in Douglas College
management has mentioned 1 page SOP for its PG diploma programs in its guidelines to students.
SOP for PG Diploma in Selkirk College
directs applicants to include 500 words SOP for admission to the PG Diploma program in Geographic Information Systems
SOP for PG Diploma in Kwantlen Polytechnic University
demands applicants to write a statement of purpose in about two pages as part of the admission procedure.
SOP for PG Diploma in University of Winnipeg
encourages students to write a brief SOP for their PG Diploma programs in the range of 300 to 500 words.
SOP for PG Diploma in Royal Roads University
asks applicants to write an SOP for PG diploma in 500 – 1000 words.
Why Study PG Diploma in Canada?
Affordable:
PG Diploma programs are cheaper when you compare them with regular degree courses.
High recognition:
PG Diploma certification from Canada is highly regarded all over the world. They are weighed high during job interviews.
Co-op options:
While pursuing the PG Diploma program in Canada, you can also work full-time or intern.
Ideal for senior students:
If you are worried about your age, PG Diploma programs are ideal because they require a shorter time to complete than full-time PG programs.
What are the Documents Required for Studying PG Diploma in Canada?
To prove that you are a genuine applicant, institutes would ask you to produce a number of documents at the time of applying for a PG Diploma in Canada. The most common documents you would be asked for include:
Language proficiency TRF (Test Result Form)
Statement of purpose for PG Diploma in Canada
Documents to prove your source of funds
Your academic documents and ECA (Educational Credential Assessment) report
Your passport
Conclusion
We believe that you have gained enough insights to write a powerful SOP for PG Diploma in Canada on your own.
How confident are you now to attempt to write it?
Follow the steps discussed here and prepare well before you write your document.
If you come across any questions or doubts, don't hesitate to throw them to us.