Want to improve the horizons of your career in the IT sector? An MS in Computer Science would be the right course that can take you further. Here, we are discussing SOP for MS in Computer science – one of the core things to give priority to when you take an important academic decision in the domain of computer science.
Through this blog, we will help you to understand:
What is a statement of purpose for MS in computer science?
How to write a masters in computer science statement of purpose?
Format to use in SOP for masters in computer science
SOP for MS in Computer Science PDF
What is SOP for MS in Computer Science?
SOP for MS in Computer Science is a self-declaration which has to be written by the applicant demonstrating to the selection committee that he has relevant experience, skills and qualifications to be the right fit for their program.
SOP Format for MS in Computer Science
Using the most appropriate sop for ms in computer science format, you can enhance its aesthetics, overall readability and acceptance. Here is a format for you to consider incorporating.
Introduction
Start your SOP for MS in Computer Science by capturing the attention of the reader – the best way is to describe how your interest in computer science got triggered. Then, give a brief background of yourself and the course you are applying to.
Academic Background
Next, write about your academic background. Talk about any relevant activities that you did which are related to computing, which improved your skills and strengths required for MS in Computer Science. Give a particular example to add clarity to the context.
Work History
Write about your professional stint. Explain the roles you handled and how the responsibilities of it improved your computing skills. Also, show how that experience made you think of pursuing MS in Computer science.
Why MS in Computer Science
Now convey the factors prompting you to pursue MS in Computer Science. Make sure to touch upon the research work, laboratory work, industry openings, and careers in the domain in an organized way.
Why this university and country
Don't flatter the institute or the country. Read about the institute, the nature of the course, features, main industries in the country etc. Use these insights carefully when you write about these two crucial aspects.
Future Plans
In this paragraph, write about your post-study plans. Write specifically about your long-term and short-term plans and how you will utilize the stay-back period. If you have any plans like internships or higher studies, mention them.
Conclusion
Write an apt conclusion that boils down the whole essay. It should be what you want the selectors to take away finally as if they wouldn't have got a chance to read the rest of the write-up.
Looking for Expert SOP Writers for Computer Science?
SOP for MS In CS Without Work Experience
When you write an SOP for MS in CS without work experience, as a fresher, you are unlikely to have much content to highlight your accomplishments and achievements. But do not worry. You can still make an impressive SOP by incorporating the below points in your document.
Details of any certifications you have in computer science, for instance, data science, testing, web development, artificial intelligence coding or programming.
Your involvement in extracurricular activities and how that shaped your personality and contributed to your leadership and people skills
Details of any project you participated in as part of your graduation. Mention the duration of the project and your contributions and responsibilities. Also mention what your key takeaways were as learnings from the project.
Any personal efforts you have taken in order to enhance your understanding of computer science. For instance, participation in seminars, workshops etc.
Need Help In Writing SOP for MS in CS without Experience? Contact Us
Sample SOP For MS in CS without Work Experience
If you have only completed your graduation and are looking to join the master's program in computer science without any work experience, this sop for ms in computer science pdf will help you. It will show you the points to highlight in your SOP.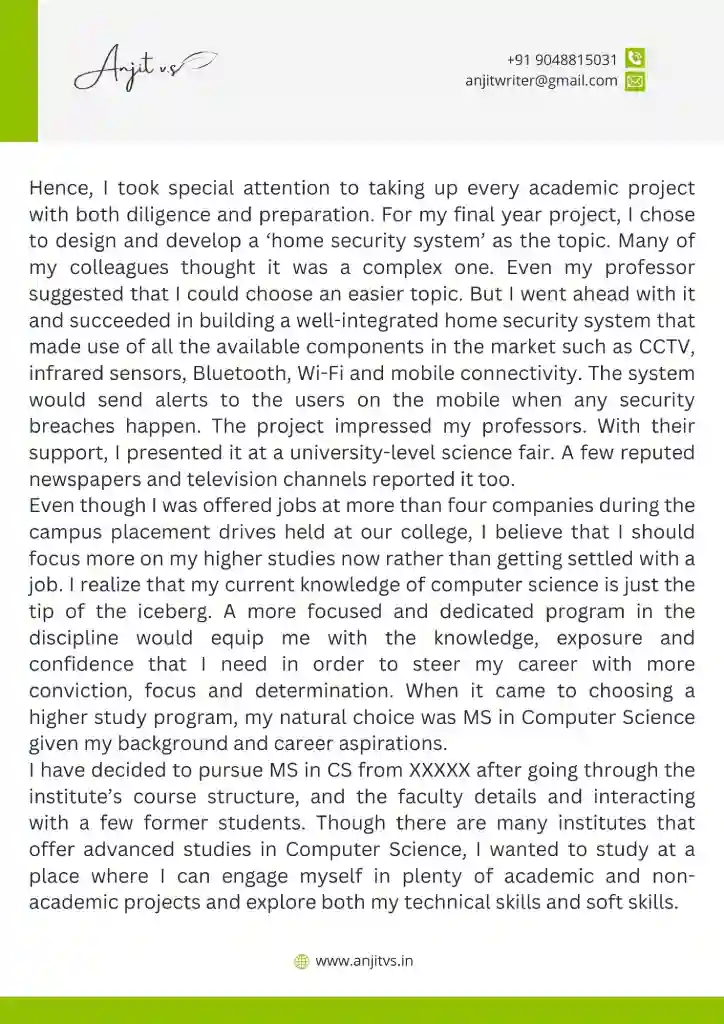 The gigantic developments that we see in the world today, particularly those that have taken place in the last two decades, have been due to advancements in the field of computer science. Today, we can't think of a world without computers. We use them everywhere. It is easier to tell where computers are used than point out where they are not used. My interest in the field of computer science took its root during my high school period when I was gifted with my first laptop. When I realized that the tiny machine could be used for countless purposes, to code new applications, to control gigantic machines, and to develop designs, I was baffled. I am certain that my decision to pursue a master's program in Computer Science at XXXXXX will help me learn this subject more authentically and contribute immensely to my career aspirations.
My past academic records prove how serious and dedicated I was to my studies. I passed out of HSE with an 85 percent mark overall. Likewise, I obtained a high rank in the entrance exam on the first attempt itself, which helped me secure admission to B Tech in Computer Science at my preferred university, XXXXX. The four years of training helped me in identifying my real tastes and passions. I have never missed any opportunity to attend the seminars or workshops conducted at our college during this period. I was determined to count each day as a blessing by learning something new. This conscious effort helped me pass out the B Tech course with an overall grade of 7.3.
One of the greatest realizations that I had during the graduate school period was the need to combine theoretical knowledge with practical exposure. Hence, I took special attention to taking up every academic project with both diligence and preparation. For my final year project, I chose to design and develop a 'home security system' as the topic. Many of my colleagues thought it was a complex one. Even my professor suggested that I could choose an easier topic. But I went ahead with it and succeeded in building a well-integrated home security system that made use of all the available components in the market such as CCTV, infrared sensors, Bluetooth, Wi-Fi and mobile connectivity. The system would send alerts to the users on the mobile when any security breaches happen. The project impressed my professors. With their support, I presented it at a university-level science fair. A few reputed newspapers and television channels reported it too.
Even though I was offered jobs at more than four companies during the campus placement drives held at our college, I believe that I should focus more on my higher studies now rather than getting settled with a job. I realize that my current knowledge of computer science is just the tip of the iceberg. A more focused and dedicated program in the discipline would equip me with the knowledge, exposure and confidence that I need in order to steer my career with more conviction, focus and determination. When it came to choosing a higher study program, my natural choice was MS in Computer Science given my background and career aspirations.
I have decided to pursue MS in CS from XXXXX after going through the institute's course structure, and the faculty details and interacting with a few former students. Though there are many institutes that offer advanced studies in Computer Science, I wanted to study at a place where I can engage myself in plenty of academic and non-academic projects and explore both my technical skills and soft skills. I could learn that XXX facilities offer ample opportunities for students to grow both professionally and personally. Similarly, the fact that it is in Germany is another pressing reason for me to go for it than other options that came to me. Germany is one of the most developed countries in the world. The IT industry of the country has no parallels in the world as of now. So, getting trained in Computer Science from Germany will help me get exposure to all the latest developments in the IT segment. This, ostensibly, will be of huge advantage to me when I start my professional journey.
After completing my MS in CS at XXX from Germany, I will return to my home country. My biggest dream is to contribute to the field of IT in my country. India has the largest pool of human resources in the world as of now. However, its IT industry is not at par with many developed countries. The country needs more IT professionals to narrow that gap. I am looking forward to becoming someone who could be a key player in that mission. My past academic records, active involvement in both academic and non-academic activities and evidence of the contributions I made to my previous institutes would make me a right fit for getting admission to the CS program that you are offering.
I am looking forward to hearing from you regarding my application and joining your esteemed academy.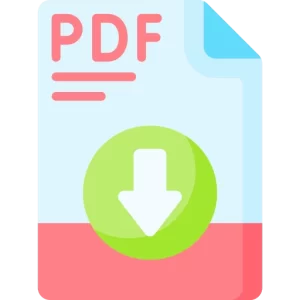 Download Sample SOP for MS in CS PDF
SOP for MS In CS With Work Experience
If you have got any professional experience in the IT sector, you can mention it in your writing. SOP for computer science MS with work experience is weighed much more carefully by the selectors. Here are some useful points for your SOP.
Details regarding your job such as the designation you handled and the industry.
Any certifications, skill acquisitions or courses you have been able to take up during your tenure.
Technical skills you mastered or exercised in your job such as web development, programming, coding, data analysis etc.
Organizational skills – critical thinking, passion for solving complex problems, interpersonal and communication skills.
Managerial skills such as the ability to work in a cross-functional team, the ability to coordinate teams, and leadership qualities
Projects you were responsible for and the duties you handled as part of this project and how successful it was, whether you were recognized for its positive impact.
Need Help In Writing SOP for MS in Computer Science with Experience? Contact Us
Sample SOP for MS in CS with Work Experience
If you are looking to write a precise and straightforward SOP for MS in Computer Science wherein your work experience has to be highlighted, the below-given Sample SOP for MS in CS with work experience would help.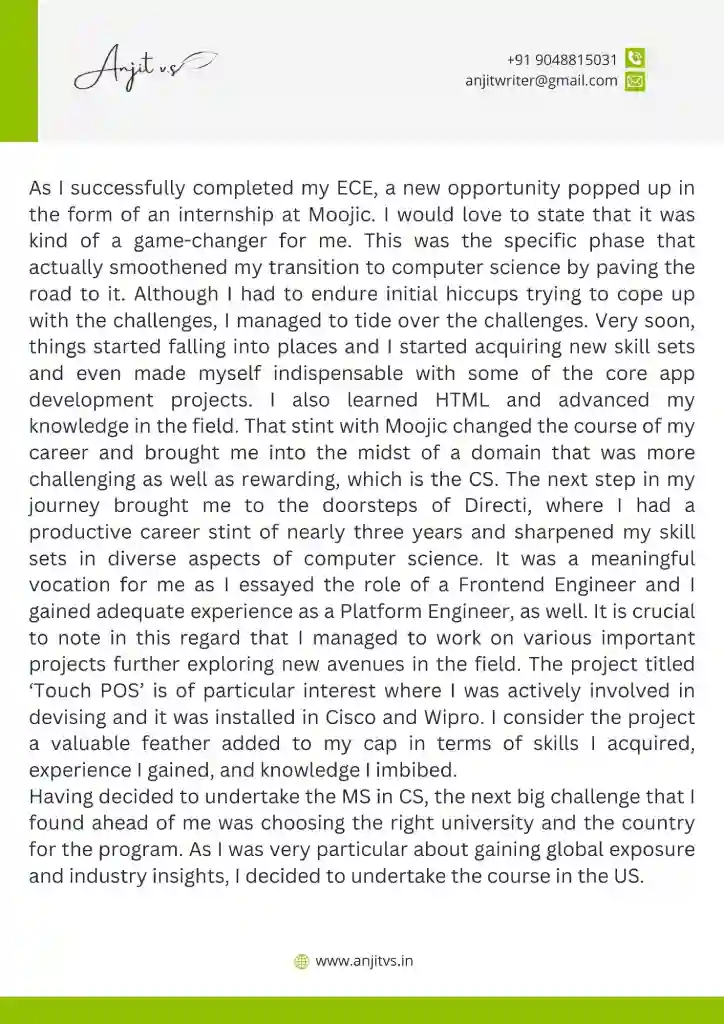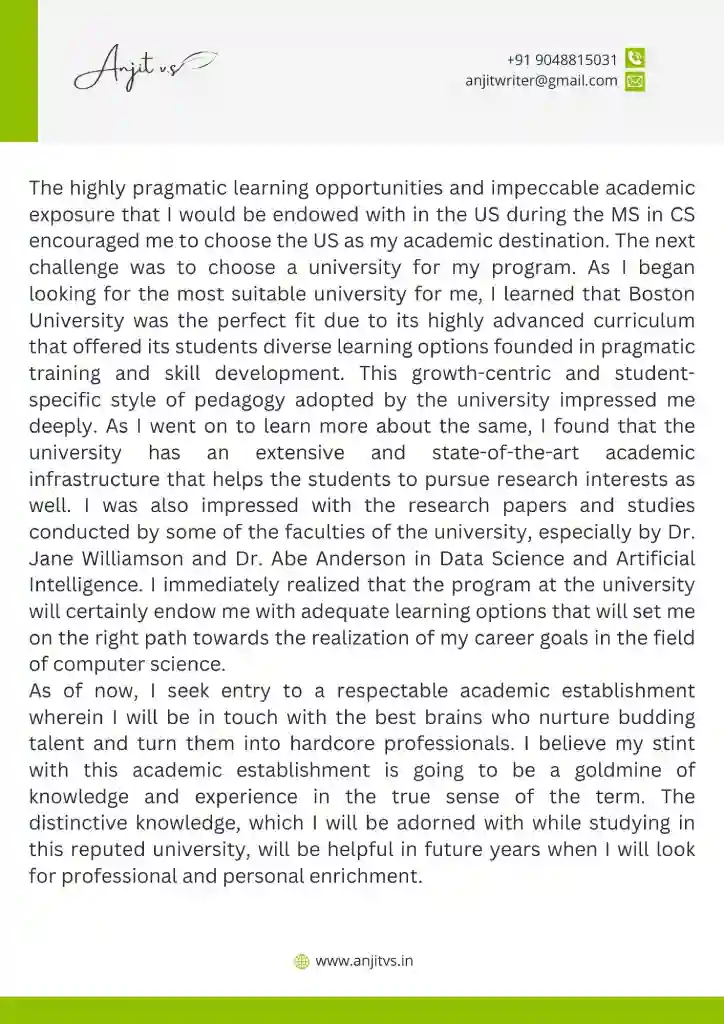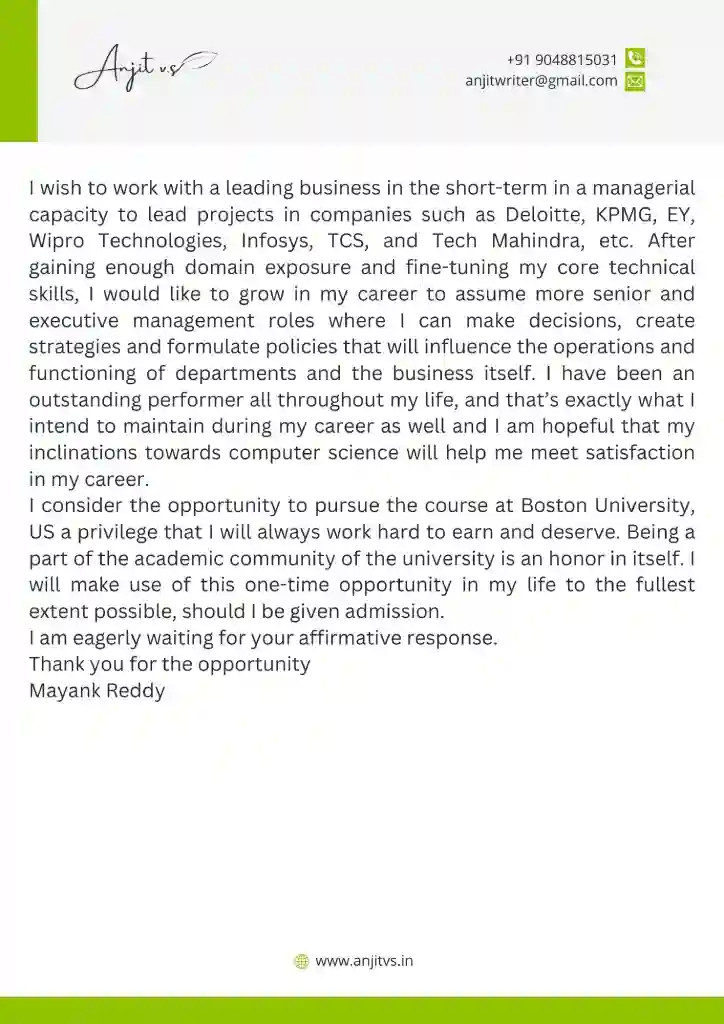 When I look back at my academic experiences at this point in my life, I have a strong feeling that I have been racing against time. I have always shared an intense passion for computer science, and my quest for knowledge in this particular vertical has been deepened by an intense level of for the realm of computers. I can still recollect the memories of the cozy afternoons; I spent playing myriads of computer games. I believe those cozy moments did have a persuasive role to play in implanting a deep-seated love in me for coding and programming language. A student of this discipline, I have had fun experienced which helped me to look at the very spectrum of my life with a different perspective. I also learned that the world of computer science is replete with a flurry of activities that allow you to unleash your creative side. As time flew by, I realized the potential of the field of CS and I realized that an MS in Computer Science will add wings to my overall career aspirations which I have painstakingly sketched for the last few years. It will surely be a chance to enhance the vital knowledge that I garnered pursuing Electrical & Computer Engineering. With a few years of professional experience, coupled with my exposure in my career and growing opportunities in the field of CS, I am seeking admission for MS in Computer Science from Boston University, US to build a satisfying career in the field of my passion.
On the academic front, I have been a consistent performer and I have managed to maintain it all throughout my academic endeavors. In my efforts to gain pragmatic exposure, I actively worked on a school project in biodiversity which got me accolades at the National Science Congress. It encouraged me further to be part of diverse extracurricular activities, which helped me build my personality immensely. During my engineering, I realized the need to expand my skill sets and in order to do that, I opted to pursue additional courses on crucial subjects like Java. While doing so I was chiefly motivated by the idea of preparing myself years in advance. These learning experiences have paved a strong foundation which gives me the confidence to pursue the MS in Computer Science, now.
During my engineering at Rayat and Bahra Institute of Engineering and Biotechnologies, I nurtured my soft skills and leadership capabilities apart from sharpening my strength in crucial subjects such as Data Structures, Algorithms, Object-Oriented Programming, C++, Computer Networks, and Operating System as well as Computer Graphics. In order to improve my core skills, I focused majorly on analyzing the question patterns, got inputs from my seniors, emphasized gathering hardcore research materials, and continued with solving critical questions at a stretch. This helped me bolster my performance in my college better than I expected. As I was studying in-depth and acquiring knowledge of the aforesaid subjects, the desire to go for a full-length MS was taking a more prominent shape in my mind. In spite of opting for the ECE, I believe I have always nurtured a soft spot for software engineering. I honed up my innate skill sets in the CS subjects by applying for regular courses from revered training academies and opting for CS projects. It is imperative to add in this regard that I attained the 3rd position in an intra-college event for delivering a presentation on 'Manifestation of Engineering and Its Importance in Day to Day Life'.
As I successfully completed my ECE, a new opportunity popped up in the form of an internship at Moojic. I would love to state that it was kind of a game-changer for me. This was the specific phase that actually smoothened my transition to computer science by paving the road to it. Although I had to endure initial hiccups trying to cope up with the challenges, I managed to tide over the challenges. Very soon, things started falling into places and I started acquiring new skill sets and even made myself indispensable with some of the core app development projects. I also learned HTML and advanced my knowledge in the field. That stint with Moojic changed the course of my career and brought me into the midst of a domain that was more challenging as well as rewarding, which is the CS. The next step in my journey brought me to the doorsteps of Directi, where I had a productive career stint of nearly three years and sharpened my skill sets in diverse aspects of computer science. It was a meaningful vocation for me as I essayed the role of a Frontend Engineer and I gained adequate experience as a Platform Engineer, as well. It is crucial to note in this regard that I managed to work on various important projects further exploring new avenues in the field. The project titled 'Touch POS' is of particular interest where I was actively involved in devising and it was installed in Cisco and Wipro. I consider the project a valuable feather added to my cap in terms of skills I acquired, experience I gained, and knowledge I imbibed.
Having decided to undertake the MS in CS, the next big challenge that I found ahead of me was choosing the right university and the country for the program. As I was very particular about gaining global exposure and industry insights, I decided to undertake the course in the US. The highly pragmatic learning opportunities and impeccable academic exposure that I would be endowed with in the US during the MS in CS encouraged me to choose the US as my academic destination. The next challenge was to choose a university for my program. As I began looking for the most suitable university for me, I learned that Boston University was the perfect fit due to its highly advanced curriculum that offered its students diverse learning options founded in pragmatic training and skill development. This growth-centric and student-specific style of pedagogy adopted by the university impressed me deeply. As I went on to learn more about the same, I found that the university has an extensive and state-of-the-art academic infrastructure that helps the students to pursue research interests as well. I was also impressed with the research papers and studies conducted by some of the faculties of the university, especially by Dr. Jane Williamson and Dr. Abe Anderson in Data Science and Artificial Intelligence. I immediately realized that the program at the university will certainly endow me with adequate learning options that will set me on the right path towards the realization of my career goals in the field of computer science.
As of now, I seek entry to a respectable academic establishment wherein I will be in touch with the best brains who nurture budding talent and turn them into hardcore professionals. I believe my stint with this academic establishment is going to be a goldmine of knowledge and experience in the true sense of the term. The distinctive knowledge, which I will be adorned with while studying in this reputed university, will be helpful in future years when I will look for professional and personal enrichment. I wish to work with a leading business in the short-term in a managerial capacity to lead projects in companies such as Deloitte, KPMG, EY, Wipro Technologies, Infosys, TCS, and Tech Mahindra, etc. After gaining enough domain exposure and fine-tuning my core technical skills, I would like to grow in my career to assume more senior and executive management roles where I can make decisions, create strategies and formulate policies that will influence the operations and functioning of departments and the business itself. I have been an outstanding performer all throughout my life, and that's exactly what I intend to maintain during my career as well and I am hopeful that my inclinations towards computer science will help me meet satisfaction in my career.
I consider the opportunity to pursue the course at Boston University, US a privilege that I will always work hard to earn and deserve. Being a part of the academic community of the university is an honor in itself. I will make use of this one-time opportunity in my life to the fullest extent possible, should I be given admission.
I am eagerly waiting for your affirmative response.
Thank you for the opportunity
Mayank Reddy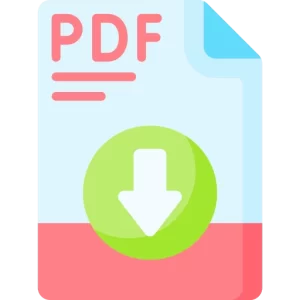 Download Sample SOP for MS in Computer Science PDF
How to Write SOP for MS in Computer Science? Guidelines
Writing SOP for MS in Computer Science requires some unique and impactful planning and careful execution of those plans. Here you will find the step-by-step process of doing it.
Learn about your expectations
Learn about your expectations by referring to the sample SOP for MS in Computer Science and university guidelines.
Create an outline
Draft an outline for your SOP by incorporating all the points we have shown in the above format. Then, develop each point one by one.
Add a professional touch
Add a professional touch to your write-up by including the most appropriate word and tone as in the statement of purpose for masters in computer science pdf.
Avoid clichés
Bring maximum originality and uniqueness to your SOP by staying away from using cliche expressions or phrases.
Use simple language
Do not complicate your SOP by including complex vocabulary. Go with simple words that convey the message straight to the reader.
Format and present well
It is the format that decides how your SOP appears to a reader. Use an appropriate and recognized format to present your story well.
Need Help in Writing SOP for Masters in CS? Hire an Expert!!
SOP Writing Guidelines for MS in Computer Science in Top Study Abroad Countries
Canada
Canada has been ranking consistently among the top five destinations for Computer Science programs. Follow the below directions while writing SOP for MS in Computer Science in Canada.
Carefully read the program details and SOP writing guidelines by the concerned college/university.
Include solid proof or evidence for each claim you include in the SOP.
Proofread your SOP carefully and eliminate all mistakes before submitting.
Germany
Pursuing higher education in computer science in Germany is becoming a trend now. Follow the below guidelines to write a compelling SOP for MS in Computer Science in Germany.
Refer to at least one SOP sample before starting to write your SOP.
Include only the most relevant and recent information in your SOP.
Do not copy content from an existing SOP sample for Germany.
UK
Follow the below guidelines to transform your SOP for MS in Computer Science in UK into a winning factor for your admission.
Refer to the university/college guidelines and gather your points first.
Strictly adhere to the recommended word count.
Validate your SOP for the correct format, grammar, spelling and punctuation.
Australia
Here are the three basic things to keep in mind while writing an SOP for MS in Computer Science in Australia.
Write a 100 percent unique SOP to impress the reader/college admission panel.
Substantiate each point in your SOP with verifiable evidence.
Seek a second opinion before submitting your SOP.
Get High Quality SOP Now!! Click Here Now!!
Top Ten Universities to Study MS in Computer Science
Here is a list of the top ten universities you can consider in 2023 for studying masters in computer science.
Massachusetts Institute of Technology
Stanford University, Boston
McGill University,
University of Ottawa
Heidelberg University
University of Freiburg
University of Melbourne
University of Technology Sydney
University of Oxford
University of Bristol
Who Can Apply for MS in CS?
Students with the following academic backgrounds can apply for a postgraduate program in computer science by writing an apt SOP for MS in Computer Science.
IT background:
If you have a computer science or IT background, you will be able to write an SOP for MS In Computer Science with IT background, which will have a high impact on your application.
Physics Background:
Your physics background can be brilliantly used to explain your interest in computer science in the SOP.
EEE background:
If you are a graduate in Electrical and Electronics Engineering, you can further your horizons through MS in Computer Science. Your application should carry a strong sop for ms in cs from EEE or sop for ms in computer science with electrical background.
ECE Background:
Given that computer science involves studying the internet – the modern medium for communication, you can deftly customize an SOP for MS in Computer Science with ECE background.
Civil Background:
In your SOP for MS in computer science with civil background, write carefully and logically about your reasons for switching to a different field of computer science from civil engineering.
Conclusion
Congratulations! The effort you have put into reading this blog till the end will surely pay you off when you attempt to write an SOP for MS in Computer Science.
We want to hear from you further about your experience of reading this blog. Has it helped you? Do you have any questions to ask us regarding this topic?
Write all your thoughts in the comments section below.
Frequently Asked Questions [FAQ]
How to prepare SOP for MS in computer science?
First of all, go through the program description and expectations and then see how your profile aligns with them. Next, gather your points and then develop them in accordance with the format we shared in this blog.
What is SOP for MS in computer science in the USA?
SOP for MS in computer science in the USA is an admission document that you are required to submit along with your application. It will help you tell the admission panel about what drives you to computer science and how you want to shape your future by studying this course.
How to describe why choose computer science in SOP?
Speak about your motivation for choosing computer science in a convincing fashion. Bring together elements of your passion for the field, how you got interested and what you want to achieve in this field.
How to write SOP for MS in CS from EEE?
If you have an electrical and electronics engineering background, it is easy to show how that helped you develop an interest in computer science. Take one or two points that you most strongly identify with in your SOP for MS in computer science with electrical background.
Should I mention backlogs in SOP for CS?
Yes. It is better to talk about your backlogs and give your justifications in your SOP since that effectively halts any doubts regarding your academic background.
How many words should be in SOP for MS CS?
You may write your SOP, reaching a word count between 800 to 1000 words.
How to write MS in Computer Science with IT background?
IT (Information Technology) is closely related to computer science. Hence, it is possible to convince the admission officers about why you opted to do MS in computer science after completing your graduation in IT. Identify a couple of points that made you focus your attention on computer science – for instance, your passion for coding.