Don't panic if you are left with only a very limited time to complete your SOP for business management. Writing a comprehensive and winning SOP for a higher study program like business management can be daunting if you are new to this. But we assure you that you will be quite like an experienced writer after reading this blog.
This blog covers all of your concerns about statement of purpose for business management. By reading it, you will learn as well as get exposed to:
What is a Business Management SOP?
Sample SOP for Business Management PDF
Major points to discuss in a Business Management SOP
What is SOP for Business Management?
A statement of purpose or SOP for business management is written to the selection committee of universities. It talks about your motivation for choosing the business management domain and your career aspirations in it. A comprehensively written statement of purpose will be around 1500 words long.
Why Do You Need a Well-Crafted SOP for Business Management?
Business management is a higher study program that is becoming extremely popular in today's fast-paced industrial world. It will take a flawless application to secure your admission to business management at any reputed university or college. So, a flawless and well-drafted SOP for business management becomes mandatory.
If your SOP is comprehensive and well-drafted, your admission panel will have a very good first impression of you.
The standard and quality of language used in your statement of purpose is proof of your English language proficiency.
With a perfect statement of purpose, you can ace a highly competitive admission process.
A carefully curated SOP for international business management pdf makes it easier for the selection panel to pull out important information about candidates during admission shortlisting.
Statement of purpose gives you the easiest and first opportunity to convince the admission committee about your suitability for the business management program.
How to Write an SOP for Business Management?
Writing a perfect SOP for business management requires some preparation and a proven strategy. The following steps will help you plan and craft a winning statement of purpose.
Read about business management
First of all, you need to have a good overview of the current status of business management in career development. You should show off your knowledge through the SOP.
Figure out what your institute looks for
Each institute has its own selection criteria. It is important to have a grasp of that so that you can tailor your SOP for international business management accordingly.
Brainstorm points
It is good to have clarity about the points you are going to talk about before starting to write. This way, you can avoid getting panicked or wasting time thinking too much about the points.
Compose the first draft
Next, compose the first draft of your business management statement of purpose. Start with the introduction, then proceed to the body paragraphs and then the conclusion.
Finalize your write-up
After the first draft is ready, come back to the introduction. Ensure that it appears engaging to the reader and is free from mistakes. We strongly recommend that you proofread and improve your SOP at least five times before submitting it.
Pro Tip: It is highly advisable to seek a second opinion on your business management statement of purpose from a colleague or an expert or a professor. Their feedback could be a great way to improve your document further.
Need Help In Writing SOP for Business Management?
Sample SOP for Business Management
If you want to see how a statement of purpose for business management can be written for a real-life scenario, here is a business management SOP sample to go through.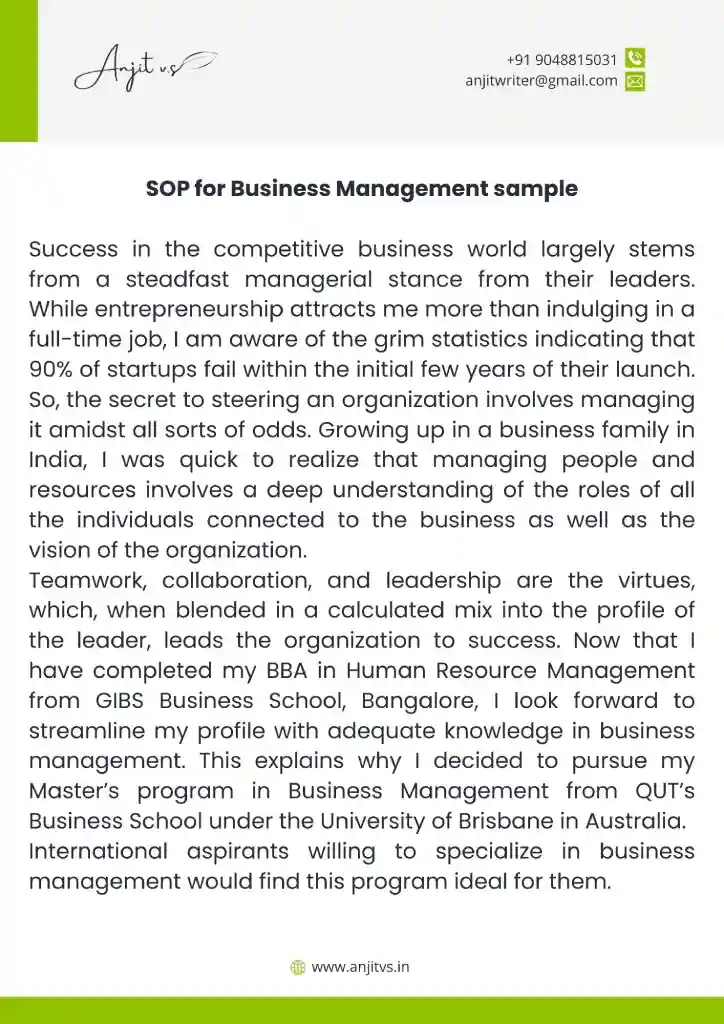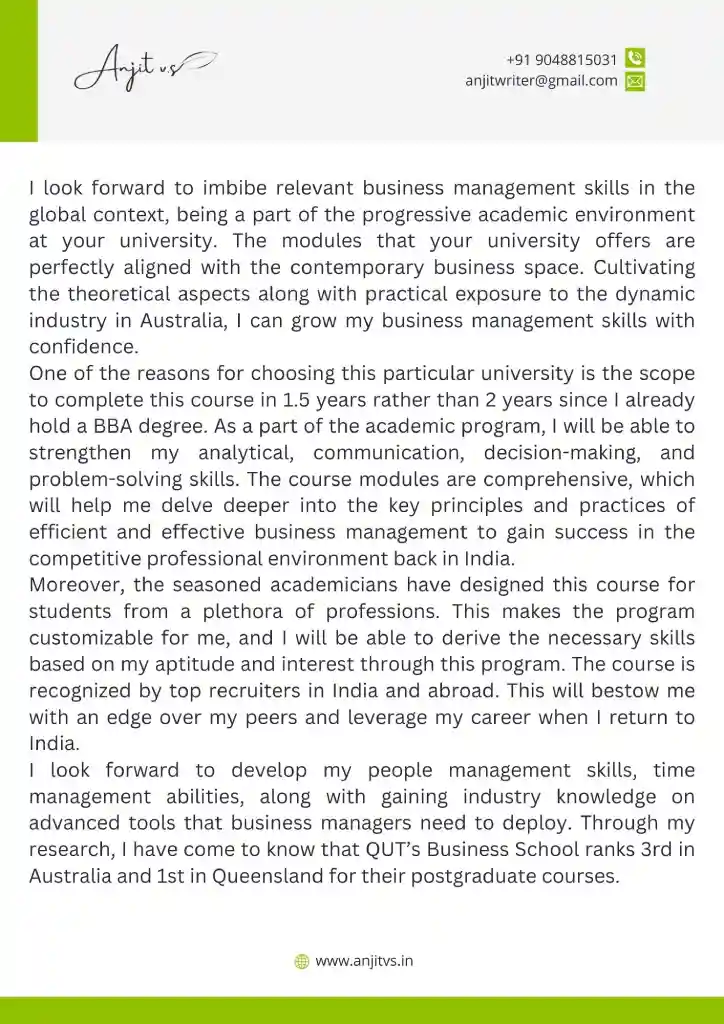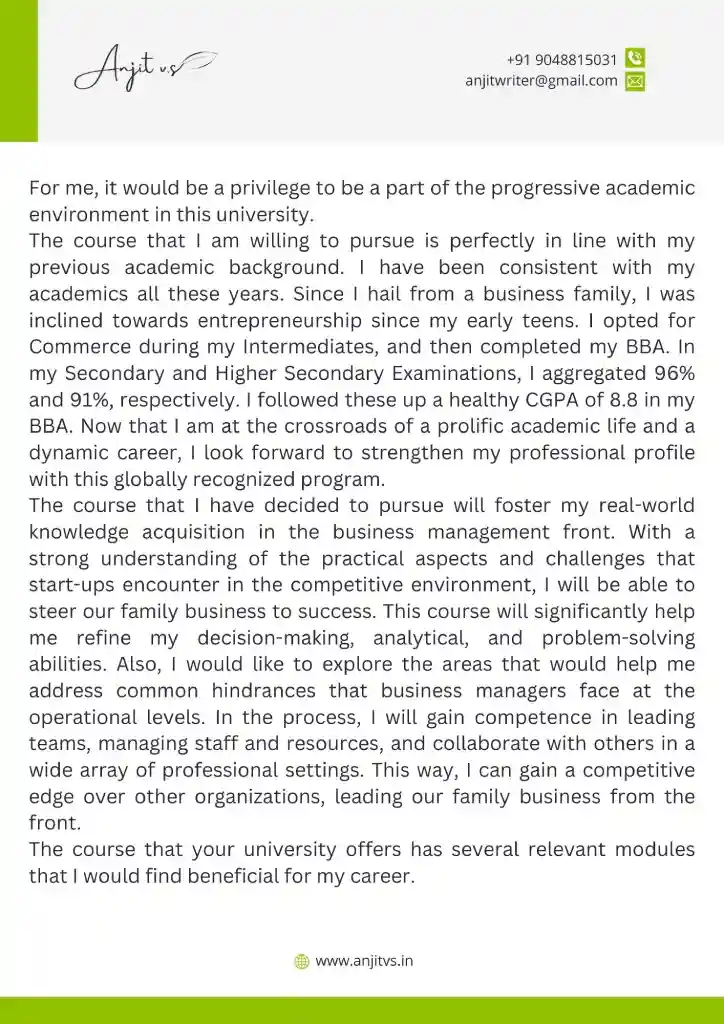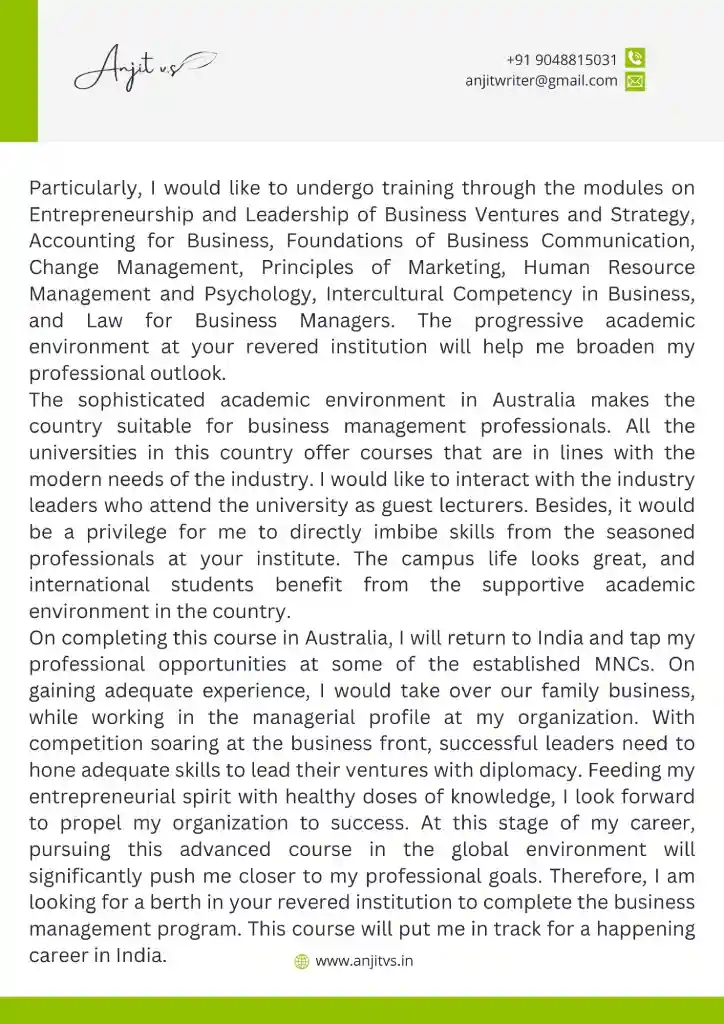 Success in the competitive business world largely stems from a steadfast managerial stance from their leaders. While entrepreneurship attracts me more than indulging in a full-time job, I am aware of the grim statistics indicating that 90% of startups fail within the initial few years of their launch. So, the secret to steering an organization involves managing it amidst all sorts of odds. Growing up in a business family in India, I was quick to realize that managing people and resources involves a deep understanding of the roles of all the individuals connected to the business as well as the vision of the organization.
Teamwork, collaboration, and leadership are the virtues, which, when blended in a calculated mix into the profile of the leader, leads the organization to success. Now that I have completed my BBA in Human Resource Management from GIBS Business School, Bangalore, I look forward to streamline my profile with adequate knowledge in business management. This explains why I decided to pursue my Master's program in Business Management from QUT's Business School under the University of Brisbane in Australia.
International aspirants willing to specialize in business management would find this program ideal for them. I look forward to imbibe relevant business management skills in the global context, being a part of the progressive academic environment at your university. The modules that your university offers are perfectly aligned with the contemporary business space. Cultivating the theoretical aspects along with practical exposure to the dynamic industry in Australia, I can grow my business management skills with confidence.
One of the reasons for choosing this particular university is the scope to complete this course in 1.5 years rather than 2 years since I already hold a BBA degree. As a part of the academic program, I will be able to strengthen my analytical, communication, decision-making, and problem-solving skills. The course modules are comprehensive, which will help me delve deeper into the key principles and practices of efficient and effective business management to gain success in the competitive professional environment back in India.
Moreover, the seasoned academicians have designed this course for students from a plethora of professions. This makes the program customizable for me, and I will be able to derive the necessary skills based on my aptitude and interest through this program. The course is recognized by top recruiters in India and abroad. This will bestow me with an edge over my peers and leverage my career when I return to India.
I look forward to develop my people management skills, time management abilities, along with gaining industry knowledge on advanced tools that business managers need to deploy. Through my research, I have come to know that QUT's Business School ranks 3rd in Australia and 1st in Queensland for their postgraduate courses. For me, it would be a privilege to be a part of the progressive academic environment in this university.
The course that I am willing to pursue is perfectly in line with my previous academic background. I have been consistent with my academics all these years. Since I hail from a business family, I was inclined towards entrepreneurship since my early teens. I opted for Commerce during my Intermediates, and then completed my BBA. In my Secondary and Higher Secondary Examinations, I aggregated 96% and 91%, respectively. I followed these up a healthy CGPA of 8.8 in my BBA. Now that I am at the crossroads of a prolific academic life and a dynamic career, I look forward to strengthen my professional profile with this globally recognized program.
The course that I have decided to pursue will foster my real-world knowledge acquisition in the business management front. With a strong understanding of the practical aspects and challenges that start-ups encounter in the competitive environment, I will be able to steer our family business to success. This course will significantly help me refine my decision-making, analytical, and problem-solving abilities. Also, I would like to explore the areas that would help me address common hindrances that business managers face at the operational levels. In the process, I will gain competence in leading teams, managing staff and resources, and collaborate with others in a wide array of professional settings. This way, I can gain a competitive edge over other organizations, leading our family business from the front.
The course that your university offers has several relevant modules that I would find beneficial for my career. Particularly, I would like to undergo training through the modules on Entrepreneurship and Leadership of Business Ventures and Strategy, Accounting for Business, Foundations of Business Communication, Change Management, Principles of Marketing, Human Resource Management and Psychology, Intercultural Competency in Business, and Law for Business Managers. The progressive academic environment at your revered institution will help me broaden my professional outlook.
The sophisticated academic environment in Australia makes the country suitable for business management professionals. All the universities in this country offer courses that are in lines with the modern needs of the industry. I would like to interact with the industry leaders who attend the university as guest lecturers. Besides, it would be a privilege for me to directly imbibe skills from the seasoned professionals at your institute. The campus life looks great, and international students benefit from the supportive academic environment in the country.
On completing this course in Australia, I will return to India and tap my professional opportunities at some of the established MNCs. On gaining adequate experience, I would take over our family business, while working in the managerial profile at my organization. With competition soaring at the business front, successful leaders need to hone adequate skills to lead their ventures with diplomacy. Feeding my entrepreneurial spirit with healthy doses of knowledge, I look forward to propel my organization to success. At this stage of my career, pursuing this advanced course in the global environment will significantly push me closer to my professional goals. Therefore, I am looking for a berth in your revered institution to complete the business management program. This course will put me in track for a happening career in India.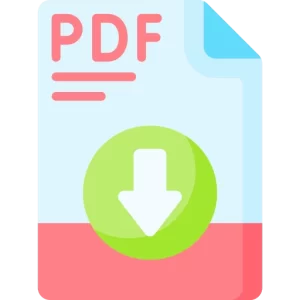 Download Sample SOP for International Business Management PDF
What to Include in Your SOP for International Business Management?
Your SOP for business management should provide the university selection panel with a complete overview of your profile. After going through your SOP, they shouldn't have to clarify anything further about you. Here is the complete list of points to include.
Your motivation for choosing a career in business management.
Your academic background and how that relates to business management
Your professional history and how that aligns with business management
Your relevant skills, strengths and knowledge that may be useful while getting trained in business management.
Your non-academic interests and strengths (communication skills, leadership qualities etc.) and how you will use them during the formation.
Your career aspirations – your immediate plans after course completion and a few years after that.
How Can an Expert Help You in Getting Ready with An SOP for Business Management Pdf?
If you are not confident in writing your SOP for business management by yourself, the next best option is to hire an expert to craft it for you. The reasons for doing so are:
They can help you present your profile and narrative better
They can help your business management SOP get noticed faster
They are aware of the latest admission trends in business management programs
They will ensure your SOP is free from errors
They can assist in adhering to the university/college requirements
Need Help In Writing SOP for Business Management?
Top Countries to Study Business Management in 2023 with an Outstanding SOP
SOP for Business Management in Canada
Among the different countries that offer business management programs, Canada tops the chart. Before drafting your SOP for the same, check out a sample sop for business management in canada.
SOP for Business Management in UK
The UK is a popular destination for a number of advanced study programs including business management. Since your SOP for business management UK is crucial, don't forget to review a few sample SOP for International business management in UK.
SOP for Business Management in Australia
Australia is a country with the fastest-evolving businesses and industries. Studying business management in Australia is a perfect choice if you are looking for an innovative career in business management. Prepare your application for admission with an error-free SOP for business management in Australia.
SOP for Business Management in USA
Are you thinking of studying business management in the USA? Then, don't forget to make your application perfect by including a compelling SOP for business management in USA.
Need Help In Writing SOP for Business Management?
Writing SOP for Popular Business Management Courses
Business management programs offered by each university differ in course structure, specialization and more. Hence, as you prepare your SOP, make sure to customize your writing according to the program. Here is a list of SOP for popular business management programs.
SOP for International Business Management
SOP for Diploma in Business Management
SOP for Masters in Business Management
SOP for Global Business Management
SOP for Strategic Business Management
SOP for Business Management Undergraduate
SOP for PHD in Business Management
Top International Universities for Business Management
Business management is offered by most of the top universities in the world. If you are thinking of studying abroad, consider your admission chances to the following top-rated institutes.
INSEAD, France
Stanford University, US
Bocconi University, Italy
University of Cambridge, UK
HEC Paris School of Management, France
Harvard University, US
London Business School, UK
Massachusetts Institute of Technology (MIT), US
University of Pennsylvania, US
University of Oxford, UK
Conclusion
We hope that you were able to get familiarized with writing SOP for business management by reading this blog.
However, as we conclude, we would like to keep this thread open for your suggestion and feedback.
Is there anything that you wish to bring to our attention in this context? Let us know in the comment section below.
Frequently Asked Questions
Is Business Management the Same As Business Administration (MBA)?
No. Business management is different from business administration. Business management deals with the study of managing various resources within an organization, for instance, the revenue generated by the company or the workforce of an organization. On the other hand, business administration focuses on the study of operations and leadership within a specific organization or industry.