Are you certain that your SOP for Cyber Security is tailored to the program you are applying to? Unless your SOP is customized to the program, it will not impress the selection officers at your preferred cybersecurity universities. And you know what will happen if it does not. But do not lose hope. We can help you write your SOP in cyber security exactly as you are expected to. How? In this blog, we share our secrets with you.
This blog covers:
What is a statement of purpose for cyber security?
How to write an SOP for MS in cyber security?
Statement of purpose for masters in cyber security sample for personal reference
What is SOP for Cyber Security?
A Statement of Purpose (SOP) for Cyber Security is a short and precise writeup in which an applicant of a cybersecurity program will provide a series of information which the selection committee wants to know. This includes answers to questions like why cybersecurity, why you deserve admission etc.
Why Do You Need an SOP for Applying for Masters In Cyber Security?
Just like you must prove your expertise before getting shortlisted for a job, you need to show why you deserve admission while applying for master's in cybersecurity. An SOP helps you in doing that.
Through SOP you can demonstrate your relevant background to show you have knowledge of cybersecurity.
SOP cyber security is the only document by which you can share examples of your expertise and prior knowledge/exposure to cybersecurity.
SOP helps the selection panel assess your communication skills.
Through the SOP, the selection panel can know what your future goals are.
SOP helps you convince selectors about what you can contribute to their institute.
Format of SOP for MS in Cyber Security
Though SOP is your personal narrative, it must be written in a certain format to look impressive and moreover to pass during the tough selection screening. Here is a cyber security sop template.
| | |
| --- | --- |
| Introduction: | Brief what this document is all about and share how you got introduced to the field of cybersecurity. Describe an incident to make it catchy. |
| Education history: | Write about your academic journey so far – what you have studied and how that is related and relevant to cybersecurity. List the relevant lessons, skills, exposure and experiences you have. |
| Work history: | Write about your work history – what roles you handled, what changes you brought, or contributions made. Show how your experience will enhance your training in cybersecurity. |
| Motivation: | Here, talk about your motivation for choosing cybersecurity instead of all other choices you had. Establish your suitability for a career in cybersecurity. |
| Relevant skills and strengths: | Mention some of your skills and strengths that would make you more fitting for a role in cybersecurity. For instance, technical aptitude, problem-solving skills, etc. |
| Why this institute and country: | Elaborate on your reasoning for choosing this institute for your cybersecurity program. Additionally, outline why studying in this country is important to you. |
| Goals: | List your short-term and long-term plans after successfully completing the cybersecurity masters program. Show how you want to contribute to the field in this part of cyber security statement of purpose. |
| Conclusion: | Boil down your points into two to three sentences to conclude. Show your excitement about getting selected and pursuing your graduation in cybersecurity. |
Sample SOP for MS in Cyber Security
How is the above-given format applied in an actual context in an application essay? Look at the statement of purpose for masters in cyber security pdf below.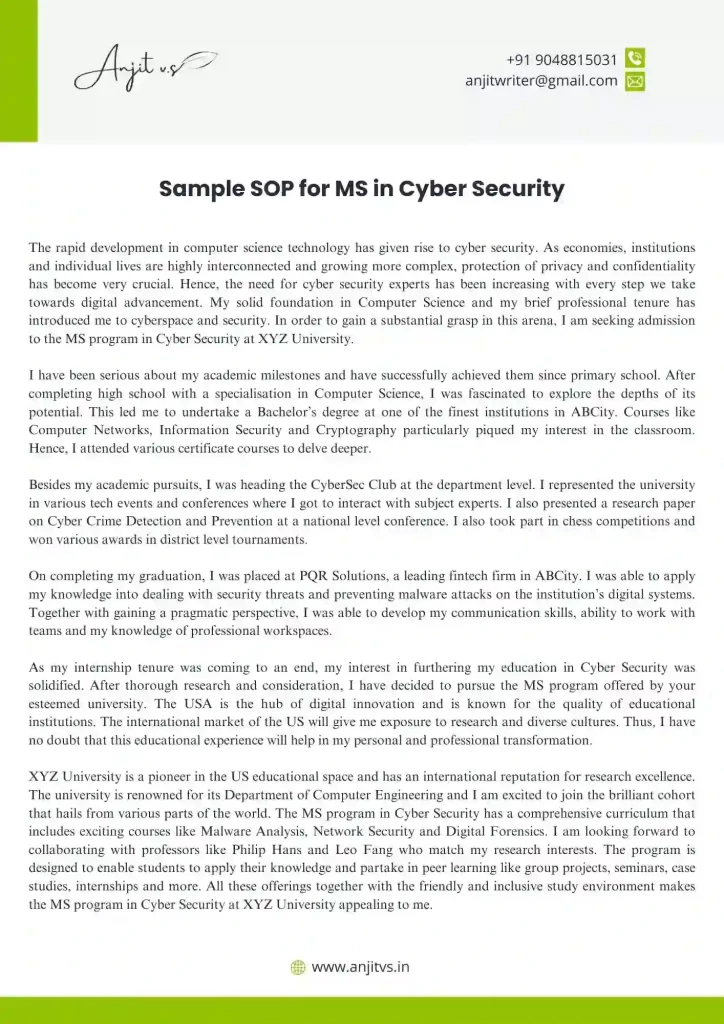 The rapid development in computer science technology has given rise to cyber security. As economies, institutions and individual lives are highly interconnected and growing more complex, protection of privacy and confidentiality has become very crucial. Hence, the need for cyber security experts has been increasing with every step we take towards digital advancement. My solid foundation in Computer Science and my brief professional tenure has introduced me to cyberspace and security. In order to gain a substantial grasp in this arena, I am seeking admission to the MS program in Cyber Security at XYZ University.
I have been serious about my academic milestones and have successfully achieved them since primary school. After completing high school with a specialisation in Computer Science, I was fascinated to explore the depths of its potential. This led me to undertake a Bachelor's degree at one of the finest institutions in ABCity. Courses like Computer Networks, Information Security and Cryptography particularly piqued my interest in the classroom. Hence, I attended various certificate courses to delve deeper.
Besides my academic pursuits, I was heading the CyberSec Club at the department level. I represented the university in various tech events and conferences where I got to interact with subject experts. I also presented a research paper on Cyber Crime Detection and Prevention at a national level conference. I also took part in chess competitions and won various awards in district level tournaments.
On completing my graduation, I was placed at PQR Solutions, a leading fintech firm in ABCity. I was able to apply my knowledge into dealing with security threats and preventing malware attacks on the institution's digital systems. Together with gaining a pragmatic perspective, I was able to develop my communication skills, ability to work with teams and my knowledge of professional workspaces.
As my internship tenure was coming to an end, my interest in furthering my education in Cyber Security was solidified. After thorough research and consideration, I have decided to pursue the MS program offered by your esteemed university. The USA is the hub of digital innovation and is known for the quality of educational institutions. The international market of the US will give me exposure to research and diverse cultures. Thus, I have no doubt that this educational experience will help in my personal and professional transformation.
XYZ University is a pioneer in the US educational space and has an international reputation for research excellence. The university is renowned for its Department of Computer Engineering and I am excited to join the brilliant cohort that hails from various parts of the world. The MS program in Cyber Security has a comprehensive curriculum that includes exciting courses like Malware Analysis, Network Security and Digital Forensics. I am looking forward to collaborating with professors like Philip Hans and Leo Fang who match my research interests. The program is designed to enable students to apply their knowledge and partake in peer learning like group projects, seminars, case studies, internships and more. All these offerings together with the friendly and inclusive study environment makes the MS program in Cyber Security at XYZ University appealing to me.
On earning my MS program, I plan to return to my home country. I am confident that this degree will help me fetch a good position in the tech hubs of India. I intend to work with international giants like K, L or M and collaborate with clients from across the world to overcome threats in the digital space. In the next few years, I see myself leading teams of cyber analysts and strategising cyber security blueprints to strengthen digital systems from malware issues. In the long run, I envision applying my industrial experience and technical knowledge to research efforts and tackle cyber crimes. I am certain that this MS program will be a great boost to my efforts to make digital spaces safe and secure.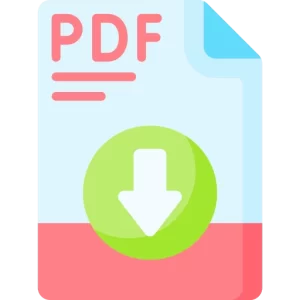 Download Sample SOP for MS in Cyber Security PDF
SOP for MSc in Cyber Security Sample – 2
Here is yet another sample SOP for cyber security. By reviewing multiple samples, you will get to know how different perspectives contribute to the making of a unique SOP.
How to Write SOP for Cyber Security Masters?
With the help of a logically conceived strategy, writing the statement of purpose for masters in cyber security becomes much easier. Here is a step-by-step SOP writing guide.
Understand the expectations:
Before you start writing, it is necessary to know what you are expected to supply in your cyber security SOP. Review the institute guidelines, and questions to answer and brainstorm.
Understand the structure:
Your SOP must have a good structure which allows the reader to identify each piece of information quickly and easily. Make use of the format we have shared above.
Let it flow:
Once you know what to write and which format to use, start writing. Forget about spelling accuracy or grammar. Let it flow naturally so that it will look genuine and more engaging.
Bring to perfection:
Once you are ready with the first draft, go through each sentence and bring that to perfection. Use correct punctuation, spelling, and grammar. Also, be careful to bring maximum coherence, cohesion, and engagement to the write-up.
Seek feedback:
Get a prior understanding of the degree of appeal and impression your SOP can have by letting someone review it. You may request a friend or colleague who has an idea about SOP expectations to review it and give you feedback.
Submit on time:
After your SOP and the application are ready, do not wait till the last date for the submission. It is recommended to submit your documents at the earliest, if possible two weeks prior to the last day of submission.
Skills to Include in Statement of Purpose for Masters in Cyber Security
Highlight the following skills when you write your SOP for masters in cyber security.
Knowledge of cybersecurity frameworks
Communication skills
Collaboration skills
Ethical hacking and penetration testing
Passion to stay up to date in the domain of cybersecurity.
Analytical skills
Passion to solve complex problems.
Common Mistakes to Avoid While Writing Cyber Security SOP
Whether your SOP will impress the admission committee or fail to do so depends on the following mistakes. The fewer these mistakes, the more chances your SOP will succeed.
Plagiarism of content
Repetition of points
Lack of readability
Grammar and spelling mistakes
Lack of punctuation or wrong punctuation
Lack of substantiating evidence and examples
Final Checklist for Drafting SOP for Cyber Security Course
Have you written an introduction that catches the attention of the reader?
Have you formatted and structured your SOP for cyber security correctly?
Have aligned your skills and strengths with the requirements of the cyber security program you are applying to?
Have you customized your SOP according to the institute's mission, vision, and values?
Have you concluded the SOP leaving a strong message for the selection panel reassuring them that you will be a perfect candidate for the cyber security program?
SOP Writing Guidelines for Top Countries
When you write an SOP for cyber security, one important aspect to look into is for which country the SOP is being made. Here are some guidelines to consider while drafting the document for these top countries.
SOP for Cyber Security in the USA
Write your statement of purpose for masters in cyber security in USA in 800 to 1000 words.
Adhere to the institute guidelines regarding the questions to answer in the SOP.
Give a convincing description of your reasons to study Cyber Security in the USA.
SOP for Cyber Security in Canada
Give a detailed overview of what you can contribute to the domain of cyber security.
Give reasons for choosing Canada as your destination for the cyber security program and your after-study plans.
Keep your statement of purpose for cyber security relevant to the course chosen, the country and the specific requirements.
SOP for Cyber Security in the UK
Write your statement of purpose for cyber security in UK in line with course requirements and university guidelines.
Keep the word limit of your SOP between 800 to 1000 words.
Format your SOP using single spacing, same font and font size with consistency and organizing paragraphs logically.
Refer sample SOP for cyber security in UK
SOP for Cyber Security Requirements for Top Universities
Cyber Security programs are offered by most of the top universities in the world. Here is a list of five top universities for your selection and the specific SOP writing guidelines for each of them.
SOP for Cyber Security in the University of Birmingham
Get to know the course pattern and requirements before writing the SOP.
Write the SOP keeping a standard format and structure. You can use the ones shared in this blog.
Do not forget to show how you can contribute to the institute as a student.
SOP for Cyber Security in Purdue University
Start your cyber security sop pdf with a catchy introduction showing the purpose of the SOP.
Elaborate on your motivations for doing masters in cyber security.
Discuss your achievements and how they can benefit you during your studies in cyber security.
Review a cyber security SOP example to get a thorough understanding of the document beforehand.
SOP for Cyber Security in Queen's University Belfast
Demonstrate your relevant skills and achievements to show your eligibility to study cyber security at Queen's University Belfast.
Show what you know about cyber security and how convinced you are that you could succeed in a career in this domain.
Write only the most relevant points and avoid repetition of points.
SOP for Cyber Security in California State University
Avoid duplication of content while writing your SOP.
Show how your qualities, skills and strengths align with the university requirements.
Elaborate on both your short-term and long-term plans.
SOP for Cyber Security in University College London
Customize your SOP as per the requirements and guidelines of the institute.
Understand the course structure and facilities you can avail during your program and show how they will benefit your specific case.
Proofread your SOP carefully before submission.
Conclusion
Congratulations on reading the blog till the end. You have learnt how to write an SOP for cyber security. Get going. But remember! Every word you write in the SOP matters. So, curate each sentence. If you bump into your questions while writing your SOP, do not hesitate to reach out to us.
We are excited to know how helpful this blog was and whether you still have any doubts or questions. Hence, share your thoughts with us in the comments below.
Frequently Asked Questions [FAQ]
How to answer 'Why I choose cyber security' in SOP?
An important area in a statement of purpose for cyber security is demonstrating the motivation for choosing the cyber security program. First, share your story of getting introduced to the domain of cyber security for the first time and how that triggered your interest in the subject. Second, show why you think you are a good fit for a career in cybersecurity based on your current experience, skills, and achievements. Next, explain how higher education in cybersecurity will prepare you for achieving your career goals.
What is the recommended word count for a cyber security statement of purpose?
The recommended word count for a cyber security SOP, as you might have noticed in the SOP for cyber security pdf, is about 800 to 1000 words.
How many SOPs to write for Cyber Security?
It depends on how many institutes you want to apply to. You need to write a customized SOP for each institute.
Why should I hire SOP writers to draft my Cyber Security SOP?
You should hire a professional SOP writer to draft your cyber security SOP mostly under two circumstances. One, you are not confident to write a winning SOP for cybersecurity, like the cyber security SOP sample, yourself. Two, you do not have sufficient time to spend writing the SOP. The point to remember here is, an SOP can either make or break your way into the best institute. Hence, it is least advised to take a chance with it. A professional writer can make you a winning statement of purpose for cyber security without a doubt.