As a fresher, it is not always easy to be a cut above other applicants at job interviews. Why? Because you lack experience. But how to still make your profile attract the attention of your selectors? Gain some outstanding internship experience. Again, getting placed at the best organization for an internship will put you through some tests. One of them is a statement of purpose of internship. Do not worry if you are not familiar with it yet.
In this article, we define:
What is an SOP for internship?
How to write it perfectly like an internship SOP sample
What to learn by closely examining sample SOP for internship
What is a Statement of Purpose for Internship?
Statement of purpose for internship is a document that a student writes to the selection panel of the organization hosting the internship program. In this, the student talks about his relevant academic background, why he wants to do an internship at this place and how he can contribute to and add value to it.
Why is SOP Important for Internship?
Since a good internship experience rewrites the fate of a fresher, all college/university passing out students want to enrol for an internship before they head to open job interviews. In this context, an internship SOP becomes so important.
Through the internship SOP, you can convince the hiring manager of the organization that you can in fact contribute to the firm.
SOP for internship helps you demonstrate your relevant skills and strengths with examples.
It helps you stand out from other applicants. Every organization has limited seats for internships. Only the ones who stand out make it.
Through your internship SOP, you can establish your goals and how you want to steer your professional journey.
With an impeccable SOP and by performing with integrity, you can even earn your first job offer in the same organization where you intern.
Need Help In Writing a SOP for Internship? Click Here
Statement of Purpose Format for Internship
You must finalize your SOP format for an internship after checking whether the organization is asking you to comply with any specific format. Here is the most widely accepted format, which you may notice in our SOP for internship example as well.
Text formatting:
Aim to write your SOP in about 800 to 1000 words.
Set 12 points as your font size with single or 1.5 line spacing.
Choose Times New Roman or Arial as your font style.
Leave extra space between paragraphs.
Paragraph structure:
Your SOP must have an introduction, body paragraphs and a conclusion.
Decide how many body paragraphs based on the number of points you want to include.
Dedicate a paragraph for each point.
Limit the length of each paragraph to approximately 100 to 120 words.
Looking for Expert SOP Writers for Internship? Click Here
How to Write SOP for Internship?
It is important to have a work plan to write your statement of purpose for internship. Here is one to help you. Go through it carefully to complete each section of your statement of purpose.
| | |
| --- | --- |
| Introduction: | Write a clear introduction establishing the purpose of writing this SOP. Make it catchy by integrating your personal story. Give an overview of what your readers can expect to learn from your write-up. |
| Background: | Next, talk about your background. You must include details about your academic qualifications, any relevant work experiences, etc, and show how they align with the expectations of the internship program. |
| Why this internship: | Elaborate on why you opted for this internship and not any other programs. Do not simply praise the organization but rather make it realistic, for instance, the amount of valuable exposure you will get from the internship or how it will support your career. |
| Expectations: | Write down what you expect to learn from the internship program. Point out the skills that you want to excel at and the type of roles or duties you want to perform and get familiar with. Also, briefly show how you can contribute to the organization. |
| Relevance: | Demonstrate how relevant the internship is to you. It could be reasons like the similarity of industry, the benefits of the internship in shaping your profile or the aptness of your own specific skills and qualities to this internship role. |
| Conclusion: | Conclude your SOP by summarizing your points in one or two lines. Stress your aptness for the internship and the fact that you genuinely deserve it. End on a positive note thanking the selection officer for taking the time to review your statement of purpose. |
Need Help In Writing a SOP for Internship? Click Here
Statement of Purpose for Internship Sample
These SOP samples for internship have been written with the intention to walk you through the various aspects of internship statement of purpose writing. It will help you understand the expectations clearly.
Statement of Purpose for Law Internship Sample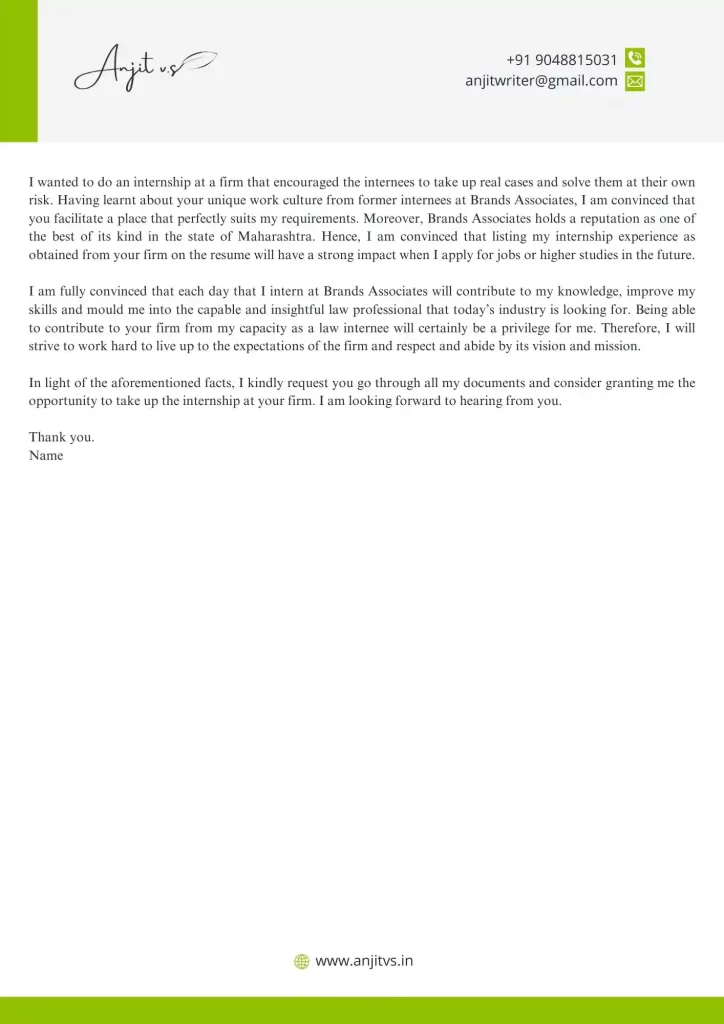 The world in which we live is becoming more complex day by day. New innovations and technologies necessitate new laws for countries, communities and individuals to live a peaceful and uninterrupted life. The demand for law firms and experts in various types of laws will keep increasing in the future. I got attracted to the field of law during my school days as a result of my encounter with a lawyer who had come to meet my father regarding a property dispute. It was then that I realized the importance of law and order in society and how a legal system keeps our societies coexisting peacefully.
My graduation in law coupled with various self-research, extensive readings, and seminars that I have attended in the field of law have added to my knowledge of the law and helped me thrive in this field. I am hopeful that this law internship that I am taking up with Brands Associates will give me the much-needed foundation in my journey to becoming a successful law professional.
I have been an avid learner throughout my academic formation periods. After completing my graduation in Political Science, I joined Government Law College, Mumbai, for my professional qualification in the discipline. The initial year was tough for me because the curriculum and the mode of training in the law program were quite different from my previous academic formations. Even though some of my colleagues gave up after the first semester, I was quite convinced about what I wanted in my professional life and worked hard. I never failed in any subjects throughout the program.
During my law training, I used to have extensive discussions with my friends about major business disputes in the country. We would debate from both sides of the argument. These discussions have helped me a lot in developing a strong identification with the sides of the claimant as well as the plaintiff in the litigation. My final year law thesis was on the famous case of Cyrus Investments Pvt. Ltd. & Anr. v. Tata Sons Ltd.& Ors. I received the highest grade for the thesis in my batch. Besides helping me with getting familiar with the nuances of financial litigation, this project helped me have more confidence in myself. Before this project, I used to wonder if I could ever dissect a complex legal dispute, see through both sides of the argument and arrive at a conclusion that would be acceptable for both parties.
Besides my academic interests, I used to be an active public speaker during my college years. Whenever we had any public function in the college, everyone would recommend my name for presiding it over. This public exposure has helped me a lot in developing my leadership qualities and communication skills. I understand that the ability to interact with people is the most essential quality for a law professional. Although I was not very much inclined to sports, I enjoyed watching, supporting teams and being behind the scenes. By being the person behind the scene, I could help my team win the games. My active participation in extracurricular activities helped me grow as a team player, and have consideration for others rather than being self-centred. I believe these qualities will help me immensely when I start my active career as a law advisor.
My decision to apply for a law internship at Brands Associates has been made after several days of intensive research. I wanted to do an internship at a firm that encouraged the internees to take up real cases and solve them at their own risk. Having learnt about your unique work culture from former internees at Brands Associates, I am convinced that you facilitate a place that perfectly suits my requirements. Moreover, Brands Associates holds a reputation as one of the best of its kind in the state of Maharashtra. Hence, I am convinced that listing my internship experience as obtained from your firm on the resume will have a strong impact when I apply for jobs or higher studies in the future.
I am fully convinced that each day that I intern at Brands Associates will contribute to my knowledge, improve my skills and mould me into the capable and insightful law professional that today's industry is looking for. Being able to contribute to your firm from my capacity as a law internee will certainly be a privilege for me. Therefore, I will strive to work hard to live up to the expectations of the firm and respect and abide by its vision and mission.
In light of the aforementioned facts, I kindly request you go through all my documents and consider granting me the opportunity to take up the internship at your firm. I am looking forward to hearing from you.
Thank you.
Name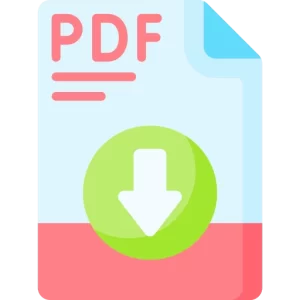 Download Statement of Purpose for Internship PDF
Mistakes to Avoid While Writing an Internship SOP
Be informed that a perfect SOP is the easiest way to impress the selectors. Because even before they see you, they shortlist you solely because of the way you impress them through the SOP. This would mean any mistake in the SOP will work against you. So, beware of the following mistakes.
| | |
| --- | --- |
| Lack of customization: | Does your SOP look as if it has been written for any random internship out there and not specifically for the internship you are applying to? No selectors will be impressed to see it. |
| Lack of personalization: | If your internship SOP does not talk about you, it will not have any impact on the reader. It must clearly and specifically talk about your skills and suitability for the program. |
| No engagement: | Even when it is counted as a formal document, SOP is expected to bring in a certain amount of engagement in the reader. So, integrate a friendly, catchy and at the same time formal language in the SOP. |
| Errors: | Errors mean not only obvious spelling mistakes but also incorrect grammar, incorrect punctuation, and incorrect formatting. Pinpoint each mistake and rectify them before you submit your SOP. |
| Last-minute writing: | If you intend to apply for an internship that starts in June, make sure that you get ready with the SOP for it by midway through May. When you write the SOP in a hurry, the chances of missing out on important points are high. |
Five Basic Tips to Write an Impactful SOP for Internship
Your SOP should impress the selectors when they see it for the first time and make them think 'this is it.' Here are five simple and basic tips to do that.
Show that you are truly interested in the internship program and not just randomly applying for it.
Establish your expectations clearly so that your selectors know how to make your experience better.
Go through the internship program details before applying. It is better to talk with someone who has done an internship there earlier.
Demonstrate your knowledge of their mission, vision and values and willingness to comply with them.
If there is any specific SOP writing guideline, adhere to that without any failure.
Need Help In Writing a Internship SOP? Click Here
SOP for Major Internship Programs
Internships are offered by different bodies and for different purposes. Before writing an SOP for an internship, review the internship program, understand the expectations, and prepare a strategy. We also recommend that you review the statement of purpose for internship examples by programs and get familiar.
Statement of Purpose for Research Internship
A research internship is a type of internship where the candidate intern at a college or university assisting a professor do various tasks. When you write an SOP for Research Internship, it is important to know what you expect to gain from this internship.
SOP for Summer Internship
When you opt to do an internship in a European country or North America, you will have two types of internships to choose from – summer internship and winter internship. In the statement of purpose for summer internship, you may say why you opt for this.
Statement of Purpose for Law Internship
If you are a student passing out of law school, you may choose to go for a law internship. You will require a statement of purpose for law internship at this stage. We have a dedicated blog containing tips, steps, strategies, and free samples for law internships. So, check it out to learn more about SOP for law internship.
Why Should You Hire an Expert to Write Your Internship SOP?
Even if you have written an SOP earlier, writing it for a specific cause like an internship can be confusing. Here is why you must hire an expert to write your statement of purpose for internship.
A professional writer will ensure your SOP's adherence to all internship requirements.
By hiring an expert writer, you can have complete peace of mind and approach the internship interview more confidently.
Expert writers will proofread the SOP and ensure zero mistakes before sending you back the finished SOP.
An expert writer can significantly save your time and even save you from the last minute rush of SOP writing.
Click Here to Experienced SOP Writers
Top 6 Countries You Will Require an SOP for Internship
SOP is a mandatory requirement for an internship, no matter which country you apply for the internship in. Here is a list of the top six countries where you may apply for an internship with a tailored statement of purpose.
| | |
| --- | --- |
| SOP for Internship in USA | SOP for Internship in Germany |
| SOP for Internship in UK | SOP for Internship in Australia |
| SOP for Internship in Canada | SOP for Internship in France |
SOP for Popular Internships Programs
Every internship program demands a unique and tailored statement of purpose from its applicants. Here is a list of SOP for popular internship programs.
SOP for Internship in Computer Science
SOP for Internship in Chemistry
SOP for Internship in Biotechnology
SOP for Internship in Life Science
SOP for Physics Internship
SOP for Internship in Molecular Biology
SOP for Machine Learning Internship
Statement of purpose for Architecture Internship
Statement of purpose for Internship in Pharmacy
Statement of purpose for Biology Internship
Statement of purpose for Finance Internship
Statement of purpose for Marketing Internship
Conclusion
How did you find this dedicated blog on statement of purpose for internship?
We hope that it clarified most of your doubts.
Please be informed that we are updating this blog as and when we notice any latest amends in the internship SOP requirement for any country or program or internship type.
If you want us to address any specific point that you think we miss out on in this blog, please feel free to let us know.
We will be more than happy to enlighten you about it.
Frequently Asked Questions [FAQ]
What is a statement of purpose for internship for freshers?
Statement of purpose for internship for freshers is written when you apply for the internship for freshers. The document explains your reasons for choosing the freshers internship program – to get familiar with a job role, responsibilities or duties etc. prior to taking up a full-time job in a specific domain.
How long should a Statement of Purpose for Internship be?
The ideal length for an SOP for internship is around 800 words. It is okay if it falls a bit short or exceeds a few words.
Can I write a statement of purpose for internship in 200 words?
Unless you are specifically directed by the interning organization to produce a 200 words internship SOP, we do not recommend it.
How can I write an SOP for summer internship?
Basically, there are not many differences between an SOP for internship in general and an SOP for summer internship. You can use the exact same format, structure, and tips we have shared in this blog for it. Or you can refer to the same SOP samples for internship here. As it is clear, summer internships are internship programs conducted in summer – a time when colleges and universities are mostly closed, and students have their vacations. In European countries or North America, students would usually spend their summertime holidaying or working. In your SOP for summer internship, you may talk about your motivation for choosing to do an internship at this time.