Do you find it difficult to structure your views into a compelling SOP for a Master's in Public Health? If yes, we can help you to write an excellent SOP for the MPH irrespective of the college and country you have chosen.
By reading this blog thoroughly, you will understand:
What is an MPH SOP?
Examples and simple instructions for writing a statement of purpose for MPH
Tips from experts on how to prevent mistakes and make it stand out
What is Public Health and Why is doing Masters in Public Health a Good Choice?
For the enhancement of the healthcare services offered at the individual, public, and community levels, public health is a field that conducts studies and develops healthcare policies. The healthcare sector will increase employment in the upcoming years, and you can make sure it realises its full employment potential by studying public health.
What is an SOP for Public Health?
In the SOP for Public Health, you have the chance to express why you deserve a place at the preferred university. Along with employment history, accomplishments, and career goals, it reveals your interests and personal qualities.
How important is an SOP for applying to a Public Health program?
Identifying the candidate's enthusiasm for the subject.
The chances of admission can be improved with a well-written SOP.
In order to learn more about you.
To understand your career path.
To distinguish you from the competitors.
Need Help In Writing a SOP for MPH? Click Here
How to Write a Statement of Purpose for MPH?
Think through, collect, and organise your ideas before you begin writing your SOP for MPH. Knowing what to include makes the rest simple.
Let's explore a format for your SOP for MPH.
Introduction
It needs to be captivating and unique. Describe:

How studying health problems and health policies sparked your interest
How this led you to decide to pursue a career in public health.

Explain them with the help of anecdotes.
Academic Background:
Here, discuss your academic background and how it relates to your MPH studies. Include:

Your grades in 10th, 12th, and undergraduate
Your favourite subjects
Any relevant academic experiences that piqued your interest in the field.
| | |
| --- | --- |
| Experiences: | Add your work experience here if you have any. If not, you can discuss your internship experiences while focusing on your duties and what your key lessons from them were. Also, explain the projects you have done during undergraduation. |
Extracurricular activities:
Beyond academics, universities are also interested in other areas. Therefore, this is the section where you can talk about your ;

Interests
Volunteer activities
Outreach programs, and more.

In addition, you can include any courses or certifications you've taken to hone your skills.
| | |
| --- | --- |
| Why this university: | Explain what made you choose that particular university. Discuss the features of the university that attracted you, including facilities, faculties, programs, placement, etc. Then include the course structures and outcomes you will get once you complete the course. |
| | |
| --- | --- |
| Why this country: | Describe your decision-making process for picking this country over others. Give a clear and reasonable explanation. |
Conclusion:
Add an interactive conclusion by elaborating:

Your career objectives (short and long-term)
What can you offer the university and its community?
Pro tip: Avoid making your SOP for MPH an exact replica of your resume.
Need Help In Writing a SOP for Masters in Public Health? Click Here
Sample SOP for MPH/Master of Public Health
Now, you know how to write an SOP for MPH. For more clarity, read the sample statement of purpose for a master's in public health pdf below.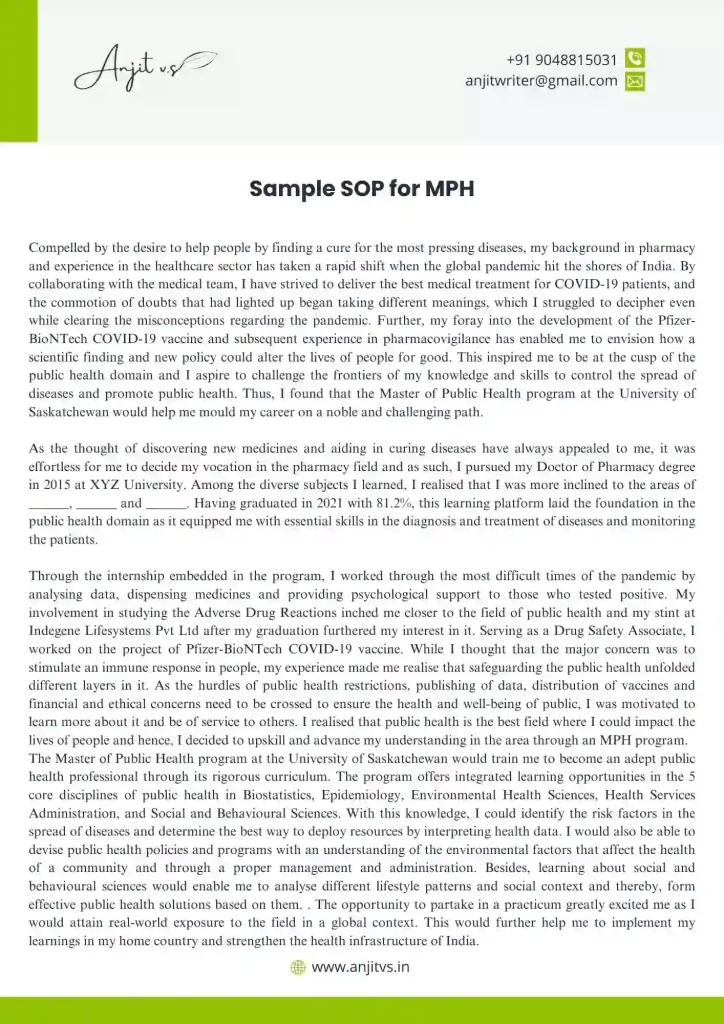 Compelled by the desire to help people by finding a cure for the most pressing diseases, my background in pharmacy and experience in the healthcare sector has taken a rapid shift when the global pandemic hit the shores of India. By collaborating with the medical team, I have strived to deliver the best medical treatment for COVID-19 patients, and the commotion of doubts that had lighted up began taking different meanings, which I struggled to decipher even while clearing the misconceptions regarding the pandemic. Further, my foray into the development of the Pfizer-BioNTech COVID-19 vaccine and subsequent experience in pharmacovigilance has enabled me to envision how a scientific finding and new policy could alter the lives of people for good. This inspired me to be at the cusp of the public health domain and I aspire to challenge the frontiers of my knowledge and skills to control the spread of diseases and promote public health. Thus, I found that the Master of Public Health program at the University of Saskatchewan would help me mould my career on a noble and challenging path.
As the thought of discovering new medicines and aiding in curing diseases have always appealed to me, it was effortless for me to decide my vocation in the pharmacy field and as such, I pursued my Doctor of Pharmacy degree in 2015 at XYZ University. Among the diverse subjects I learned, I realised that I was more inclined to the areas of ______, ______ and ______. Having graduated in 2021 with 81.2%, this learning platform laid the foundation in the public health domain as it equipped me with essential skills in the diagnosis and treatment of diseases and monitoring the patients.
Through the internship embedded in the program, I worked through the most difficult times of the pandemic by analysing data, dispensing medicines and providing psychological support to those who tested positive. My involvement in studying the Adverse Drug Reactions inched me closer to the field of public health and my stint at Indegene Lifesystems Pvt Ltd after my graduation furthered my interest in it. Serving as a Drug Safety Associate, I worked on the project of Pfizer-BioNTech COVID-19 vaccine. While I thought that the major concern was to stimulate an immune response in people, my experience made me realise that safeguarding the public health unfolded different layers in it. As the hurdles of public health restrictions, publishing of data, distribution of vaccines and financial and ethical concerns need to be crossed to ensure the health and well-being of public, I was motivated to learn more about it and be of service to others. I realised that public health is the best field where I could impact the lives of people and hence, I decided to upskill and advance my understanding in the area through an MPH program.
The Master of Public Health program at the University of Saskatchewan would train me to become an adept public health professional through its rigorous curriculum. The program offers integrated learning opportunities in the 5 core disciplines of public health in Biostatistics, Epidemiology, Environmental Health Sciences, Health Services Administration, and Social and Behavioural Sciences. With this knowledge, I could identify the risk factors in the spread of diseases and determine the best way to deploy resources by interpreting health data. I would also be able to devise public health policies and programs with an understanding of the environmental factors that affect the health of a community and through a proper management and administration. Besides, learning about social and behavioural sciences would enable me to analyse different lifestyle patterns and social context and thereby, form effective public health solutions based on them. . The opportunity to partake in a practicum greatly excited me as I would attain real-world exposure to the field in a global context. This would further help me to implement my learnings in my home country and strengthen the health infrastructure of India.
The MPH program would prepare me for professional practice and leadership in public health and I intend to leverage my skills and knowledge to address the public health challenges in India such as the rise in communicable and non-communicable diseases, limited public health institutes and health disparities between the rich and poor. India. As an aspiring public health professional, I would take advantage of my experiences and exposure to bring in adequate healthcare resources in the form of efficient workforce, improved facilities and sufficient funds to develop a responsive health system. As I wish to provide equal and quality services to the vulnerable sections of society, I would try to understand the barriers that impede the proper delivery of health services to them, be it the difficulty to gain access to their areas or their unhygienic living conditions, based on which I would harness my power to integrate equity goals in policies and offer them the much needed service.
Being one of the top research-intensive, medical doctoral universities in Canada that is committed to providing hands-on practical education to students, I believe that studying at the University of Saskatchewan would enable me to garner new perspectives, which would illuminate my career deeds. With state-of-the-art facilities that include Canadian Light Source synchrotron, and one of the world's most advanced containment level 3 vaccine research and teaching facilities, I assume that my academic expedition at the University of Saskatchewan would be inspiring. I look forward to gaining in-depth knowledge in public health at your respected university and I assure you that I would maximise my learning opportunities in Canada to build a fruitful career as a Public Health Educator/Public Health Project Manager in India.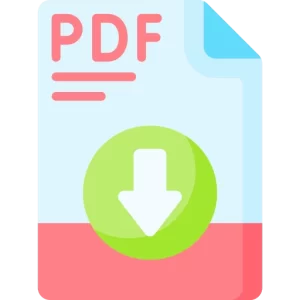 Download MPH SOP Samples
Sample SOP for MS in Public Health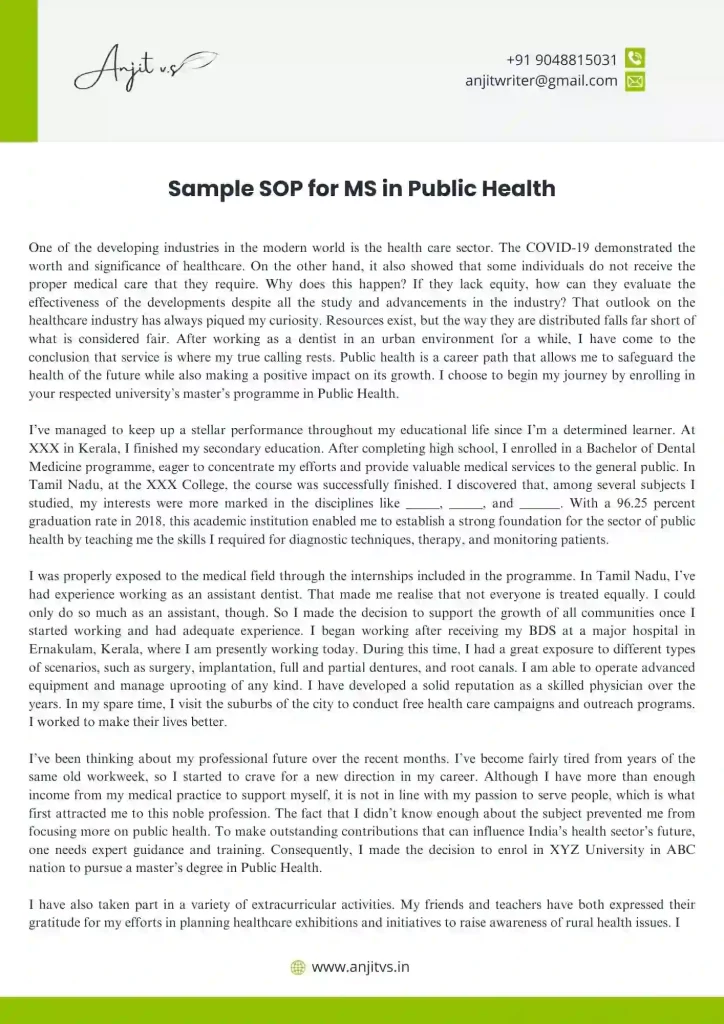 One of the developing industries in the modern world is the health care sector. The COVID-19 demonstrated the worth and significance of healthcare. On the other hand, it also showed that some individuals do not receive the proper medical care that they require. Why does this happen? If they lack equity, how can they evaluate the effectiveness of the developments despite all the study and advancements in the industry? That outlook on the healthcare industry has always piqued my curiosity. Resources exist, but the way they are distributed falls far short of what is considered fair. After working as a dentist in an urban environment for a while, I have come to the conclusion that service is where my true calling rests. Public health is a career path that allows me to safeguard the health of the future while also making a positive impact on its growth. I choose to begin my journey by enrolling in your respected university's master's programme in Public Health.
I've managed to keep up a stellar performance throughout my educational life since I'm a determined learner. At XXX in Kerala, I finished my secondary education. After completing high school, I enrolled in a Bachelor of Dental Medicine programme, eager to concentrate my efforts and provide valuable medical services to the general public. In Tamil Nadu, at the XXX College, the course was successfully finished. I discovered that, among several subjects I studied, my interests were more marked in the disciplines like _____, _____, and ______. With a 96.25 percent graduation rate in 2018, this academic institution enabled me to establish a strong foundation for the sector of public health by teaching me the skills I required for diagnostic techniques, therapy, and monitoring patients.
I was properly exposed to the medical field through the internships included in the programme. In Tamil Nadu, I've had experience working as an assistant dentist. That made me realise that not everyone is treated equally. I could only do so much as an assistant, though. So I made the decision to support the growth of all communities once I started working and had adequate experience. I began working after receiving my BDS at a major hospital in Ernakulam, Kerala, where I am presently working today. During this time, I had a great exposure to different types of scenarios, such as surgery, implantation, full and partial dentures, and root canals. I am able to operate advanced equipment and manage uprooting of any kind. I have developed a solid reputation as a skilled physician over the years. In my spare time, I visit the suburbs of the city to conduct free health care campaigns and outreach programs. I worked to make their lives better.
I've been thinking about my professional future over the recent months. I've become fairly tired from years of the same old workweek, so I started to crave for a new direction in my career. Although I have more than enough income from my medical practice to support myself, it is not in line with my passion to serve people, which is what first attracted me to this noble profession. The fact that I didn't know enough about the subject prevented me from focusing more on public health. To make outstanding contributions that can influence India's health sector's future, one needs expert guidance and training. Consequently, I made the decision to enrol in XYZ University in ABC nation to pursue a master's degree in Public Health.
I have also taken part in a variety of extracurricular activities. My friends and teachers have both expressed their gratitude for my efforts in planning healthcare exhibitions and initiatives to raise awareness of rural health issues. I have been involved in multiple charitable and social service activities as part of my attempts to give back to my hometown. To this day, I still take part in these kinds of health and environmental health programs.
I started my research for the right university by searching for the country where I desired to go. After comparing ABC with countries such the US, Canada, the UK, and other developed countries, I decided to learn from them. ABC has earned recognition for taking immediate steps to make sure that all of those people have access to inexpensive, high-quality treatment. Considering recent measures to stop the spread of the new coronavirus, the quality of its healthcare system has become even more evident. I believe that learning in such a setting, where excellence radiates from every angle, will be beneficial to my career development.
Through its demanding curriculum, the Masters of Public Health degree at XYZ University would equip me to be a competent public health professional. My ability to network with students and faculty from around the world will be enhanced by your university's culturally and socially varied atmosphere. The program offers opportunities for engaged learning in the five public health disciplines that make up its foundation: biostatistics, epidemiologic, environmental and health science, medical services management, and behavioural sciences. By knowing the environmental elements that have an impact on a community's health and by using appropriate management and administration, I will also be capable of developing health care policies and programmes. The university's medium of instruction, that includes extensive reference materials, deconstruction of the implementation of well-known health programmes, and observational study of multiple cases, is also promising. This will support the development of India's health infrastructure and enable me to use what I've learned even more in my own nation.
I'll go back to India after graduating from this program to begin the next chapter of my professional career. When I devote myself to serve a large community, I remain open-minded to the obstacles which may arise. In fact, I anxiously await embarking on such interesting and engaging challenges. With the help of this course, I'll be able to take on fulfilling positions like that of a project leader for public health initiatives or a healthcare administrator. More than that, I would like to work for the wider public, who are perceived to be underprivileged and have no way to get assistance. I'll develop plans and policies to guarantee equity in the healthcare system of India. I'm hoping that the admission committee will consider my application into account.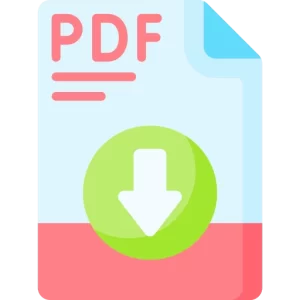 Download Sample SOP for MS in Public Health
Skills to Include in Your SOP for Public Health
As Public Health is a dynamic field, a thorough research is necessary to draft an SOP for Public Health. And one must never forget to exhibit certain crucial skills like the ones mentioned below in your SOP, because it leverages the quality of your application.

How empathetic you are towards others
Your critical and analytical thinking ability
Evidence of your research aptitude
Your motivation for the course
Excellent academic and research writing skills
Your Problem solving ability
Knowledge about the specialization applying for
Do's and Don'ts of Writing SOP for Masters in Public Health
Do's
Keep an optimistic attitude throughout your SOP for MPH.
Respect the word limit.
Keep the format in mind
Be truthful in your SOP.
Use formal wording.
Don'ts
Avoid rushing your writing.
Avoid using informal language or slang in SOP.
Avoid plagiarism
Don't use poor vocabulary and grammar.
Without proofreading, do not submit.
Why Should You Hire an Experienced SOP Writer for your MPH Application?
Saves you time and work.
SOP without plagiarism
The SOP should be more professional.
They are more accustomed to university and its regulations.
SOP is more likely to be approved.
Need Help In Writing a SOP for MPH? Click Here
SOP for Masters in Public Health for Top Countries
As a field which is expected to grow 5 – 12 % in the coming decade, Public Health professionals are of high demand in the present global scenario. And writing an SOP for Public Health is a crucial step towards that big dream. Here we list the top countries to pursue a master's in Public Health. Glance through it and choose the one that perfectly matches you.
SOP for MPH in Canada
While writing an SOP for MPH in Canada, you have to connect your course motivation with the outcome of the course, and in this way, you can make your SOP look attractive.
SOP for MPH in UK
UK is an ideal destination for anyone looking for a course in a health care profession. And your SOP for MPH in UK must be crafted by addressing the importance of studying MPH course from UK.
SOP for MPH in Australia
With the increased popularity of Australia as an ideal study destination, your SOP for MPH in Australia must emphasize your inherent interest and qualities to pursue a master's degree in Public Health.
SOP for MPH in USA
As US admission lays great importance on the merit of the student, the SOP for MPH in USA should emphasize your academic proficiency and passion for the course chosen.
SOP for MPH in New Zealand
New Zealand being a favorite destination for international students, your SOP for MPH in New Zealand should include why you chose New Zealand to study a Masters in Public Health.
Five MPH programme specialisations you can choose from
You will gain experience that will prepare you for a career in medical research when you decide to pursue the Master's in Public Health, or MPH. Five popular specialities in MPH programmes are as follows:
Epidemiology
Health services administration
Environmental health science
Disaster management and emergency readiness
Biostatistics
Top Universities to Study Masters in Public Health
Johns Hopkins University
University of North Carolina – Chapel Hill
Harvard University
University of Michigan
Columbia University
Central Queensland University (CQU)
Emory University
University of Washington
University of California – Berkeley
UCLA
Conclusion
As we said in the beginning, we have talked about a couple of SOPs for MPH-related topics. You now understand how to put your thoughts and ideas together into an SOP for MPH. Right? We certainly hope so.
Please share your feedback in the comments section if you found our thoughts helpful.