Have you decided to study MBA in Canada? Congratulations on the right decision. It is certainly going to be a turning point in your career. But be informed about one important thing. Your SOP for MBA in Canada is going to be central to your application to the best university or college in Canada. So, knowing how to write the best SOP for MBA in Canada is equally important as every other step you take towards your admission.
In this article, we will tell you:
What is a statement of purpose for an MBA in Canada?
How to benefit from Sample SOP for MBA in Canada?
Soft skills to highlight in the SOP for getting the attention of the selection panel
What is SOP for MBA in Canada?
SOP for MBA in Canada is a self-written statement addressed to the selection panel of a college or university in Canada explaining why you are a good fit for their MBA program.
Importance of SOP for MBA in Canada
Why is SOP so important? Of course, it is good to know it before starting to work on it. This knowledge will help you approach it more seriously and practically.
SOP is a means to show your admission panel that you are the right fit for the MBA program.
SOP is written proof of your communication and articulation skills.
SOP is a primary source of information about you for the selection committee to decide whether to consider you for the next round of screening.
SOP for MBA shows how much research, reading and exposure you have about business administration.
SOP is a document to highlight your relevant skills and strengths in business administration.
Need Help In Writing SOP for MBA in Canada?
How to Write an SOP for MBA in Canada?
Write the best statement of purpose in order not to have your application sit in the balance. Here are some useful guidelines for writing SOP for MBA in Canada.
| | |
| --- | --- |
| Preparation | |
| Brainstorming: | To begin with, brainstorm all the relevant points you want to include in your SOP for MBA in Canada. You can brainstorm on your own or do it with your peers. |
| Reading: | Read about the university you wish to study at and get to know their SOP requirements, mission, vision etc. Show in your SOP that you have done serious research. Also, read about the benefits of studying business administration in Canada. |
| Familiarizing: | Review a few SOP samples for MBA in Canada to learn about the important things like the word count, format, writing style, major points to supply in the document etc. |
| | |
| --- | --- |
| Writing | |
| Outlining: | Once you are over the preparation stage, make a skeleton for your SOP. This is to ensure that you achieve a proper order for your document and don't miss any important pieces of information. |
| First draft making: | Write a first draft keeping in mind that you will be reworking it later. So, don't be too strict about making it perfect at this stage. Write naturally and reflect your true self. |
| Final writing: | Come to each paragraph like the introduction, body and conclusion. Ensure that the introduction is engaging and does explain how you got interested in business administration. Ensure that each body paragraph focuses on one particular theme and that the conclusion provides a summary of the whole document. |
| | |
| --- | --- |
| Modification | |
| Proofreading: | Proofread your SOP several times. Four to five times is ideal. Spot every mistake that is likely to spoil the appeal of your document and correct them. |
| Getting feedback: | Having a second person go through your statement of purpose and give you feedback for improvements is good since it will help you figure out how others find your SOP. |
| Submitting: | Know when you are supposed to submit your application and SOP and be prepared to send it at least a few days before the deadline. |
Need Help In Writing SOP for MBA in Canada?
Statement of Purpose Format for MBA in Canada
Below is the SOP format for MBA that is acceptable to colleges and universities in Canada.
| | |
| --- | --- |
| Length | |
| Words: | Between 800 and 1500 |
| Characters: | 4000 to 7500 |
| | |
| --- | --- |
| Font | |
| Font style: | Times New Roman, Arial or Helvetica |
| Font size: | 12 points |
| | |
| --- | --- |
| Margin: | 1 inch on both sides, top and bottom. |
| | |
| --- | --- |
| Indentation: | Indent the first line of each paragraph or leave one extra line space between paragraphs |
Paragraph organization
| | |
| --- | --- |
| Introduction | |
| Main body | divide it into multiple paragraphs addressing a specific theme or point in each. |
| Conclusion | |
Need Help In Writing SOP for MBA in Canada?
SOP Samples for MBA in Canada
Looking for Sample SOP for MBA in Canada? Here is what you are looking for. Read it carefully and compare how it differs from your writing.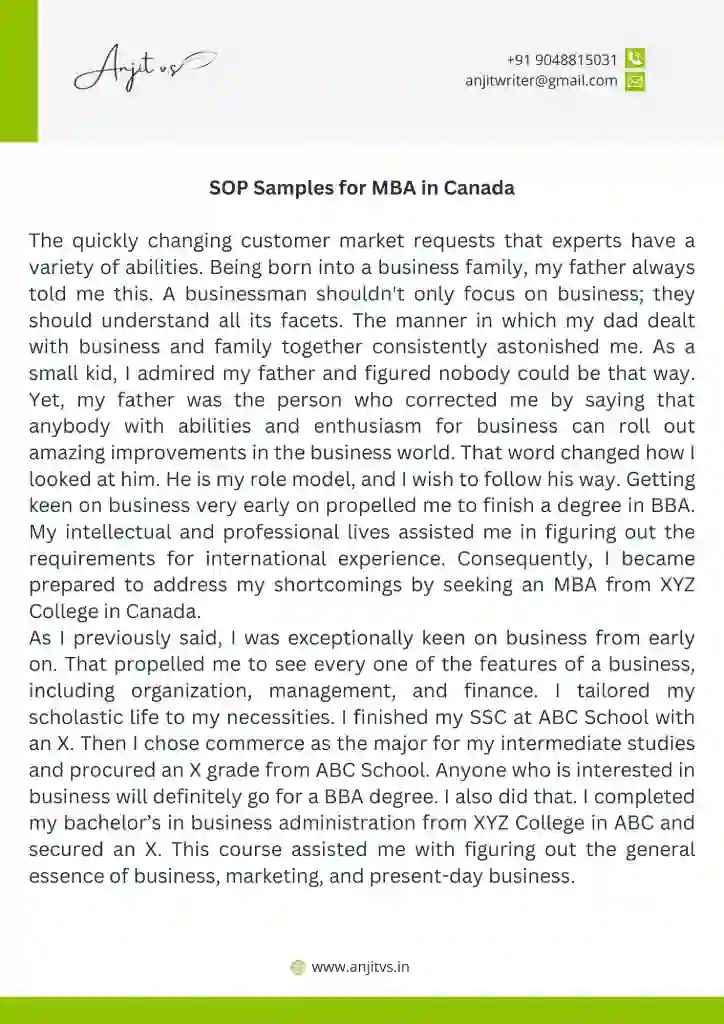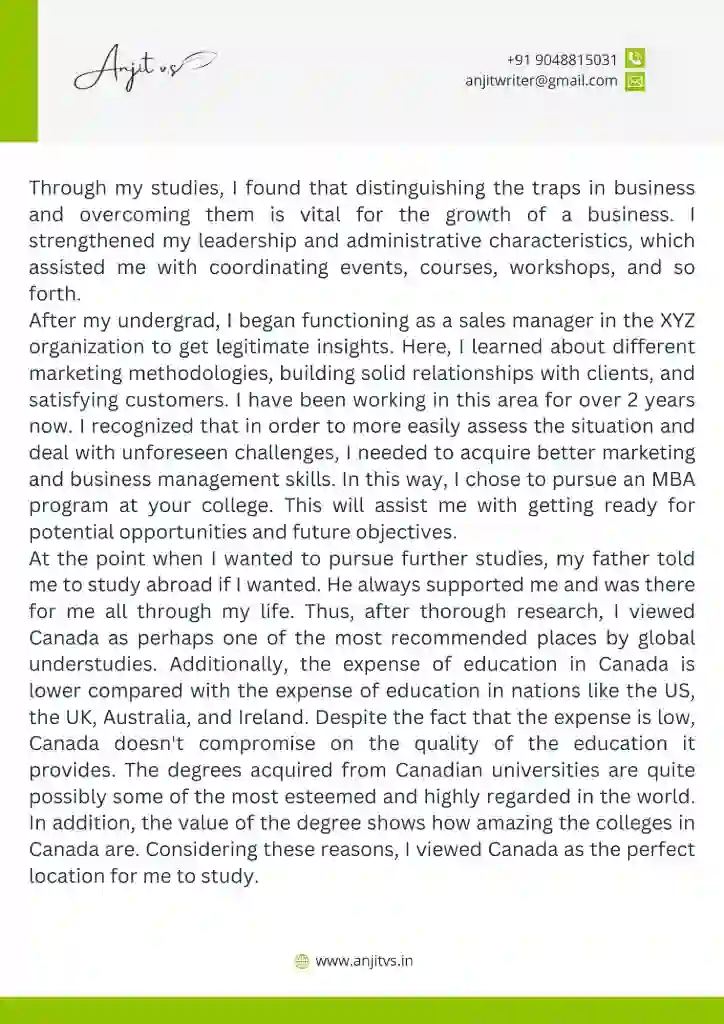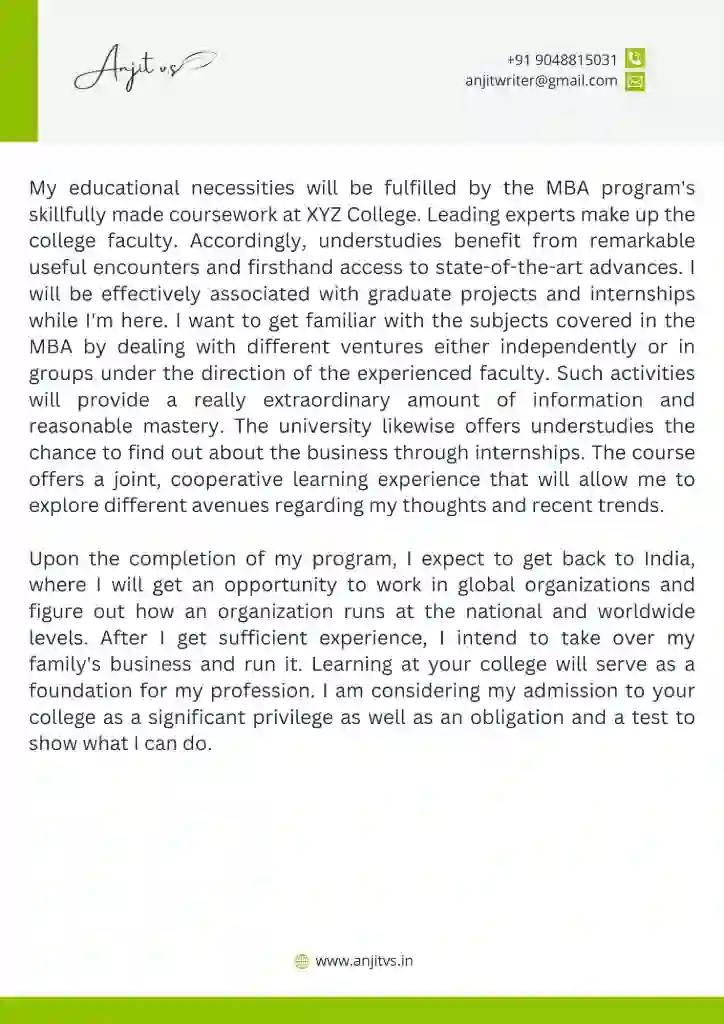 The quickly changing customer market requests that experts have a variety of abilities. Being born into a business family, my father always told me this. A businessman shouldn't only focus on business; they should understand all its facets. The manner in which my dad dealt with business and family together consistently astonished me. As a small kid, I admired my father and figured nobody could be that way. Yet, my father was the person who corrected me by saying that anybody with abilities and enthusiasm for business can roll out amazing improvements in the business world. That word changed how I looked at him. He is my role model, and I wish to follow his way. Getting keen on business very early on propelled me to finish a degree in BBA. My intellectual and professional lives assisted me in figuring out the requirements for international experience. Consequently, I became prepared to address my shortcomings by seeking an MBA from XYZ College in Canada.
As I previously said, I was exceptionally keen on business from early on. That propelled me to see every one of the features of a business, including organization, management, and finance. I tailored my scholastic life to my necessities. I finished my SSC at ABC School with an X. Then I chose commerce as the major for my intermediate studies and procured an X grade from ABC School. Anyone who is interested in business will definitely go for a BBA degree. I also did that. I completed my bachelor's in business administration from XYZ College in ABC and secured an X. This course assisted me with figuring out the general essence of business, marketing, and present-day business. Through my studies, I found that distinguishing the traps in business and overcoming them is vital for the growth of a business. I strengthened my leadership and administrative characteristics, which assisted me with coordinating events, courses, workshops, and so forth.
After my undergrad, I began functioning as a sales manager in the XYZ organization to get legitimate insights. Here, I learned about different marketing methodologies, building solid relationships with clients, and satisfying customers. I have been working in this area for over 2 years now. I recognized that in order to more easily assess the situation and deal with unforeseen challenges, I needed to acquire better marketing and business management skills. In this way, I chose to pursue an MBA program at your college. This will assist me with getting ready for potential opportunities and future objectives.
At the point when I wanted to pursue further studies, my father told me to study abroad if I wanted. He always supported me and was there for me all through my life. Thus, after thorough research, I viewed Canada as perhaps one of the most recommended places by global understudies. Additionally, the expense of education in Canada is lower compared with the expense of education in nations like the US, the UK, Australia, and Ireland. Despite the fact that the expense is low, Canada doesn't compromise on the quality of the education it provides. The degrees acquired from Canadian universities are quite possibly some of the most esteemed and highly regarded in the world. In addition, the value of the degree shows how amazing the colleges in Canada are. Considering these reasons, I viewed Canada as the perfect location for me to study.
My educational necessities will be fulfilled by the MBA program's skillfully made coursework at XYZ College. Leading experts make up the college faculty. Accordingly, understudies benefit from remarkable useful encounters and firsthand access to state-of-the-art advances. I will be effectively associated with graduate projects and internships while I'm here. I want to get familiar with the subjects covered in the MBA by dealing with different ventures either independently or in groups under the direction of the experienced faculty. Such activities will provide a really extraordinary amount of information and reasonable mastery. The university likewise offers understudies the chance to find out about the business through internships. The course offers a joint, cooperative learning experience that will allow me to explore different avenues regarding my thoughts and recent trends.
Upon the completion of my program, I expect to get back to India, where I will get an opportunity to work in global organizations and figure out how an organization runs at the national and worldwide levels. After I get sufficient experience, I intend to take over my family's business and run it. Learning at your college will serve as a foundation for my profession. I am considering my admission to your college as a significant privilege as well as an obligation and a test to show what I can do.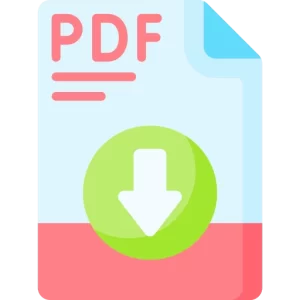 Download Sample SOP for MBA in Canada PDF
What to Include in your SOP for MBA in Canada?
Here is a list of questions that the admission panel wants to see answered in the SOP for MBA in Canada when they review it.
What motivates you to study MBA?
Write about what you see as the strong reasons for you to choose MBA over all other higher education programs. This is an extension of how you got interested in business administration. Justify your course selection with strong and convincing points.
What makes you eligible to pursue MBA?
Talk about your relevant academic and professional background. Highlight what you gained from both and how those skills, exposure and strengths are going to be helpful to you during the MBA program.
What do you want to do in your career as an MBA graduate?
Write about your career ambitions – what you want to get into immediately after the course completion and how you want to build your career in business administration over the years. Highlight your plans to return to your home country upon completing your MBA in Canada.
Why do you think this institute is ideal for you to study MBA and why do you deserve admission here?
Write about the specific factors that attract you to the particular institute, for instance, how it implements the course, how it facilitates research and internship etc. Also, show how you can contribute to the institute to show that you truly deserve admission there.
What makes you different from other applicants?
Talk about your participation in extracurricular activities and highlight your non-academic skills and strengths (presentation skills, communication skills etc.) These are some areas where you can stand out as an applicant.
Why Canada? Why not your home country or any other country (UK, USA, Australia)?
Point out a few benefits you realize of studying MBA in Canada as compared to studying it in your home country or any other country.
Need Help In Writing SOP for MBA in Canada?
Mistakes to Avoid While Writing an SOP for MBA in Canada
Unsupported claims: Whatever you write in your SOP should be provable through supporting information.
Plagiarism: Do not modify a sample sop for MBA in Canada or copy from it as it will lead to plagiarism and your disqualification.
Writing in a short time: Unless you write your SOP taking your time and in complete peace of mind, it can turn out to be less impactful.
Boring writing tone: Writing your SOP too formally will make it appear boring and have less appeal to the reader. Write in a friendly tone instead.
Not explaining challenges: Not giving a clear explanation for challenges or course changes or failures may cause the selection committee to need more explanation from your end.
Soft Skills to List in MBA SOP for Canada
Highlighting some of the following soft skills, if you can relate to any of them, is good to make your SOP for MBA in canada more appealing.
Listening skills
Problem-solving skills
Critical thinking
Teamwork and collaboration skills
Oral and written communication skills
Presentation skills
Public speaking skills
Need Help In Writing SOP for MBA in Canada?
Why Should You Hire an Expert to Write an SOP for MBA in Canada?
It goes without saying that the best SOP for MBA in Canada will have a crucial role in your admission to the top institutes in Canada. If you think, for one or the other reason, that your SOP is not up to the mark, do not hesitate to hire an expert to write it for you. By doing so, you will have:
A tailor-made SOP to include in the application
Your SOP for MBA in Canada ready on time
Your SOP free from mistakes
An engaging narrative to impress the selectors
More chances of securing your seat at the university
Why Study MBA in Canada?
Students choose to study MBA in Canada for three obvious reasons:
MBA in Canada is more affordable than in other countries like the UK, the USA or Australia
An MBA from Canada has global recognition
MBA from Canada helps you find jobs easily in Canada or the rest of the world.
What Is the Best Answer for Why MBA?
While writing the SOP for MBA, one of the questions to answer is why MBA. It needs to be answered from your personal point of view based on your academic and professional background, skills and strengths. For instance, if you are someone who enjoys working with people, a possible answer to this question could be:
"I enjoy working with people and having productive communication. MBA will help me work more on that aspect and prepare me to become a better manager enhancing my leadership qualities."
Can I Settle in Canada After My MBA?
Yes. If you apply for a two-year MBA program in Canada, you will receive an additional three years of stay back during which you can find full-time employment. 730 days of physical presence in Canada in the last five years (two years of MBA plus three years of stay back) is the prerequisite to applying for PR status.
However, when you write your SOP for MBA in Canada, it is not recommended to write about your plans to settle in Canada. A study visa to Canada is granted for educational purposes only. Thus, highlight that you intend to return to your home country after course completion.
Need Help In Writing SOP for MBA in Canada?
Get into Top Universities in Canada for MBA with an SOP
Not sure where to apply for an MBA in Canada? Here is a list of the top institutes known for their MBA programs. Write a fully customized and best SOP for MBA in Canada describing why you want to study at these institutes.
SOP for MBA in The University of Calgary
SOP for MBA in Edwards School of Business
SOP for MBA in University Canada West (UCW)
SOP for MBA in McGill University
SOP for MBA in McMaster University
SOP for MBA in HEC Montréal
SOP for MBA in Rowe School of Business
SOP for MBA in Simon Fraser University
SOP for MBA in University of Victoria
SOP for MBA in Wilfrid Laurier University
SOP for MBA in York University
SOP for MBA in University of Ottawa
SOP for MBA in The University of Toronto
SOP for MBA in Queen's Smith School of Business
SOP for MBA in UBC Sauder School of Business
SOP for MBA in Alberta School of Business
SOP for MBA in Concordia University
SOP for MBA in Brock University
SOP for MBA in Sobey School of Business
SOP for MBA in Ryerson University
Top 20 MBA Specializations in Canada in 2023
When it comes to MBA specializations, most students think of only a few options like Finance, Accounting, HR and so forth. But there are many more. Here is a list of the top 20 MBA specializations in Canada in 2023. While writing the SOP, reflect how much you identify with the specialization.
SOP for MBA in Finance
SOP for MBA in Accounting
SOP for MBA in Business Analytics
SOP for MBA in Marketing
SOP for MBA in Consulting
SOP for MBA in Information Technology
SOP for MBA in Operations Management
SOP for MBA in Project Management
SOP for MBA with Science Background
SOP for MBA after Engineering
SOP for MBA in General Management
SOP for MBA in Entrepreneurship
SOP for MBA in HR
SOP for MBA in International Business
SOP for MBA in Data Analytics
SOP for MBA in Banking and Finance
SOP for MBA in Healthcare Management
SOP for MBA in Hospitality Management
SOP for MBA in Sports Management
SOP for MBA with Commerce Background
Need Help In Writing SOP for MBA in Canada?
Conclusion
As we conclude, we have a few questions for you.
Have you found this blog helpful to write your SOP for MBA in Canada?
Did it help you brainstorm your points and write a comprehensive outline and then the final copy?
We would like to know your opinion. So, kindly write your thoughts, suggestions or doubts in the comment section below.