Scholarships are given out purely on a merit basis. Only by proving your eligibility can you secure one.
How to do that? The tested and proven way is to include a winning SOP for scholarship in your application.
Now, you may have a series of questions like what is a statement of purpose for scholarship? Why is it important? etc. We are covering all of those questions in this blog.
By reading this blog carefully from start to finish, you will learn:
What is an SOP for scholarship?
How to Write SOP for Scholarship?
Letter of Intent for Scholarship Sample PDF
What is a Statement of Purpose for Scholarship?
A statement of purpose for scholarship is a document that you submit when you apply for a college or university admission seeking financial assistance to cover part of your expenditure on the tuition fees. In the scholarship SOP, you will clearly establish:
Why you deserve the scholarship
What makes you deserve it more than other applicants
How you will utilize it
Difference Between a Scholarship SOP and General SOP
There are multiple differences between an SOP for scholarship and a general SOP.
Scholarship SOP is written addressing the financial desk of a college or university that you wish to study in or sometimes an outside scholarship issuing authority.
In a general SOP, your focus will be on demonstrating your suitability for a course, job or internship opportunity.
Scholarship SOP highlights the reasons why you deserve the scholarship and the specialities you have as compared to other applicants.
In a general SOP, your focus is on telling how well you fit into the institution.
Another differentiating factor between these two statements is the writing tone and the structure.
Need Help In Writing Statement of Purpose for Scholarship?
How to Write Statement of Purpose for Scholarship?
Writing an SOP for scholarship won't be hard if you follow the correct procedure. Here are the easiest steps for drafting it.
Find out your eligibility:
Institutes clearly specify the conditions and criteria that applicants should meet for deserving a scholarship. Verify whether you qualify for their distinct financial standards, criteria and requirements.
Comply with the instructions:
Once you know that you are eligible, the next step is to ensure that you are perfectly complying with their specific procedures for proving your fitness for the scholarship so as to be considered.
State the intent in the introduction:
Make your intent for writing the statement of purpose clear in the introduction. This will help the reader figure out what to expect from your statement of purpose and which scholarship you are referring to.
Establish your worthiness for the scholarship:
For each scholarship, institutes receive several applications. It is thus necessary to establish your worthiness. For instance, you can explain how the scholarship will help you in dealing with the financial difficulties you have.
Provide sufficient evidence for your case:
Do not write generically about your story. Produce sufficient evidence to prove that what you illustrated is actually the case. For instance, you can refer to any financial documents of loans.
Write without mistakes:
Avoid any sort of mistakes in your scholarship SOP as they could cause your application to fall behind SOPs submitted by other applicants. Careful proofreading and editing will make it as appealing as an SOP for scholarship sample.
Need Help In Writing Statement of Purpose for Scholarship?
Statement of Purpose for Scholarship Sample
As a first-timer, you may want to see a real-life scenario of writing a scholarship SOP. This statement of purpose for scholarship sample pdf is meant to do that. Go through it carefully.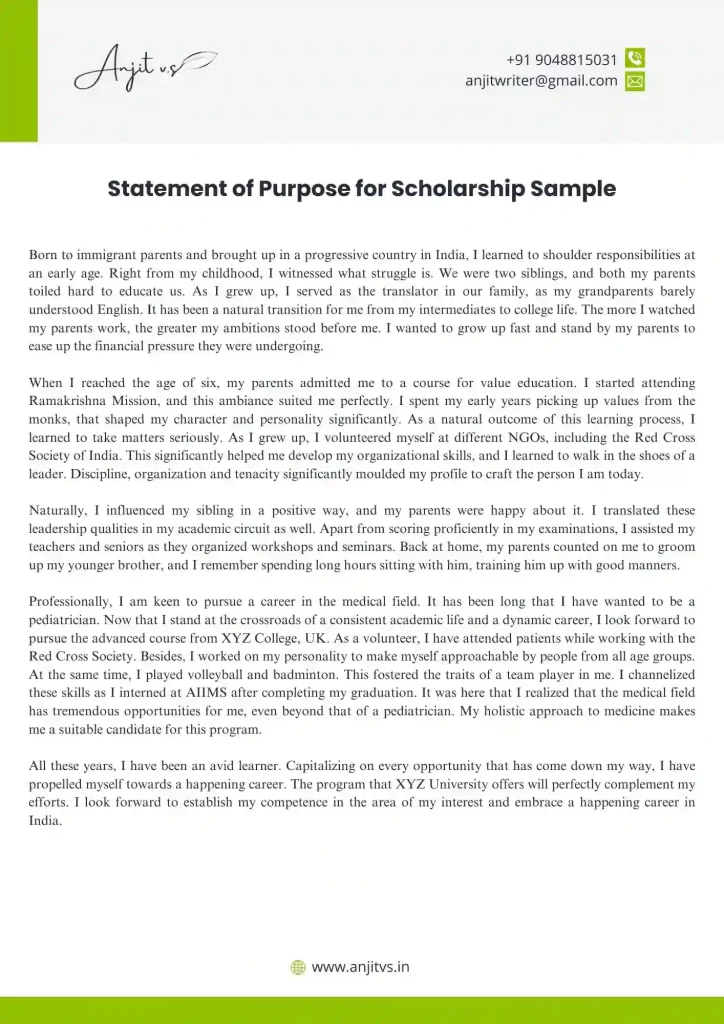 Born to immigrant parents and brought up in a progressive country in India, I learned to shoulder responsibilities at an early age. Right from my childhood, I witnessed what struggle is. We were two siblings, and both my parents toiled hard to educate us. As I grew up, I served as the translator in our family, as my grandparents barely understood English. It has been a natural transition for me from my intermediates to college life. The more I watched my parents work, the greater my ambitions stood before me. I wanted to grow up fast and stand by my parents to ease up the financial pressure they were undergoing.
When I reached the age of six, my parents admitted me to a course for value education. I started attending Ramakrishna Mission, and this ambiance suited me perfectly. I spent my early years picking up values from the monks, that shaped my character and personality significantly. As a natural outcome of this learning process, I learned to take matters seriously. As I grew up, I volunteered myself at different NGOs, including the Red Cross Society of India. This significantly helped me develop my organizational skills, and I learned to walk in the shoes of a leader. Discipline, organization and tenacity significantly moulded my profile to craft the person I am today.
Naturally, I influenced my sibling in a positive way, and my parents were happy about it. I translated these leadership qualities in my academic circuit as well. Apart from scoring proficiently in my examinations, I assisted my teachers and seniors as they organized workshops and seminars. Back at home, my parents counted on me to groom up my younger brother, and I remember spending long hours sitting with him, training him up with good manners.
Professionally, I am keen to pursue a career in the medical field. It has been long that I have wanted to be a pediatrician. Now that I stand at the crossroads of a consistent academic life and a dynamic career, I look forward to pursue the advanced course from XYZ College, UK. As a volunteer, I have attended patients while working with the Red Cross Society. Besides, I worked on my personality to make myself approachable by people from all age groups. At the same time, I played volleyball and badminton. This fostered the traits of a team player in me. I channelized these skills as I interned at AIIMS after completing my graduation. It was here that I realized that the medical field has tremendous opportunities for me, even beyond that of a pediatrician. My holistic approach to medicine makes me a suitable candidate for this program.
All these years, I have been an avid learner. Capitalizing on every opportunity that has come down my way, I have propelled myself towards a happening career. The program that XYZ University offers will perfectly complement my efforts. I look forward to establish my competence in the area of my interest and embrace a happening career in India.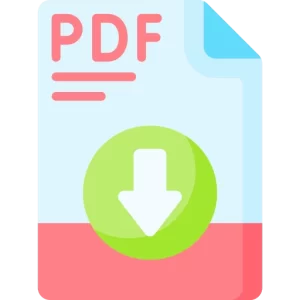 Download Statement of Purpose for Scholarship Sample PDF
SOP for Scholarship Format
Having an SOP for scholarship format in hand will make the writing much easier. Use the below outline to build a powerful SOP.
| | |
| --- | --- |
| Introduction: | Start your SOP with a catchy anecdote that shows your passion for the specific higher study program. Connect it to the financial challenges on your way and how getting a scholarship would help you deal with them. |
| Body 1: | Why a certain college/university: In the next paragraph, write clearly about your reasons for choosing a particular institute for your higher studies. |
| Body 2: | Academic history: Talk about your previous academic background with a special focus on your achievements. If you have received any prizes, mention them. This will help you prove that you are a candidate with great potential. |
| Body 3: | Expertise: Write about your expertise in the particular subject you are choosing to study. Explain what you wish to focus on during your course. Such specific detailing will add more weight to your document. |
| Body 4: | Future plans: Talk about your future plans. Emphasise what contributions you can make and how you will utilize the knowledge obtained from the academic program. |
| Conclusion: | Conclude your statement of purpose by thanking the selectors for taking the time to read your document and considering it for scholarship issuance. Show your willingness for any further correspondence or verification by the scholarship issuing body. |
Dos and Don'ts in Writing SOP for Scholarship
Here are a few essential dos and don'ts to follow during your scholarship SOP writing. Sticking to these will help you come up with an impressive document equivalent to the statement of purpose for scholarship sample doc shown in this blog.
Add a personal touch
Integrate your personality and unique way of presentation to it.
Be creative
Do not take the beaten path. Think out of the box and write.
Customize to the purpose:
Read about the scholarship program and customize your SOP to its purpose
Don'ts
Don't try for sympathy:
You deserve financial aid, not sympathy. Be professional while talking about your needs.
Don't write statements:
Make your SOP for scholarship truly engaging to read. Avoid boring statements.
Don't be late:
Early scholarship applications may sometimes be shortlisted first.
Need Help In Writing Statement of Purpose for Scholarship?
Types of Scholarship Which Require SOP
If you don't qualify for one scholarship, do not worry. There may be other scholarships that you deserve and meet the conditions for. Here is a list of different scholarships that can apply for and win through powerful SOPs.
Academic scholarship
Creative scholarship
Need-based scholarship
Minority scholarship
Merit scholarship
Unusual scholarship
Women scholarship
Athletic scholarship
Average performance scholarship
Community service scholarship
Conclusion
We hope that this blog found you at the right time and helped you in writing an impeccable statement of purpose for scholarship.
Don't forget to write a unique SOP for each scholarship program that you are applying to.
In case you wish to have clarification on anything discussed in this blog or want to review the statement of purpose for scholarship sample pdf for specific scenarios, write to us in the comment below.