Are you planning to study masters in management information systems (MIS)? If so, be ready to write a unique SOP for MS in MIS. With more and more organizations and companies hiring qualified professionals in Management Information Systems, the demand for MIS courses is on the rise.
A well-crafted SOP for MS in information systems has become the most fundamental requirement for all MIS programs. If you are unsure how to write it or what to include, you will find this blog quite useful. In this blog, we define:
What is SOP for information systems?
How to write and format it?
Sample SOP for information systems for better understanding
What is Management Information System?
Management Information System refers to a computer-based information system designed to cater to various organizational operations. It covers managerial decision-making, managerial planning, and organizational control. With the help of a well-developed Management Information System, organizations can gather data from different sources, process them efficiently and use them to enhance productivity at different levels.
What Is SOP for MIS (Management Information Systems)?
A Statement of Purpose (SOP) for MIS program is a mandatory document you must produce before the admission officers when you apply for graduation or master's in management information systems course. The document must establish your eligibility to pursue MS in MIS.
SOP Format for MIS
Here is a typical format for SOP for MIS course. After finishing the writing, format your SOP as per these guidelines.
Font Style
Choose an academically acceptable font. E.g.: Times New Roman, Helvetica, Ariel, Calibri. Do not use any fancy font styles.
Font size
Set the font size to 12 points. Keep the same font size and font style throughout your document.
Indentation
Indent the first line of each paragraph. It is also acceptable to leave extra space between paragraphs instead of indenting.
Paragraph organization
Keep the size of each paragraph in the range of 100 words. Also, divide the paragraphs into introduction, body paragraphs and conclusion.
Line spacing
Set line spacing to 1.5 lines or Double.
Need Help In Writing a SOP for MS in MIS
What to Cover in SOP for Information Systems?
The golden rule in SOP writing is to keep it relevant and straight to the point. You are not expected to talk about everything but only a select number of things in your SOP for masters in information systems. Here is a list of things that you must cover in it.
Introduction
A catchy introduction that encourages the reader to read the SOP further. In the introduction, you should cover a brief account of who you are and the reason behind applying for MIS at this university and how you got interested in MIS.
Why MIS
Explain your motivation behind choosing to pursue a master's program in Management Information System. Show why you think you are apt for this, and what steps you have taken so far towards a successful career in Management Information Systems.
Academic/professional backgrounds
Give a brief account of your academic as well as professional backgrounds highlighting how both align with your choice of a career in Management Information Systems.
Why this university
Talk about your reasons for choosing this university for your higher studies in MIS. Highlight the specific features that attract you and how this institute will help you in materializing your career goals in Management Information Systems.
Relevant skills/strengths/accomplishments
Talk about any skills, strengths, or achievements you have in Management Information Systems. You may talk, for instance, about your familiarity with microcontrollers and microprocessors, data processing and analytical skills, or any published works in MIS.
Career aspirations
Here you talk about your career aspirations after the course completion. If you have any academic goals like doing a PhD in MIS, highlight them. Show how you will contribute to the field of Management Information Systems.
Conclusion
In the conclusion, write a summary of your statement of purpose in a nutshell. Express your confidence that the admission panel will review your application and shortlist you. Thank them for sparing their valuable time to review your application.
Looking for Experts to Write SOP for Management Information Systems?
Sample SOP for MS in Information Systems
Here is an ideal sample statement of purpose for masters in information systems PDF which has the correct formatting. Review it carefully to get familiar with the text formatting and paragraph structure.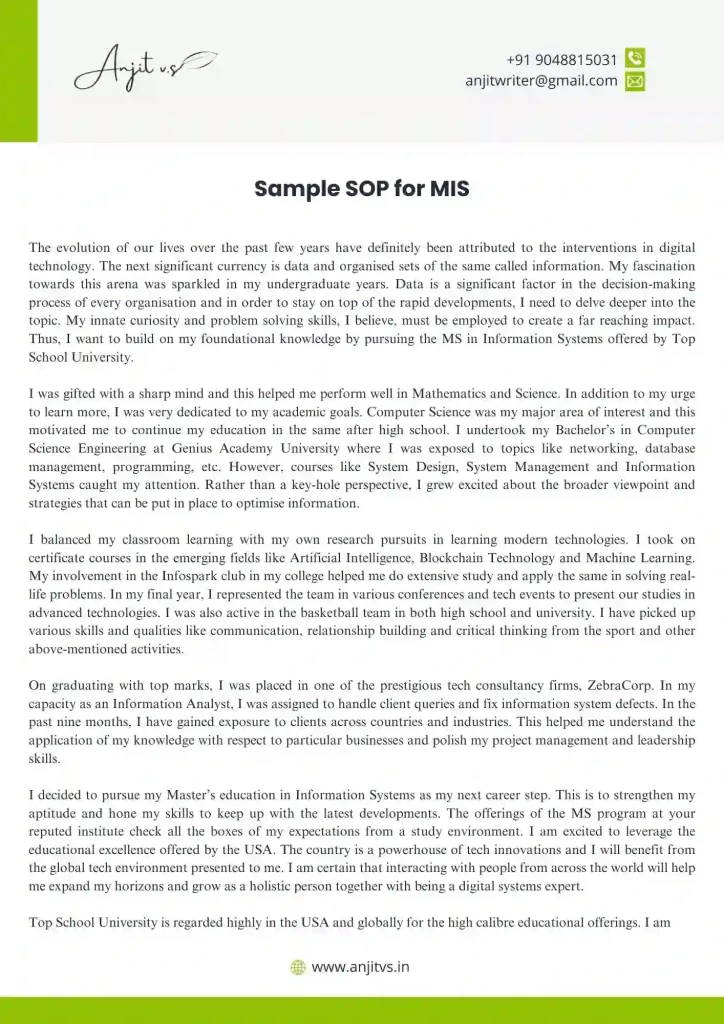 The evolution of our lives over the past few years have definitely been attributed to the interventions in digital technology. The next significant currency is data and organised sets of the same called information. My fascination towards this arena was sparkled in my undergraduate years. Data is a significant factor in the decision-making process of every organisation and in order to stay on top of the rapid developments, I need to delve deeper into the topic. My innate curiosity and problem solving skills, I believe, must be employed to create a far reaching impact. Thus, I want to build on my foundational knowledge by pursuing the MS in Information Systems offered by Top School University.
I was gifted with a sharp mind and this helped me perform well in Mathematics and Science. In addition to my urge to learn more, I was very dedicated to my academic goals. Computer Science was my major area of interest and this motivated me to continue my education in the same after high school. I undertook my Bachelor's in Computer Science Engineering at Genius Academy University where I was exposed to topics like networking, database management, programming, etc. However, courses like System Design, System Management and Information Systems caught my attention. Rather than a key-hole perspective, I grew excited about the broader viewpoint and strategies that can be put in place to optimise information.
I balanced my classroom learning with my own research pursuits in learning modern technologies. I took on certificate courses in the emerging fields like Artificial Intelligence, Blockchain Technology and Machine Learning. My involvement in the Infospark club in my college helped me do extensive study and apply the same in solving real-life problems. In my final year, I represented the team in various conferences and tech events to present our studies in advanced technologies. I was also active in the basketball team in both high school and university. I have picked up various skills and qualities like communication, relationship building and critical thinking from the sport and other above-mentioned activities.
On graduating with top marks, I was placed in one of the prestigious tech consultancy firms, ZebraCorp. In my capacity as an Information Analyst, I was assigned to handle client queries and fix information system defects. In the past nine months, I have gained exposure to clients across countries and industries. This helped me understand the application of my knowledge with respect to particular businesses and polish my project management and leadership skills.
I decided to pursue my Master's education in Information Systems as my next career step. This is to strengthen my aptitude and hone my skills to keep up with the latest developments. The offerings of the MS program at your reputed institute check all the boxes of my expectations from a study environment. I am excited to leverage the educational excellence offered by the USA. The country is a powerhouse of tech innovations and I will benefit from the global tech environment presented to me. I am certain that interacting with people from across the world will help me expand my horizons and grow as a holistic person together with being a digital systems expert.
Top School University is regarded highly in the USA and globally for the high calibre educational offerings. I am particularly enticed by the research excellence and the practical learning approach in place, unlike Indian universities. The MS in Information Systems offered by the university is focused on preparing students to become professional problem solvers. The well certified faculty is recognised for moulding the students through research-based activities and peer learning. Together with the comprehensive curriculum, the co-op opportunities would help me learn about the global tech ecosystem of the USA. This will help me further in developing my technical skills and learn from the best of the best. I am looking forward to participating in university clubs like Infotechs which align well with my research interests.
On earning my degree, I aim to fly back home. I believe that my newly built knowledge base and skill set would help me stand out in the competitive and robust IT job market in India. I want to work with tech consultancies like X, Y or Z in collaboration with tech teams and clients beyond national boundaries. I aim to shape system strategies for corporations across various industries to enable data-based decision making. In the medium term, I want to set up my own system consultancy firm and provide strategic system solutions to leverage data efficiently. In the long run, I intend to set up a training institute in my hometown to help underserved children with coding and improving their programming skills.
In the efforts to achieve these professional goals, I am submitting this personal description of my academic and professional experiences. Thank you for your time.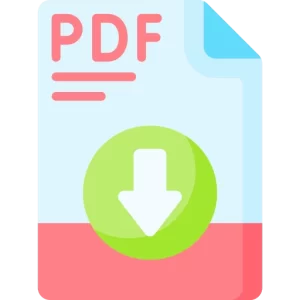 Sample SOP for MS in Information Systems PDF
Sample SOP for MIS with Work Experience
The below Sample SOP for Masters (MS) in MIS with Work Experience will help you learn how to add your experiences to the SOP. Note how the writer has shown how his experiences would benefit his training in the management information system.
Businesses today are increasingly adopting digitisation and automation in almost every step of the operations. Improved efficiency and accuracy in these processes have enhanced their chances of taking speculative risks resulting in high returns. I was a keen problem solver owing to my curious mind and I believe that fixing business processes can help in bridging the gap between the problems and solutions. Corporations have the resources for influencing large sections of the population through their marketing and products and hence, we can achieve fast results in optimising business processes. In order to work on my foundation knowledge of technology and comprehend its role in business functions, I want to pursue the MS in Management Information Systems at Montfort University.
I was able to perform well in my academic tenure owing to my proactiveness and enthusiasm to learn new things. This grew as I went up academic levels and so did my aptitude to solve problems. My interest in Mathematics and Science motivated me to pursue Computer Science in my high school. I continued this path in my undergraduate years where I gained insight into topics like database management systems, software development, data analysis, computer networks and so on. These courses helped me understand how technology can be applied in solving business problems. In addition to the curriculum, I was able to delve deeper into this arena through online courses. This further cemented my interest in Management Information Systems.
Together with academics, I was balancing various extracurricular activities too. I chaired the MUN society and have been a part of the Organising Committee of various events in multiple capacities. I also took part in the Sysinfo Club at college where I could employ my skills into developing softwares and models. I have been gifted the opportunity to present these projects in various forums and receive awards for my research skills and meticulous work. These endeavours I believe have rounded my development beyond just academic excellence.
Right after my final year exams, I was placed at Zurich Corp as a Software Engineer. For three years, I have been focused on developing applications and managing huge sets of databases. I was able to understand how data can be leveraged to optimise business operations and functions. My work experience helped me comprehend the role of MIS in improving managerial decisions and increasing organisational productivity. For my extensive contribution to various projects at Zurich Corp, I was recognised as the Star Player in two consecutive quarters.
At this point of my fulfilling career, I want to tweak my skill level and stay abreast of the recent developments in the MIS arena. I want to delve deeper into topics like business intelligence, information security as well as data analysis. My research for the perfect atmosphere led me to the MS program offered by your esteemed university. I am excited about pursuing my next level of education in the USA. Reputed globally for being the finest tech incubator, I am certain of the opportunities of learning the country can offer. I want to utilise the high calibre resources like certified professors, global tech ecosystem, intellectual student crowd and university offerings in my transformation on both personal and professional dimensions.
Montfort University is renowned for the high standards set globally in the education sector. The university boasts the investments made in infrastructure, research as well as diverse academic programs. The MS in Management Information Systems is well crafted to provide students a practical and research based learning experience. This aligns well with my study behaviour and I am excited to participate in the brilliant cohort of the Faculty of Computer and Allied Engineering. I am particularly excited about taking up courses like machine learning, data science and artificial intelligence. The curriculum also includes research projects and internships together with case studies and presentations. I want to study under the mentorship of Prof Abhraham G Paul and Prof Tina McFey who match my areas of research interest. I am certain that the inclusive and collaborative learning environment at Montfort University will add to the high calibre curriculum and community, providing me the perfect opportunity for career progression.
My primary goal is to complete the MS program with a distinction. Post that, I will be able to achieve my dream of working with an Indian tech giant like A, B or C. I intend to apply my advanced skills and knowledge to provide feasible data solutions and leverage the power of information. In the long term, I want to lead data management teams and strategic information systems to enable businesses to achieve long-term business objectives.
The MS program will hence be a major milestone in achieving my career dreams and bridging the gap between businesses and technology.
Dos and Don'ts in SOP for MS in Information Systems
Strictly comply with the following Dos and Don'ts while writing your SOP for MIS to make it appealing to the admission council and to ensure that your write-up doesn't get rejected.
Dos
Write your statement of purpose for information systems in simple language avoiding jargon and long sentences.
Come up with strong and convincing points to speak about your motivation for choosing MIS.
Read one or two sample SOP for MS in information systems to get inspired if you are unable to get started.
Before starting to write, prepare an outline that shows what you must write in each paragraph of your SOP.
Proofread your SOP for MS in MIS multiple times and self-correct it. Also, have someone review it and share feedback.
Don'ts
Do not delay writing your MIS SOP. Once you know what course to apply to and where to apply, start preparing for it.
Do not use MIS SOP samples from unknown sources for your reference while writing the SOP. Use the samples given here or any other sources that you trust.
Do not write anything that is not true. Be informed that whatever information that you write in the SOP will be verified.
Do not repeat points. Repetitions will affect the readability and cause your SOP to exceed the recommended word limit.
Avoid talking about too obvious things or information that will be supplied in other application materials, for instance, GPA.
Need Help In Writing a SOP for MIS? Click Here
Best Countries to do MIS Program and SOP Guidelines
Want to know which are the best countries to do MIS? Here is the list with guidelines for writing masters in information systems SOP for each of them.
USA
With a unique SOP for MS in MIS in USA, you can grab admission to the best MIS program at your favourite university in the United States. When you write your SOP:
Make sure that your SOP has a strong introduction and an equally impactful conclusion.
Supply relevant information in the body paragraphs like in the information systems SOP samples.
Establish why you are the right candidate to do MIS in the USA.
Show how studying MIS in the USA will help you materialize your goals.
Canada
Before you begin to write your SOP for MS in MIS in Canada, get clarity about the following points.
What are the expectations of the college/university in Canada?
Why is it important for you to study MIS in Canada?
How can you contribute to the institute in Canada?
What are your plans after completing the course? Will you return to your home country?
UK
It is important to come up with a customized MIS SOP pdf when you get things ready for your application for MIS in the UK. Follow the below guidelines to draft a winning SOP for MS in MIS in UK.
Refer to the college/university guidelines before beginning to write your SOP.
Write your SOP in the range of 800 to 1000 words.
Write your SOP using simple vocabulary. Use the Standard British English.
Get your SOP proofread and reviewed by another person, preferably someone who is familiar with SOP writing.
Need Help In Writing a SOP for MS in MIS? Click Here
Top 10 Colleges to Do Management Information System (MIS) Course
Hundreds of institutes across the world offer MIS programs these days. The list of the top ten among them is below. An information systems statement of purpose is a common requirement across all these institutes. So, do not forget to craft a unique and eye-grabbing SOP if you want to apply to any of these. After writing an SOP for these institutes, validate it with a sample SOP for masters in information systems.
Massachusetts Institute of Technology
University of California, Berkeley
Carnegie Mellon University
University of Washington
New York University
Stanford University
Harvard University
Cornell University
Princeton University
University of Arizona
Conclusion
If you have a genuine SOP for MIS that could strike a chord with the selection committee, you are halfway through your admission.
The rest is the merit of your GPA and other metrics.
Did you find this blog on SOP for management information systems writing helpful?
Do you have any other questions regarding any topic we discussed here?
It will be an honour for us to help you further in securing admission to MIS. Write your queries, questions, and feedback in the comments below.
Frequently Asked Questions [FAQ]
How to write SOP for MIS with an electronics background?
If you come with an electronic background to study Management Information Systems, you can impressively show how your background aligns with your higher study choice. Compare the common skills that both professions require and highlight the ones that you have. Also, write about the point in time when you realized you were more apt for a career in MIS than a career in electronics. Refer to our SOP for computer information systems sample for some helpful insights.