Are you thinking about writing an SOP for data science admission?
Contrary to what most students think, writing data science SOP is not that difficult. It is just that SOP is a different form of writing that most students are not used to.
We have prepared this blog to cover answers to some of the most fundamental questions about data science statement of purpose.
Through this blog, you will learn:
How to write a statement of purpose for data science?
What are the key points to discuss in data science SOP?
How to use data science SOP sample for your SOP preparation.
What is SOP for Data Science?
A statement of purpose or SOP for data science is an official document to include in the application for university/college admission to a data science program. The document answers questions like who the applicant is, why he deserves admission at the particular university, his future ambitions in the field of data science, and more.
How to Write an SOP for MS in Data Science?
One of the main reasons why students find preparing data science statement of purpose pdf hard is that they don't have a writing strategy. This will leave them in big confusion and uncertainty during the writing phase. The following steps will help you write your SOP more confidently and with less confusion.
| | |
| --- | --- |
| Understand data science: | You must show how closely your career aspirations align with data science. To do that, read and understand data science. Evaluate the current trends, career scope and different career roles in data science. |
| Review samples: | Go through a couple of data science SOP samples to see how other applicants have approached it. This will be of great help to you to start writing the document. However, be careful not to copy it. |
| Read guidelines: | We have noticed that some universities require students to answer specific questions in the SOP, for instance, what and how they can contribute to the university's student community. So, it is important to adhere to such guidelines and requirements. |
| Gather and organize points: | Brainstorm and gather relevant points and organize them. Give priority to the most relevant and recent points. Also, skip points that are too obvious, such as your GPA or IELTS score. |
| Make the first draft: | Make a first draft through freewriting. After that, modify it section by section. Make sure that the introduction is catchy and flows naturally with the body paragraphs and conclusion. |
| Review and finalize: | Proofread your SOP for data science a minimum of four times and rectify all grammatical and spelling errors. Also, ensure that your document is smooth to read. Readability is an important factor that greatly influences decision-making. |
Pro Tip: A customized data science SOP is mandatory because institutes try to see how seriously you have considered getting admission at their institute.
Need Help In Writing SOP for Data Science?
Sample SOP for Data Science
Reading a sample sop for data science is helpful to teach yourself how to start it, discuss the main points, and then conclude naturally.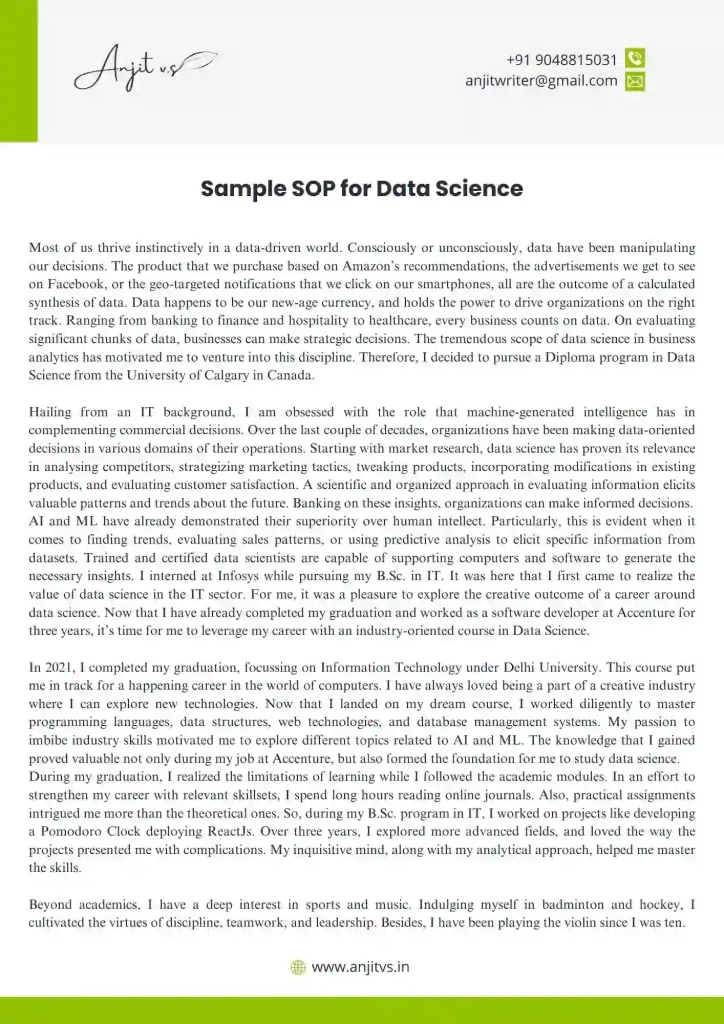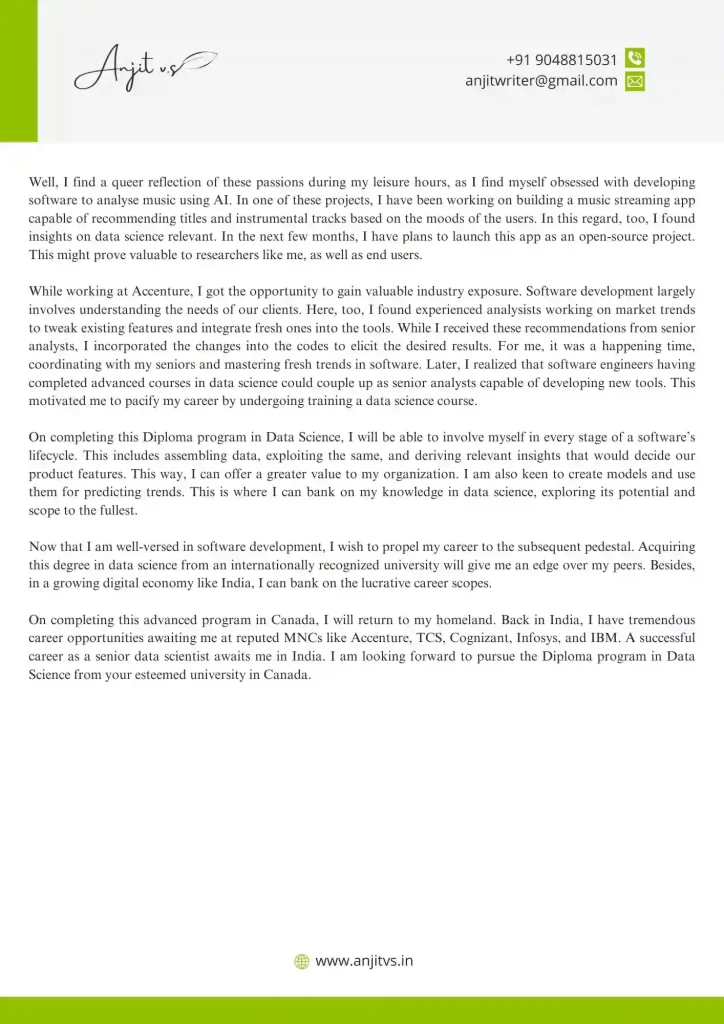 Most of us thrive instinctively in a data-driven world. Consciously or unconsciously, data have been manipulating our decisions. The product that we purchase based on Amazon's recommendations, the advertisements we get to see on Facebook, or the geo-targeted notifications that we click on our smartphones, all are the outcome of a calculated synthesis of data. Data happens to be our new-age currency, and holds the power to drive organizations on the right track. Ranging from banking to finance and hospitality to healthcare, every business counts on data. On evaluating significant chunks of data, businesses can make strategic decisions. The tremendous scope of data science in business analytics has motivated me to venture into this discipline. Therefore, I decided to pursue a Diploma program in Data Science from the University of Calgary in Canada.
Hailing from an IT background, I am obsessed with the role that machine-generated intelligence has in complementing commercial decisions. Over the last couple of decades, organizations have been making data-oriented decisions in various domains of their operations. Starting with market research, data science has proven its relevance in analysing competitors, strategizing marketing tactics, tweaking products, incorporating modifications in existing products, and evaluating customer satisfaction. A scientific and organized approach in evaluating information elicits valuable patterns and trends about the future. Banking on these insights, organizations can make informed decisions.
AI and ML have already demonstrated their superiority over human intellect. Particularly, this is evident when it comes to finding trends, evaluating sales patterns, or using predictive analysis to elicit specific information from datasets. Trained and certified data scientists are capable of supporting computers and software to generate the necessary insights. I interned at Infosys while pursuing my B.Sc. in IT. It was here that I first came to realize the value of data science in the IT sector. For me, it was a pleasure to explore the creative outcome of a career around data science. Now that I have already completed my graduation and worked as a software developer at Accenture for three years, it's time for me to leverage my career with an industry-oriented course in Data Science.
In 2021, I completed my graduation, focussing on Information Technology under Delhi University. This course put me in track for a happening career in the world of computers. I have always loved being a part of a creative industry where I can explore new technologies. Now that I landed on my dream course, I worked diligently to master programming languages, data structures, web technologies, and database management systems. My passion to imbibe industry skills motivated me to explore different topics related to AI and ML. The knowledge that I gained proved valuable not only during my job at Accenture, but also formed the foundation for me to study data science.
During my graduation, I realized the limitations of learning while I followed the academic modules. In an effort to strengthen my career with relevant skillsets, I spend long hours reading online journals. Also, practical assignments intrigued me more than the theoretical ones. So, during my B.Sc. program in IT, I worked on projects like developing a Pomodoro Clock deploying ReactJs. Over three years, I explored more advanced fields, and loved the way the projects presented me with complications. My inquisitive mind, along with my analytical approach, helped me master the skills.
Beyond academics, I have a deep interest in sports and music. Indulging myself in badminton and hockey, I cultivated the virtues of discipline, teamwork, and leadership. Besides, I have been playing the violin since I was ten. Well, I find a queer reflection of these passions during my leisure hours, as I find myself obsessed with developing software to analyse music using AI. In one of these projects, I have been working on building a music streaming app capable of recommending titles and instrumental tracks based on the moods of the users. In this regard, too, I found insights on data science relevant. In the next few months, I have plans to launch this app as an open-source project. This might prove valuable to researchers like me, as well as end users.
While working at Accenture, I got the opportunity to gain valuable industry exposure. Software development largely involves understanding the needs of our clients. Here, too, I found experienced analysists working on market trends to tweak existing features and integrate fresh ones into the tools. While I received these recommendations from senior analysts, I incorporated the changes into the codes to elicit the desired results. For me, it was a happening time, coordinating with my seniors and mastering fresh trends in software. Later, I realized that software engineers having completed advanced courses in data science could couple up as senior analysts capable of developing new tools. This motivated me to pacify my career by undergoing training a data science course.
On completing this Diploma program in Data Science, I will be able to involve myself in every stage of a software's lifecycle. This includes assembling data, exploiting the same, and deriving relevant insights that would decide our product features. This way, I can offer a greater value to my organization. I am also keen to create models and use them for predicting trends. This is where I can bank on my knowledge in data science, exploring its potential and scope to the fullest.
Now that I am well-versed in software development, I wish to propel my career to the subsequent pedestal. Acquiring this degree in data science from an internationally recognized university will give me an edge over my peers. Besides, in a growing digital economy like India, I can bank on the lucrative career scopes.
On completing this advanced program in Canada, I will return to my homeland. Back in India, I have tremendous career opportunities awaiting me at reputed MNCs like Accenture, TCS, Cognizant, Infosys, and IBM. A successful career as a senior data scientist awaits me in India. I am looking forward to pursue the Diploma program in Data Science from your esteemed university in Canada.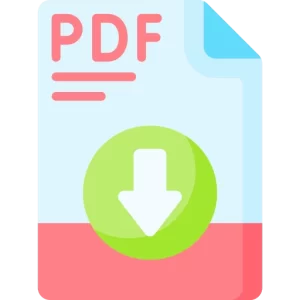 Download Data Science Statement of Purpose PDF
Need Help In Writing SOP for MS in Data Science?
Sample SOP for MS in Data Science
Here is a sample sop for ms in data science with work experience. The writer shows how he got attracted to the field of data science and made use of the time to date for developing his understanding of the subject.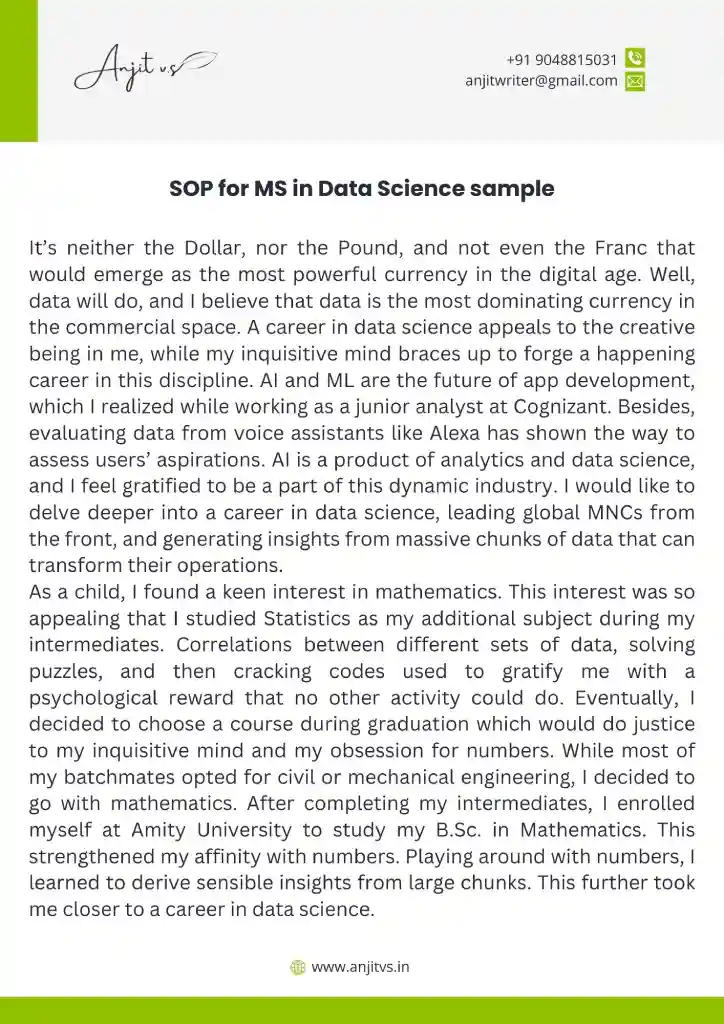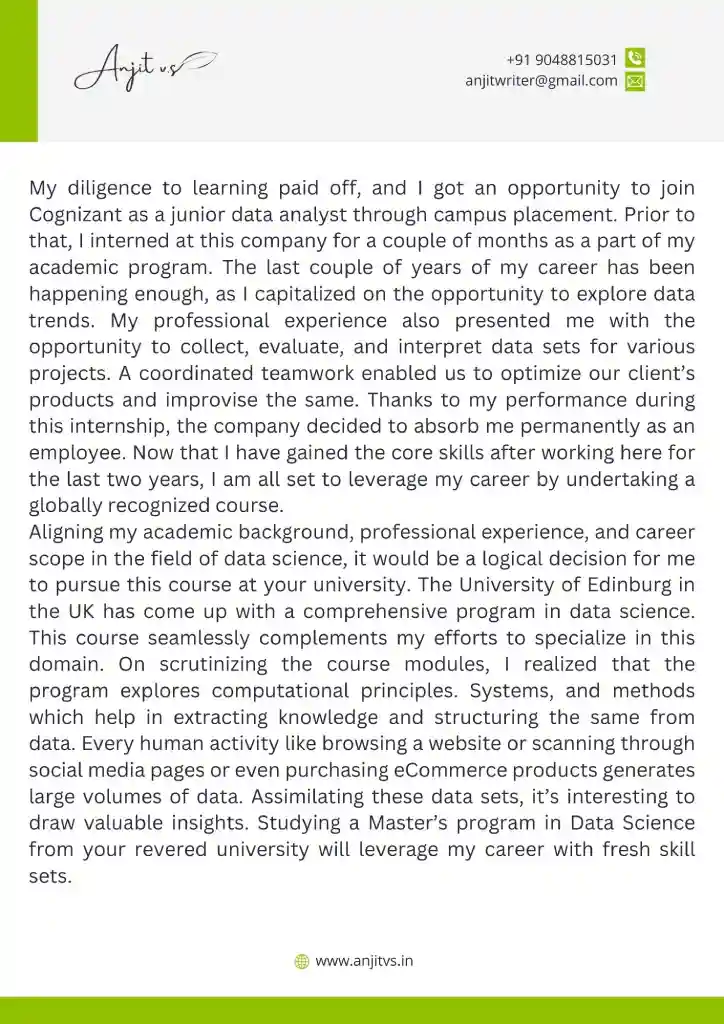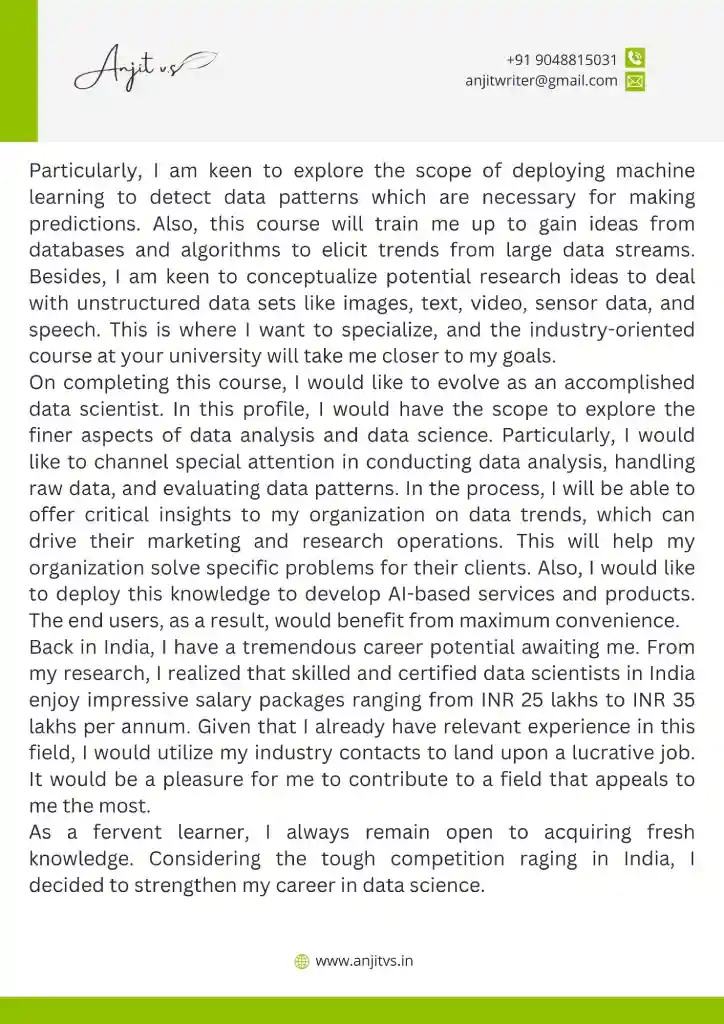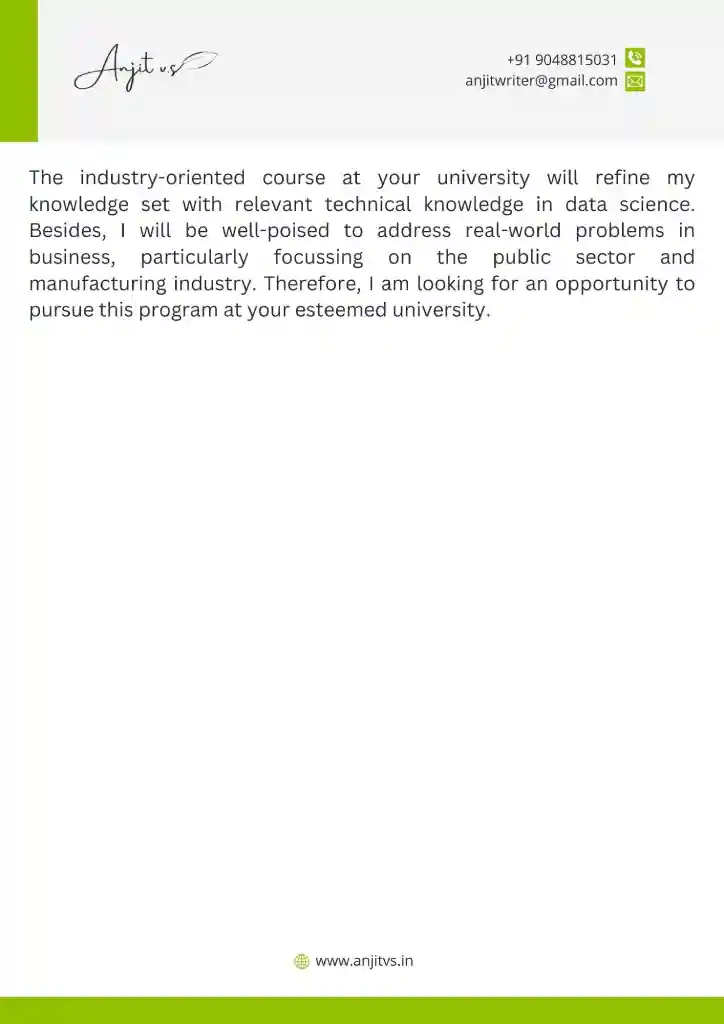 It's neither the Dollar, nor the Pound, and not even the Franc that would emerge as the most powerful currency in the digital age. Well, data will do, and I believe that data is the most dominating currency in the commercial space. A career in data science appeals to the creative being in me, while my inquisitive mind braces up to forge a happening career in this discipline. AI and ML are the future of app development, which I realized while working as a junior analyst at Cognizant. Besides, evaluating data from voice assistants like Alexa has shown the way to assess users' aspirations. AI is a product of analytics and data science, and I feel gratified to be a part of this dynamic industry. I would like to delve deeper into a career in data science, leading global MNCs from the front, and generating insights from massive chunks of data that can transform their operations.
As a child, I found a keen interest in mathematics. This interest was so appealing that I studied Statistics as my additional subject during my intermediates. Correlations between different sets of data, solving puzzles, and then cracking codes used to gratify me with a psychological reward that no other activity could do. Eventually, I decided to choose a course during graduation which would do justice to my inquisitive mind and my obsession for numbers. While most of my batchmates opted for civil or mechanical engineering, I decided to go with mathematics. After completing my intermediates, I enrolled myself at Amity University to study my B.Sc. in Mathematics. This strengthened my affinity with numbers. Playing around with numbers, I learned to derive sensible insights from large chunks. This further took me closer to a career in data science.
My diligence to learning paid off, and I got an opportunity to join Cognizant as a junior data analyst through campus placement. Prior to that, I interned at this company for a couple of months as a part of my academic program. The last couple of years of my career has been happening enough, as I capitalized on the opportunity to explore data trends. My professional experience also presented me with the opportunity to collect, evaluate, and interpret data sets for various projects. A coordinated teamwork enabled us to optimize our client's products and improvise the same. Thanks to my performance during this internship, the company decided to absorb me permanently as an employee. Now that I have gained the core skills after working here for the last two years, I am all set to leverage my career by undertaking a globally recognized course.
Aligning my academic background, professional experience, and career scope in the field of data science, it would be a logical decision for me to pursue this course at your university. The University of Edinburg in the UK has come up with a comprehensive program in data science. This course seamlessly complements my efforts to specialize in this domain. On scrutinizing the course modules, I realized that the program explores computational principles. Systems, and methods which help in extracting knowledge and structuring the same from data. Every human activity like browsing a website or scanning through social media pages or even purchasing eCommerce products generates large volumes of data. Assimilating these data sets, it's interesting to draw valuable insights. Studying a Master's program in Data Science from your revered university will leverage my career with fresh skill sets.
Particularly, I am keen to explore the scope of deploying machine learning to detect data patterns which are necessary for making predictions. Also, this course will train me up to gain ideas from databases and algorithms to elicit trends from large data streams. Besides, I am keen to conceptualize potential research ideas to deal with unstructured data sets like images, text, video, sensor data, and speech. This is where I want to specialize, and the industry-oriented course at your university will take me closer to my goals. On completing this course, I would like to evolve as an accomplished data scientist. In this profile, I would have the scope to explore the finer aspects of data analysis and data science. Particularly, I would like to channel special attention in conducting data analysis, handling raw data, and evaluating data patterns. In the process, I will be able to offer critical insights to my organization on data trends, which can drive their marketing and research operations. This will help my organization solve specific problems for their clients. Also, I would like to deploy this knowledge to develop AI-based services and products. The end users, as a result, would benefit from maximum convenience.
Back in India, I have a tremendous career potential awaiting me. From my research, I realized that skilled and certified data scientists in India enjoy impressive salary packages ranging from INR 25 lakhs to INR 35 lakhs per annum. Given that I already have relevant experience in this field, I would utilize my industry contacts to land upon a lucrative job. It would be a pleasure for me to contribute to a field that appeals to me the most.
As a fervent learner, I always remain open to acquiring fresh knowledge. Considering the tough competition raging in India, I decided to strengthen my career in data science. The industry-oriented course at your university will refine my knowledge set with relevant technical knowledge in data science. Besides, I will be well-poised to address real-world problems in business, particularly focussing on the public sector and manufacturing industry. Therefore, I am looking for an opportunity to pursue this program at your esteemed university.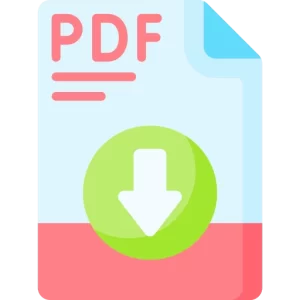 Download Sample SOP for MS in Data Science PDF
Points to Write in SOP for Master in Data Science
Here are the major points to discuss in an SOP for masters in data science.
Your strong motivation for choosing a career in data science
Steps you have taken so far towards your data science career aspirations.
Any professional experience or exposure you have in data science. What your role was and how your contributions helped the organization you worked for?
Skills and strengths you have that you think will benefit you during your data science career.
Any certification/accomplishments you've in data science or a relevant field, for instance, artificial intelligence, machine learning or data analytics.
Your career aspirations as a data scientist
How to Format an SOP for MS in Data Science?
Use the following guidelines to format your SOP for MS in Data science.
Texts
Use a standard font (Times New Roman or Arial) and standard font size – 12 points is ideal.
Indentation
Left indent the first line of each paragraph. Alternatively, leave extra space between paragraphs.
Line spacing
Leave 1.5-inch line spacing.
Length
Keep your SOP short and concise in the range of 800 to 100 words.
Paragraphs
Divide the write-up into multiple paragraphs namely the introduction, body paragraphs and conclusion.
Skills to Include in an SOP for MS in Data Science
The selection officers will know whether you are a fit for their data science program based on the skills you outline in it. Here are some of the skills you may consider including.
Mathematical skills
programming skills
Data visualization
Computing skills
Processing large sets of data
Data wrangling and data exploration
Machine learning
Writing SOP For Various Data Science Programs
SOP is mandatory not only for data science masters courses but also for undergraduate, diploma and PhD programs and internship applications.
SOP for Data Science Masters:
SOP for master in data science must clearly show why you are looking for advanced studies in the subject. It should highlight your experience and exposure to the subject.
SOP for PhD in Data Science:
A PhD in data science is the highest academic program in the subject. While writing the SOP for PhD in data science, you must explain what drew you to it and how you will make use of it.
SOP for Data Science Internship:
SOP for Data Science Internship is required at the time of filing an application for a data science internship program with reputed organizations/companies. It must highlight why you consider doing an internship with them important.
Guidelines for Writing Data Science SOP for Top Countries
As you go through the SOP requirements from country to country, you will realize that there are some differences. If you are considering the below top countries to do masters in data science, check out these guidelines.
SOP for Data Science in UK
Customize your SOP as per the data science program specifications of the institute.
Keep the SOP short, precise, and relevant to the context.
Avoid praising the institute. Rather show why you deserve admission there and what you can contribute to it.
Substantiate every point you add to the SOP with backing proofs.
SOP for Data Science in Canada
Show why it is important for you to study in Canada.
Illustrate your plans after graduation in data science from Canada.
Keep the SOP engaging to read from start to end.
Avoid technical jargon and plagiarism.
SOP for Data Science in Australia
Go through the mission, vision, and values of the institute in Australia that you have chosen and align your profile to the same.
Rather than showing why you want to study data science in Australia, show why you are the fitting candidate to study there.
Review at least two different SOP samples written specifically for Australia to understand the expectations.
Let it flow naturally while you write and perfect each sentence later.
SOP for Data Science in USA
Read about the scope and growth of data science in the USA before writing the SOP.
While explaining the motivation to study data science in the USA, incorporate points from step one.
Be genuine and unique while writing each point in your SOP.
Validate your SOP against an SOP sample for data science in USA before submission.
Need Help In Writing SOP for Data Science?
Best Universities and their SOP Writing Guidelines
Below is a list of the best universities to study for graduation or a master's in data science. As you write your SOP for these institutes, there are a few things to keep in mind. Find those specific guidelines below.
Harvard University – USA
Answer every question that Harvard University asks you in your SOP.
Do not exceed more than 1000 words.
Adhere to the formatting guidelines regarding the font style and font size (Times New Roman or Arial with 12 points size)
McGill University- Canada
Write an engaging introduction that can intrigue the reader to read further.
Write convincing reasons to justify your motivation for choosing data science.
Show what you can contribute to the field of data science.
University of Oxford – UK
Write your SOP in Standard British English
Get your SOP proofread by an expert before submission.
Give convincing reasons for why data science, why Oxford and why UK.
Stanford University – USA
Read about Stanford university and its specialities in offering the data science program.
Show how your expectations are met by Stanford.
Elaborate on how you can contribute to Stanford as a brilliant student of data science as well as a responsible member of the student community.
Need Help In Writing SOP for Data Science?
Conclusion
Did this blog help you become more confident to write your SOP for data science?
Having your data science graduation from the best university in the world will give you a competitive edge when you look for jobs.
We honestly hope that this blog helped you write the best sop for ms in data science for your upcoming college/university admission. We wish you the best of luck with your higher studies.
Please feel free to share your feedback or suggestion about this blog in the comments section below.
Frequently Asked Questions [FAQ]
What points should I write in my SOP if I come from an ECE background while applying for MS in data science?
Your ECE background (Electronics and Communication Engineering) can be used as a weapon when you write your SOP for data science for ECE students. You can highlight how you came to realize the correlation between data science and communication engineering. It is also important to speak of some of your skills – communication skills, analytical skills, problem-solving skills, and critical thinking – and show how they helped you succeed in ECE. Establish that all these skills can be useful to you for your Data science course as well.
What is SOP for MS in Data Science?
A statement of purpose or SOP for masters in data science is slightly different from one for the undergraduate program. Master in data science is an advanced-level program. Therefore, the selection panel will favour a more serious document where candidates talk about their relevant experience or exposure to data science.
Is there any difference between SOP for Data Science and Data Analytics