Best Online Homework Help Services
Anjit VS Writing Services offers streamlined homework help, enabling students to face academic challenges confidently. Our comprehensive services are easy to order and incorporate into your academic schedule. We offer:
Why Hire Anjit VS for Homework Writing Services?
Anjit VS Content Writing Company is a reputed provider of academic writing services. Our homework help offers excellent academic support for a wide range of subjects and programs. Here are some of our differentiating features. 
Why Should You Seek Assistance from a Professional Homework Helper?
While seeking professional home work help is not really necessary, it indeed guarantees several benefits which you otherwise wouldn't be able to have. This includes: 
 By getting university homework help from professionals, you will have a better understanding of the subject. The writers will bridge your understanding with the expected subject standards.
 Getting helping with homework can enable you to save up time for exam preparations and other important tasks. This will in turn put you in a better position to invest in your education.
If you want to enjoy your study life with a bit of leisure, part-time commitments or any other involvement, too many assignments can be an obstacle. With help with homework, you can enjoy a better study-life balance. 
 Professionals will draft your assignment and homework papers paying attention to every detail, adhering to every requirement and fulfilling every standard. This ensures you score the best score for your assignment. 
Diverse Range of Subject Support Offered Via Our Homework Help Website
The major drawback with most homework help sites is that they have limited offerings when it comes to diverse subject support. But you won't face such an issue with our homework help. We have certified homework helpers in more than a hundred subjects which include: 
Computer Science Homework
Human Resource Management Homework
Get Help with The Homework Online
Looking for a reliable team of online homework helpers? We have got you covered. Fill out the contact form below with your details. We will take it from there to guide you.
Find Professional Assignment Helpers Near You
Not being able to find a homework helper who understands your requirements and composes papers as per your exact requirements can be quite frustrating. But with Anjit VS on your side, you don't have to look for them anymore. Irrespective of where you live, we can avail you experts for homework paper help. Our top-served countries include:
The Pros of Choosing Our Online Homework Help
At Anjit VS, we believe in delivering our services with 100% professionalism. This makes us the most sought-after option for homework help for a growing international student community. Here are a few advantages you are guaranteed with our services. 
With Anjit VS homework writing service, you can get your projects ready within the shortest turnaround time, enabling you to meet tight deadlines every time. 
Unlike most online homework help providers, we provide you with safe and secure payment options through channels like UPI, net banking or PayPal.
Your communications with us, including the data you share with us, are encrypted and kept private and confidential. At no cost, we compromise your data. 
We incorporate original content into every homework essay help order we receive. This enables students to have plagiarism-free and fresh papers for submission.
It is More than Homework Help – Check Out Our Other Offerings!
If you are looking for professional help with any other academic-related writing, be informed that we have you covered for that. Alongside homework assistance, we are good at: 
How We Process Homework for You – Our Strategy
You turn to us for help. We hear you and evaluate your details. 
You submit payment to confirm and make us start your project.
Once your project is completed, we review it and deliver on time. 
How Do Students Rate Our Homework Helpers – Some Reactions
I received my physics homework yesterday. Going through it, I found it perfect in every word. Thanks for giving me the best assignment helper to do my homework. 
Joseph Augustin, Kottayam

Wow. What an excellent service. I would say these people are the best people to offer help homework. The paper I received looks well-researched and writing tone and style match exclusively to mine. 

Whenever I do my homework on Chemistry, I get stuck due to my lack of understanding of some of the equations. With the help I received from Anjit VS and the team, I was able to crack the paper more easily. Thank you so much. 

The writers at this homework help service are excellent! They know exactly what to do to ensure what we need to ace in the subject. I highly recommend this service.

Thanks to Anjit VS and the Team for providing the best support for the medicine final year assignment. It really did help me with my homework schedules and save time for exam preparation. 

I am a recurrent customer of Anjit VS. I have used most of their services. This time I need homework help and their support was perfect as usual. 

Your homework help service was excellent and I wouldn't have been able to perform well in the subject without your help. The solutions were clear and were given step by step. 
Sruthi Gangadharan, Patna

I've been using Anjit VS homework help for a while now. I can say without a doubt that they maintain consistency with their services. The fast response you get from the customer care team makes you feel less stressed. Overall, a great service to rely on. 

I am fully satisfied with the help with my homework I received from Anjit VS. It was a real lifesaver. Due to my poor health, I couldn't handle the homework alone. Your service helped me make up for that. 
Radhika Chidambaram, Chennai

I didn't know that I could get my homework done so easily and fast with Anjit VS. It really saved my time and also enabled me to submit it on time. Happy to recommend your services. 

Your timely assistance throughout the last two years made my academic life much easier and smoother. As a student studying in the UK, I wouldn't have been able to manage my studies and juggle work without your help. 

I am satisfied with the quality of the work, particularly the explanations and the citations you added to my literature homework. Even though I was not particularly looking for professional-level formatting and citations, your adherence to them made it look too good.

Get Expert Homework Help from Accomplished Assignment Helpers!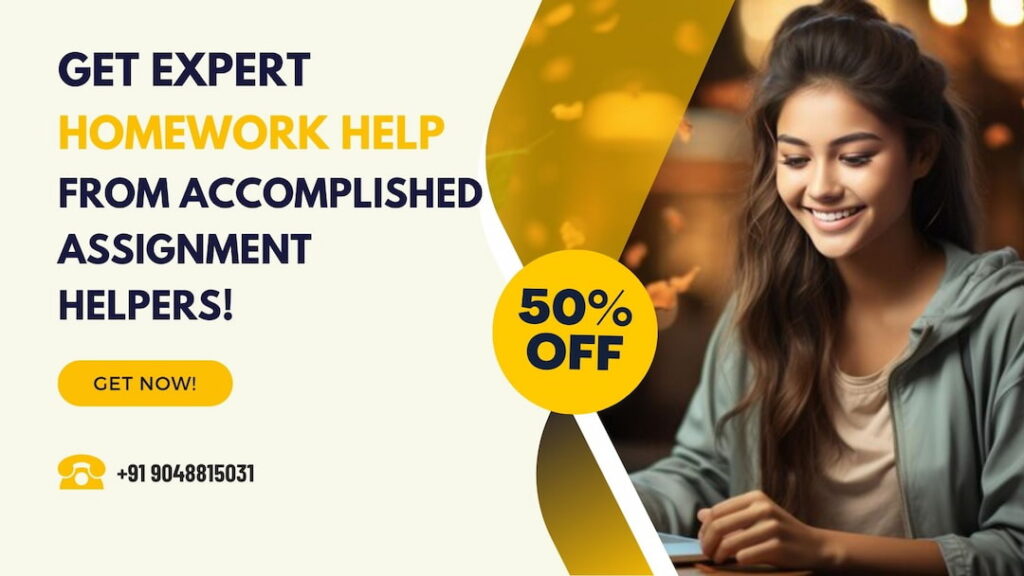 Frequently Asked Question