Revamp Your Brand's Visual Identity with Our Graphic Design Services
With our professional graphic design services, there is no limit to incorporating unique visual impacts into your brand identity. We help you unlock the seamless possibilities of creativity and imagination by matching you up with the best graphic designers in our team along with:
Why Hire a Professional Graphic Designer from Anjit VS Team?
Why hire a graphic designer from Anjit VS amidst countless competitors? If you are new to our graphic design services, you are probably wondering this. Here are some good reasons to justify your decision. 
One-stop shop for all design needs:
We are equipped to cater to all types of graphic design requirements for all industries.  From real estate to IT to travel and tourism.
Cost-effective:
Collaborating with our graphic design maker is much more cost-effective than having in-house designers or working with a freelance graphic designer. 
Tailored to your needs:
We understand the significance of aligning graphic designs to suit distinct business goals. Irrespective of the scale of your goal, we cater to it with a customized approach.
Outstanding customer care:
A dedicated customer support team walks you through every step from the moment you contact us for consultation until the order is delivered to your complete satisfaction.
Matchless Creativity:
Each graphic design project is a creative exercise for our designers. We strive to complete it by incorporating the best and most creative design, theme and colour combinations.  
Types of Graphic Design Services We Offer
At Anjit VS, we are equipped to deliver tailored graphic design solutions for your unique and distinctive needs. Whether you are looking for an eye-catching logo for your branding or digital ad for digital marketing or a compelling conventional poster, we have skilled designers to come up with the best solution. Take a look at our graphic design studio's diverse service offerings.
Design Services for Brands
We offer over fifteen different graphic design help portfolios to help elevate your brand identity. Take a look at them below.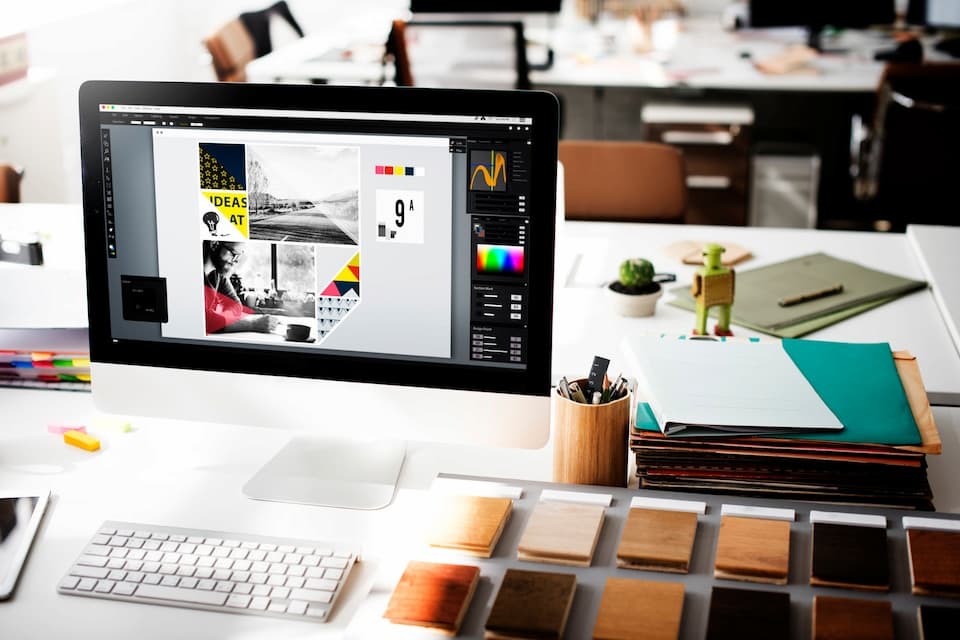 Promotional Items and Giveaways
Digital Design Services
We offer a number of custom digital design services to help you stand out in today's highly competitive digital marketing landscape. We have got the expertise and creative resources you will require in order to make a strong impact on your target audience. Here is a brief list of our digital design services.
Despite this digital era, printed materials continue to influence a great number of audiences. At Anjit VS, we recognize this and offer an experienced team dedicated to handling orders for print design services. Our portfolio includes: 
Product and Merchandise Design Services
Your product's design strongly influences how your customers connect with your brand. Unlock the potential of captivating designs for your products and merchandise with the expertise of our online graphic design professionals.  We offer streamlined services for:
Hire Freelance Graphic Designers Near You
Your search for 'graphic design services near me' ends here, as you've landed in the right spot. Start the conversation with our experts by filling out the contact form below.
Our Incredible Growth as a Top Graphic Design Company
Our reach extends worldwide, spanning over 90 countries across all continents. Whether you're looking for a 'graphic designer near me' from anywhere in the world, you're likely to find us. Find our top ten global service locations. 
We Work Across Diverse Industries
From real estate to education to food and beverage, our graphic design services have no bounds when it comes to industry expertise. Our extensive industry reach makes us the number one choice for clients seeking graphic design in: 
Architecture and Construction
Engage the Best Graphic Design Experts from Anywhere in India
Whether you reside in any corner of India and prefer a 'graphic design agency near me,' our experts are available to cater to your needs in all major cities across the country. Our top 20 service locations in India are:
Hire Our Online Graphic designers to Elevate Your Brand's Impact
It is never too late to invest in revitalizing your brand's identity. Hire our experts today and see how it takes your business to the pinnacle of success. Get started by filling out the contact form below. 
How We Make Impactful Graphic Designs – the Inner Workings of Our Process
Step One – Discussion with the Client
:
Our customer support representative will talk to you over the phone or in an email regarding your graphic design expectations and scope. 
Step Two – Assessing the requirements:
An expert graphic designer in our team will carefully evaluate your requirements and sketch a rough outline based on the scope, goal and purpose. 
Step three – Making the first draft:
We make the first draft by strongly adhering to the best graphic design practices and capitalizing on the best aesthetic values. 
Step Four – Incorporating client feedback:
We allow you to review the first draft and tell us whether it aligns with your vision. We incorporate your feedback while finalizing.
Step Five – Finalizing and refining:
We finalize your graphic design and then undertake a series of rigorous quality assurance steps to improve its quality and appeal.
Step Six – Delivery of completed project:
You receive the completed graphic design within the agreed timeframe. 
My friend recommended Anjit VS and team when he found out that I was looking for graphic design firms near me. It was an outstanding experience both in terms of the quality of the service and the overall customer experience.
Jerome Smith, London
I am totally impressed with the graphic design services offered by Team Anjit VS. They immediately shared a few graphic design examples when I asked them to show me a preview of what I could expect. Transparent policies and good customer care.
Muhammad Ashfaq, Pune
I was looking to a hire freelance graphic designer to make a logo for my business. Even after working with two different people, I couldn't get what I was looking for. Finally, I came across Anjit VS and team. They understood my expectations and designed a perfect logo in the very first go.
Aswathy Narayanamurthy, Bangalore
After working with Anjit VS on three different projects, I can vouch for them. They are a reliable provider of high-quality graphic design services.
Ismail Bin Muhammad, Dubai, UAE
Frequently Added Questions