Canada is among the top countries for students all over the world to seek higher studies. This means the number of student visa applications to Canada is pretty high. So is the refusal rate.
If your student visa application to Canada got rejected in the first go, don't worry. You can apply for it again. But remember to write an SOP for Canada study visa after refusal that clearly describes a few important points such as the reasons for rejection and how you have rectified those rejection causes.
In this blog, we are taking a holistic approach to explain everything you need to know in this regard. We have included in it:
SOP samples for Canada study visa after refusal
How to approach writing a perfect SOP for a study visa after refusal
Common mistakes to avoid while drafting this crucial piece of writing.
What Is an SOP for Canada Student Visa? How Does a Low-Quality SOP Risk Your Canada Study Plans?
A statement of purpose for Canada study visa is an explanation that students need to write to tell the visa issuing authorities about their purpose of visit to Canada and their detailed study plan, future aspirations, motivations etc. It is also known by the names letter of intent and letter of explanation. If the SOP fails to address any particular aspect of your profile or doesn't look up to the mark, it will lead to the rejection of the study visa application.
Canada Student Visa Refusal Rates
Reports indicate that Canada visa refusal rates were at an all-time high, about 60%, at the start of 2022 when the Covid19 related restrictions were lifted. This was against the 39% refusal rate in 2019. The reason for this high refusal rate was partly the heavy backlog of applications in the pool. However, the situation is improving now since the backlogs have decreased.
Need Help In Writing a Statement of Purpose After Refusal?
Does the High Refusal Rate Affect My Chances of Getting a Student Visa to Canada?
Certainly not. Canada authorities follow pre-set criteria for evaluating visa applications. By ensuring that you meet all the criteria and giving a clear explanation for any particular aspect of your profile, such as gaps, in the SOP for student visa, you can be on the safe side.
Is SOP the Only Reason Why Canada Student Visa Applications Get Rejected?
No. SOP is only one of the reasons for visa rejections. You should be able to know the exact reason for your visa rejection from the Canada study visa refusal letter you receive. There are other factors too that can lead to rejections such as:
Your current qualification does not make you eligible for the proposed higher study program.
The program you intend to do is not directly related to your existing qualification. If you can explain convincingly your reasons for the course change in the SOP, you can hold up this rejection cause.
If you don't have proof to show that you have sufficient funds to meet your expenses in Canada, your application may get rejected.
Less than the required score for IELTS. In order to study in Canadian universities, you must obtain a certain IELTS score that they stipulate.
Missing documents are another frequent rejection cause. Your visa application to Canada must include a series of documents such as LOR, letter of acceptance from the university, SOP for Canada student visa, duly filled application, IELTS TRF etc.
Get an Error Free SOP from the Best SOP Writer. Click Here!!
What Are the Next Steps After Canada Student Visa Refusal?
It is always good to file a perfect student visa application on the first attempt itself. However, if your application for student visa got rejected for one or the other reasons mentioned above, don't lose hope. You still have chances of getting Canada student visa after refusal.
You can approach it in two different ways.
Re-appeal after refusal:
If you are certain that you have filed your student visa application fulfilling all the requirements, you can appeal the decision of the visa authority. They will reconsider your application and issue you the visa if they find that the refusal decision was made unfairly or due to any technical errors.
Submit a new application:
If your visa application got rejected due to any mistakes from your end, you can submit a new application after rectifying the reason for the initial rejection and writing a well-explained SOP for Canada after refusal.
How to Write a Perfect SOP for Canada Student Visa After Refusal?
Even if the cause of visa refusal was not the SOP, you must aim to write a better document than the first one because for the second attempt you should write a letter of explanation for Canada study permit after refusal which is slightly different from the original SOP you submitted. Here is the step-by-step guide to help you draft one.
Write a clear introduction:

Begin by greeting the visa officer and then give a brief introduction about yourself. Include the following points in the introduction:

Name of the course you have chosen
Name of the institute you have got admission to and its location in Canada
Reasons for selecting this particular course
Why was your Canada student visa application rejected on the first attempt and what have you done to fix that?

Your background:

Use the second paragraph of your Canada student visa rejection SOP to speak about your academic and professional backgrounds/history. Include details about the courses you studied, work you have done etc. Also, mention a few relevant achievements you have had during your academic or professional periods.

Why this program:

Explain why you have opted for this program. You should cover your motivation for the course selection and how closely it is related to your passion, previous experience and qualifications.

Why this university:

In this part of the SOP for Canada after refusal, you must explain your specific reasons for choosing a certain university in Canada for doing your higher studies. Try to list out a few salient features of the institute that attracted you to this institute. Also, mention how you are planning to make use of your formation at this institute for your own personal and career growth.

Why Canada:

Explain what triggered your interest to study in Canada and not any other country. It will look more convincing if you speak about 'why' in the context of your chosen higher study program in Canada. For instance, the advancement in the field of logistics in Canada made you realize the benefits of studying logistics there rather than in any other country.

Sponsorship details:

Explain how you have sourced your fund for your tuition fee, food, accommodation and other expenses in Canada. Make sure that you have a valid proof for your claims as you will have to produce them along with your application.

Future plans:

Explain how you have designed your roadmap ahead. This must include your long-term career aspirations as well as immediate plans after course completion. Establish clearly that you will return to your home country after completing your higher study trip in Canada.

Conclusion:

Conclude by summarizing the core points of the statement of purpose in two to three sentences. Sign off by expressing your assurance that you will use the opportunity to study in Canada wisely and live by the rules of the country.
Pro Tip: Proofread your SOP a few times and ensure that it contains no mistakes. A flawless document will always have a competitive edge.
Need Help In Writing a SOP for Canada Student Visa After Refusal?
What does a Sample SOP for Canada after refusal look like?
Take a look at these sample sop for canada after refusal. Understand how it differs from the original SOP you wrote. Attempt to write the best SOP after refusal for Canada study permit with a fresh and informed perspective.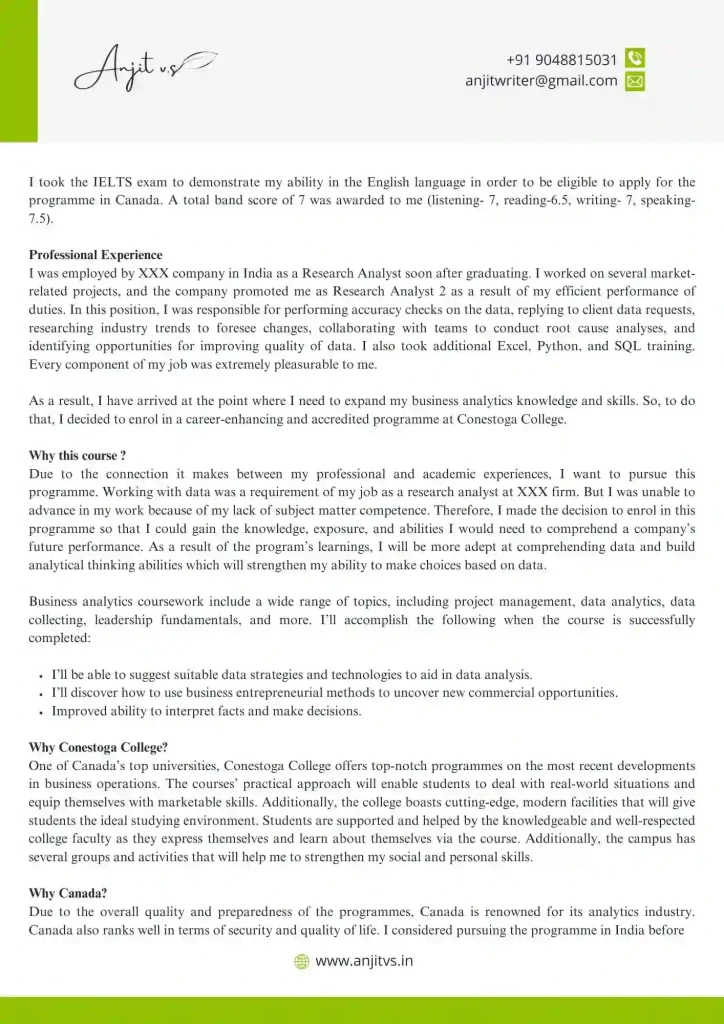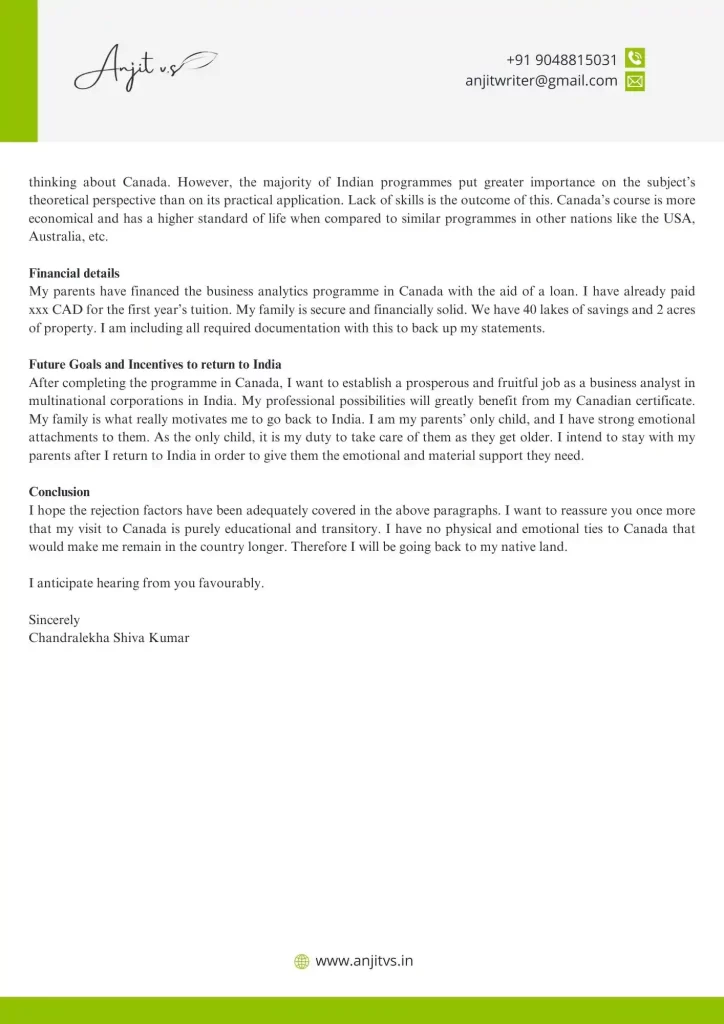 To,
Visa Officer
(Address)
Country
Dear sir/madam,
Let me send you my warmest greetings for the day.
Subject: Reapplication of Canada Student visa
My name is Chandralekha Shiva Kumar, and I am an Indian citizen. After detailed assessment, I had submitted an application to Conestoga College's Master of Business Analytics Program. My application was accepted, and I now have a letter of offer from the college confirming that. But for the following reason, my subsequent request for a Canadian study visa was turned down.
Based on the objective of your visit, I am not convinced that you will depart Canada at the conclusion of your stay, as required by IRPR subsection 216(1).
I made an attempt to analyse the grounds for my denial even though my earlier application had stated clearly my claim. I want to start off by assuring you that my entry into Canada is only for temporary and academic needs. In the next sections, the justifications for these claims are clearly described. I shall thus use this document as an opportunity to re-state my case for the Canadian Student Visa. I am hoping that you will give my application a favourable evaluation.
Family background
I am from Vaikom, a tiny village in Kerala. My mother, Raji Shiva, runs a beauty salon in Kottayam, and my father, Shiva Kumar, is a manager at the ICICI Bank Kottayam.
Academics & IELTS Score
The idea of business has always captivated me. I was encouraged to work more during my studies by reading personality or motivational books by well-known authors and business moguls. After reading them in the school libraries, I decided to major in business during higher secondary education at XXX school. I obtained an SSC grade of X and a higher secondary grade of Y. I attended the same school, XXX, for my 10th and 12th grades. My passion in business after finishing high school led me to follow this subject in undergrad. I studied B.com at MG University and came in second in my college in order to gain a deeper understanding of business. The course greatly aided me in discovering my hidden interests, including consumer behaviour, finance, and so on. This masters programme serves as a means of pursuing those interests.
I took the IELTS exam to demonstrate my ability in the English language in order to be eligible to apply for the programme in Canada. A total band score of 7 was awarded to me (listening- 7, reading-6.5, writing- 7, speaking-7.5).
Professional Experience
I was employed by XXX company in India as a Research Analyst soon after graduating. I worked on several market-related projects, and the company promoted me as Research Analyst 2 as a result of my efficient performance of duties. In this position, I was responsible for performing accuracy checks on the data, replying to client data requests, researching industry trends to foresee changes, collaborating with teams to conduct root cause analyses, and identifying opportunities for improving quality of data. I also took additional Excel, Python, and SQL training. Every component of my job was extremely pleasurable to me.
As a result, I have arrived at the point where I need to expand my business analytics knowledge and skills. So, to do that, I decided to enrol in a career-enhancing and accredited programme at Conestoga College.
Why this course ?
Due to the connection it makes between my professional and academic experiences, I want to pursue this programme. Working with data was a requirement of my job as a research analyst at XXX firm. But I was unable to advance in my work because of my lack of subject matter competence. Therefore, I made the decision to enrol in this programme so that I could gain the knowledge, exposure, and abilities I would need to comprehend a company's future performance. As a result of the program's learnings, I will be more adept at comprehending data and build analytical thinking abilities which will strengthen my ability to make choices based on data.
Business analytics coursework include a wide range of topics, including project management, data analytics, data collecting, leadership fundamentals, and more. I'll accomplish the following when the course is successfully completed:
I'll be able to suggest suitable data strategies and technologies to aid in data analysis.
I'll discover how to use business entrepreneurial methods to uncover new commercial opportunities.
Improved ability to interpret facts and make decisions.
Why Conestoga College?
One of Canada's top universities, Conestoga College offers top-notch programmes on the most recent developments in business operations. The courses' practical approach will enable students to deal with real-world situations and equip themselves with marketable skills. Additionally, the college boasts cutting-edge, modern facilities that will give students the ideal studying environment. Students are supported and helped by the knowledgeable and well-respected college faculty as they express themselves and learn about themselves via the course. Additionally, the campus has several groups and activities that will help me to strengthen my social and personal skills.
Why Canada?
Due to the overall quality and preparedness of the programmes, Canada is renowned for its analytics industry. Canada also ranks well in terms of security and quality of life. I considered pursuing the programme in India before thinking about Canada. However, the majority of Indian programmes put greater importance on the subject's theoretical perspective than on its practical application. Lack of skills is the outcome of this. Canada's course is more economical and has a higher standard of life when compared to similar programmes in other nations like the USA, Australia, etc.
Financial details
My parents have financed the business analytics programme in Canada with the aid of a loan. I have already paid xxx CAD for the first year's tuition. My family is secure and financially solid. We have 40 lakes of savings and 2 acres of property. I am including all required documentation with this to back up my statements.
Future Goals and Incentives to return to India
After completing the programme in Canada, I want to establish a prosperous and fruitful job as a business analyst in multinational corporations in India. My professional possibilities will greatly benefit from my Canadian certificate. My family is what really motivates me to go back to India. I am my parents' only child, and I have strong emotional attachments to them. As the only child, it is my duty to take care of them as they get older. I intend to stay with my parents after I return to India in order to give them the emotional and material support they need.
Conclusion
I hope the rejection factors have been adequately covered in the above paragraphs. I want to reassure you once more that my visit to Canada is purely educational and transitory. I have no physical and emotional ties to Canada that would make me remain in the country longer. Therefore I will be going back to my native land.
I anticipate hearing from you favourably.
Sincerely
Chandralekha Shiva Kumar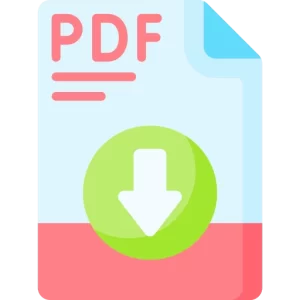 Download Best SOP for Canada Study Visa After Refusal
Why Hire an Expert for Your SOP for Canada Study Visa After Rejection?
When you write an SOP in order to reapply for a Canada student visa after a refusal, it is highly advisable not to take any chances. Unless you are hundred percent confident to write an error-free SOP, you should entrust the task of writing it to a professional SOP writer. Why? Because:
They know what to write and emphasize in the SOP
They will carefully proofread and edit your SOP and send you a perfect piece.
Professional SOP writers are capable of delivering you the completed SOP within 24 to 48 hours after you place the order. This will help you with urgent SOP needs.
They will clarify the reasons for your student visa rejection and address those areas deftly in the SOP
When you hire a professional writer, be particular about choosing one who has previous experience writing SOP for Canada study visa after refusal.
Hire the Best SOP Writer for Canada Study Visa After Refusal. Click Here
Five Mistakes to Avoid When You Write an SOP for Canada Study Visa After Refusal
Flowery language:
Avoid using complex or flowery language. Use simple language instead so that you can be certain that your points are communicated unambiguously.
Not telling why your visa got rejected:
You should be able to find out why your visa got rejected from the clarification letter. Speak about it as well as how you fixed it.
Not explaining why gaps or course change:
Any gaps in your academics or experiences need to be explained clearly in the SOP.
Incorrect formatting and structuring:
Make sure that you format and structure your SOP for student visa Canada as per the guidelines we shared above.
Last minute rush:
Don't wait till the eleventh hour to start working on your SOP for Canada study permit. Last-minute rush will cause you to miss out on important points and overlook mistakes.
Do visa authorities review old application details when you apply for Canada student visa for the second time?
Yes. They do. Canada visa authority is very strict in verifying the documents of visa applicants. They will pull out and check your old files when you reapply for the student visa.
How to Mention Visa Refusal in SOP?
When you write a Canada student visa SOP after refusal, you will write about the reasons for your visa rejection in the introduction. It can be written following your self-introduction at the start of your SOP. You can mention it like 'I am applying for a student visa to Canada for the second time since my previous visa application was rejected due to (mention the reason). I now have (explain what you did to fix that cause of refusal). Refer to our SOP samples for Canada study visa after refusal.
Looking for Professional SOP Writers for Canada Study Visa After Rejection?
How to convince a visa officer that you will leave Canada at the end of your student visa duration?
Your Canada student visa grants you permission to stay in Canada only for the duration of your Canada study permit. Therefore, when you write your SOP, you must express your strong intention to go back to your home country after the course completion. Any indication in the SOP that you will overstay there will lead to visa rejection. So, show that you are so much attached to your home country and care about its growth and thus want to nurture your career there in a convincing manner.
Conclusion
Great. By reading this blog till the end, you have taught yourself how to write a perfect SOP for Canada study visa after refusal.
How confident are you to write it now? It makes us honoured and proud if we are to learn that this blog has been helpful to you. So, kindly share your feedback in the comment section below.
We also welcome your suggestions or any questions you have regarding the content of this blog.