If you are thinking about writing an SOP for MS in Canada, you are most likely in search of a comprehensive guide and a few sample SOP for MS in Canada. Why? Because a guide will help you with all the fundamental questions you have about the SOP. Samples will help you improve your perspective for writing an SOP. Well, that's exactly what we have tried to fulfill through this blog.
This blog is a detailed answer to all your questions regarding SOP for Masters in Canada. It supplies reasonable explanation to:
How to write SOP for MS in Canada?
What is the acceptable format to use for writing the SOP?
How to make use of Sample SOP for Masters in Canada?
What is SOP for MS in Canada?
SOP for MS in Canada is a document that contains your answers to the questions that the selection committee of your preferred Canadian university or college want to clarify with you. It explains who you are, what motivates you to study MS in Canada and why you have chosen their college or university for your higher studies.
What are the Importance of SOP for MS in Canada?
SOP is a crucial document in order to secure admission for higher education programs like masters in Canada.
SOP explains a student's motivation for choosing higher studies in Canada.
SOP proves that a student has got the basic domain knowledge to undergo a masters in the chosen subject.
SOP is valid proof of the written communication skills of the applicant.
SOP serves as the primary source of information for the selection committee to understand the applicant.
SOP caters for the initial face-to-face interview questions for the admission panel.
Need Help In Writing SOP for MS in Canada?
How to Write SOP for MS in Canada?
When it comes to writing an SOP for MS in Canada, you may have a number of questions like how to begin, how to end, how to develop the main body and so on. Follow the below guidelines for the same.
| | |
| --- | --- |
| Brainstorm and finalize points: | The first step in SOP writing is to brainstorm for points and finalize them. You may have a lot of points to write about but don't include all. Shortlist the most relevant and recent information to include in your statement of purpose. |
| How do I start an SOP for MS: | Start your SOP with a brief introduction about yourself and explain how you got interested in the subject you have chosen for the MS program in Canada. Use a personal anecdote or an experience to make the introduction interesting for the reader. |
| How to develop the body: | After the introduction, write the main body dividing it into multiple paragraphs explaining different aspects of your profile such as academic background, work history, motivation for choosing the particular subject, future plans etc. |
| How to end an SOP for MS: | The last few lines or the conclusion in your SOP are as important as the introduction. It must be reiterating what you said earlier in your write-up. Express your hope and confidence in getting selected and be thankful to the selection panel. Ensure that your conclusion doesn't contradict any point in your SOP. |
| How to proofread: | The most important step in SOP preparation is proofreading. In this process, you will validate your write-up against the format, points, and possible mistakes. Ensure that it contains no mistakes. Also, request someone to read it for you and check if it is smooth to read. |
Need Help In Writing SOP for MS in Canada?
Sample SOP for MS in Canada
Here are some SOP samples for MS in Canada for your revision before starting to work on the actual SOP preparation.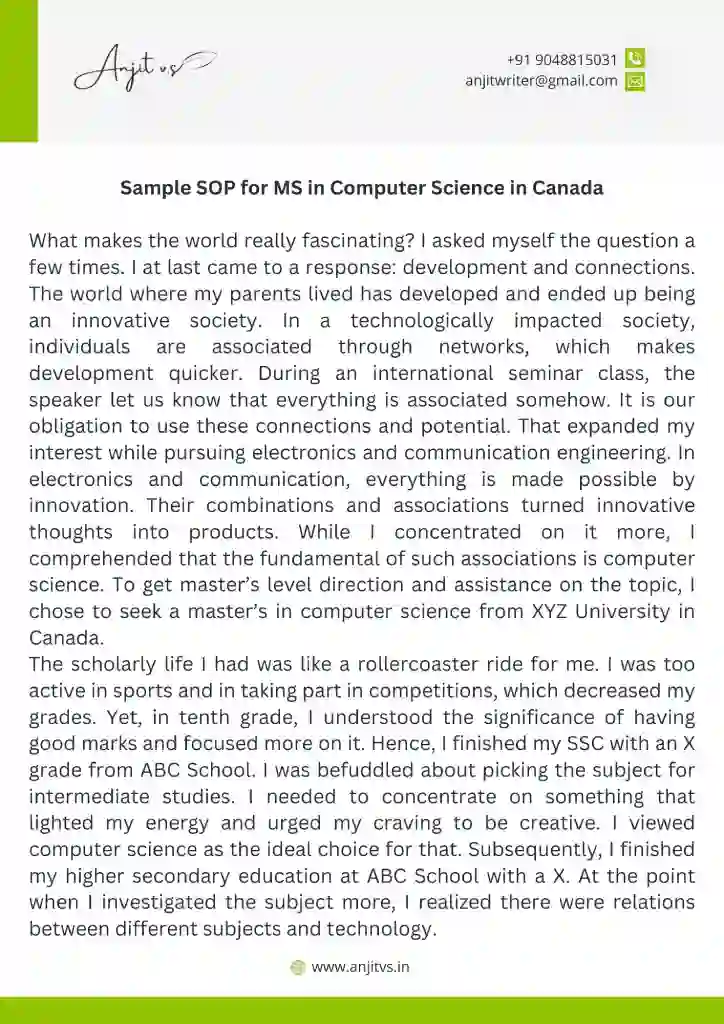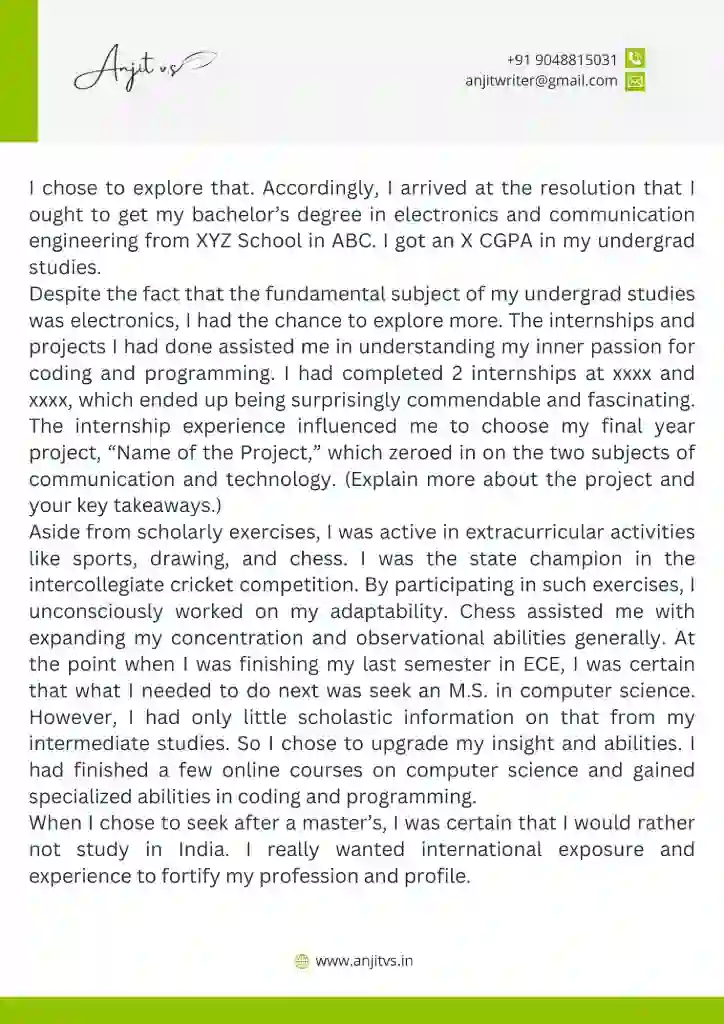 What makes the world really fascinating? I asked myself the question a few times. I at last came to a response: development and connections. The world where my parents lived has developed and ended up being an innovative society. In a technologically impacted society, individuals are associated through networks, which makes development quicker. During an international seminar class, the speaker let us know that everything is associated somehow. It is our obligation to use these connections and potential. That expanded my interest while pursuing electronics and communication engineering. In electronics and communication, everything is made possible by innovation. Their combinations and associations turned innovative thoughts into products. While I concentrated on it more, I comprehended that the fundamental of such associations is computer science. To get master's level direction and assistance on the topic, I chose to seek a master's in computer science from XYZ University in Canada.
The scholarly life I had was like a rollercoaster ride for me. I was too active in sports and in taking part in competitions, which decreased my grades. Yet, in tenth grade, I understood the significance of having good marks and focused more on it. Hence, I finished my SSC with an X grade from ABC School. I was befuddled about picking the subject for intermediate studies. I needed to concentrate on something that lighted my energy and urged my craving to be creative. I viewed computer science as the ideal choice for that. Subsequently, I finished my higher secondary education at ABC School with a X. At the point when I investigated the subject more, I realized there were relations between different subjects and technology. I chose to explore that. Accordingly, I arrived at the resolution that I ought to get my bachelor's degree in electronics and communication engineering from XYZ School in ABC. I got an X CGPA in my undergrad studies.
Despite the fact that the fundamental subject of my undergrad studies was electronics, I had the chance to explore more. The internships and projects I had done assisted me in understanding my inner passion for coding and programming. I had completed 2 internships at xxxx and xxxx, which ended up being surprisingly commendable and fascinating. The internship experience influenced me to choose my final year project, "Name of the Project," which zeroed in on the two subjects of communication and technology. (Explain more about the project and your key takeaways.)
Aside from scholarly exercises, I was active in extracurricular activities like sports, drawing, and chess. I was the state champion in the intercollegiate cricket competition. By participating in such exercises, I unconsciously worked on my adaptability. Chess assisted me with expanding my concentration and observational abilities generally. At the point when I was finishing my last semester in ECE, I was certain that what I needed to do next was seek an M.S. in computer science. However, I had only little scholastic information on that from my intermediate studies. So I chose to upgrade my insight and abilities. I had finished a few online courses on computer science and gained specialized abilities in coding and programming.
When I chose to seek after a master's, I was certain that I would rather not study in India. I really wanted international exposure and experience to fortify my profession and profile. Through careful exploration, I found that XYZ University in Canada offers the best instructive experience and chances to upgrade my insight and abilities in computer science.
Canada is one of the most technologically advanced countries in the world. The technological advancements and contributions made them more familiar with the world. The modern infrastructure and courses furnish understudies with the specialized abilities and experience they need to begin their own vocations. Additionally, Canada has the world's top colleges for technology-based courses, which expands my assumptions regarding concentrating there. The presence of worldwide tech organizations in Canada will help my confidence and the opportunities I can get. Moreover, they provide affordable and high-quality education to everyone, irrespective of where they come from.
XYZ University is known for its greatness in technological commitments, scholarly greatness, and research centers. XYZ University is situated in the focal point of Canada, which makes it conceivable to have solid associations with different organizations. I look forward to the internships I can have during my time there. The course educational plan is planned by the subject specialists as per the most recent advancements in the domain. The expert faculty and personnel offer individual help and direction for understudies in the subject in which they need it. The dynamic and vibrant campus environment can reinforce my other non-specialized abilities and interactive abilities.
Whenever I have finished my studies, I expect to get back to India, where I can fill in as a (job) in top global organizations. I expect to use both my electronics and technological information to make a vocation that can give me immense experience and open doors later on. With an international degree and experience, I trust that I can undoubtedly accomplish that. Thus, I trust that the admissions committee will consider my application for this seat worthy.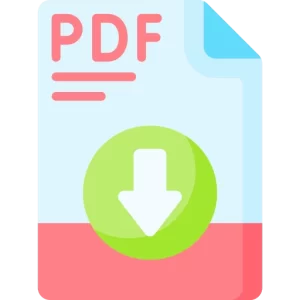 Download Sample SOP for MS in Canada
SOP Format for MS in Canada
SOP is an academic document. This will inevitably mean that you will have to prepare it in a format that is acceptable to Canadian universities and colleges. Follow the below rules to format your document.
| | |
| --- | --- |
| Font style: | You can use any academically accepted font, for instance, Times New Roman or Arial |
| Font size: | Keep the font size to 12 points |
| Margin: | Set a 1-inch margin at the top, bottom, right and left. |
| Line spacing: | Set 1.5 as line spacing |
| Indentation: | Indent the first line of each paragraph or leave additional space between the paragraphs. |
What to Include in an SOP for Masters in Canada?
Your SOP must supply answers to a range of questions that your admission panel may want to clarify with you. So, here is what you need to include in it.
Academic background:
Give a brief account of your academic background. Explain how your previous education prepared you for the MS program in Canada. What major skills did you develop from your training?
Professional background:
If you have worked anywhere after your graduation, it is important to talk about it. Show how that experience is related to the subject you have chosen for the MS program. Highlight your major contributions or achievements.
Motivation for the MS program:
Talk about all the strong factors that contribute to your motivation for choosing this particular MS program. Explain how each factor defines your interest in the subject.
Why this university:
Research the university and its advantages over other institutes in conducting this particular MS program. Explain how closely the program and the institute cater for your expectations.
Why Canada:
Again, try to figure out the benefits of studying this particular MS program in Canada. Explain that doing this program in your home country or any other country won't be as effective as doing it in Canada.
Career aspirations:
Talk about your future plans after leaving the institute. Highlight that you will return to your home country and try to excel in the field. If you intend to do further research on the subject and contribute, show how you plan that.
Need Help In Writing SOP for MS in Canada?
What is SOP for Second Masters in Canada?
If you are a student who has already completed your master's in your home country, you can still go to Canada on a student visa and pursue a second master's program there. Having said that, it is imperative to prove your reasons for studying for a second master's through a convincing SOP for second masters in Canada.
Why Study Masters Courses in Canada? Is It Worth Doing MS In Canada?
Canada has been in the picture of top higher study destinations in the world for quite some time now. Why do students all over the world prefer Canada for master's courses?
Having a master's degree from a recognized Canadian university or college will make it easier for you to find jobs.
When you do a master's program in Canada, you will have sufficient industrial exposure along with theoretical knowledge.
Canadian qualifications are accepted all over the world for higher studies and employment.
Canada is a country that embraces the diversity of people. Studying master's in Canada will be a great experience for you as an individual.
While studying master's in Canada, you are entitled to work for a certain number of hours every week. This will enable you to finance some of your expenses.
Considering all the above factors, it is worth doing MS in Canada.
MS or MBA? Which Is Better in Canada?
Both MBA and MS have got their own advantages. Doing MBA is recommended to you if you are trying to achieve a comprehensive understanding of the business and use that to excel in your business career. MS is a more focused program that will give you a deeper level of knowledge in a particular subject or field of business. If you are looking into specialization, an MS program is better.
Is GRE Compulsory for MS in Canada?
GRE is not compulsory across all Canadian institutes even though some ask for it from their applicants.
How much does MS cost in Canada?
The average cost of studying MS in Canada per year is estimated to be around INR 18 to 22 lakhs. This includes both the tuition fee and the living expenses.
Is IELTS enough for MS in Canada?
IELTS is one of the many requirements to study MS in Canada. Along with it, you will need other documents like SOP for MS in Canada, GPA, proof of funds, medical test report and more.
Can I get PR after MS in Canada?
You cannot get a PR soon after completing your MS in Canada. There is a residency obligation to fulfil in order to apply for PR. This requires you to be physically present in the country for at least 730 days in the last five years.
How long is the MS course in Canada?
An MS program in Canada can usually last up to 24 months.
Need Help In Writing SOP for MS in Canada?
Which MS is best in Canada?
Canadian institutes are known for their MS programs and choosing the best can be trickier. The top two in-demand MS programs, however, are:
MS in Computer Science:
An MS in Computer science from a reputed Canadian institute will significantly brighten up your future. Since where you study matters, don't fail to get a customized SOP for MS in Computer Science that unambiguously narrates your story.
MS in Project Management
Organizations today give greater importance to project management. MS in project management programs is highly in demand across Canadian institutes. Secure your admission for the course with a winning SOP for MS in project management.
What Is the Eligibility for MS in Canada?
A bachelor's degree is the most basic eligibility criterion to study MS in Canada. The minimum GPA required is 3.0 across most institutes.
Requirements for Studying MS in Canada
The following are the MS in Canada for International Students Requirements.
A bachelor's degree with a minimum GPA of 3.0
SOP for masters in Canada
IELTS (6.5 band score) or TOEFL (75 scores)
GRE (depends on the university you are applying)
Letter of recommendation
Completed application form
Need Help In Writing SOP for MS in Canada?
Top Universities to Study Masters In Canada With A Good SOP
Looking for the best universities in Canada to do masters? Here is a list for you to consider. Each institute in the below list has its own unique course composition and admission criteria. So, before writing your SOP for Canada universities, get clarity about these.
SOP for MS in Concordia University
SOP for MS in Dalhousie University
SOP for MS in McGill University
SOP for MS in Ryerson University
SOP for MS in University of Victoria
SOP for MS in University of Regina
SOP for MS in University of Windsor
SOP for MS in University of Ottawa
SOP for MS in University of Calgary
SOP for MS in Queen's University
SOP for MS in Conestoga College
SOP for MS in McMaster University
SOP for MS in Memorial University of Newfoundland
SOP for MS in Thompson Rivers University
SOP for MS in University of Saskatchewan
SOP for MS in University of Alberta
SOP for MS in University of Waterloo
SOP for MS in University of Toronto
SOP for MS in University of British Columbia
SOP for MS in York University
Top Masters Programs to Study in Canada
Now, let's see what the top masters programs to study in Canada are. There are a few of them in fact. Choose a program that suits your experience, background, and aptitudes and write your SOP for masters course in Canada in such a way that it reflects your true personality.
SOP for MS in Architecture
SOP for MS in Computer Science in Canada
SOP for MS in Digital Marketing
SOP for MS in Economics
SOP for MS in Finance
SOP for MS in International Business
SOP for MS in Management
SOP for MS in Mechanical Engineering
SOP for MS in Pharmacy
SOP for MS in Project Management
SOP for MS in Supply Chain & logistics
SOP for MS in Accounting
SOP for MS in Business Analytics
SOP for MS in Data Science
SOP for MS in Electrical Engineering
SOP for MS in Education
SOP for MS in Human Resource Management (HRM)
SOP for MS in International Relations
SOP for MS in Marketing
SOP for MS in Public Health (MPH)
SOP for MS in Psychology
SOP for MS in Social Work (MSW)
Conclusion
We are glad that we could share with you a detailed account of writing SOP for MS in Canada. Our approach here has been from a realistic point of view, taking into account what challenges most students would face in SOP writing.
Are you satisfied with the information we provided in this blog?
Or do you have anything else to clarify with us?
Feel free to write to us in the comments below.