For a lot of students who are thinking about going to a country like Australia on a student visa, the heavy list of requirements may seem daunting. Needless to say, how confusing SOP for Australia student visa is. But we have got your back.
We have done ample research to understand what visa officers look for in a statement of purpose for Australia student visa. We are sharing all our findings in this blog to help you. By reading this blog till the end, you will learn:
How to write a compelling SOP for Australia study visa?
What to include in it and how to make it different
SOP for australia student visa pdf sample to refer to while preparing your points
What is SOP for Australia Student Visa?
SOP for Australia student visa is a self-declaration written by an applicant wishing to pursue higher education in Australia. The document is addressed to the visa issuing authority of Australia. It says that the writer has fulfilled all the requirements for deserving the student visa to Australia.
Importance of Having a High-Quality SOP for Australia Student Visa
As hundreds of students apply for student visas to Australia each year, your chances of getting it issued depend on how well you prepare your application. You need a superior-quality SOP for Australia student visa:
To convince the visa authority that you will be an excellent student
To prove that you will abide by the law of the land
To establish that you have cleared the language proficiency test
To say that you have sufficient funds to meet your expenses in Australia and proof for that
To prove that you will return to your home country upon completing the higher study program
Need Help In Writing a SOP for Australia Student Visa? Click Here
How to Write an SOP for Australia Student Visa? Steps and Structure
Here is the step-by-step procedure and structure to write a successful sop for Australia student visa.
Paragraph 1: Introduction: Start with a strong introduction which would impress the visa authorities and make them read further. Speak lightly about how your interest to study in Australia got ignited.
Paragraph 2: Background: Briefly describe your family, professional history and academic formation.
Paragraph 3: Gaps: If there has been any gap during your academic formation or professional history, explain the reasons. While explaining them, try to show that you have effectively utilized that period to excel in specific skills that will help you for your higher studies in Australia.
Paragraph 4: Motivation for choosing the course: Here you will list out your reasons for choosing this particular program for your higher studies. Explain how closely your experience and current knowledge are related to the program, and how your previous exposures have shaped you and moulded you for this program.
Paragraph 5: Why Australia: Don't write about the geographic beauty of Australia. Rather show how the country is good for the formation of your particular course. Suppose you have chosen higher studies in healthcare. Show how studying it in Australia will benefit your career horizons.
Paragraph 6: Why this University: In this paragraph, you will focus on telling a few important things you see as the factors that attracted you towards a particular university in Australia. Maybe it is the faculty or the research scope or the emphasis the institute gives for practical orientation. Explore what attracts you and write.
Paragraph 7: Career Aspirations: Envision what you will be doing after getting graduated in your preferred field in Australia. You may divide your plans into both short-term and long-term categories. Make it clear that you will return to your home country after course completion and nurture your career by exploring the opportunities there and benefiting your society.
Paragraph 8: Proof of funds: It is necessary to show and prove that you have sufficient funds for your higher education in Australia. You would incur various expenses such as food, accommodation, tuition fee and other miscellaneous ones. Establish that you have genuine sources for the fund and include proof for the same.
Paragraph 9: Student Visa Rejection History if any: Have you applied for a student visa to Australia or any other country previously and got rejected? If yes, mention it in your SOP and give reasons for the rejection and how you have rectified those causes.
Paragraph 10: Conclusion: Write a strong conclusion at the end of your SOP. Remember that the conclusion has the power to influence the reader. Write it as the summation of your entire essay with a call to action and gratitude to the reader for taking the time to read it through carefully.
Pro Tip: If you are writing the SOP for australia student visa first time, it's advisable to write a few rough drafts as well as read a few samples before writing your final copy.
Looking for the Best SOP Writers for Australia Student Visa? Click Here
SOP Sample for Australia Student Visa
For some, the steps alone won't help. Going through an SOP for Australia student visa PDF sample will reinvigorate their creative brains and encourage them to start writing their piece. So, here is a sample for you to go through and stimulate your thoughts.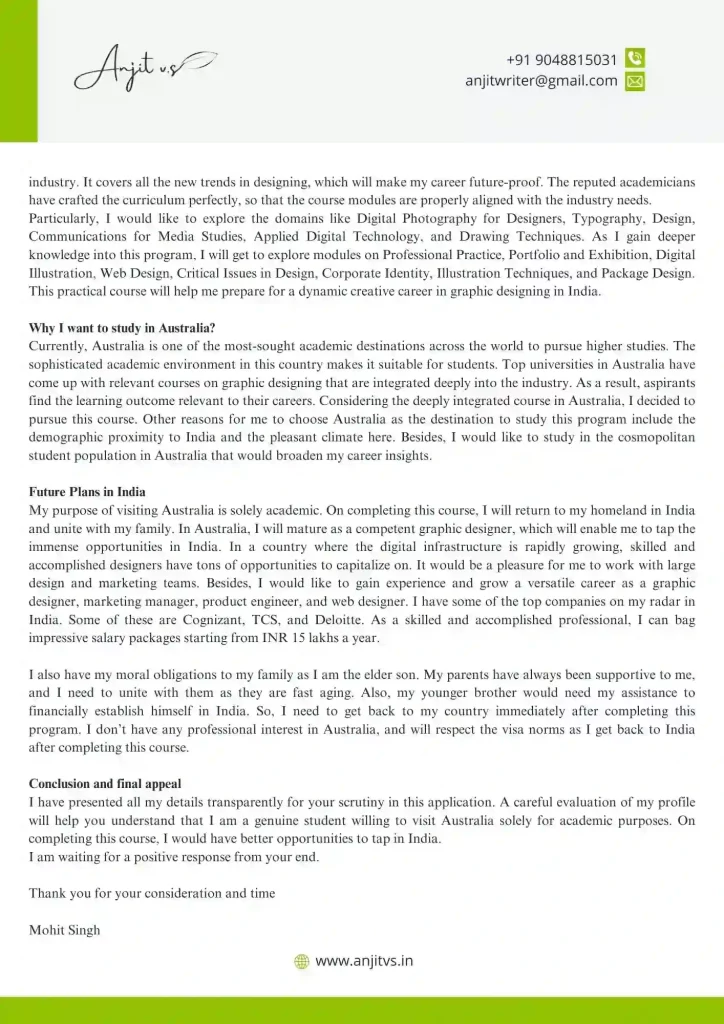 To
The Visa Officer
The High Commission of Australia
New Delhi
Respected Sir/Madam,
I would like to introduce myself as Mohit Singh, a permanent Indian resident. I am willing to pursue an academic program in Australia, and am writing this statement of purpose with reference to the same. Creativity and designing appeal to my intellect more than anything else. This explains why I decided to pursue an industry-oriented graphic designing program in Australia. Given that I stand at the crossroads of my career, pursuing an advanced program in Graphic Designing will streamline my professional profile. This will help me craft a dynamic creative career in the designing industry back in India. I have carefully evaluated my professional prospects in India, and decided to pursue the Diploma program in Graphic Design from Western Sydney University in Australia. The institute has already provided me with the letter of acceptance for the same.
Academic Background
Academically, I have been consistent all these years, besides being an active participant in different extracurricular activities. I don't have any gap in my academics, and my appetite to learn is evident from my marksheets. In 2019 and 2021, I completed my Secondary and Higher Secondary Examinations, aggregating 95% and 92% marks, respectively. In order to demonstrate my language skills in English, I appeared for my IELTS Examination in October 2022 and obtained an overall band score of 7. This qualifies me for the course as per the eligibility criteria of the institute.
Family Background and Sponsorship
I hail from a progressive agricultural family in Punjab, India. I am the elder son in our family, and my brother is completing his graduation in Economics in India. Our aggregated annual income is INR 15,00,000, and you will find relevant supporting documents and IT files of my father attached with this application. I have also attached a property valuation certified, attested by a CA for your scrutiny. I have been fortunate to receive a supportive academic environment at home. Both my parents have motivated me to pursue an advanced course abroad, so that I can establish my career in the area of my interest back in India. Since I hail from a close-knit family, I need to return to my homeland immediately after completing this course.
We are financially well-settled and will be able to manage all the finances required to complete this course in Australia. I have already paid the tuition fee for the first year. My father has INR 28,00,864 in his savings account. So, we will be able to fund the tuition fee and living expenses in Australia. Besides, I have adequate financial support from my family to manage the incidental costs during my stay in Australia.
Why I want to study Graphic Design?
My childhood in India coincided with a time when the economy was rapidly digitizing. Naturally, website designs and innovative portals used to appeal to my intellect more than any other aspect. I used to visualize powerful designs, walking in the shoes of an accomplished graphic designer. The visual appeal created by successful designers could make a difference in how the website visitors perceived the brands.
Next, I ventured into eCommerce website development, and was awed by the innovations of global giants like Amazon and Walmart. I also realized that startups and new online brands were quickly establishing their digital identities. At the centre of their success lay impactful visuals and the handwork of skilled graphic designers. When the need of the hour is to sell goods and services digitally, marketers cannot possibly overlook the value of graphic design.
Collaborating with my batchmates during college projects, I got the opportunity to set my hands on graphic design. I also mastered software like Photoshop and Coral Draw, and this gave me a strong morale boost. Currently, the impact of CAD in the digitized business space is immense. Beyond digital marketing, the importance of graphic designing lies in advertising and even the print media.
I have also explored the psychology of colours that helped me create smart colour blends in my designs. Being goal-oriented and organized, I was quick to realize that my forte lies in a creative career like graphic designing. During my school days, I used to remain obsessed with drawing and art classes. Currently, I find this obsession transforming itself to my ambition that has driven me to this creative pursuit. I spend hours with designing software like Adobe Illustrator and Canva, as I know where my interest lies.
Back in India, the economy is rapidly digitizing. The demand for accomplished graphic designers is all set to rise. I look forward to establishing myself as a successful graphic designer, bridging my interest, passion, and professional goals. In future, I would like to establish myself as an engineering drafter, web designer, product designer, creative director, marketing manager, or art director.
The creative freedom that comes with graphic designing makes it suitable for me. It gives me pleasure to materialize what I visualize using powerful graphic designing tools. Also, I can spend my leisure hours as I experiment with different editing methods. Experimenting with creative opportunities and manipulating images, I can come up with innovative designs. Considering my professional priorities, I decided to pursue this 3-year diploma program, so that I can return to India as a skilled and certified professional. This way, I can pave my way to work with established advertisement agencies, architectural companies, digital marketing giants, and also the digital and print media in India.
Why Western Sydney University?
Western Sydney University is one of the most renowned Australian institutes where I can find such a comprehensive curriculum. Graphic designing is a practical course, and I am looking for an industry-oriented program to leverage my knowledge. The course that this university provides is exactly the one I had been hunting for. All the course modules are closely aligned with the industry needs. On completing this course, I would remain at the top of the industry. It covers all the new trends in designing, which will make my career future-proof. The reputed academicians have crafted the curriculum perfectly, so that the course modules are properly aligned with the industry needs.
Particularly, I would like to explore the domains like Digital Photography for Designers, Typography, Design, Communications for Media Studies, Applied Digital Technology, and Drawing Techniques. As I gain deeper knowledge into this program, I will get to explore modules on Professional Practice, Portfolio and Exhibition, Digital Illustration, Web Design, Critical Issues in Design, Corporate Identity, Illustration Techniques, and Package Design. This practical course will help me prepare for a dynamic creative career in graphic designing in India.
Why I want to study in Australia?
Currently, Australia is one of the most-sought academic destinations across the world to pursue higher studies. The sophisticated academic environment in this country makes it suitable for students. Top universities in Australia have come up with relevant courses on graphic designing that are integrated deeply into the industry. As a result, aspirants find the learning outcome relevant to their careers. Considering the deeply integrated course in Australia, I decided to pursue this course. Other reasons for me to choose Australia as the destination to study this program include the demographic proximity to India and the pleasant climate here. Besides, I would like to study in the cosmopolitan student population in Australia that would broaden my career insights.
Future Plans in India
My purpose of visiting Australia is solely academic. On completing this course, I will return to my homeland in India and unite with my family. In Australia, I will mature as a competent graphic designer, which will enable me to tap the immense opportunities in India. In a country where the digital infrastructure is rapidly growing, skilled and accomplished designers have tons of opportunities to capitalize on. It would be a pleasure for me to work with large design and marketing teams. Besides, I would like to gain experience and grow a versatile career as a graphic designer, marketing manager, product engineer, and web designer. I have some of the top companies on my radar in India. Some of these are Cognizant, TCS, and Deloitte. As a skilled and accomplished professional, I can bag impressive salary packages starting from INR 15 lakhs a year.
I also have my moral obligations to my family as I am the elder son. My parents have always been supportive to me, and I need to unite with them as they are fast aging. Also, my younger brother would need my assistance to financially establish himself in India. So, I need to get back to my country immediately after completing this program. I don't have any professional interest in Australia, and will respect the visa norms as I get back to India after completing this course.
Conclusion and final appeal
I have presented all my details transparently for your scrutiny in this application. A careful evaluation of my profile will help you understand that I am a genuine student willing to visit Australia solely for academic purposes. On completing this course, I would have better opportunities to tap in India.
I am waiting for a positive response from your end.
Thank you for your consideration and time
Mohit Singh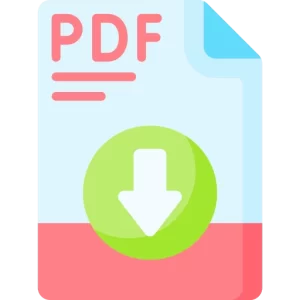 Download SOP for Australia Student Visa PDF Sample
Sample SOP for Nursing in Australia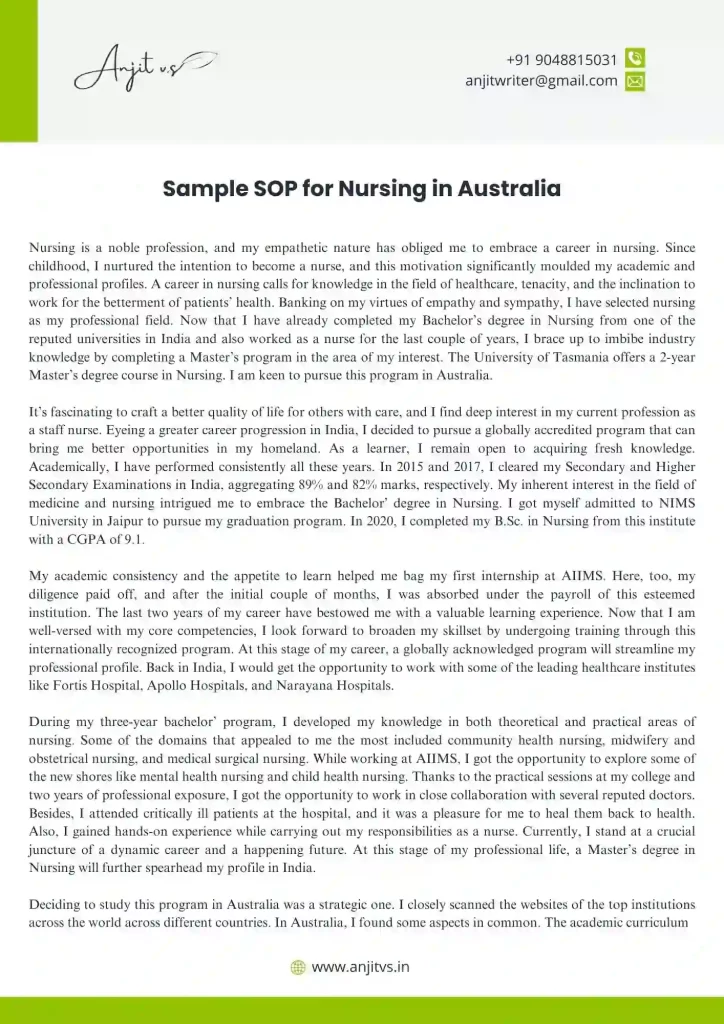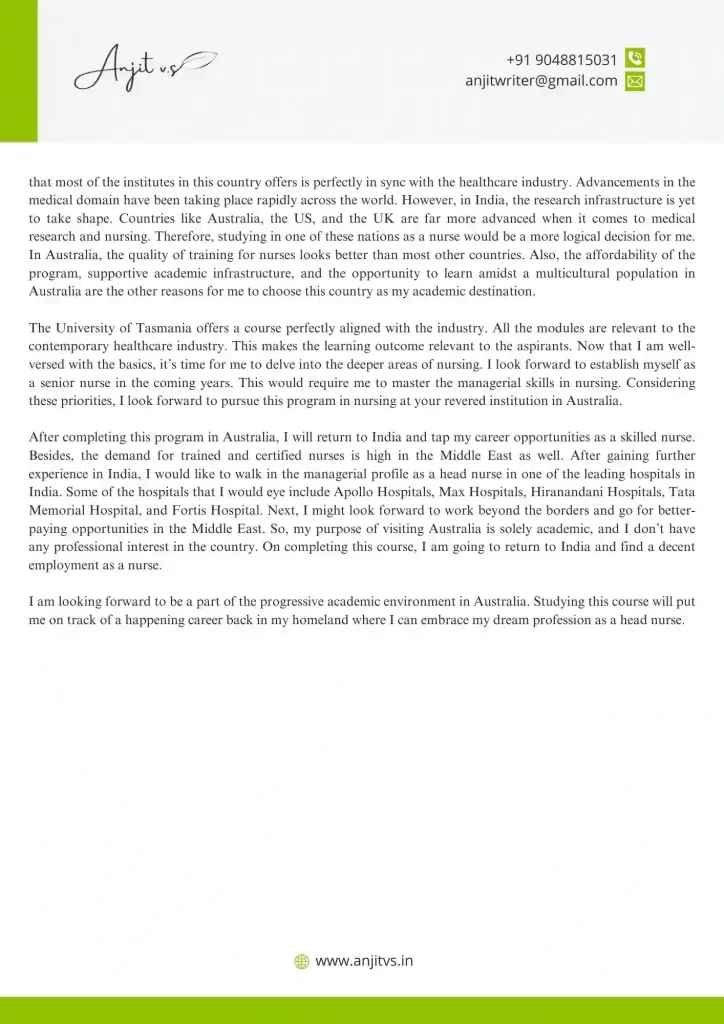 Nursing is a noble profession, and my empathetic nature has obliged me to embrace a career in nursing. Since childhood, I nurtured the intention to become a nurse, and this motivation significantly moulded my academic and professional profiles. A career in nursing calls for knowledge in the field of healthcare, tenacity, and the inclination to work for the betterment of patients' health. Banking on my virtues of empathy and sympathy, I have selected nursing as my professional field. Now that I have already completed my Bachelor's degree in Nursing from one of the reputed universities in India and also worked as a nurse for the last couple of years, I brace up to imbibe industry knowledge by completing a Master's program in the area of my interest. The University of Tasmania offers a 2-year Master's degree course in Nursing. I am keen to pursue this program in Australia.
It's fascinating to craft a better quality of life for others with care, and I find deep interest in my current profession as a staff nurse. Eyeing a greater career progression in India, I decided to pursue a globally accredited program that can bring me better opportunities in my homeland. As a learner, I remain open to acquiring fresh knowledge. Academically, I have performed consistently all these years. In 2015 and 2017, I cleared my Secondary and Higher Secondary Examinations in India, aggregating 89% and 82% marks, respectively. My inherent interest in the field of medicine and nursing intrigued me to embrace the Bachelor' degree in Nursing. I got myself admitted to NIMS University in Jaipur to pursue my graduation program. In 2020, I completed my B.Sc. in Nursing from this institute with a CGPA of 9.1.
My academic consistency and the appetite to learn helped me bag my first internship at AIIMS. Here, too, my diligence paid off, and after the initial couple of months, I was absorbed under the payroll of this esteemed institution. The last two years of my career have bestowed me with a valuable learning experience. Now that I am well-versed with my core competencies, I look forward to broaden my skillset by undergoing training through this internationally recognized program. At this stage of my career, a globally acknowledged program will streamline my professional profile. Back in India, I would get the opportunity to work with some of the leading healthcare institutes like Fortis Hospital, Apollo Hospitals, and Narayana Hospitals.
During my three-year bachelor' program, I developed my knowledge in both theoretical and practical areas of nursing. Some of the domains that appealed to me the most included community health nursing, midwifery and obstetrical nursing, and medical surgical nursing. While working at AIIMS, I got the opportunity to explore some of the new shores like mental health nursing and child health nursing. Thanks to the practical sessions at my college and two years of professional exposure, I got the opportunity to work in close collaboration with several reputed doctors. Besides, I attended critically ill patients at the hospital, and it was a pleasure for me to heal them back to health. Also, I gained hands-on experience while carrying out my responsibilities as a nurse. Currently, I stand at a crucial juncture of a dynamic career and a happening future. At this stage of my professional life, a Master's degree in Nursing will further spearhead my profile in India.
Deciding to study this program in Australia was a strategic one. I closely scanned the websites of the top institutions across the world across different countries. In Australia, I found some aspects in common. The academic curriculum that most of the institutes in this country offers is perfectly in sync with the healthcare industry. Advancements in the medical domain have been taking place rapidly across the world. However, in India, the research infrastructure is yet to take shape. Countries like Australia, the US, and the UK are far more advanced when it comes to medical research and nursing. Therefore, studying in one of these nations as a nurse would be a more logical decision for me. In Australia, the quality of training for nurses looks better than most other countries. Also, the affordability of the program, supportive academic infrastructure, and the opportunity to learn amidst a multicultural population in Australia are the other reasons for me to choose this country as my academic destination.
The University of Tasmania offers a course perfectly aligned with the industry. All the modules are relevant to the contemporary healthcare industry. This makes the learning outcome relevant to the aspirants. Now that I am well-versed with the basics, it's time for me to delve into the deeper areas of nursing. I look forward to establish myself as a senior nurse in the coming years. This would require me to master the managerial skills in nursing. Considering these priorities, I look forward to pursue this program in nursing at your revered institution in Australia.
After completing this program in Australia, I will return to India and tap my career opportunities as a skilled nurse. Besides, the demand for trained and certified nurses is high in the Middle East as well. After gaining further experience in India, I would like to walk in the managerial profile as a head nurse in one of the leading hospitals in India. Some of the hospitals that I would eye include Apollo Hospitals, Max Hospitals, Hiranandani Hospitals, Tata Memorial Hospital, and Fortis Hospital. Next, I might look forward to work beyond the borders and go for better-paying opportunities in the Middle East. So, my purpose of visiting Australia is solely academic, and I don't have any professional interest in the country. On completing this course, I am going to return to India and find a decent employment as a nurse.
I am looking forward to be a part of the progressive academic environment in Australia. Studying this course will put me on track of a happening career back in my homeland where I can embrace my dream profession as a head nurse.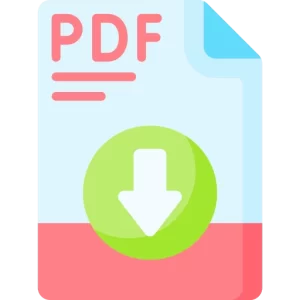 Download SOP Sample for Nursing in Australia
Mistakes to Avoid in Your SOP for Australia Student Visa
Since Australia is among the top countries for foreign studies, the number of applicants to the country is rising steadily every year. Even minor mistakes in the SOP for Australia student visa could be critical when your application is scrutinized. So, avoid the following mistakes.
Not showing proof of funds:
It is estimated that nearly a quarter of applicants fail to secure student visas to Australia due to suspicious information regarding proof of funds. Ensure that you have sufficient funds via authentic means and write about them.
Not showing intent to return to your home country:
It is very important to mention your future plans, especially if you will go back to your native land after the course is over.
Grammatical mistakes:
Proofread your statement of purpose at least five times. This will enable you to do away with most of the mistakes.
Hiding setbacks:
Don't ever think of hiding your setbacks or gaps. Visa officers scrutinize all documents before deciding on your visa. So, explain your setbacks/gaps convincingly.
Including fake information:
Don't think that you can get away easily by faking information. It doesn't work. Be true to yourself. Never think of writing anything that is not true.
Reason for Australia Study Visa Refusal
Like most countries, Australia too has a limit for students it can take from foreign countries each year. If the number of applicants is more, the chances of rejection will be high. According to reports, the student visa rejection rate to Australia for the year 2021-2022 was 9.1%. The following are the most frequently cited reasons for study visa refusal to Australia.
Insufficient funds
Not meeting the required IELTS score
Incomplete or imperfect documents, for instance, SOP for Australia student visa
Not meeting the GTE requirement
Need Help In Writing a SOP for Australia Student Visa?
Why Should You Hire An Expert for Writing SOP Australia Student Visa?
Given that an imperfect SOP is among the top reasons for visa application rejection, many students rely on professional writers to draft their SOP for Australia student visa. You can be assured of the following advantages while hiring a professional SOP writer.
You will get a flawless piece just like an ideal SOP for Australia student visa sample. It won't contain any grammatical or spelling mistakes. Likewise, it will have the correct use of punctuation.
Your SOP will meet all requirements. A professional writer would be thorough with all SOP requirements such as the recommended word count, format, structure etc.
Your SOP will cover all points. When you have a professional writer develop your SOP, you can be assured that your document will cover all relevant and important points.
Your SOP will be readable. Readability is an important factor to keep an audience interested and stuck to your SOP. A professional writer achieves that easily.
You will get your SOP on time: Professional writers can save you time. They will deliver the completed SOP for Australia student visa pdf sample to you on time so you won't miss your deadline.
Pro: While hiring professional writers, cherry-pick a writer who has had the reputation and experience of writing SOP for Australia student visa.
Need Help In Writing a SOP for Australia Student Visa?
Why Should You Pursue Higher Education in Australia?
It is good to know what makes Australia a coveted higher-study destination. Knowing this will help you approach your SOP writing more realistically.
Australia houses several internationally reputed colleges and universities.
Australia is highly welcoming. You can find people from all over the world living peacefully and cooperatively there.
Medium of instruction in Australia is English. So, it is a good option for Asian students
Australia is one of the fastest developing economies in the world. There are plenty of opportunities to work after completing your higher studies
Australia is a safe country. It gives priority to the safety and protection of its residents
Requirements for Australian Student Visa
While applying for your Australia student visa, make sure you get ready with a complete application with perfection in the following documents.
Confirmation from your university that you are admitted
Offer Letter from the university to join the program
IELTS Test Result Form
Overseas Student Health Cover
GTE Requirements. This includes an sop for Australia student visa saying that you will not overstay in Australia and are coming there for the purpose of education only.
Proof of funds
Medical certificate
Police clearance certificate
Top Courses to Study in Australia
The following courses were the most applied ones in the year 2021-2022. Note that it may vary between each admission intake season.
MBA and BBA Programs
Medical Programs
Engineering Programs
Paramedical Programs
MS and MSc Programs
Accounting Programs
PhD and Doctorate Programs
Undergraduate and PG Diploma Programs
Nursing and Public Health
Information Technology Programs
Why Do Many Students Prefer to Study Nursing in Australia?
The healthcare sector in Australia is one of the finest in the world. Healthcare professionals, for instance, nurses, flock to various Australian institutions for their training and internships. Once they complete their training in Australia, they can easily find job opportunities in other countries like Canada, the UK, Australia or New Zealand or other parts of the world. It is mandatory however to write a profound SOP for Australia student visa for nursing if you want to seal your birth at the best Australian institute.
Top Universities in Australia
As you have noted, Australia has many universities and colleges which are ranked among the top 100 globally. Here is a list of top Australian universities you may consider for your higher study admission.
University of Melbourne
University of Sydney
University of Queensland
Queensland University of Technology (QUT)
Monash University
University of New South Wales Sydney
University of Wollongong
Australian National University
Macquarie University
University of Adelaide
University of Western Australia
University of Technology Sydney
Curtin University
La Trobe University
Conclusion
Did you enjoy reading our blog? Did it help you to write an SOP for Australia student visa?
Don't hesitate to ask us if you need any further clarity on this.
Getting a student visa to Australia is not a walk in the park. So, prepare for it seriously by writing the best SOP for Australia student visa.
Frequently Asked Question [FAQ]
Do I need to write an SOP for Student Visa Extension in Australia?
Yes. If you want to extend the duration of your student visa, you need to apply for it. Obviously, the most crucial document in the application will be the SOP because it is through it that you will list your reasons for your visa extension request.
Can I use the same SOP to apply to multiple Australian Universities?
Yes. You can use the same SOP if you are applying for the same course, say MS in Engineering, at different universities. However, don't forget to customize the part where you write about your reasons for choosing the particular university. Admission committees of universities will specially note how much the applicants have tried to know about their universities and their specialities.