When you work or study abroad, one of the biggest joys is to have your loved ones with you. The good news is that most countries allow dependents like close family members, parents, life partners, daughters, sons etc. to accompany you if you are the primary applicant. To let them do that, you need to apply for their visa along with an SOP for dependent visa. In this blog, we are glad to share valuable insights from our many years of experience regarding the nuances of writing a winning statement of purpose for dependent visa.
This blog covers a range of topics including:
What is SOP for a dependent Visa?
How to write and format it?
SOP for dependent visa samples for a head start.
What is SOP for Dependent Visa? Why is it Important?
A Statement of Purpose (SOP) for dependent Visa is an official document for individuals seeking to accompany their close ones in a foreign country. The document helps the dependents explain the nature of their relationship with the primary applicant – a work or study visa holder.
Types of Dependent Visas that Need a Statement of Purpose
Generally speaking, applications for all types of dependent visas require a well-drafted statement of purpose. Here is a list of them and their purposes.
Minor or Child Dependent Visa
In this type of visa, parents can sponsor their toddlers or children below the age of eighteen to live with them in a foreign country.
Family Reunification Dependent Visa
This is for family members like brothers, sisters, nieces, nephews, uncles and aunts to reunite with their relatives living in a foreign country.
Partner or Spouse Dependent Visa
This is for husbands or wives planning to accompany their life partner in a foreign country.
Elderly Dependent or Parent Visa
This visa allows individuals to sponsor their parents or grandparents to apply as dependents.
Domestic Partner Dependent Visa
This type of visa enables unmarried visa holders maintaining civil unions to take their life partners as dependents.
Looking for Experts to Write SOP for Dependent Visa
How to Write SOP for Dependent Visa?
The visa-issuing authorities peruse dependent visa applicants before issuing the visa. Since the statement of purpose for dependent visa is an important document in the application, you must write it with careful planning and attention to detail. Here is how you must approach writing it.
Analyze the visa requirements
First of all, try to know about the visa requirements as they differ from country to country and the types of dependent visas.
Get acquainted with the format
Go through our sample SOP for student dependent visa to understand the structure and format to use while composing the write-up.
Compile your points
Gather points that may be required for perusal in the context of your dependent visa application. It is important to pick the most relevant and up-to-date information.
Sketch an outline
Develop an outline for your statement of purpose to use as a framework. Having this ready, it becomes easy to develop content without getting deviated from the core theme.
Proofread and perfect
Once the content development is over, proofread it word by word giving emphasis on spelling accuracy, punctuation, correct wording and sentence structure.
Hire Expert SOP Writers for Dependent Visa
Formatting Guidelines for Dependent Visa SOP
Here are the important points you must keep in mind while finalizing the SOP format for dependent visa word file.
Font style: Times New Roman, Helvetica, Ariel
Font size: 12 points
Line spacing: 1.5 or double spacing
Indentation: Right-indent the first line of each paragraph
Number of words: 700 to 1000
Number of paragraphs: 4 to 8
Need Help in Writing an SOP for Dependent Visa?
SOP for Dependent Visa Australia Sample
Take a look at the below-given SOP sample for dependent visa Australia. Try to understand how the writer has presented their introduction, given background information and transitioned to explain the depth of their relationship with the applicant.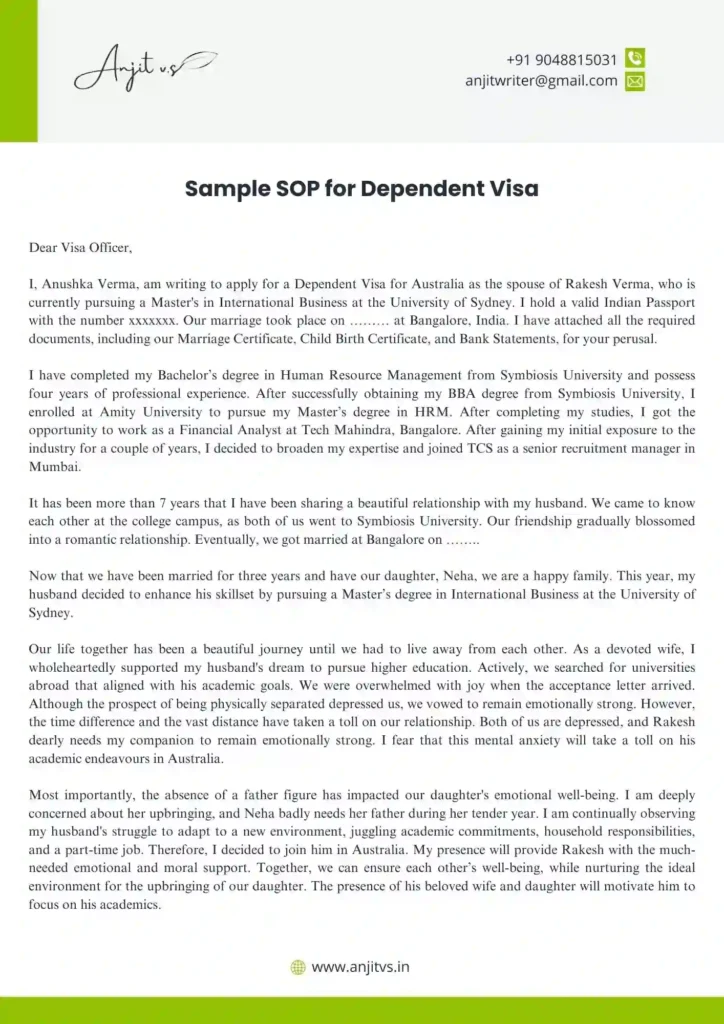 Dear Visa Officer,
I, Anushka Verma, am writing to apply for a Dependent Visa for Australia as the spouse of Rakesh Verma, who is currently pursuing a Master's in International Business at the University of Sydney. I hold a valid Indian Passport with the number xxxxxxx. Our marriage took place on ……… at Bangalore, India. I have attached all the required documents, including our Marriage Certificate, Child Birth Certificate, and Bank Statements, for your perusal.
I have completed my Bachelor's degree in Human Resource Management from Symbiosis University and possess four years of professional experience. After successfully obtaining my BBA degree from Symbiosis University, I enrolled at Amity University to pursue my Master's degree in HRM. After completing my studies, I got the opportunity to work as a Financial Analyst at Tech Mahindra, Bangalore. After gaining my initial exposure to the industry for a couple of years, I decided to broaden my expertise and joined TCS as a senior recruitment manager in Mumbai.
It has been more than 7 years that I have been sharing a beautiful relationship with my husband. We came to know each other at the college campus, as both of us went to Symbiosis University. Our friendship gradually blossomed into a romantic relationship. Eventually, we got married at Bangalore on ……..
Now that we have been married for three years and have our daughter, Neha, we are a happy family. This year, my husband decided to enhance his skillset by pursuing a Master's degree in International Business at the University of Sydney.
Our life together has been a beautiful journey until we had to live away from each other. As a devoted wife, I wholeheartedly supported my husband's dream to pursue higher education. Actively, we searched for universities abroad that aligned with his academic goals. We were overwhelmed with joy when the acceptance letter arrived. Although the prospect of being physically separated depressed us, we vowed to remain emotionally strong. However, the time difference and the vast distance have taken a toll on our relationship. Both of us are depressed, and Rakesh dearly needs my companion to remain emotionally strong. I fear that this mental anxiety will take a toll on his academic endeavours in Australia.
Most importantly, the absence of a father figure has impacted our daughter's emotional well-being. I am deeply concerned about her upbringing, and Neha badly needs her father during her tender year. I am continually observing my husband's struggle to adapt to a new environment, juggling academic commitments, household responsibilities, and a part-time job. Therefore, I decided to join him in Australia. My presence will provide Rakesh with the much-needed emotional and moral support. Together, we can ensure each other's well-being, while nurturing the ideal environment for the upbringing of our daughter. The presence of his beloved wife and daughter will motivate him to focus on his academics.
We are a sociable couple and can cultivate positive relationships with others. Thus, we can mingle with people from different cultures and backgrounds. Besides, we are financially stable, and have adequate resources to manage our living expenses in Australia. I have accumulated INR 60 lakhs in savings, which is available in my bank account. Besides, my husband has INR 91 lakhs in his bank account after paying his entire tuition fee for the first year in Australia. Therefore, neither my husband nor I will overstay in Australia. Our intention is to remain a happy family and return to India on the completion of the program of my husband. As soon as his visa expires, we will return to our homeland.
Considering the grounds I cited, I am seeking a dependent visa for Australia. I humbly request you to consider my application, so that our temporarily separated family can unite and cherish each other's company wholeheartedly.
Along with this document, you will find all the necessary supporting documents for my dependent visa application. Please note that the attached copies are exact scans of the original documents, and I am prepared to promptly submit the originals upon your request. I am also ready to furnish any additional information about myself or my husband. You can contact me through email at ………. or call me at …………..
I hereby promise to strictly adhere to the visa norms in Australia throughout my stay. I am keenly awaiting a positive response from your end.
Yours sincerely,
Anushka Verma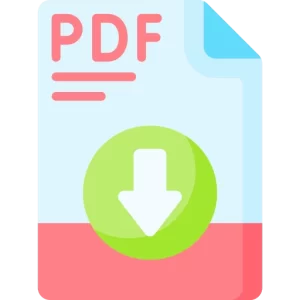 Download SOP for Dependent Visa Sample PDF
What to Include in a Dependent Visa SOP?
A statement of purpose for dependent visa must include information that the visa officers of the respective country expect to know from you. This includes:
A strong and straight introduction
The dependent visa SOP must have a strong introduction that makes the reader read further and help to know the purpose of visit for dependent visa.
Your personal background
The introduction would follow background information about you such as what you do currently, what qualifications you hold etc.
Nature of relationship with the primary visa holder
Next, you must talk about the type of relationship you have with the primary visa holder. Here, you can describe how important it is for you to be with your sponsor.
Future plans
Your SOP should clearly speak about your plans in the foreign country – whether you intend to study or work or visit places etc.
Assurance of your law abidance
Write about your understanding of the rules and regulations in the foreign country and give your assurance that you will abide by them.
Financial proof
Write about your financial stability to live in a foreign country and meet any emergencies like healthcare requirements or other expenditures.
Conclusion
Wind up your statement of purpose by reemphasizing your true intentions of visiting the foreign country on the dependent visa. Show your hope of getting the visa and thank the visa officers for considering your application.
Looking for Experts to Write a Dependent Visa SOP?
Learn to Write Statements of Purpose for Dependent Visa for Popular Countries
While there are many similarities when it comes to writing SOP for dependent visa for popular countries, there are some differences too. Take a look at the below guidelines for SOP writing for the top eight countries.
SOP for Dependent Visa Canada
Write your SOP in simple language and go with a professional tone.
Assure that you won't overstay your visa period and return to your home country.
Proofread your SOP several times to ensure compliance and accuracy.
SOP for Australia Dependent Visa
Refer to at least one sample SOP for dependent visa Australia before your writing.
Give solid proof of your financial stability.
Proofread your statement of purpose for dependent visa Australia before submission.
SOP for Dependent Visa UK
Write in Standard British English using simple vocabulary.
Adhere to the recommended word limit – 700 to 1000 words.
Customize your SOP to the specific dependent visa purpose.
SOP for Dependent Visa USA
Go through the dependent visa requirements for the US carefully and understand them.
Ensure that your SOP is in compliance with the required format and structure.
Provide convincing responses to the questions being asked.
SOP for Dependent Visa Ireland
Give convincing information to establish your relationship with the primary visa holder.
Clearly state your plans during the visit such as travel, work or study.
Show how you will abide by the rules and regulations in Ireland.
SOP for Dependent Visa Germany
Explain how important it is for you to be with the primary visa holder.
Show that you will be open to integrating into German society and willing to obey the rules.
Provide sufficient evidence or proof for your financial sources.
SOP for Dependent Visa France
Write your strong reasons to be with the primary visa holder. Check our sample SOP for student dependent visa for reference.
Emphasize your intention to return to your home country upon the dependent visa expiry.
Review your SOP carefully and make sure that it contains no factual or linguistic errors.
SOP for Dependent Visa New Zealand
Verify that your dependent visa SOP for New Zealand agrees with other documents in the application.
Demonstrate your commitment to New Zealand society and willingness to integrate.
Provide verifiable evidence to show that you have sufficient financial backup.
Hire Experienced SOP Writers for Dependent Visa
Essential Documents Required to File Dependent Visa Application
Below given is a list of important documents you will be required to submit while applying for a dependent visa.
A valid passport
Statement of purpose for dependent visa
Financial proof – bank statements, sponsorship letter or employment letter
Health insurance
Medical Examination certificate
Police clearance certificate
Proof of relationship – marriage certificate or legal documents etc.
Duly filled visa application form
Photographs
Looking for Experts to Write Statement of Purpose for Dependent Visa
Conclusion
As we conclude this blog, we are hopeful that it has equipped you to write an impactful SOP for dependent visa.
We are excited to know how you found it though.
So, feel free to tell us your thoughts in the comments below.
If you want us to elaborate on any of the topics covered in this blog, we welcome you.
Best of luck with your SOP writing and we wish you a wonderful time with your loved ones in the foreign country.
Frequently Asked Question [FAQ]
How to write a husband SOP for the dependent visa?
A husband SOP for dependent visa is written by a husband showing his reasons to accompany his wife in a foreign country. It must provide details of their relationship such as marriage, important dates, etc. Refer to our dependent visa sample SOP for spouse visa to get an overview of the format and structure.
Can you write a dependent visa SOP for me on short notice?
Yes, we offer you a fast-track SOP writing service by which you can get your completed SOP for documentation within 24 to 48 hours. Please note that this is a premium service and thus is slightly more expensive than the normal SOP writing costs.
How does dependent visa work?
A dependent visa enables family members or relatives of a primary visa holder to accompany them in the foreign country where they live.
Should I mention my plans for work on my dependent visa SOP?
First of all, you need to verify whether it is allowed to work while you are on a dependent visa in a foreign country. While some countries, for instance, the UK, allow dependents to work, some countries don't. If you have permission to work and you intend to work, it is advised to mention that on your statement of purpose for dependent visa.
Who can apply for a dependent visa?
It depends on the immigration rules of the country you intend to go to. Generally speaking, a spouse or partner, minor children, parents/grandparents and close family members like siblings are eligible to apply for dependent visa.