Are you wondering how to write an effective SOP for France student visa? Welcome to your ultimate guide that would help you secure the visa!
You must be here you're dreaming of studying in France. Or perhaps, you are curious to know the magic behind a compelling visa SOP for France.
Anjit VS SOP Writing Services has got seasoned SOP writers to help you draft a winning France SOP. Master the art of writing a strong visa SOP for France in this article. Also, check out our SOP sample for France to understand the right approach, tone, language, and presentation skills.
With professional assistance, you can get approval for your visa in France to pursue higher education in one of its esteemed institutions.
In this article, we have included:
What is SOP for France Student Visa?
How to write an SOP for France student visa?
Format & Samples for better understanding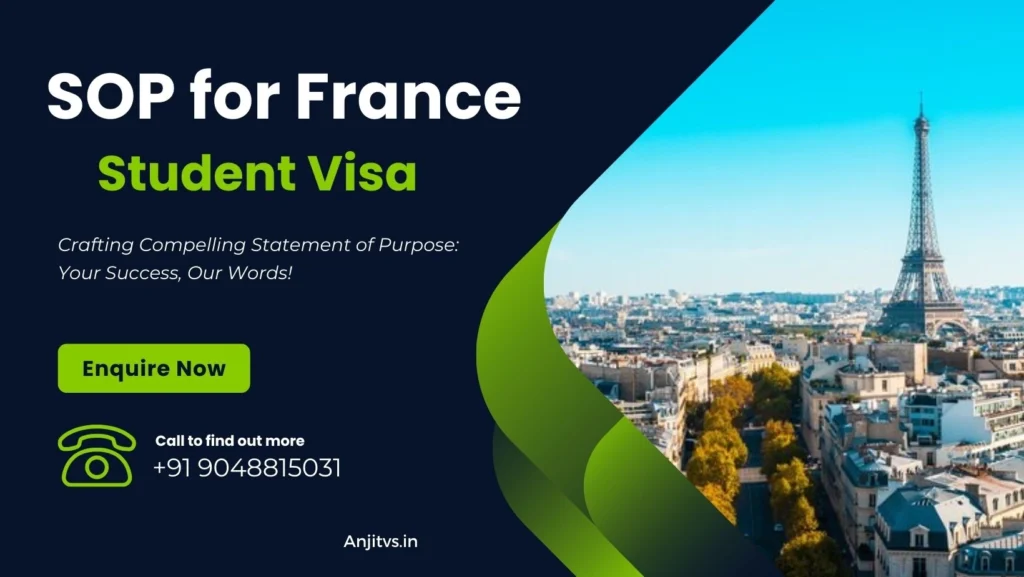 What is SOP for France Student Visa? Why is it Important?
A Statement of Purpose (SOP) for France Student Visa is a golden opportunity for candidates to showcase their aspirations and intent to the french visa officers. It voices your ideas, conveying the reason which makes you the perfect fit for the target institution.
Writing an effective SOP for France student visa is crucial because:
It reflects your academic goals
Explains your academic journey aligns with your future endeavors
Portrays a vivid picture of your genuine passion and commitment
Prove that you would be a valuable addition to the institution
Therefore, your SOP France is a crucial academic document where you start your journey for your higher education.
How to Write SOP for France Student Visa?
Writing a successful SOP for France student visa requires you to be original and unique. The SOP should reflect your personality, demonstrating the key reasons why the visa officials should grant you the study permit. So, make sure to be comprehensive with your approach to writing these SOPs. A well-crafted SOP must include your academic and non-academic background, professional goals, hobbies, relevant professional experience, and other details.
Check out an SOP sample for France to understand the right approach in drafting these documents. Check out the format and structure of your letter of intent for France that can fetch you a berth for you.
Introduction
The introduction should be engaging enough to hook the visa officials to the SOP.
Articulate the key reason for choosing the particular program in the specified university.
Explain your motivation in the particular program in the introductory paragraph.
Share your experience in the chosen field to grab the attention of the officials.
Start the SOP with a problem-solving concept that prompted you to choose the desired course.
Second paragraph
In the second paragraph of your visa SOP for France, share experiences relevant to your field of learning.
Discuss your graduation studies that helped you decide the area of specialization.
Share relevant experiences related to projects and internships that helped you gain practical knowledge.
Third paragraph
As demonstrated in the SOP sample for France, discuss your approach to overcoming challenges in your life in the third paragraph of your France SOP.
You may include both professional and personal setbacks related to the academic program.
Demonstrate how you overcame those hurdles.
Contextualize the lesson you acquired through these experiences.
Fourth paragraph
To make your SOP for France student visa, discuss your participation in extracurricular activities in the fourth paragraph.
Write about competitions where you participated and your hobbies related to the field.
Mention your participation in workshops or certificate courses you underwent to elevate your skills.
Focus on your social work and volunteering experiences that upgraded your professional profile.
Fifth paragraph
In the fifth paragraph of your SOP for France student visa, discuss your technological knowledge and previous work experiences.
Start this paragraph with your experience and the name of the company
Mention the domain where you specialize or the positions where you worked
Explain the technology or software you are proficient in
Focus on the projects that you were a part of
In case you don't have relevant experience, write about your internships
Conclusion
Your statement of purpose for France needs a strong conclusion, that makes it compelling. The concluding paragraph should focus on these aspects:
Your professional goals, both short and long-term
Your expectations from the chosen university
The aspects of the institution that are unique to you
How you can contribute further to the institution
How you plan to contribute to the society after completing the program
How to format an SOP France?
Formatting and presenting your SOP for France student visa makes it perfect. Here's what we recommend to students when it comes to structuring the SOP and choosing the format.
Word Count:
Around 1000, unless otherwise specified.
Font:
Times New Roman, Arial, or any other professional font
Font Size:
Stick to the 12-point font size for clarity.
Margins:
Maintain a standard 1-inch margin on all sides.
Spacing:
Choose single spacing or 1.5-line spacing for neatness.
Tone:
Maintain a professional and sincere tone throughout the SOP.
Remember, the formatting of your SOP enhances the art of your narrative. So, it's crucial to keep it clean and organized to maximize the visual appeal.
SOP Sample for France Student Visa
Here's an SOP for France student visa PDF that you can download for your convenience. On reading this SOP sample for France, students can get a comprehensive idea of how to draft them.
To
The Visa officer,
High Commission of France,
New Delhi
Subject: Application for French Student Visa
Respected Madam/Sir,
I hereby introduce myself as Suraj Agarwal, a permanent resident of India, willing to pursue an academic program in France. My fascination with mechanical engineering has significantly shaped my academic profile. I am drafting this SOP to apply for my study permit, given that I have received the letter of acceptance from the University of Paris to pursue a Master's degree in Mechanical Engineering at the esteemed institution. I have completed my B.Sc. in mechanical engineering from Delhi University, India and have three years of relevant industry experience. Standing at the crossroads of a dynamic academic journey and a happening career, I believe that further specialization in my area of interest can propel me further into the industry.
I hail from Delhi, and have enjoyed a supporting academic environment in a business family in India. My father owns his manufacturing firm of electrical components in our city. My mother is a librarian at a government organization in Delhi. Both my parents have motivated me to pursue higher education from a globally recognized university. I feel the urge to offer better professional value to my employer while embracing a progressive career. This explains why I decided to pursue this course from France three years after completing my graduation.
Academic records
My obsession with mechanical components largely influenced my academics and professional goals. I remember dismantling my father's scooter when I was twelve. Even, I didn't spare our household appliances, which used to keep me obsessed.
I grew up at a time when advanced industrial processes were making their way into the Indian markets. Keeping myself abreast with these developments, I found a keen interest in mechanical engineering. Naturally, I decided to embrace mechanical engineering in my graduation after I bagged 97% in Science in my Intermediates. Academically, I have been consistent all these years, besides being proactive in extracurricular activities.
In 2018 and 2010, I cleared my Secondary and Higher Secondary Examinations, aggregating 87% and 93% marks, respectively. Next, I got myself admitted to Delhi University to pursue my Bachelor's degree in Mechanical Engineering. It was a pleasure for me to study in this dynamic institution. I also interned at L&T for three months as a part of this academic program. This helped me gain hands-on experience in the construction sector. It was a crucial learning curve for me, as I mastered advanced software used in mechanical construction and large infrastructure projects. In 2020, I completed my graduation with a CGPA of 8.6.
The scope of being in the learning loop throughout my career and exploring new technologies fuels my love for this profession.
Professional experience
My performance at L&T paid off, and the company offered me a full-time position as a junior engineer. The company recognized my dedication to tackling intricate mechanical challenges and collaborating seamlessly with multidisciplinary teams. I was glad with my progress, and continued with my innovative contributions. The experience gained from hands-on projects and mentorship helped me stand out. The scope not only transformed my professional skills, but also propelled me closer to my professional goals. Over the last three years, I worked on five infrastructure projects, including the construction of metro railway in the city.
Now that I have gained the initial exposure to the industry, I look forward to enhancing my skills in the field of mechanical engineering.
Why Master's degree in Mechanical Engineering?
Pursuing a Master's degree in Mechanical Engineering aligns with my passion for in-depth knowledge to explore advanced engineering concepts and their practical applications. This will help me specialize in a specific area of mechanical engineering, gaining a comprehensive understanding of complex topics. Particularly, I would like to explore the concepts of thermodynamics, fluid dynamics, and materials science.
A Master's degree will equip me with specialized skills and knowledge, making me a more competitive candidate in the competitive job market in India. This course will also provide me with opportunities for leadership roles in cutting-edge projects. Additionally, it will foster connections with experts and peers, enabling collaborative learning and exposure to diverse perspectives.
Also, Master's program will open up research opportunities for me. I look forward to contributing to advancements in the mechanical engineering field in India. This aligns with my aspiration to make a meaningful impact in the field by addressing real-world challenges and driving innovation. Therefore, the Master's degree will help me to excel as a well-rounded and accomplished mechanical engineer in India.
Why University of Paris?
Choosing the University of Paris to pursue my Master's degree was a strategic decision. This is a prestigious institute, and students across the globe enroll here to spearhead their professions. I would like to be a part of this vibrant academic environment in Paris. Besides, the city has a unique blend of historical significance and modernity that can enrich my academic journey.
The University of Paris is known for its exceptional faculty and cutting-edge research opportunities in mechanical engineering. The university's commitment to fostering international collaboration aligns with my goal of learning from diverse perspectives and expanding my global network.
I have also checked out the academic curriculum of the university. The course modules are perfectly aligned with my professional goals. This explains why I decided to pursue the program from this academic institute.
Financing the course
Financially, we are well-poised, and have adequate funds to pursue this program. I have evaluated the financial requirements to pursue this course in France. I am attaching my financial details and the receipts of fees paid to the university along with this application for your scrutiny.
Conclusion and final appeal
As an avid learner, I continue with my quest for knowledge at an esteemed university that would take me closer to my professional goals. I hereby request you to scrutinize my application carefully and grant me the study permit.
I am waiting for a positive response from your end.
Thank you for your consideration and time
Suraj Agarwal
Pro Tips to Compose a France SOP
Follow these tips to draft a powerful admission essay, just like the one given in the SOP for France student visa PDF.
Personalized Story:
Share your unique academic journey, highlighting experiences that shaped your personal growth trajectory.
Professional Goals:
Explain your professional objectives, demonstrating how they align with your long-term goals.
Research Institutions:
Carry out relevant research on the target institution, showcasing your knowledge about their ethics, values, and programs.
Academic Background:
To make your France SOP for visa effective, align your academic background to the selected course.
Motivation and Passion:
Your SOP should convey your passion and enthusiasm for your field of study. Therefore, you need to craft the tone and pitch strategically.
Motivation and Passion:
Rather than narrating your academic journey and achievements, showcase or reflect it through examples and anecdotes.
Language Proficiency:
To demonstrate your language proficiency in English, stick to a refined vocabulary. The quality of your SOP for France student visa largely defines your competence in the language.
Cultural Fit:
When you draft your visa SOP, express your enthusiasm about immersing yourself in the French society and culture.
Unique Perspective:
We recommend our clients highlight diverse perspectives or experiences to make their applications stand out.
Professional Support:
Don't hesitate to reach out to established SOP writers to help you with the document. With experienced hands drafting your SOP, chances of selection would be higher.
Guidelines to Write France Student Visa SOP
Let's check out some specific guidelines for writing effective SOPs for some of the renowned universities in France.
SOP for Sorbonne University
Write about the university's tradition, appreciating the enriched academic legacy of this institution
Explain how your chosen program aligns with your academic interests and goals
Demonstrate that you are aware of the research initiatives of the university relevant to your field
Mention the names of professors or research teams whom you want to work with
Express your eagerness to engage with the culture of the university while studying
SOP for University of Paris
Express your enthusiasm about the innovative programs offered by the university
Explain how you plan to benefit from the interdisciplinary approach and diverse academic resources
Write about your campus involvement, particularly in activities, clubs, or events
Demonstrate how studying at the University of Paris would change your global perspective
SOP for Paris Saclay University
Showcase your interest in the university's research-oriented environment
Express your eagerness to engage in interdisciplinary projects at the university
Discuss how the partnerships of the university align with your professional goals
Highlight your enthusiasm for the technological resources available in the university
SOP for Aix-Marseille University
Express your excitement about studying in the vibrant Mediterranean city in France
Explain how your studies could contribute to the economic growth in the region
Focus on your proficiency in French, considering the linguistic importance of the region
Demonstrate how your academic background connects cultures and enhanced the learning community
SOP for Grenoble Alpes University
Write about the unique academic infrastructure of this university aligns with your academic goals
Share how the surroundings resonate with your interests outside the classroom walls
Focus on the contributions of the university to edge-cutting research
Express your views on the commitment to sustainability of the university
This way, you can tailor your document just like the SOP sample for France and express genuine interest through your application.
Writing SOP for Popular Courses in France
Crafting a compelling SOP for France student visa calls for creative strengths and professional knowledge on how to make them inviting. Whether you're eyeing a PG, UG, Ph.D., MS, Diploma, MBA, or any other program, you need a strong SOP for visa.
We provide SOP for France student visa writing services for students from different academic backgrounds and academic levels. Here are some of the popular courses in France for which we churn out compelling SOPs.
SOP for PG in France
SOP for UG in France
SOP for Ph.D. in France
SOP for MS in France
SOP for Diploma in France
SOP for MBA in France
SOP for MS in Computer Science in France
SOP for MS in Psychology in France
SOP for MS in Data Analytics in France
SOP for BBA in France
SOP for nursing in France
SOP for hotel management in France
SOP for hospital management in France
SOP for PhD in France
SOP for Business Administration in France
SOP for MS in cybersecurity in France
Requirements for France Student Visa
Obtaining a study permit in France requires applicants to meet specific requirements. To help you stay prepared for your new academic journey, here's a comprehensive list of documents you'd require.
Acceptance Letter:
Admission offer from a recognized French institution.
Financial Proof:
Explain that you can cover tuition fees, living expenses, and incidental costs.
Health Insurance:
Comprehensive health coverage during your stay.
Valid Passport:
Ensure your passport is valid for the duration of your stay.
Language Proficiency:
Adequate IELTS or TOEFL scores (if applicable).
SOP:
A compelling essay outlining your study goals and intentions in France.
Passport Photos:
Recent passport-sized photos as per the specifications.
Your SOP serves as a crucial element that highlights your academic goals and motivations. Along with drafting a document as engaging as the SOP for France student visa PDF, make sure to furnish these documents.
Conclusion
Have you checked out the SOP for France student visa PDF? Are you now equipped with the knowledge to draft an SOP that could satisfy visa officers? Understanding how to write a powerful SOP for France student visa can help you obtain a study permit.
We're eager to know how this blog has guided you, and whether you found the insights helpful. Your feedback is invaluable to us as we strive to refine to deliver better SOP for France student visa to aspirants. We are not just competent SOP writers. We are your partners, helping you to transform your academic dreams into reality. Feel free to reach out to us for an SOP for France student visa. Experienced writers on our platform would deliver the needful within the stipulated time frame.