So, you want to study hospitality management at your favourite college but are not sure if you would ever make it there. There are some definite factors that influence your admission and the most important one among them is SOP for hospitality management.
If you have been on a long search for tips and writing format for a statement of purpose for hospitality management, here you are. This blog covers everything you need to about this document such as:
How to write SOP for hospitality management?
What information to provide in the hospitality management SOP
Free Sample SOP for hospitality management
What is SOP for Hospitality Management?
A Statement of purpose or SOP for hospitality management is the iteration of a few fundamental pieces of information about you in the context of your application for hospitality management at a specific institute.
Why Do You Need an SOP for Hospitality Management?
At the time of reviewing your application to hospitality management, the admission officers may want clarity on some data or documents you have submitted. An SOP comes in at this stage.
It reveals who you are and why you deserve admission.
It explains how your previous courses and professional tenures are relevant to hospitality management
It helps you demonstrate your skills and strengths with a solid background and context
It shows how you are different from other applicants and gives you a competitive edge during screening
It enables you to convince the admission panel about your future academic and professional goals
Need Help In Writing SOP for Hospitality Management?
Essential Guidelines for Writing an SOP for Hospitality Management
Never copy from the SOP sample for hospitality management to compose your document.
Ensure compliance with the format and word count recommended by the university
Refer to sample sop for hospitality management to understand what you are expected to focus more in your statement of purpose
Avoid repetition. Every word counts in SOP and anything that gets repeated wastes your time and opportunity to impress selectors
Present an SOP that does not suffer from grammatical or spelling mistakes and uses correct punctuation.
What Should be Included in an SOP for Hospitality Management?
An ideal SOP would clarify all sorts of questions that the selection committee would usually require verification for at the time of application screening. So, include the following information in your statement of purpose for hotel management.
Your turning point:
How were you introduced to the domain of hospitality/hotel management and what you have done to this day to learn more about it – talk about reading, research, or any other steps you have taken to improve your domain knowledge.
Background information:
Write about your previous academic programs and how much relevance they have to hospitality management. Similarly, write a few sentences about the professional roles you handled and what skills, strengths and exposure you gained that would benefit you while studying hospitality management.
Motivation for hospitality:
Demonstrate your motivation for the hospitality industry elaborating why it appeals to you. Put more perspective into your writing by accounting for your experiences at a restaurant, of travelling or waiting on the guest.
Why you are suited for this problem:
Show in what ways you stand out from other applicants for the program, your unique strengths and skills for instance. This will make it easier for your selectors to have a well-informed final take on your application.
Why this institute and country:
Specify the factors that attracted you towards this particular university/college and country. For the country, mention a few current facts that make it an ideal place to study hospitality management, for instance, the significance of tourism in the country.
Academic aspirations and goals:
Show whether you will still be pursuing higher studies and research in hospitality management after leaving college or landing a career instead. Your academic and career aspirations must be clearly spoken in the SOP.
Need Help In Writing SOP for Hospitality Management?
How to Write an SOP for Hospitality Management in The Right Format?
Here are the format and steps for writing your statement of purpose for hospitality management. Go through it carefully and start working on your document without wasting any time.
Get familiar with the Format:
Knowing the correct format will help you organize your points neatly and logically in an aesthetic manner which in turn will make reading much easier and more pleasant for your reader. Follow the below formatting guidelines.
| | |
| --- | --- |
| Font: | Times New Roman, Ariel, Helvetica or Calibri |
| Font size: | 12 points |
| Alignment: | Justify the text |
| Margin: | 1 inch at the top, bottom and either side |
| Indenting: | Indent the first line of each paragraph or leave an additional line between paragraphs |
| Paragraphs: | Start with an introduction, divide the body into multiple paragraphs based on points and include a conclusion |
Finalize your points:
Next, get some clarity as to what you want to include in your SOP. Refer to the previous point in this blog for the same. Brainstorm and note down the most relevant points to supply in your write-up.
Write the first draft:
Next, write the first draft of your statement of purpose for tourism and hospitality management. Start with an introduction followed by body paragraphs and a conclusion. Don't waste time perfecting any point. Just make a first draft touching upon all the points we implied.
Finalize your essay:
Once you are done with the first draft, come back to the introduction. Check whether it grabs the attention of the reader. If not, improve the way you have presented it. Repeat this for all sections.
Proofread your SOP:
Proofread your statement of purpose keeping an eye out for all sorts of mistakes – grammatical and spelling mistakes, punctuation errors and formatting issues. Also, make sure that your narrative is coherent, well-organized and smooth to read from start to end.
Need Help In Writing SOP for Hospitality Management?
Sample SOP for Hospitality Management
Take a few minutes to analyse the following sample SOP for hospitality management after you are done with writing your SOP. Compare both and see if your writing underperforms in any area.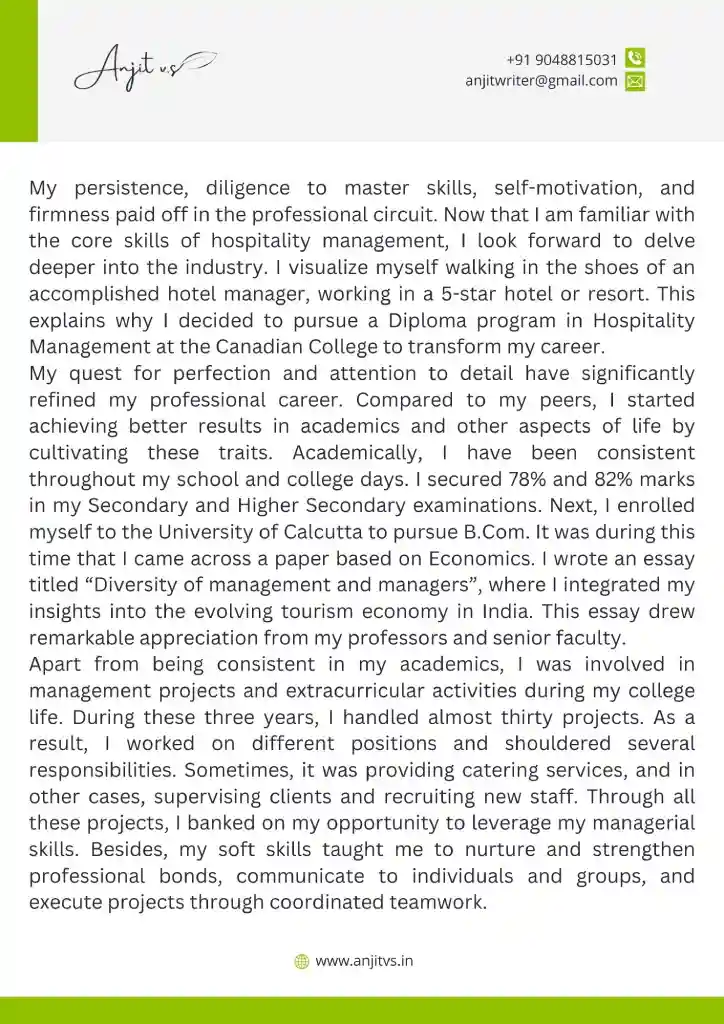 Making the day great for someone else gives me a gratification that no other pursuit can elicit. It's a continual quest for self-happiness by making others happy that drives me to a career in hospitality management. While many of my peers were attracted to the hotel industry due to their scope of traveling, I had other reasons to delve into this profession. I love interacting with people and exploring different cultures. This affinity to dynamism makes me a perfect candidate to excel in the hospitality management sector. In an industry where customer satisfaction holds the key to success, I am confident to find my forte and cherish a dynamic career. I love mingling with people from different walks of life and crafting memorable experiences for then. Over the last decade and a half, I have travelled extensive in my country as well as abroad. This has bestowed me with the opportunity to stay at various hotels. Eventually, I decided to delve into the hospitality industry so that I can mature as an accomplished professional. Considering the professional scope in India, it would be a logical decision or me to pursue this career. A couple of years back, I started working as a tourist manager with one of the reputed travel agencies in India. However, I lack a formal degree in Hospitality Management, which is holding me back from securing promotions.
I capitalized on the opportunity to develop myself intellectually and physically since my childhood. Indulging myself in sports activities like swimming and kabaddi, I went on to win competitions at the state and district levels. Even in my high-school, I led my department to victory in inter-college competitions. An active involvement in all these activities shaped my soft skills, besides inculcating the values of leadership and organization in me. My persistence, diligence to master skills, self-motivation, and firmness paid off in the professional circuit. Now that I am familiar with the core skills of hospitality management, I look forward to delve deeper into the industry. I visualize myself walking in the shoes of an accomplished hotel manager, working in a 5-star hotel or resort. This explains why I decided to pursue a Diploma program in Hospitality Management at the Canadian College to transform my career.
My quest for perfection and attention to detail have significantly refined my professional career. Compared to my peers, I started achieving better results in academics and other aspects of life by cultivating these traits. Academically, I have been consistent throughout my school and college days. I secured 78% and 82% marks in my Secondary and Higher Secondary examinations. Next, I enrolled myself to the University of Calcutta to pursue B.Com. It was during this time that I came across a paper based on Economics. I wrote an essay titled "Diversity of management and managers", where I integrated my insights into the evolving tourism economy in India. This essay drew remarkable appreciation from my professors and senior faculty.
Apart from being consistent in my academics, I was involved in management projects and extracurricular activities during my college life. During these three years, I handled almost thirty projects. As a result, I worked on different positions and shouldered several responsibilities. Sometimes, it was providing catering services, and in other cases, supervising clients and recruiting new staff. Through all these projects, I banked on my opportunity to leverage my managerial skills. Besides, my soft skills taught me to nurture and strengthen professional bonds, communicate to individuals and groups, and execute projects through coordinated teamwork.
It was during the final year of my college that I worked on my most challenging academic project. this endeavour involved managing a project by coordinating with partners from other nations. I led a team of twenty-five students, while around 150 students from six nations participated in the project. It was during this time that I masted the art of motivating people and allocate tasks that they like to bolster our productivity. Besides working with Samrat Travels in the last couple of years, I have diversified my skillset. Working at local cafes and bars to gain professional exposure, I have rubbed shoulders with accomplished hotel managers. In the process, I have been able to identify the pulse of our customers, and strategized means to refine the experience for them. Working with my tourist agency, I am currently responsible for organizing different types of entertainment for our guests and accommodate teams. Thanks to this versatile work profile, I gave gained the opportunity to work at different clubs and collaborate with event management companies. Even while working as an assistant, the feeling that our guests were happy infused me with the essence of gratification. This feeling of goodness keeps me going, as I brace up to acquire an internationally-recognized degree in hotel hospitality management.
Like every industry, the tourism sector in India needs able leadership. Aligning my passion and professional goals, I look forward to streamline my career and indulge in relevant activities. This explains why I decided to pursue this diploma course in my area of interest from your university. After checking the curriculum, I found the modules to be in a perfect sync with my aspirations. Particularly, I am keen to explore the modules on modern hospitality industry, communications, food and beverage management, housekeeping management, supervision in the hospitality industry, front office operation management, facility management, basic hotel accounting, and hospitality revenue management. Besides, this course comprehensively covers relevant modules like managing hospitality HR, planning and controlling food and beverage operations, security management, loss prevention management, crisis management, convention management, hospitality sales and marketing, and technology management in the hospitality industry.
Along with the holistic and pragmatic nature of this course, I would also benefit from the recognition of this course in India. I aspire to work in the managerial position in one of the revered hotel chains in India, like the Taj Group, Oberoi Hotels, or Royal Orchid Hotels. The industry holds a tremendous potential to deserving candidates. As a skilled and certified professional, I look forward to transform my career with this advanced degree and spearhead my professional profile.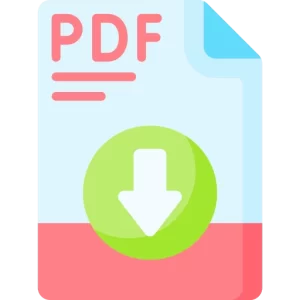 Download SOP for Hospitality Management PDF
Why Study Hospitality Management?
Hospitality management is one of the fastest-evolving industries out there today. Focusing your career on it has many advantages such as:
Better opportunities:
Hospitality management is needed in a variety of settings – hotels, restaurants, resorts, and more. So, there won't be a dearth of opportunities for you after the course competition.
It nurtures your people skills:
Hospitality management demands excellent people skills – leadership, communication, customer care and interpersonal skills. Even if you lack some of these, it nurtures them in you.
Global exposure:
Hospitality is an industry that offers opportunities throughout the world and also is globally connected. It gives you a higher level of global exposure and enhances your acumen.
Hands-on experience:
While pursuing your formation in hospitality management, you will get plenty of chances to immerse yourself in the domain and gain hands-on experience. This will make it pretty easier to find jobs post-course completion.
Need Help In Writing SOP for Hospitality Management?
Top Countries to Study Hospitality Management with an SOP
SOP for Hospitality Management in UK
A solidly written SOP for hospitality management in the UK that shows why you chose the country for your studies will help you find admission at the following top institutions.
University of Plymouth
Ulster University
Coventry University
Northumbria University
University of Surrey
SOP for Hospitality Management in Australia
Australia is a leading country for international students to study hospitality management. You need a tailored SOP for hospitality management in Australia to impress your admission officers and make your way into the best institutes in the country. Here are some top universities for your choice.
Griffith University
University of Queensland
Blue Mountains International Hotel Management School
Bond University
Murdoch University
SOP for Hospitality Management in Canada
Looking to study hospitality management in Canada? Your SOP for hospitality management in Canada breaks or makes your dream. Below is the list of the top institutes to study your favourite course in Canada.
Cape Breton University
Humber College
Okanagan College
University of New Brunswick
Douglas College
SOP for Hospitality Management in Germany
Germany is not only the best place for mechanical engineering but also for hospitality management. Write a powerful SOP for hospitality management in Germany to secure your seat at the following top institutes.
Berlin School of Business and Innovation
Berlin University of Applied Sciences, Dresden
Arden University, Berlin
International University of Applied Sciences
Fresenius University of Applied Sciences
SOP for Hospitality Management in USA
Write a power-packed SOP for hospitality management in USA before you send applications to the following top universities in the USA.
Cornell University
University Of Illinois
Boston University
Michigan State University
Ohio State University
Popular Courses that need SOP for Hospitality Management
Here is a list of popular hospitality management courses/programs. It is important to note that SOP for each program needs to be written from a different perspective and angle to make your profile really look suited to it.
SOP for diploma in hospitality management
SOP for bachelor in hospitality management
SOP for masters in hospitality management
SOP for MBA in hospitality management
SOP for hospitality and management
SOP for hotel management
SOP for tourism and hospitality management
SOP for international tourism management
Conclusion
Voila! That's all it takes to write an SOP for hospitality management. We hope you find this blog extremely helpful in writing your SOP.
Read the steps and guidelines carefully along with the SOP for hotel management pdf samples and you are good to start.
In case you find any difficulties, we are here to help you. Feel free to write any questions, doubts, feedback or suggestions in the comment.