Considering submitting a job application? Do you need an SOP?
If so, continue reading. The SOP for job application plays a significant role in your interview and hiring process, just like other SOPs do. Read our guidelines if you're unsure of how to write an SOP for job.
We will explore:
Easy methods to write sop for job application
Mistakes to avoid and pro tips for making it outstanding
Statement of Purpose for Job Sample
What is SOP for Job?
A Statement of Purpose (SOP) for Job is an explanation of the job seeker's aspirations, emphasizing their interests, professional qualifications, and future goals.
How to write Statement of Purpose for Job Application?
These are steps to be followed if you want to write a powerful SOP for job.
| | |
| --- | --- |
| Check out the job description | You must be aware of the job title, duties, obligations, and functions of the position you are applying for your SOP to be effective. |
| Brainstorm | Think about the points and facts you consider important and want to include in your SOP. Note them down. |
| Organize | Assuming you have covered all the facts, break up your points into separate paragraphs for your educational background, professional experience, skills, and other elements. |
| Balance | Have a polite yet professional tone when writing. |
| Prepare a list of your goals | In your essay, you should discuss your goals for the position and how it will benefit you in the long run. |
Need Help In Writing an SOP for Job? Click Here
Statement of Purpose Sample for Job Application
Even if you know how to write an SOP for job, sometimes it won't clear up your confusion. So here is a statement of purpose for assistant professor job sample to give you a clear idea.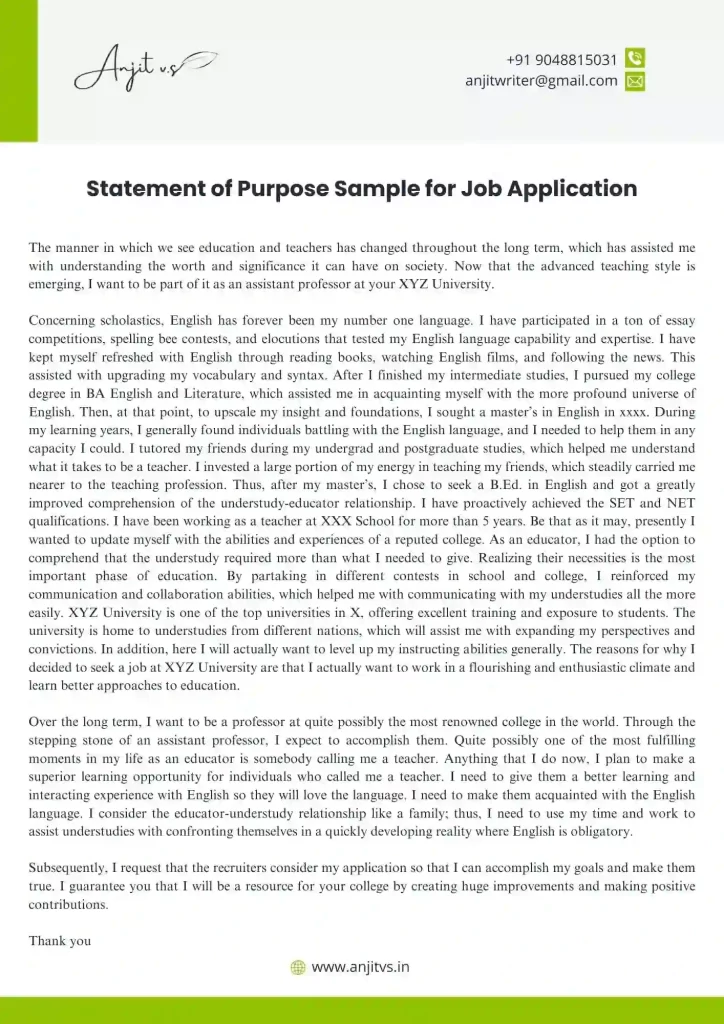 The manner in which we see education and teachers has changed throughout the long term, which has assisted me with understanding the worth and significance it can have on society. Now that the advanced teaching style is emerging, I want to be part of it as an assistant professor at your XYZ University.
Concerning scholastics, English has forever been my number one language. I have participated in a ton of essay competitions, spelling bee contests, and elocutions that tested my English language capability and expertise. I have kept myself refreshed with English through reading books, watching English films, and following the news. This assisted with upgrading my vocabulary and syntax. After I finished my intermediate studies, I pursued my college degree in BA English and Literature, which assisted me in acquainting myself with the more profound universe of English. Then, at that point, to upscale my insight and foundations, I sought a master's in English in xxxx. During my learning years, I generally found individuals battling with the English language, and I needed to help them in any capacity I could. I tutored my friends during my undergrad and postgraduate studies, which helped me understand what it takes to be a teacher. I invested a large portion of my energy in teaching my friends, which steadily carried me nearer to the teaching profession. Thus, after my master's, I chose to seek a B.Ed. in English and got a greatly improved comprehension of the understudy-educator relationship. I have proactively achieved the SET and NET qualifications. I have been working as a teacher at XXX School for more than 5 years. Be that as it may, presently I wanted to update myself with the abilities and experiences of a reputed college. As an educator, I had the option to comprehend that the understudy required more than what I needed to give. Realizing their necessities is the most important phase of education. By partaking in different contests in school and college, I reinforced my communication and collaboration abilities, which helped me with communicating with my understudies all the more easily. XYZ University is one of the top universities in X, offering excellent training and exposure to students. The university is home to understudies from different nations, which will assist me with expanding my perspectives and convictions. In addition, here I will actually want to level up my instructing abilities generally. The reasons for why I decided to seek a job at XYZ University are that I actually want to work in a flourishing and enthusiastic climate and learn better approaches to education.
Over the long term, I want to be a professor at quite possibly the most renowned college in the world. Through the stepping stone of an assistant professor, I expect to accomplish them. Quite possibly one of the most fulfilling moments in my life as an educator is somebody calling me a teacher. Anything that I do now, I plan to make a superior learning opportunity for individuals who called me a teacher. I need to give them a better learning and interacting experience with English so they will love the language. I need to make them acquainted with the English language. I consider the educator-understudy relationship like a family; thus, I need to use my time and work to assist understudies with confronting themselves in a quickly developing reality where English is obligatory.
Subsequently, I request that the recruiters consider my application so that I can accomplish my goals and make them true. I guarantee you that I will be a resource for your college by creating huge improvements and making positive contributions.
Thank you
Download Statement of Purpose for Job Sample PDF
What do you write in a Job SOP?
Several areas must be included in your SOP for Job, including:
| | |
| --- | --- |
| Academic and professional background | The SOP should detail the applicant's prior academic and professional credentials. |
| Experience and skills | Your abilities and expertise may help you get the job you're applying for. To strengthen your claim, highlight your important traits, talents, experiences, and abilities. |
| Motives for applying | There are numerous reasons you would want to apply for this position. Explain them in detail. Explain why you are applying and what drives you. |
| Your suitability | Candidates are judged on their suitability based on their past experiences, skills, and potential contributions. Provide evidence to support your qualifications for the position. |
| Contributions | Describe how you would assist the company grow if you were hired, and your plans to make a contribution. |
| Career objectives | Describe your objectives, both short and long-term, and how you intend to use the position you are applying for to help you reach them. |
Need Help In Writing a Job Purpose Statement? Click Here
Statement of Purpose Format for Job
A solid and properly written SOP for job has the ability to get you your dream job. You may be thinking, "How do I write it?"
Here are the steps:
| | |
| --- | --- |
| Introduction | Provide a brief summary of your educational and professional credentials in your introductory section. Include your justifications for applying for the position as well. |
| Second paragraph | Write about your enthusiasm for this profession or industry here. To get their interest, write about various industry updates, changes, etc. |
| Future ambitions | Discuss your career objectives and how this position will help you accomplish them. When applying to a company, be sure to express your desire and willingness to contribute. |
| Abilities and expertise | If you have any experience that is pertinent to the position for which you are applying, please describe it. Utilize them to demonstrate your suitability for the job. |
| About company | Describe your understanding of what the company does and how you can help it expand. |
| Finish it | Reiterate your most important traits in the conclusion while demonstrating your drive for the position. |
Need Help In Writing an Interview SOP? Click Here
Different Types of SOP for Jobs
Statement of Purpose for Job for Freshers
The SOP for job for fresher emphasises their skills and knowledge for the job they're applying for. As they lack experience, the SOP focuses on the applicant's abilities, qualifications, and conversational skills.
Statement of Purpose for Job with Work Experience
The SOP for job with work experience highlights the professional experience and exposure of the applicant. It also includes the responsibilities, duties, achievements, and key takeaways of the applicant's past work experience.
Statement of Purpose for Government Jobs
Your credentials and experience for a job in the government sector are described in your SOP for a government job. It emphasises your abilities and showcases that you possess the expertise and skill sets needed to serve in the government sector.
Tips to write the best SOP for job application
Pay attention to the writing tips when you create your SOP for job to improve the effectiveness of your writing.
Study the company and the position in detail.
Be precise.
Demonstrate your love and zeal for the profession.
Don't copy other people's SOPs; create your own.
Keep things short and concise.
Don't oversell yourself.
Proofread your writing once you're done.
Don't lie or provide misleading information.
Looking for Quality Statement of Purpose for Applying Job? Click Here
Conclusion
We have now completed our quest to understand the SOP for job applications. Possessing a solid and compelling SOP will help you make the best first impression on recruiters. As a result, give your SOP for the job the attention it deserves.
You should be able to compose your own statement of purpose for a job now that you have our advice in hand. Let us know in the comments if the info is useful to you.