Are you considering law for your higher education? Congratulations. Be ready to take the next step – to write a powerful statement of purpose for your admission to the law school as early as possible. The arena of law school admission is highly competitive. You need an application that is perfect in all respects. In this blog, we are talking about the Statement of Purpose for Law Students.
This blog defines:
What is SOP for Law?
How to write a Statement of Purpose for Law Programs
And a few LLM SOP samples for you to review
What is a Statement of Purpose for Law?
Statement of Purpose for Law is your self-declaration to the admission panel of your chosen law school. In this detailed write-up, you will touch upon several relevant areas such as your academic formation, professional background, skills, and aptitudes. You will say how all of these are linked to your motivation for choosing law as your career choice and selecting that institute for your training in law.
How Does the Selection Panel Assess Your Law SOP?
The selection panel will evaluate your personal statement to make an informed decision about your candidacy. They will try to make sense of the following aspects from your SOP for law.
Your academic and professional background
Whether your write-up gives reasons to consider your application
Whether your career aspirations align with the vision of the institute
What makes you consider this institute for higher studies in law and not any other schools?
In what way does your profile outshine the profile of other applicants?
How do you plan to utilize the institute's resources for your learning of law?
Need Help In Writing Statement of Purpose for Law?
Two Different Types of SOPs You Need to Write as a Law Student
As a law aspirant, you will need to be ready with two different types of SOPs – SOP for LLM which is for your college/university admission and SOP for law internship which is to secure your placement at an organization to practice your skills as a legal trainee.
What is SOP for LLM?
You need to get ready with a Statement of purpose for LLM at the time of seeking admission to the law school. Along with copies of other documents, your application should contain a personalized statement of purpose for LLM pdf.
Role of an SOP for Law in Your Admission to A Law School
Your LLM SOP is meant to convince the selection committee of your law school or university. Its key roles include:
To show that you have the required knowledge and background in law.
To establish that your skills and strengths are relevant and suitable for your formation in law.
To demonstrate how your interest in law was ignited and how you nurtured it as your passion.
To illustrate your future ambitions as a law graduate.
To prove that you have the potential to contribute to the institute's goodwill and will be a good addition to its student community.
Need Help In Writing Statement of Purpose for Law?
Sample SOP for LLM (Masters)
Look at the sample SOP for law students to understand how you can write a personalized version of the SOP from scratch using your own insights.
Sample SOP for LAW in UK university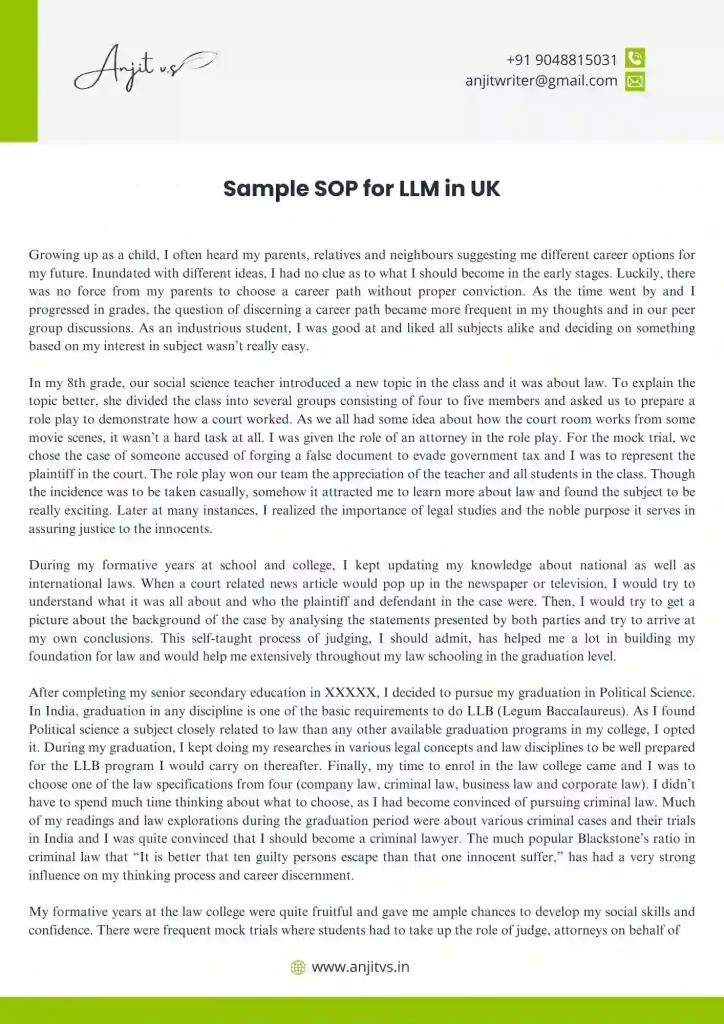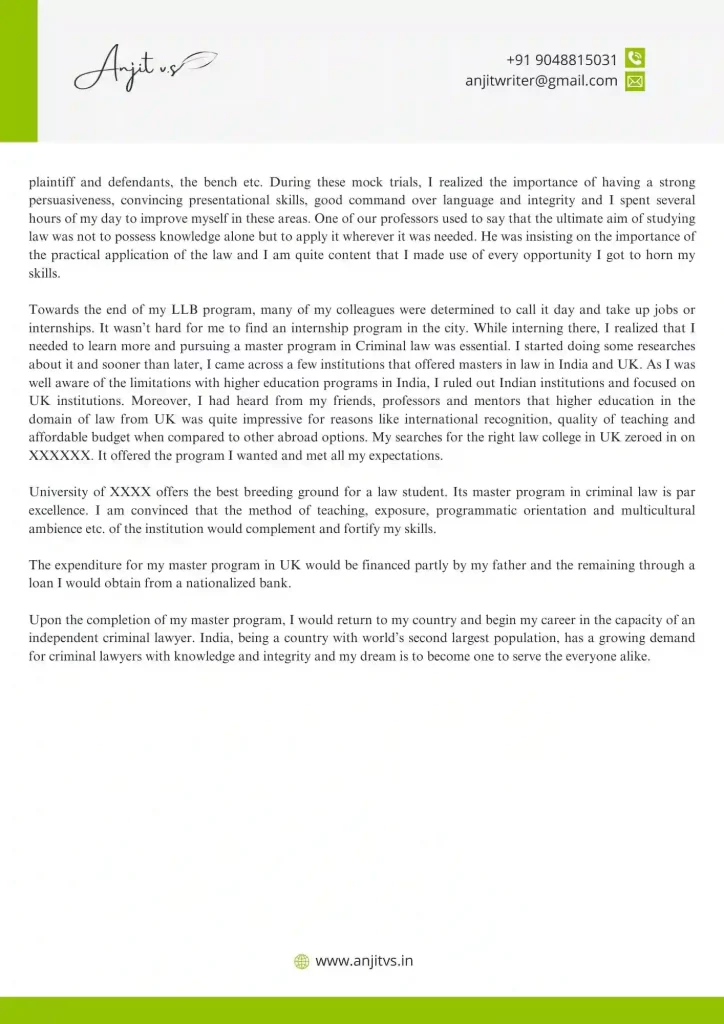 Growing up as a child, I often heard my parents, relatives and neighbours suggesting me different career options for my future. Inundated with different ideas, I had no clue as to what I should become in the early stages. Luckily, there was no force from my parents to choose a career path without proper conviction. As the time went by and I progressed in grades, the question of discerning a career path became more frequent in my thoughts and in our peer group discussions. As an industrious student, I was good at and liked all subjects alike and deciding on something based on my interest in subject wasn't really easy.
In my 8th grade, our social science teacher introduced a new topic in the class and it was about law. To explain the topic better, she divided the class into several groups consisting of four to five members and asked us to prepare a role play to demonstrate how a court worked. As we all had some idea about how the court room works from some movie scenes, it wasn't a hard task at all. I was given the role of an attorney in the role play. For the mock trial, we chose the case of someone accused of forging a false document to evade government tax and I was to represent the plaintiff in the court. The role play won our team the appreciation of the teacher and all students in the class. Though the incidence was to be taken casually, somehow it attracted me to learn more about law and found the subject to be really exciting. Later at many instances, I realized the importance of legal studies and the noble purpose it serves in assuring justice to the innocents.
During my formative years at school and college, I kept updating my knowledge about national as well as international laws. When a court related news article would pop up in the newspaper or television, I would try to understand what it was all about and who the plaintiff and defendant in the case were. Then, I would try to get a picture about the background of the case by analysing the statements presented by both parties and try to arrive at my own conclusions. This self-taught process of judging, I should admit, has helped me a lot in building my foundation for law and would help me extensively throughout my law schooling in the graduation level.
After completing my senior secondary education in XXXXX, I decided to pursue my graduation in Political Science. In India, graduation in any discipline is one of the basic requirements to do LLB (Legum Baccalaureus). As I found Political science a subject closely related to law than any other available graduation programs in my college, I opted it. During my graduation, I kept doing my researches in various legal concepts and law disciplines to be well prepared for the LLB program I would carry on thereafter. Finally, my time to enrol in the law college came and I was to choose one of the law specifications from four (company law, criminal law, business law and corporate law). I didn't have to spend much time thinking about what to choose, as I had become convinced of pursuing criminal law. Much of my readings and law explorations during the graduation period were about various criminal cases and their trials in India and I was quite convinced that I should become a criminal lawyer. The much popular Blackstone's ratio in criminal law that "It is better that ten guilty persons escape than that one innocent suffer," has had a very strong influence on my thinking process and career discernment.
My formative years at the law college were quite fruitful and gave me ample chances to develop my social skills and confidence. There were frequent mock trials where students had to take up the role of judge, attorneys on behalf of plaintiff and defendants, the bench etc. During these mock trials, I realized the importance of having a strong persuasiveness, convincing presentational skills, good command over language and integrity and I spent several hours of my day to improve myself in these areas. One of our professors used to say that the ultimate aim of studying law was not to possess knowledge alone but to apply it wherever it was needed. He was insisting on the importance of the practical application of the law and I am quite content that I made use of every opportunity I got to horn my skills.
Towards the end of my LLB program, many of my colleagues were determined to call it day and take up jobs or internships. It wasn't hard for me to find an internship program in the city. While interning there, I realized that I needed to learn more and pursuing a master program in Criminal law was essential. I started doing some researches about it and sooner than later, I came across a few institutions that offered masters in law in India and UK. As I was well aware of the limitations with higher education programs in India, I ruled out Indian institutions and focused on UK institutions. Moreover, I had heard from my friends, professors and mentors that higher education in the domain of law from UK was quite impressive for reasons like international recognition, quality of teaching and affordable budget when compared to other abroad options. My searches for the right law college in UK zeroed in on XXXXXX. It offered the program I wanted and met all my expectations.
University of XXXX offers the best breeding ground for a law student. Its master program in criminal law is par excellence. I am convinced that the method of teaching, exposure, programmatic orientation and multicultural ambience etc. of the institution would complement and fortify my skills.
The expenditure for my master program in UK would be financed partly by my father and the remaining through a loan I would obtain from a nationalized bank.
Upon the completion of my master program, I would return to my country and begin my career in the capacity of an independent criminal lawyer. India, being a country with world's second largest population, has a growing demand for criminal lawyers with knowledge and integrity and my dream is to become one to serve the everyone alike.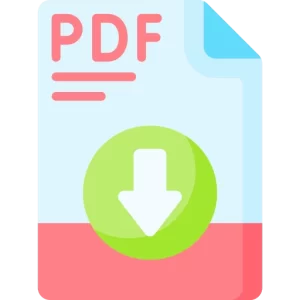 Download Sample SOP for LLM in UK
Pro Tip: A SOP for law which contains mistakes will create a very bad impression about you. So, make sure that is foolproof before you submit it.
Need Help In Writing SOP for LLM? Click Here
Top Countries to Study Law and Writing SOP for Them
Below is the list of top countries to study law. Before you write an SOP for any of these countries, try to analyse the legal system in those countries to enhance your perspective.
| | |
| --- | --- |
| USA | Write a tailor-made SOP for law in the USA if you are planning to study law at any of the reputed colleges or universities in the country. |
| UK | Many modern nations have the origin of their legal system from the UK. Studying law in the United Kingdom requires a profound SOP for law in the UK. |
| Australia | Prepare an honest SOP for law in Australia if you are planning to pursue your law graduation from any of the institutes in Australia. |
| Canada | Speed up your admission to the best law college in Canada by writing a convincing SOP for Law in Canada. |
Pro Tips for Writing an Impeccable SOP for LAW
Use simple language
The point is to make your thoughts easily communicated to the reader. If the reader misunderstands what you say, your SOP fails.
Make it personal
Add your personal touch by carefully developing it from your personal story.
Reflect your passion for law
Remember to show the reader that you have chosen law out of passion and not out of convenience.
Customize for the institute
Get to know about your preferred institute and write a customized SOP that meets everything that it demands from you.
Give convincing examples
Don't make empty claims. You need to provide your admission committee with convincing evidence of your achievements and skills.
Looking for the Best SOP Writers for LLM? Click Here!
Top Ten Law Schools in The World
Want to study law at the best institute in the world? Here is a list of institutes you can consider for your application.
The University of Melbourne
The University of Oxford
The University of Cambridge
University of Windsor
Yale University
The University of Chicago
Australian National University
University of New South Wales (UNSW Sydney)
University College London
Schulich School of Law at Dalhousie University
Popular Professions to Choose After Law Graduation
Wondering what career path to choose after law graduation? In fact, understanding this will help you while drafting your Statement of Purpose for Law Students. Here is a list of the twenty most popular professions to hop on after completing your graduation in law.
Employment Lawyer
Estate Planning Lawyer
Labour Lawyer
Personal Injury Lawyer
Family Lawyer
Contract Lawyer
Toxic Tort Lawyer
Malpractice Lawyer
Real Estate Lawyer
Estate Planning Lawyer
Bankruptcy Lawyer
Civil Litigation Lawyer
Civil Rights Lawyer
Constitutional Lawyer
Corporate Lawyer
Criminal Lawyer
Environmental Lawyer
Estate Planning Lawyer
Family Lawyer
Immigration Lawyer
Conclusion
Congratulations.
You have enhanced your perspective on writing a statement of purpose for law students.
Are you ready to compose your document now?
Try out the tips and steps we shared with you. And if you come across any doubt, we are here to help you.
In case you want us to clarify anything, let us know in the comments section below.