Are you pondering how to write an impactful SOP for engineering management to woo your selection committee? With the rising demand for engineering programs and the ever-growing competition to get admission to the best institutes, SOP comes to play a more important role than ever before.
Through this article, we will help you become familiar with:
What is a statement of purpose in engineering management?
How to write an SOP for Ms in engineering management?
How to use SOP samples for engineering management for your better understanding.
What is SOP for Engineering Management?
A statement of purpose or SOP for engineering management is a written document that a student will include in his or her application to a college or university when they apply for higher education in engineering management. This document provides students with a chance to explain to their selection committee why they deserve admission to the course and what makes them stand out as a student and as a member of their student community.
SOP for Masters in Engineering Management with Work Experience
Students with work experience in engineering management or a related field can impress the admission officers even better by touting their experience. For this, you will especially write an SOP for Ms in Engineering Management with work experience.
Benefits of Having a Good Statement of Purpose for Engineering Management
By having an outstanding and tailor-made SOP for engineering management in your application, you can enjoy the following benefits.
It helps you attract the attention of your selectors more easily.
It helps you establish why you deserve admission to the engineering management program offered by a certain university or college.
It helps you highlight your potential to succeed in the engineering management program.
It enables you to talk about your career aspirations in the domain of engineering management.
It lets you demonstrate how you are going to contribute to the college or university that is hosting you.
Need Help In Writing a SOP for Engineering Management? Click Here
How to Write a Statement of Purpose For Ms In Engineering Management?
Ready to write your engineering management SOP? Here is a step-by-step guide to help you.
| | |
| --- | --- |
| Step 1: Write an introduction: | The first paragraph of your SOP is going to be the introduction where you will describe how you got driven to engineering management. To make it catchy to read and sound more personal, you can use an anecdote as the backdrop of your narrative. |
| Step 2: Write about your background: | In the ensuing paragraph, talk about your academic and professional backgrounds and how closely both are related to engineering management. List your key achievements and learnings from these with examples and show how they will benefit you during your engineering management course. |
| Step 3: Extracurricular involvements: | Talk about your involvement in extracurricular activities like sports or drama or whatever highlighting some of your unique skills like management skills, organizational skills, or communication skills. These skills can make you stand out among other applicants. |
| Step 4: Motivation for engineering management: | In this paragraph, drill down to explain more about your choice of engineering management. Write why you think you are a good fit for this program and why this program and no other program attract you. |
| Step 5: Why this college: | Here, explain why you are especially interested in this college. You can google the institute's reputation, course structure, availability of academic and non-academic resources etc. and justify your institute selection. |
| Step 6: Why this country: | If you have opted for a foreign country for your engineering management program, it is important to show why studying in that country matters to you. You can highlight the country's unique position in the global ranking of industrial development as a reason to show why you are driven to choose it as your higher study destination. |
| Step 7: Career aspirations: | Here, talk about what you are planning to do after graduating in engineering management. You must talk about your immediate plans as well as long-term plans. Do not forget to highlight your desire to return to your home country. |
| Step 8: Write an apt conclusion: | Conclude your statement of purpose by summarizing all your points in a nutshell. Express your hope of getting selected and pursuing your engineering management program at the institute. |
Looking for Expert SOP Writers for Engineering Management? Click Here
Sample SOP for Engineering Management
Look at this engineering management SOP pdf. See how the writer has used his personal story to create interest in the reader and then smoothly slid to explaining the key points.
Download Sample Engineering Management SOP PDF
Sample SOP for MS in Engineering Management
In this sample statement of purpose for masters in engineering management, you can see how the writer uses his specific work experience and exposure to establish a powerful motivation for the course selection.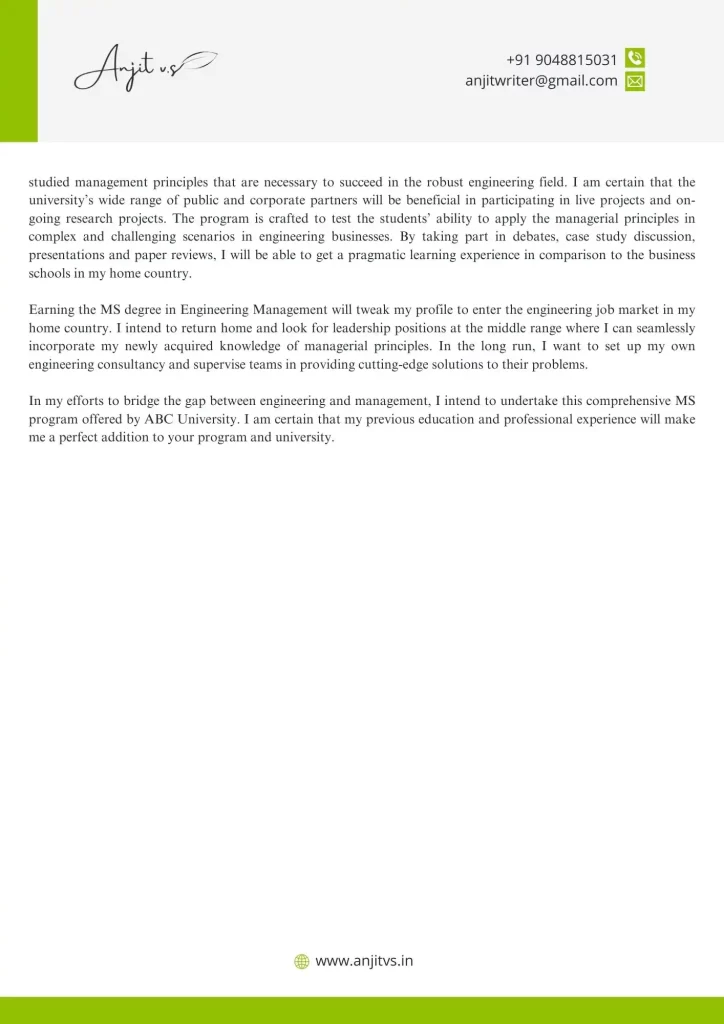 Management is an indispensable element in every sector and its significance is emerging as institutions are growing in complexity. Though management is a blanket that applies to diverse domains, there are aspects that make it unique too. As a professional engineer with substantial experience, I have been observing the dynamics of management and engineering. Over the past few months, I have come to realise that my previous education is not adequate to manage large teams and steering them towards project success. Hence, in order to make a career transition from an engineer to a holistic manager in the engineering sector, I am applying to the MS in Engineering Management offered by ABC University.
I have been a smart and brilliant addition to my class since my school days. I stood out owing to my curious nature and sharp mind that is constantly searching for answers. After completing my high school with a strong academic record, I enrolled in the Mechanical Engineering program at XYZ University. This was my first step towards my formal introduction to engineering concepts and various principles. I was very fascinated by the courses and actively took part in research initiatives in machine design, manufacturing and automation. The curriculum also helped me form a basic understanding of management through courses like Facilities Management, Operations Management and Entrepreneurship. I also was the Secretary of the Innovation Club at the university level, where we worked relentlessly to transform engineering business ideas into reality. My involvement with the club was instrumental in developing my critical thinking, problem-solving and leadership skills.
On graduating as a valedictorian, I was placed at FNG Inc in the capacity of a Mechanical Engineer. My roles and responsibilities were focused on creating innovative designs and analysing them in accordance with the clients' demands and budgets. I was involved with cross functional teams which helped me realise the significance of project management in achieving team objectives. In various circumstances I have taken the initiative as a Project Coordinator to expand my scope in certain projects. These endeavours helped me take up responsibilities like project planning, assigning project duties, risk management, teamwork, client management etc.
Over the past three year tenure at FNG Inc, I witnessed that administrators and engineers frequently shared distinct perspectives on the project milestones and achievements. This difference in viewpoints emphasises the necessity of having a solid understanding of managerial concepts. This will aid in enhancing the communication between engineers and managers thereby facilitating the achievements of project goals. I learned about the MS in Engineering Management at ABC University through my research and conversations with academic and industry experts. The USA serves as an ideal environment for my higher education owing to excellent offerings of top tier management and engineering universities. Together with the high calibre program structures, the country is known for their investment in expert faculty. A resilient research culture is prevalent in the USA which will help me cultivate a mindset that concentrates on research together with acquiring valuable learning experiences.
ABC University is reputed for its strong emphasis on crafting students for innovation and change. The university strives to perfect the students' skills and potential to help them translate their ideas into business realities in the engineering arena. The MS program in Engineering Management is delivered by expert professors who have deeply studied management principles that are necessary to succeed in the robust engineering field. I am certain that the university's wide range of public and corporate partners will be beneficial in participating in live projects and on-going research projects. The program is crafted to test the students' ability to apply the managerial principles in complex and challenging scenarios in engineering businesses. By taking part in debates, case study discussion, presentations and paper reviews, I will be able to get a pragmatic learning experience in comparison to the business schools in my home country.
Earning the MS degree in Engineering Management will tweak my profile to enter the engineering job market in my home country. I intend to return home and look for leadership positions at the middle range where I can seamlessly incorporate my newly acquired knowledge of managerial principles. In the long run, I want to set up my own engineering consultancy and supervise teams in providing cutting-edge solutions to their problems.
In my efforts to bridge the gap between engineering and management, I intend to undertake this comprehensive MS program offered by ABC University. I am certain that my previous education and professional experience will make me a perfect addition to your program and university.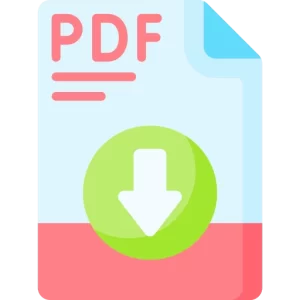 Download Sample SOP for MS in Engineering Management
Skills to Highlight in an SOP for Engineering Management
If you want to make your admission go smoothly, you need to have the best SOP for MS in engineering management with some of the following skills highlighted in it.
| | |
| --- | --- |
| Industry knowledge: | How much you know about the engineering industry is something the admission officers are looking to know. So, highlight it. |
| Technical skills: | You will need to have a series of technical skills to thrive as an engineering manager. Highlight all relevant technical skills you have. |
| Communication skills: | As an engineering manager, you will direct your team and listen to them. So, highlight your communication skills as in the engineering management SOP examples. |
| Passion for solving problems: | The role of engineering manager will require you to step in when problems arise. So, your passion for problem-solving must be highlighted in the SOP. |
| Strategic thinking: | Quick decision-making is part of engineering management. Hence, it is a good skill to highlight in your statement of purpose for engineering management. |
Five Mistakes to Avoid in Your SOP for Engineering Management
Letting loose these five grave mistakes can cause your SOP to be thrown on the back burner. So, make sure you avoid them.
| | |
| --- | --- |
| Plagiarism: | Plagiarism happens when you write your SOP by copying from a previously written SOP or SOP samples for engineering management. Refrain from it to avoid getting rejected. |
| Cliches: | Cliches are overused expressions. When your SOP is inundated with cliches, it looks boring to read and lacks originality. So, use your own experiences and thoughts in the SOP. |
| Generic nature: | Do not write a common SOP for all colleges you apply to. Customize it according to the requirements and specialities of each institute that you apply to. |
| Lack of format: | Your SOP must be written adhering to an accepted format. By formatting the SOP correctly, you can leave a good impression on the reader and improve their reading experience. |
| Mistakes: | Do not make any mistakes in your SOP as that can prevent the reader from getting the correct message. Moreover, a dodgy SOP can minimize your competitive edge. |
Looking for Expert SOP Writers for Engineering Management? Click Here
Bonus Tips to Craft an Excellent SOP for MS in Engineering Management
Here are five bonus tips to help you craft an excellent SOP for masters in engineering management.
Maintain the recommended word count in your SOP – around 1000 words.
Read a couple of SOP samples for engineering management to get familiar with before starting to write.
Prepare an outline first so as not to miss out on any important points.
Proofread your SOP at least five times to pinpoint all mistakes and correct them.
Request a friend or colleague or an expert to go through your SOP and give you feedback.
Why Should You Hire an Expert to Write Your Engineering Management SOP?
Hiring experts saves you time. They can write an SOP within a day which an average student will take more than a week to complete.
Expert Writers know how to format, what to write, what not to write and how to make the write-up engaging to read.
When an expert writer writes your SOP, there is no chance of any mistakes in your SOP.
An experienced writer will understand your perspective and write the SOP as uniquely as it has been written by you.
Top Countries Demanding SOP for Engineering Management
SOP is a mandatory requirement when you apply for engineering management programs in the following countries.
SOP for Engineering Management in the USA
To secure your admission to the best universities in the USA, you need to draft a customized SOP for engineering management in the USA.
SOP for Engineering Management in Canada
Your SOP for engineering management in Canada is your entry ticket to the best college or university in Canada. It must show why you chose Canada over other countries.
SOP for Engineering Management in Australia
Australian institutes demand tailor-made SOP for engineering management in Australia from their applicants. So, when you write it, highlight why you want to study in Australia.
SOP for Engineering Management in Singapore
Looking to study engineering management in Singapore? Secure your admission through a customized SOP for engineering management in Singapore. An impressive SOP gives you a competitive edge over all other applicants.
SOP for Engineering Management in Germany
Engineering management is an ideal course to study in Germany. Make sure you write a powerful SOP for engineering management in Germany to secure your admission at the best institute on the first attempt itself.
Hire an Expert SOP Writer for Engineering Management? Click Here
Top Universities for Engineering Management and Their SOP Guidelines
Cornell University, USA
Keep the following requirements in mind while writing SOP for Cornell university engineering management.
Specify why you opted for Cornell University USA
Establish your motivation for choosing engineering management.
Write the SOP in about 1000 words.
While formatting, set the language to US English
Duke University, USA
Duke University, USA asks applicants to adhere to the following requirements in the statement of purpose for engineering management.
Follow a generally accepted format and structure for the SOP.
Specify your career aspirations following graduation.
Solidify every point you talk about with verifiable examples.
Mention your specific areas of research interest.
RMIT, Australia
Use the guidelines below to write your SOP for engineering management for RMIT, Australia.
Keep your SOP short and concise.
Pick only the most relevant and recent points.
Show how your experiences and education relate to engineering management.
Supply sufficient examples for clarity.
The University of Windsor, Canada
When you write an SOP for the University of Windsor, Canada, abide by the following requirements.
Make sure that your SOP is easy to read and straightforward with relevant and up to date points.
Write the SOP in about 800 words.
Give a clear overview of the academic and professional backgrounds and explain why they are relevant to engineering management.
Explain why Windsor and why Canada.
King's College London, UK
Application to King's College London, UK must include a tailor-made SOP which details the following information:
Reason for choosing engineering management as a career choice.
What do you want to achieve in your career through engineering management?
What have you learnt or experienced that will make you better at studying engineering management?
How would your skills, strengths and values put you in a better position to contribute to our institute?
Ludwig Maximilian University, Germany
Germany is the best place to study engineering management. By letting your SOP answer some of the key questions that the German admission panel has, you can secure admission easily. Make sure your SOP answers the following questions in the SOP.
Why Germany and not any other country?
What do you want to do after completing engineering management in Germany?
What motivates you to work hard each day?
What makes you stand out both as a student and as a person?
Conclusion
How did that go?
Did you succeed in writing a unique and comprehensive SOP for engineering management?
As you have noticed, SOP for engineering management is a fundamental admission document and the requirement of it varies from county to country.
If you are not certain how to write SOP for a certain country or institute, we can help you. Feel free to let us know your questions or doubts in the comment.
Wish you the best of luck with your engineering management admission.
Frequently Asked Question [FAQ]
How do I write an SOP for Engineering Management?
You can follow the instructions given in this blog to write an SOP for engineering management. If you find that difficult, you can read a few of the engineering management SOP examples given here to get familiar first.
What is the word limit of the SOP for Engineering Management?
There is no specific word limit that is commonly applied everywhere. We have seen that some institutes strictly verify the word limit while others do not. We recommend that you maintain a length of about 800 to 1000 words or two pages for your statement of purpose.
How to write SOP for MS in Engineering Management?
SOP for MS in Engineering management needs to be written slightly differently than SOP for engineering management for other programs. Since the master's program has a higher status, the admission panel will expect candidates with more solid and relevant experience and background in engineering management. So, you must highlight all those experiences, including internships or self-exposures or seminars or projects in engineering management to make your profile unique and stand out.