Are you fascinated by the academic allure of Italy and looking to study there? Well, you should know that the first step is gaining admission and obtaining a student visa to travel to Italy. Both of them require a Statement of Purpose or SOP for Italy. In this blog, we guide you in writing a powerful SOP that not only meets the expectations of the admission officers but also clearly communicates your motivation for studying your preferred program in Italy. Major topics we cover in this blog include:
What is SOP for Italy?
How to write and format your SOP?
Sample statement of purpose for Italy for improved understanding
What is SOP for Italy?
A Statement of Purpose (SOP) for Italy is a formal written document you will need to submit to the admission officer in Italy. It conveys your motivation for studying and thus gives you admission to your preferred institute.
How Important is an SOP for Italy?
Having a strong SOP for Italy is of higher importance for the following reasons:
The admission committee gains insight into your academic history and its suitability with their academic offerings.
Admission officers assess your compatibility with their student community.
Educational institutions gauge your potential contributions as both a student and an individual.
Statement of Purpose for Italy provides you with an opportunity to exhibit your skills, talents, and distinctive qualities.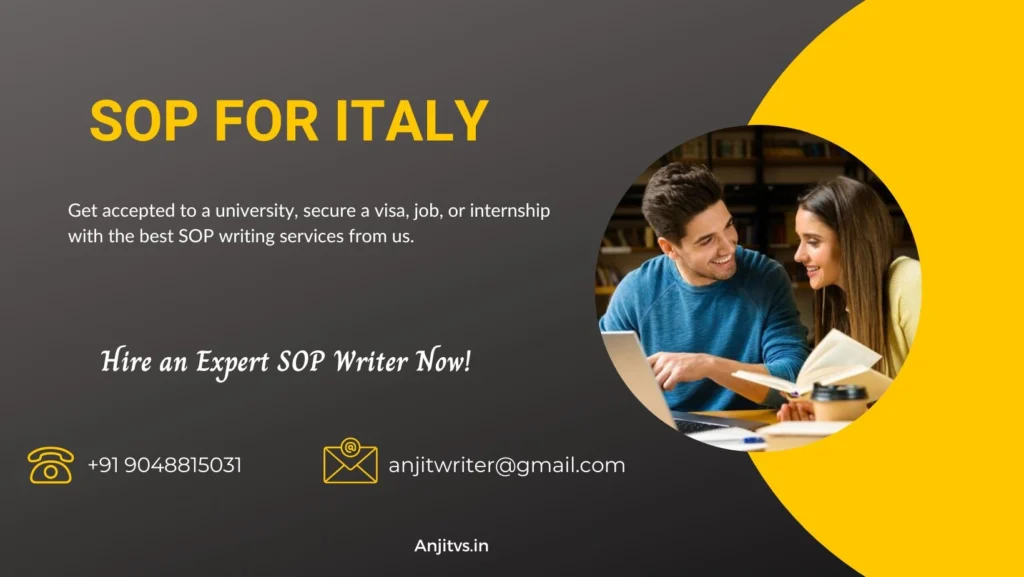 Why Should You Hire Us to Write an SOP for Italy Visa?
At Anjit VS and Team, we have substantial experience in writing SOP for Italian university as well as SOP for Italy study visa. When you opt for us to draft your document, we make sure that it gives you a high success rate. Here are some factors that give us an edge over other services:
An experienced and expert content writer in India, I have diverse teams delivering top-notch content writing, branding, and overseas education services customized to my clients. At AnjitVS, the biggest service offering specialty is our customization grounded on quality, creativity, and client-value.
Writings for Professionals