As a student applying for higher studies, one of the most valuable documents in your application is going to be a letter of recommendation. If you have been researching how to write it impressively, you have come to the right place for advice.
In this blog, we will show you
What is LOR for students?
How important is it for your college admission or study abroad?
How to write it differently and make your profile stand out?
Reference Letter sample for student
What is Letter of Recommendation for a Student?
A letter of recommendation for a student is an official letter written by a former teacher or professor endorsing you to the university or college scholarship to which you are applying. The letter will validate your claims as an applicant.
Recommendation Letter for Students with Disabilities and Low Grades
The nature and writing style of letter of support for student differ in accordance with the context in which it is written. For instance, a letter of recommendation for students with disabilities should highlight that the applicant has excelled academically despite the disabilities.
Likewise, a letter of recommendation for students with low grades should focus on some of the strengths of the applicants that should help the profile look balanced.
Need Help In Writing Recommendation Letter for Student? Contact Us
What are the types of Letter of Recommendation for Student?
As a student, you may require LOR for different purposes such as admission, scholarship, PHD etc. Following are the different types of LORs that students are often required to produce.
Recommendation Letter for Student Admission
Letter of Recommendation for Student for Graduate School
Letter of Recommendation for Student for College
LOR for student visa
Short recommendation letter for student
Letter of Recommendation for Student for Masters
Letter of Recommendation for Student for Internship
Letter of Recommendation for abroad studies
Letter of Recommendation for Student for Scholarship
Reference Letter for Student Applying to University
Letter of Recommendation for Student for PHD
Letter of Recommendation for Student for Job
Recommendation Letters Requested by Students Based on Their Academic Level
Irrespective of their academic levels, students are required to include LORs in their applications. Here is a list of LORs that students would need depending on their academic level.
Letter of Recommendation for Nursing Student
Recommendation Letter for Graduate Student
Recommendation letter for Intern
Recommendation Letter for Research Student
Recommendation Letter for Medical Student
Recommendation Letter for Masters Student
Need Help In Writing LOR for Student? Contact Us
Whom Can Students Approach for Getting their Reference Letter?
As a higher education aspirant, you can approach people in various capacities to write your academic reference letter for student. In most scenarios, the referees would ask the students to write the LOR for themselves and submit it to the former so that they can read and endorse it. This will mostly happen if the referee is busy. If your referee has plenty of time to write, provide him or her with a reference letter template for student.
Recommendation Letter for student from Professor
Letter of recommendation for student from Employer
Letter of recommendation for student from Student Ambassador
Recommendation Letter for student from Teacher
Letter of recommendation for student from Principal
Recommendation letter for student from Manager
What is the Format of Reference Letter for Student?
While writing a reference letter for a student, it is imperative to use the correct format. Here is an ideal format to use in your letter.
| | |
| --- | --- |
| To address: | Find out to whom the letter has to be addressed and write it at the top of it. Don't write 'whomever it may concern' as it sounds unspecific. |
| Introduction: | Start the introduction by writing who you are and how long you have known the student and what the nature of your association was. |
| Body: | Coming to the body, you can decide how many paragraphs it should contain depending on the number of topics you wish to cover in it. |
| The conclusion: | Conclude the letter by showing your earnestness to recommend the student and showing your readiness to be contacted for further queries. |
Need Help In Writing Student Recommendation Letter? Contact Us
How to Compose a Good Letter of Recommendation for Student?
Find out what is required: The first step is to find out what the university expects from the letter of recommendation. Research the course the student has applied and what it demands.
Highlight your association: An LOR written by someone who knows the students personally receives more attention and the selection committee is likely to take the endorsement more seriously.
Use a pleasant tone: Try to sound positive and enthusiastic to recommend the student. However, it doesn't have to seem overzealous. Show that you honestly want to recommend the student.
Choose the most relevant details: Even if you know many positive things about the student, it is not necessary to write all of them. Choose one or two most relevant points and focus your letter on the same.
Mention involvements in extracurricular tasks: Universities have special consideration for students who balance both academic tasks and extracurricular tasks. So, mention at least one of them.
Sample Recommendation Letter for Student
Looking for a perfect reference letter sample for student? Here we have attached an expert-approved sample for reference.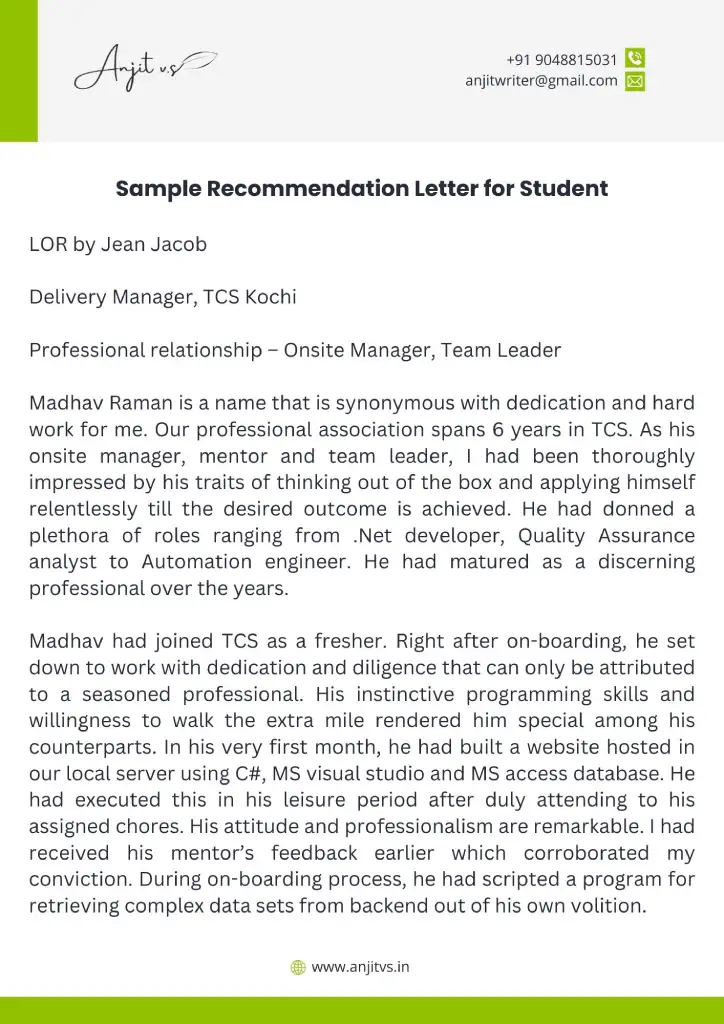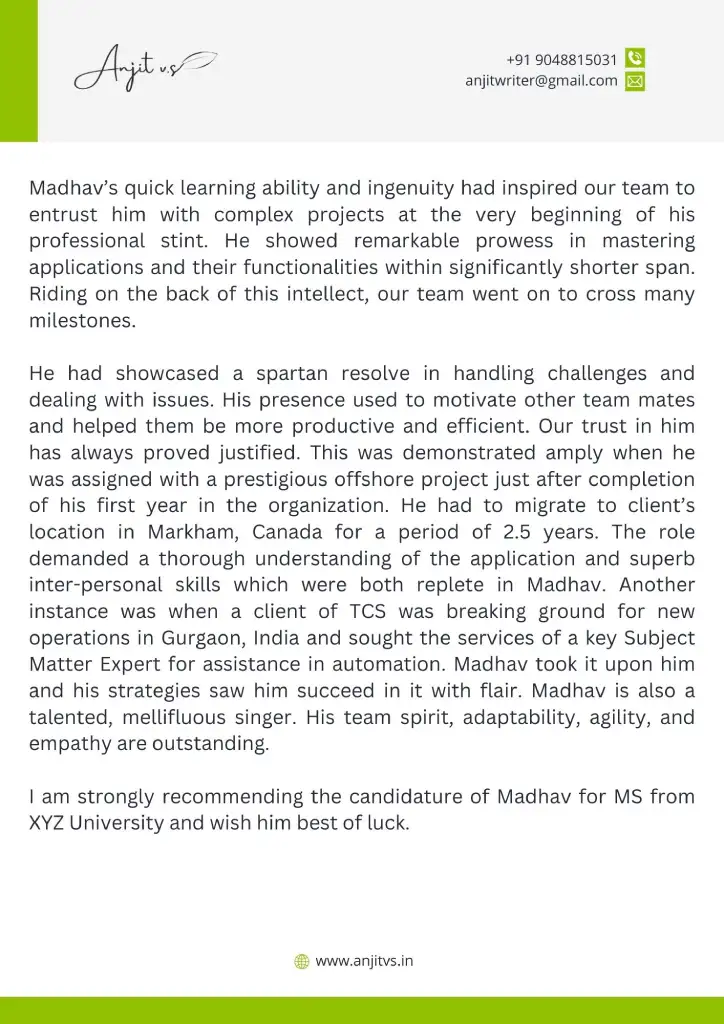 LOR by Jean Jacob
Delivery Manager, TCS Kochi
Professional relationship – Onsite Manager, Team Leader
Madhav Raman is a name that is synonymous with dedication and hard work for me. Our professional association spans 6 years in TCS. As his onsite manager, mentor and team leader, I had been thoroughly impressed by his traits of thinking out of the box and applying himself relentlessly till the desired outcome is achieved. He had donned a plethora of roles ranging from .Net developer, Quality Assurance analyst to Automation engineer. He had matured as a discerning professional over the years.
Madhav had joined TCS as a fresher. Right after on-boarding, he set down to work with dedication and diligence that can only be attributed to a seasoned professional. His instinctive programming skills and willingness to walk the extra mile rendered him special among his counterparts. In his very first month, he had built a website hosted in our local server using C#, MS visual studio and MS access database. He had executed this in his leisure period after duly attending to his assigned chores. His attitude and professionalism are remarkable. I had received his mentor's feedback earlier which corroborated my conviction. During on-boarding process, he had scripted a program for retrieving complex data sets from backend out of his own volition.
Madhav's quick learning ability and ingenuity had inspired our team to entrust him with complex projects at the very beginning of his professional stint. He showed remarkable prowess in mastering applications and their functionalities within significantly shorter span. Riding on the back of this intellect, our team went on to cross many milestones.
He had showcased a spartan resolve in handling challenges and dealing with issues. His presence used to motivate other team mates and helped them be more productive and efficient. Our trust in him has always proved justified. This was demonstrated amply when he was assigned with a prestigious offshore project just after completion of his first year in the organization. He had to migrate to client's location in Markham, Canada for a period of 2.5 years. The role demanded a thorough understanding of the application and superb inter-personal skills which were both replete in Madhav. Another instance was when a client of TCS was breaking ground for new operations in Gurgaon, India and sought the services of a key Subject Matter Expert for assistance in automation. Madhav took it upon him and his strategies saw him succeed in it with flair. Madhav is also a talented, mellifluous singer. His team spirit, adaptability, agility, and empathy are outstanding.
I am strongly recommending the candidature of Madhav for MS from XYZ University and wish him best of luck.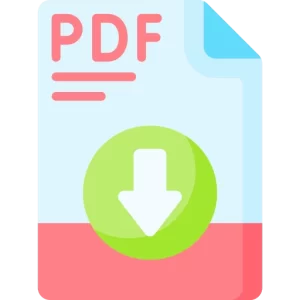 Download Sample Recommendation Letter for Student PDF
Things to Prioritize in A Letter of Recommendation for Student
While writing a reference letter for student, the endorser needs to focus on these aspects: The context of connection of the endorser with the applicant, and the duration of their relationship
The willingness of the candidate to demonstrate his or her competence beyond the academic curriculum
The soft skills of the applicant, including leadership traits, teamwork, decision making and time management
Things that motivate or excite the candidate, along with the general interests
Words to Use/Avoid in a Letter of Recommendation for Student
While writing a letter of recommendation for a student, try to use/avoid the following list of words so as to add more impact to the letter.
Words to Use
Judgement
Perseverance
Integrity
Inquiring attitude
Maturity
Motivation
Confidence
Ability to accept constructive criticism
Creativity
Responsibility
Reliability
Compassion
Personability
Tenaciousness
Communication strengths
Decisiveness
Words to Avoid
Likeable
Nice
Sweet
Popular
Pleasant
Kind
Things to Consider While Planning a Letter of Recommendation for Student
A recommendation letter for student doc is one of the most influential factors in a student's application for higher education. If you are someone writing it, here is a list of points to help you plan it out well.
Make it logical: The letter of recommendation you submit needs to be well-organized. Besides, the flow of ideas in your recommendation letter needs to be logical indeed.
Contextualize the points: The positive traits and strengths of the candidate that you want to talk about should be contextualized with evidence.
Use proper formatting: Find out the correct format in which the letter has to be drafted and use it consistently throughout the letter.
Make it unique: If you are required to submit two LORs for your admission, get one from a professor and one from the principal. Ensure that both letters seem unique.
Presentation style: It is important to use a good presentation style in your letter of recommendation. Review a few LOR samples to analyse different styles.
Looking for Expert Writers for LOR for Student? Click Here
How Can a Well-Structured Letter of Recommendation for Student Benefit You?
Visual appeal:
A well-structured LOR will be visually appealing to the reader since it uses the correct spacing, margins, font style and font size. This will impress the reader.
Individuality:
A customized letter of recommendation for student makes the document stand apart through its unique presentation style. This will have a greater impact on the readers.
Weightage:
In most cases of higher education admissions, competition is quite normal. By having a tailor-made and well-structured LOR, you can add more weightage to your application.
Choice of words:
A good LOR will have hand-picked words. This will ensure that the messages that the referee is trying to push are rightly communicated to the reader.
Conclusion
A letter of recommendation for student is as important as a personal statement when you apply for university admission.
Are you ready now to write a powerful reference letter for student?
We are excited to know how helpful this blog was to you.
In case you have any questions or doubts, feel free to write them in the comment section below.