Have you ever wondered what parameters determine your admission to a dental school?
Do you know that among many factors, your dental school personal statement is one of the most important?
This blog will shine light on everything you need to know about writing a successful personal statements for dental school.
At the end of the blog, you will:
Learn How to write a dental school personal statement
Understand the correct structure from dental school personal statement examples
Get useful tips from the experts
What is Dental School Personal Statement?
Dental school personal statement is one of the many criteria used by dental school admission panels to select candidates for their programs. It is a self-written document by the candidates showcasing their relevant academic qualifications, experiences, and passion for the program.
What is the Length is a Personal Statement for Dental School?
The length of a dental school personal statement is relative to the institute where you wish to study. Some institutes specify it so candidates can adjust their write-up accordingly.
When you don't have any direction as to the length, you can adhere to the below rules.
| | |
| --- | --- |
| No of pages: | 2 |
| Dental school personal statement word limit: | 500 to 750 |
| No of characters: | 4000 to 6000 |
| Accepted fonts: | Times New Roman, Ariel, Helvetica |
| Font size: | 12 points |
Need Help In Writing Dental School Personal Statement? Contact Us
Structure of a Dental School Personal Statement
You must write your personal statement in a formal structure by logically dividing it into an introduction, body paragraphs, and conclusion.
Introduction
Body paragraphs
Conclusion
Introduction
The introduction of your dental school personal statement is where you, well, introduce yourself, tell how you got interested in the dental field, and what you are going to discuss in the writeup.
To get the introduction right, consider it like answering the following questions:
Why do you wish to get trained in dentistry?
What are your inspirations for choosing dentistry?
What makes dentistry an apt choice for you over other courses?
Body paragraphs (main body)
Coming to the main body, you may divide it into multiple paragraphs and then assign each paragraph with a specific set of information. For instance, in the body paragraph one, you will talk about your academic background. In paragraph two, you will focus on experiences and in paragraph three, you will talk about your skills and strengths.
To give you more perspective while developing your body paragraphs, consider reviewing the following questions.
How much exposure do you have in dentistry through self-learning, reading, working and online courses?
What have you found interesting and attractive in choosing a career as a dentist?
What are the specific characteristics, traits or qualities of a dentist that you identify with?
Do you possess the relevant soft skills, which fall outside your academic, required for a good dentist such as communication skills, interpersonal skills, and teamwork?
How skilful are you at balancing your personal life along with academic formation?
Conclusion
A perfect personal statement will flow smoothly from the introduction to the main body paragraphs and from there to a reiterating conclusion. The conclusion should serve as the final message you want the selector to take away from your write-up and remember.
To write a powerful conclusion for your personal statement, ask yourself the following questions.
Is the conclusion compatible with your perspectives?
Does the conclusion prove your in-depth understanding of the dental school program and what it demands from you?
Does the conclusion act as the summary of your write-up?
Does the conclusion impress the reader and make him remember you?
Does the conclusion contradict any information in the essay?
Looking for Personal Statement Writers for Dental School?
Dental School Personal Statement Examples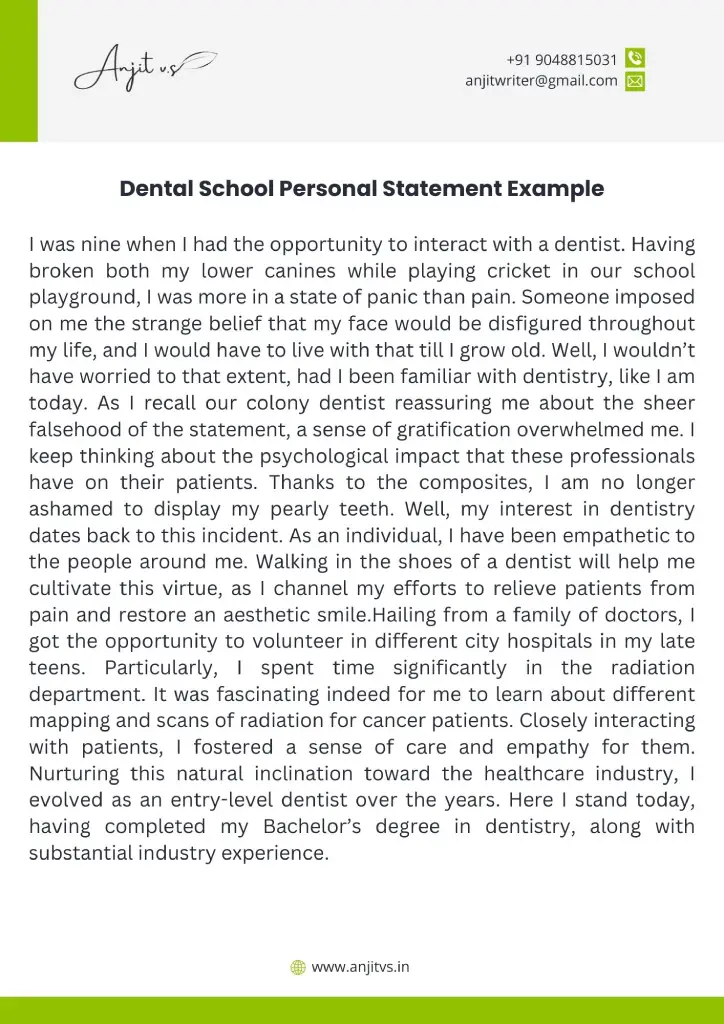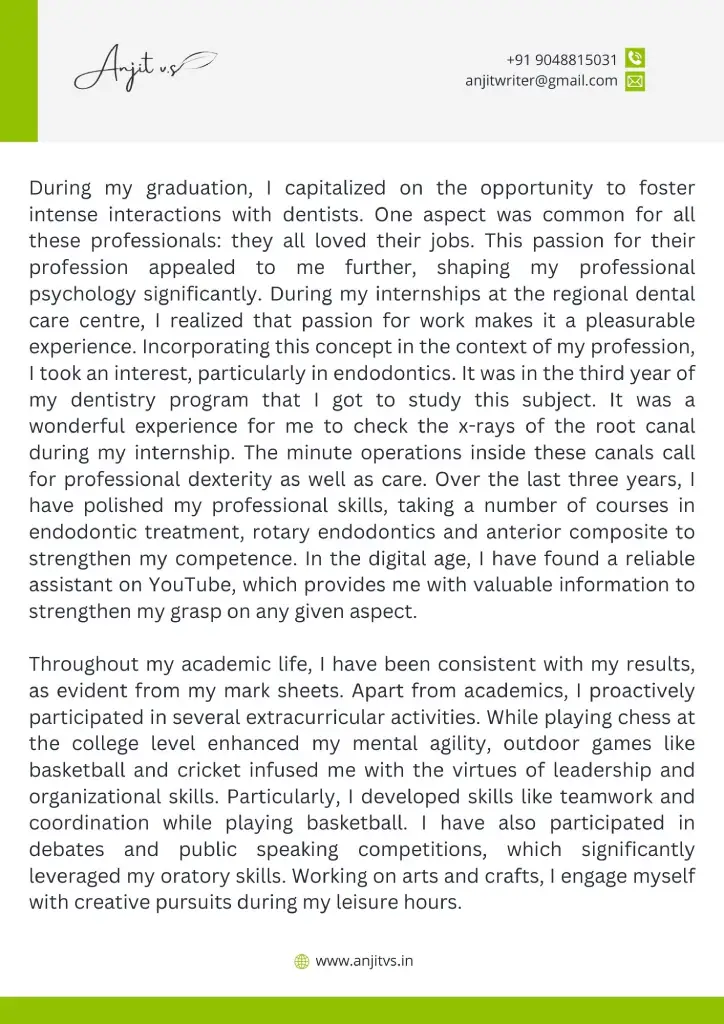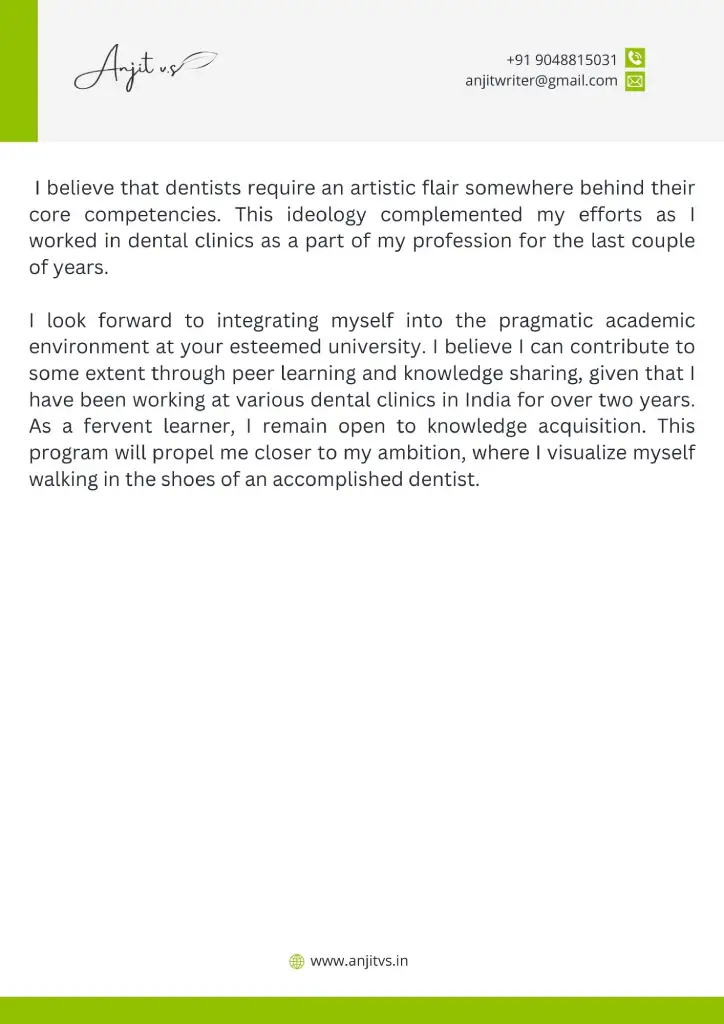 I was nine when I had the opportunity to interact with a dentist. Having broken both my lower canines while playing cricket in our school playground, I was more in a state of panic than pain. Someone imposed on me the strange belief that my face would be disfigured throughout my life, and I would have to live with that till I grow old. Well, I wouldn't have worried to that extent, had I been familiar with dentistry, like I am today. As I recall our colony dentist reassuring me about the sheer falsehood of the statement, a sense of gratification overwhelmed me. I keep thinking about the psychological impact that these professionals have on their patients. Thanks to the composites, I am no longer ashamed to display my pearly teeth. Well, my interest in dentistry dates back to this incident. As an individual, I have been empathetic to the people around me. Walking in the shoes of a dentist will help me cultivate this virtue, as I channel my efforts to relieve patients from pain and restore an aesthetic smile.
Hailing from a family of doctors, I got the opportunity to volunteer in different city hospitals in my late teens. Particularly, I spent time significantly in the radiation department. It was fascinating indeed for me to learn about different mapping and scans of radiation for cancer patients. Closely interacting with patients, I fostered a sense of care and empathy for them. Nurturing this natural inclination toward the healthcare industry, I evolved as an entry-level dentist over the years. Here I stand today, having completed my Bachelor's degree in dentistry, along with substantial industry experience.
During my graduation, I capitalized on the opportunity to foster intense interactions with dentists. One aspect was common for all these professionals: they all loved their jobs. This passion for their profession appealed to me further, shaping my professional psychology significantly. During my internships at the regional dental care centre, I realized that passion for work makes it a pleasurable experience. Incorporating this concept in the context of my profession, I took an interest, particularly in endodontics. It was in the third year of my dentistry program that I got to study this subject. It was a wonderful experience for me to check the x-rays of the root canal during my internship. The minute operations inside these canals call for professional dexterity as well as care. Over the last three years, I have polished my professional skills, taking a number of courses in endodontic treatment, rotary endodontics and anterior composite to strengthen my competence. In the digital age, I have found a reliable assistant on YouTube, which provides me with valuable information to strengthen my grasp on any given aspect.
Throughout my academic life, I have been consistent with my results, as evident from my mark sheets. Apart from academics, I proactively participated in several extracurricular activities. While playing chess at the college level enhanced my mental agility, outdoor games like basketball and cricket infused me with the virtues of leadership and organizational skills. Particularly, I developed skills like teamwork and coordination while playing basketball. I have also participated in debates and public speaking competitions, which significantly leveraged my oratory skills. Working on arts and crafts, I engage myself with creative pursuits during my leisure hours. I believe that dentists require an artistic flair somewhere behind their core competencies. This ideology complemented my efforts as I worked in dental clinics as a part of my profession for the last couple of years.
I look forward to integrating myself into the pragmatic academic environment at your esteemed university. I believe I can contribute to some extent through peer learning and knowledge sharing, given that I have been working at various dental clinics in India for over two years. As a fervent learner, I remain open to knowledge acquisition. This program will propel me closer to my ambition, where I visualize myself walking in the shoes of an accomplished dentist.
Enhance your perspective for writing your own dental school personal statement by going through a realistically written example.
Find the download button to the dental school personal statement examples PDF below.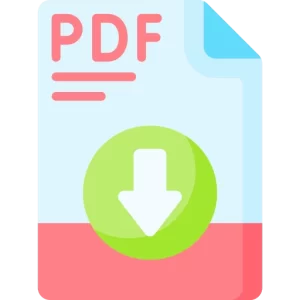 Download Dental School Personal Statement Examples PDF
Examples Personal Statement for Pediatric Dentistry Residency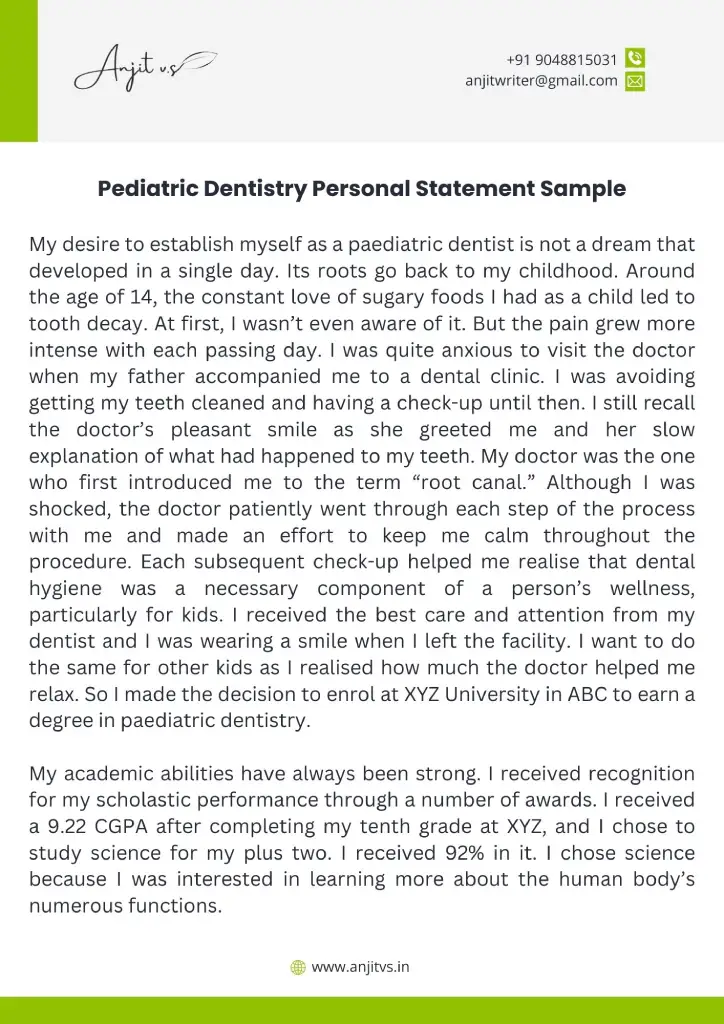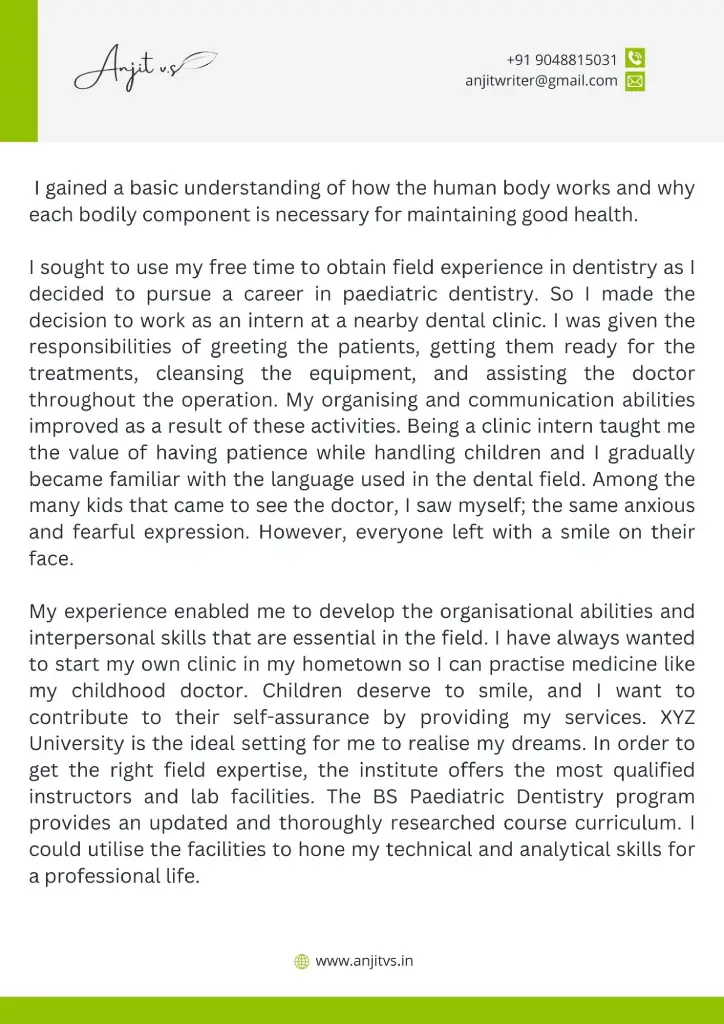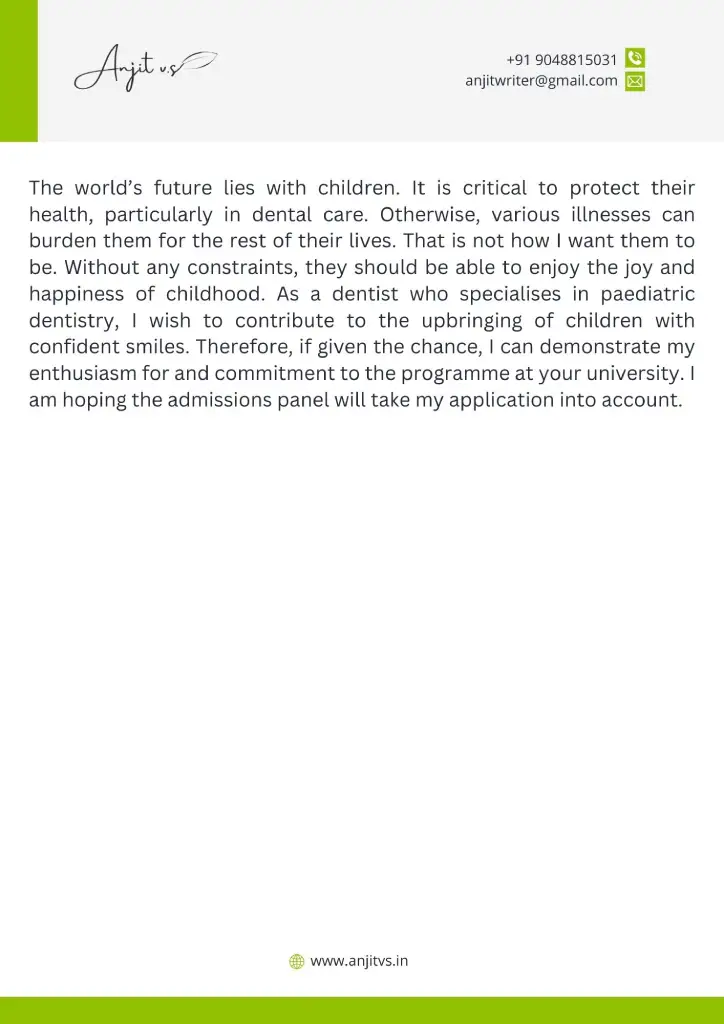 My desire to establish myself as a paediatric dentist is not a dream that developed in a single day. Its roots go back to my childhood. Around the age of 14, the constant love of sugary foods I had as a child led to tooth decay. At first, I wasn't even aware of it. But the pain grew more intense with each passing day. I was quite anxious to visit the doctor when my father accompanied me to a dental clinic. I was avoiding getting my teeth cleaned and having a check-up until then. I still recall the doctor's pleasant smile as she greeted me and her slow explanation of what had happened to my teeth. My doctor was the one who first introduced me to the term "root canal." Although I was shocked, the doctor patiently went through each step of the process with me and made an effort to keep me calm throughout the procedure. Each subsequent check-up helped me realise that dental hygiene was a necessary component of a person's wellness, particularly for kids. I received the best care and attention from my dentist and I was wearing a smile when I left the facility. I want to do the same for other kids as I realised how much the doctor helped me relax. So I made the decision to enrol at XYZ University in ABC to earn a degree in paediatric dentistry.
My academic abilities have always been strong. I received recognition for my scholastic performance through a number of awards. I received a 9.22 CGPA after completing my tenth grade at XYZ, and I chose to study science for my plus two. I received 92% in it. I chose science because I was interested in learning more about the human body's numerous functions. I gained a basic understanding of how the human body works and why each bodily component is necessary for maintaining good health.
I sought to use my free time to obtain field experience in dentistry as I decided to pursue a career in paediatric dentistry. So I made the decision to work as an intern at a nearby dental clinic. I was given the responsibilities of greeting the patients, getting them ready for the treatments, cleansing the equipment, and assisting the doctor throughout the operation. My organising and communication abilities improved as a result of these activities. Being a clinic intern taught me the value of having patience while handling children and I gradually became familiar with the language used in the dental field. Among the many kids that came to see the doctor, I saw myself; the same anxious and fearful expression. However, everyone left with a smile on their face.
My experience enabled me to develop the organisational abilities and interpersonal skills that are essential in the field. I have always wanted to start my own clinic in my hometown so I can practise medicine like my childhood doctor. Children deserve to smile, and I want to contribute to their self-assurance by providing my services. XYZ University is the ideal setting for me to realise my dreams. In order to get the right field expertise, the institute offers the most qualified instructors and lab facilities. The BS Paediatric Dentistry program provides an updated and thoroughly researched course curriculum. I could utilise the facilities to hone my technical and analytical skills for a professional life.
The world's future lies with children. It is critical to protect their health, particularly in dental care. Otherwise, various illnesses can burden them for the rest of their lives. That is not how I want them to be. Without any constraints, they should be able to enjoy the joy and happiness of childhood. As a dentist who specialises in paediatric dentistry, I wish to contribute to the upbringing of children with confident smiles. Therefore, if given the chance, I can demonstrate my enthusiasm for and commitment to the programme at your university. I am hoping the admissions panel will take my application into account.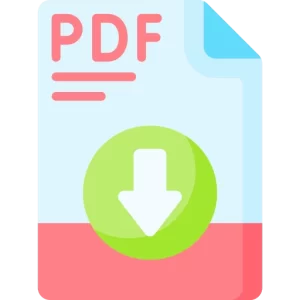 Download Personal Statement for Pediatric Dentistry Sample PDF
Personal Statement Dental School Examples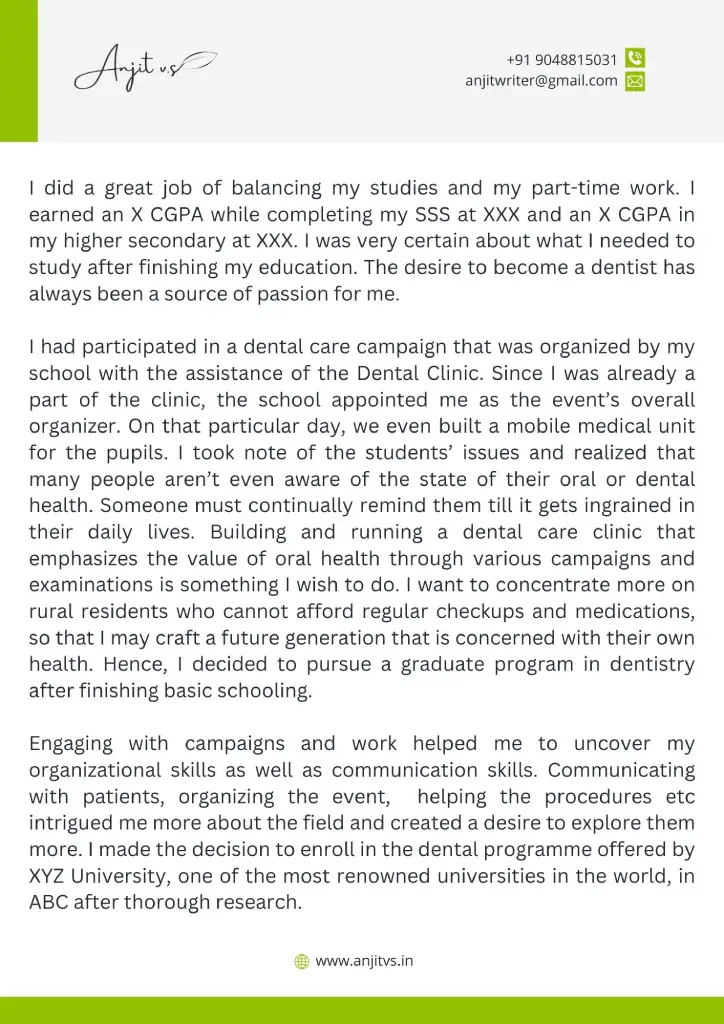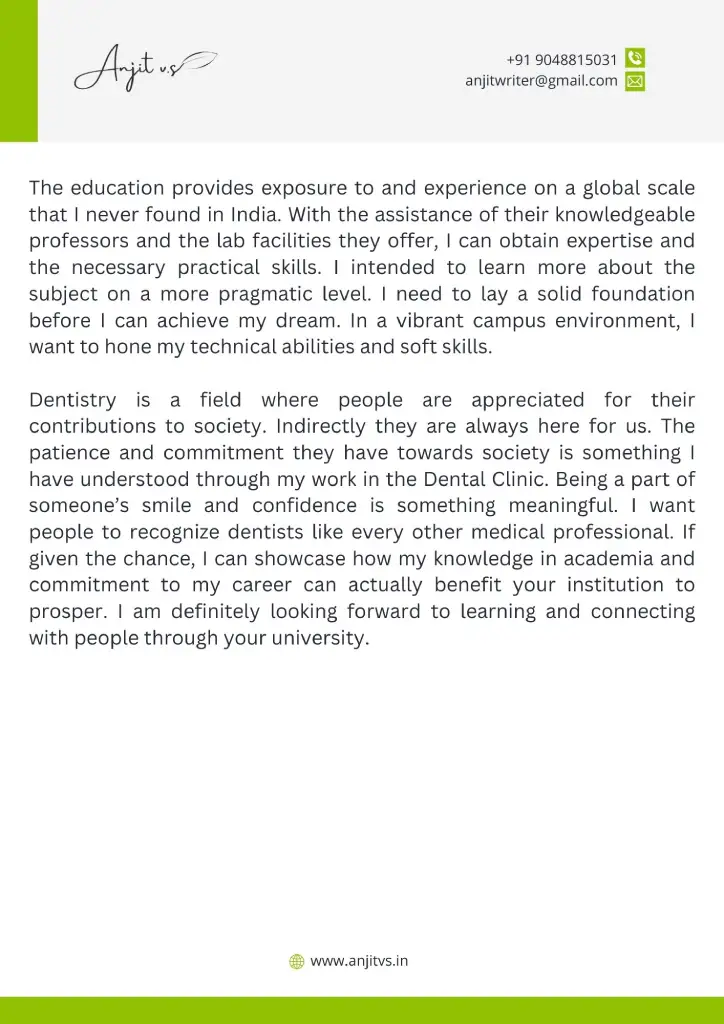 Being a hyperactive child who wouldn't stop running around and getting into mischief caused problems for myself and my family. During one of my greatest mischievous actions, I stumbled when I ran through the stairs. My entire mouth started bleeding as soon as I reached down the stairs. My mother suddenly contacted my dentist, and she drove me to the clinic. Despite the fact that it was a Sunday, my dentist treated me well and welcomed us. Prior to then, I had never considered dentists to be crucial players in the healthcare sector. He was just someone I saw once every six months. But on that particular day, he was crucial in helping me regain my self-assurance when I smile. I also realized that a dentist's job requires patience and a friendly demeanor. I aspired to be like him and use my career to bring joy to others. I may achieve my aspirations to become a dentist by obtaining a graduate degree from XYZ University's dentistry programme.
After that episode in my life, I considered it necessary to see visiting the dentist as an essential component of everyone's health. I had quick access to all the medical services because of my residence in an urban area. My family can pay for those medical expenses. However, many people are still unaware of the significance of oral health. Oral issues could worsen if you don't receive the necessary examinations and treatments. With this problem on my mind, I took a part-time job at a dental office close to my house, where I discovered that the job of a dentist requires full-time commitment and enthusiasm.
I did a great job of balancing my studies and my part-time work. I earned an X CGPA while completing my SSS at XXX and an X CGPA in my higher secondary at XXX. I was very certain about what I needed to study after finishing my education. The desire to become a dentist has always been a source of passion for me.
I had participated in a dental care campaign that was organized by my school with the assistance of the Dental Clinic. Since I was already a part of the clinic, the school appointed me as the event's overall organizer. On that particular day, we even built a mobile medical unit for the pupils. I took note of the students' issues and realized that many people aren't even aware of the state of their oral or dental health. Someone must continually remind them till it gets ingrained in their daily lives. Building and running a dental care clinic that emphasizes the value of oral health through various campaigns and examinations is something I wish to do. I want to concentrate more on rural residents who cannot afford regular checkups and medications, so that I may craft a future generation that is concerned with their own health. Hence, I decided to pursue a graduate program in dentistry after finishing basic schooling.
Engaging with campaigns and work helped me to uncover my organizational skills as well as communication skills. Communicating with patients, organizing the event, helping the procedures etc intrigued me more about the field and created a desire to explore them more. I made the decision to enroll in the dental programme offered by XYZ University, one of the most renowned universities in the world, in ABC after thorough research. The education provides exposure to and experience on a global scale that I never found in India. With the assistance of their knowledgeable professors and the lab facilities they offer, I can obtain expertise and the necessary practical skills. I intended to learn more about the subject on a more pragmatic level. I need to lay a solid foundation before I can achieve my dream. In a vibrant campus environment, I want to hone my technical abilities and soft skills.
Dentistry is a field where people are appreciated for their contributions to society. Indirectly they are always here for us. The patience and commitment they have towards society is something I have understood through my work in the Dental Clinic. Being a part of someone's smile and confidence is something meaningful. I want people to recognize dentists like every other medical professional. If given the chance, I can showcase how my knowledge in academia and commitment to my career can actually benefit your institution to prosper. I am definitely looking forward to learning and connecting with people through your university.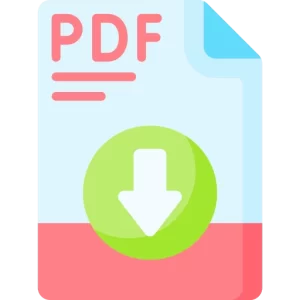 Download Personal Statement for Pediatric Dentistry Sample PDF
Things to Avoid in Your Dental School Personal Statement
Writing your dental school personal statement without being aware of the following mistakes will cause you to lose the race early on. So, avoid them in your writing.
Do not wait for the eleventh hour to write:
Dental school applications are invited earlier than other programs. So, it is highly recommended to have your personal statement ready as earlier as possible.
Do not replicate your resume:
Do not replicate what's in the CV exactly as it is in your personal statement. Instead, elaborate on achievements or experiences in the CV with more depth in the personal statement.
Do not hesitate to seek feedback:
No matter how good you are at writing, there is always room for improvement. For a crucial document like a dental school personal statement, it is always good to seek expert feedback.
Do not sound regretful over negatives:
It is totally okay to have certain negatives in your profile such as a dip in GPA. However, do not sound regretful over them. Instead, show how you defeated the odds and improved.
Do not plagiarize:
There are plenty of personal statement for dental school examples online. Do not be tempted to plagiarize any of them. Institutes strongly detest plagiarism in application documents like personal statements.
Tips for Writing Your Dentistry Personal Statement
The following are a few proven tips suggested by experts from the dental school academia for writing a powerful dentistry personal statement. Try to incorporate them into your writing for better results.
Adopt a storytelling approach:
Storytelling is a good way to start your dentist personal statement because it gives your write-up the power to attract readers and compel them to read fully.
Show what you can contribute:
Show how much and precisely what you can contribute to the field of dentistry after you have completed your program. This will convince selectors about your vision and goals.
Bring readability:
The very purpose of a personal statement is to communicate your thoughts to the selection committee. This will happen only if you write it in a readable fashion.
Substantiate 'why' you:
In your personal statement, you need to answer two 'whys' – why you are a good fit and why this dentistry program. If these are answered well, your write-up will impress the panel.
Be true to yourself:
When you try to include things that are not true to you, your personal statement will seem detached from you and that hollowness will easily catch the attention of your selectors.
Need Help In Writing Dental School Personal Statement? Contact Us
Did We Clarify Everything?
We are truly honoured if this blog has been of any help to you.
Are you ready to write a dental school personal statement now?
Remember that a powerful personal statement can rewrite your future.
We are excited to know your feedback on this blog.
Also, we welcome your suggestions and any doubts or questions you have about this topic.
Feel free to leave them in the comment below.