You truly wish to become a nurse. It has been your ambition since childhood. But your nursing school admission committee has no clue about it. How are you going to let them know your true passion for nursing? A powerful nursing school personal statement will do the magic.
In this blog, you will read about:
What is a personal statement for nursing?
How to write a good personal statement for nursing
Personal statement for nursing school examples
What Is Nursing School Personal Statement? What Is Its Role in Candidate Selection?
A personal statement for nursing is a document submitted along with the application for admission to a nursing school. The document touches upon the candidate's specialties, strengths, experiences, and, most importantly, the personality traits that would make him or her ideal for the course.
The document plays the following roles.
It helps the applicant stand out in the crowd
It helps the applicant match his profile to the program requirements
It enables the students to show their personality traits
It allows students to answer the admission committee's questions.
Need Help In Writing Nursing School Personal Statement? Contact Us
What Are the Essential Components of a Nursing School Personal Statement?
To write a complete and comprehensive personal statement for nursing, you must include the following elements in the statement.
Educational and Professional Experiences
Talk about your relevant educational experiences and professional backgrounds. Don't forget to show how they enhanced your motivation for nursing school, and improved your skills and strengths.
Why does the specific nursing program interest you?
In your personal statement, you must talk about the specific nursing program that you are interested in. The nursing profession involves multiple duties and responsibilities. Focus on the area that you want to focus on.
Motivation/experience for choosing nursing as a career
Did any particular experience make you think of a career in nursing? For instance, your experience of taking care of a sick person in your family or in your close circles? Adding such experiences as motivating factors is good.
Volunteer Work
It is not mandatory to have voluntary work experience to pursue a career in nursing. However, having such experience in a healthcare facility and talking about it in the personal statement will surely make your application look great.
When you write about such experiences, focus on throwing light on the following aspects.
How relevant was the experience to the specific nursing program you are applying to?
How much did those experiences help you grow personally and professionally?
What specific skills have you learned? For instance, administrative skills, leadership or management skills.
Need Help In Writing Personal Statement for Nursing School? Contact Us
What is the Structure of Nursing School Personal Statement?
The use of a correct personal statement format is essential to present the points logically and to enhance the aesthetics of your write-up. It will also enable selectors to quickly navigate the essay or look for specific points.
| | |
| --- | --- |
| Paragraph 1 | This will be the introduction to your nursing personal statement. In this paragraph, introduce yourself and your wish to become a nurse through storytelling. |
| Paragraph 2 | In this paragraph, you will be elaborating on your educational qualifications, certifications, professional experiences, voluntary experiences and so forth. Say how they shaped you. |
| Paragraph 3 | Write about your skills and strengths that would enhance your learning, research and practical work during the pursuit of the nursing program you are undertaking. |
| Paragraph 4 | In this paragraph, you would be talking about all the unique aspects that make you the right candidate for enrolling on the nursing course at the particular institute. |
| Conclusion | Conclude your statement by writing a short summary of all you said, emphasizing the story you told at the beginning and thanking the selectors for considering your application. |
Format of a Nursing School Personal Statement
Just like using the right structure for the personal statement as in nurse personal statement examples, it is important to format your text correctly and incorporate the right page setup and alignment.
Formal and professional text formatting will increase the overall appeal of the document and also will add the due seriousness that the document deserves. Follow the below guidelines while formatting the text in your write-up.
Leave one extra space between paragraphs.
Either justify or left align the whole document.
Double-space the text
Set a one-inch margin on four sides of the page.
Choose an academically accepted font style. Times New Roman or Arial is ideal.
Set the font size to 12 points. Keep the font size and font style consistent throughout the essay.
Do not add a title to your write-up.
Looking for Nursing School Personal Statement Writers? Click Here
Personal Statement for Nursing School Examples Accepted by Committees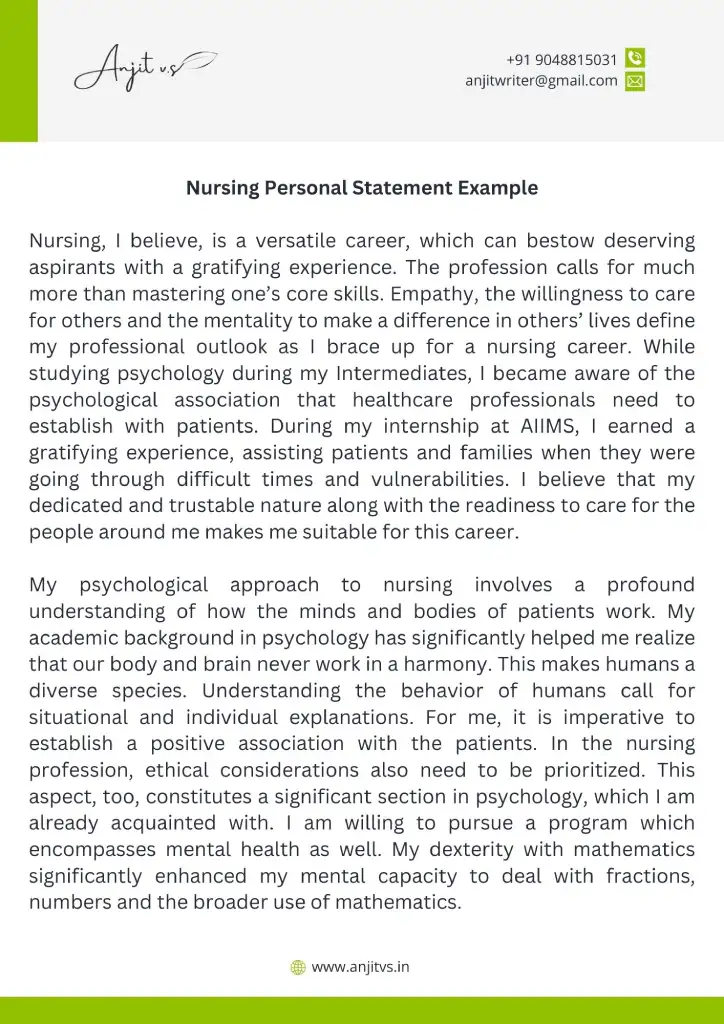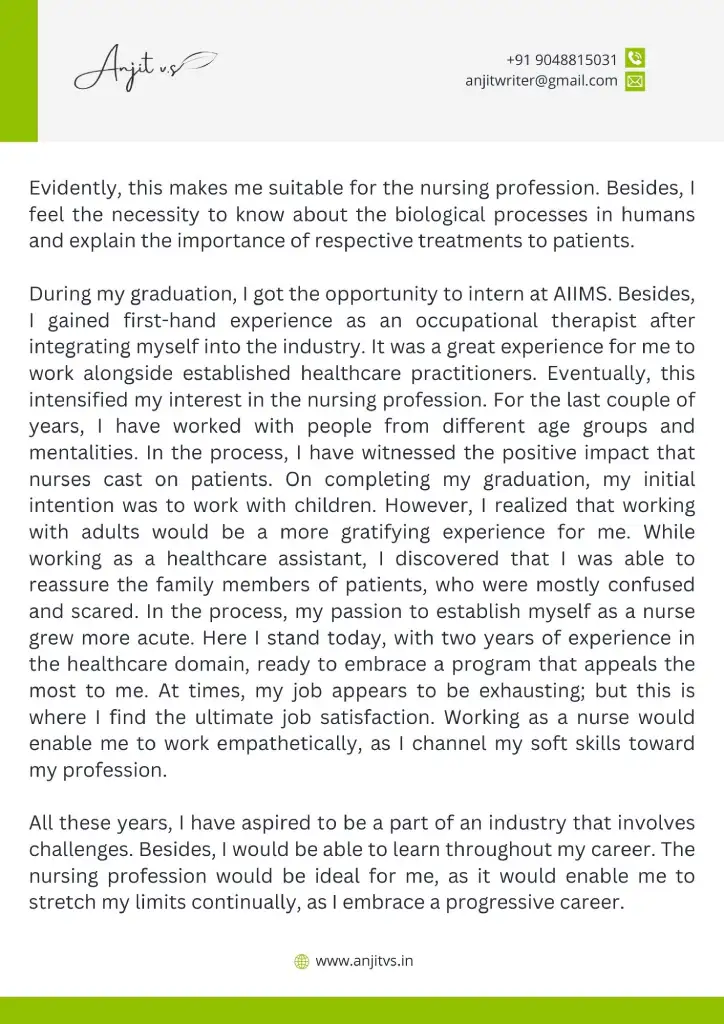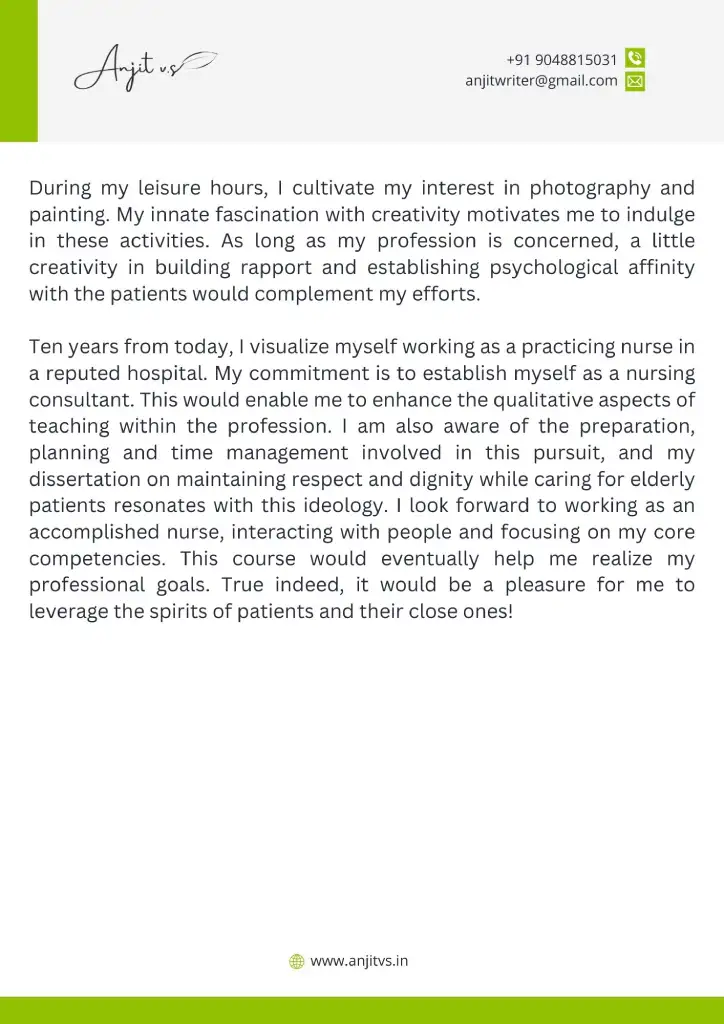 Nursing, I believe, is a versatile career, which can bestow deserving aspirants with a gratifying experience. The profession calls for much more than mastering one's core skills. Empathy, the willingness to care for others and the mentality to make a difference in others' lives define my professional outlook as I brace up for a nursing career. While studying psychology during my Intermediates, I became aware of the psychological association that healthcare professionals need to establish with patients. During my internship at AIIMS, I earned a gratifying experience, assisting patients and families when they were going through difficult times and vulnerabilities. I believe that my dedicated and trustable nature along with the readiness to care for the people around me makes me suitable for this career.
My psychological approach to nursing involves a profound understanding of how the minds and bodies of patients work. My academic background in psychology has significantly helped me realize that our body and brain never work in a harmony. This makes humans a diverse species. Understanding the behavior of humans call for situational and individual explanations. For me, it is imperative to establish a positive association with the patients. In the nursing profession, ethical considerations also need to be prioritized. This aspect, too, constitutes a significant section in psychology, which I am already acquainted with. I am willing to pursue a program which encompasses mental health as well. My dexterity with mathematics significantly enhanced my mental capacity to deal with fractions, numbers and the broader use of mathematics. Evidently, this makes me suitable for the nursing profession. Besides, I feel the necessity to know about the biological processes in humans and explain the importance of respective treatments to patients.
During my graduation, I got the opportunity to intern at AIIMS. Besides, I gained first-hand experience as an occupational therapist after integrating myself into the industry. It was a great experience for me to work alongside established healthcare practitioners. Eventually, this intensified my interest in the nursing profession. For the last couple of years, I have worked with people from different age groups and mentalities. In the process, I have witnessed the positive impact that nurses cast on patients. On completing my graduation, my initial intention was to work with children. However, I realized that working with adults would be a more gratifying experience for me. While working as a healthcare assistant, I discovered that I was able to reassure the family members of patients, who were mostly confused and scared. In the process, my passion to establish myself as a nurse grew more acute. Here I stand today, with two years of experience in the healthcare domain, ready to embrace a program that appeals the most to me. At times, my job appears to be exhausting; but this is where I find the ultimate job satisfaction. Working as a nurse would enable me to work empathetically, as I channel my soft skills toward my profession.
All these years, I have aspired to be a part of an industry that involves challenges. Besides, I would be able to learn throughout my career. The nursing profession would be ideal for me, as it would enable me to stretch my limits continually, as I embrace a progressive career. During my leisure hours, I cultivate my interest in photography and painting. My innate fascination with creativity motivates me to indulge in these activities. As long as my profession is concerned, a little creativity in building rapport and establishing psychological affinity with the patients would complement my efforts.
Ten years from today, I visualize myself working as a practicing nurse in a reputed hospital. My commitment is to establish myself as a nursing consultant. This would enable me to enhance the qualitative aspects of teaching within the profession. I am also aware of the preparation, planning and time management involved in this pursuit, and my dissertation on maintaining respect and dignity while caring for elderly patients resonates with this ideology. I look forward to working as an accomplished nurse, interacting with people and focusing on my core competencies. This course would eventually help me realize my professional goals. True indeed, it would be a pleasure for me to leverage the spirits of patients and their close ones!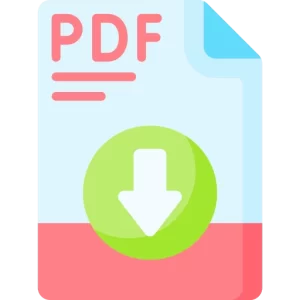 Download Nursing Personal Statement Example PDF
Go through these nursing school personal statement examples pdf before starting to write your document. From these nursing program personal statement examples, you will learn how to start your write-up, proceed to explain major points, conclude, format and many more.
Example – Mental Health Nursing Personal Statement
How to Write a Personal Statement for Nursing School Like a Pro? 5 Tips from Experts
Here are five proven tips from professional personal statement writers on how to write a personal statement for nursing like a pro.
Finalize your nursing school:
You shouldn't write a personal statement for nursing without finalizing the school. You need to customize your write-up according to the school and its values and align your profile specifications to those.
Schedule a time to complete:
You could be either applying to a single institute or many. In either case, you must have a timeline to complete your personal statement project. This will make it easier for you to file the application on time.
Practice and plan:
If you haven't been writing anything for long, brush up your writing skills and make rough statements. Compare the output with personal statement for nursing school examples.
Be familiar with multiple approaches:
You can either start by narrating your personal story or focusing on a particular nursing experience. Familiarize yourself with different approaches and choose one that you feel more comfortable with.
Incorporate specific examples:
Include specific examples. For instance, instead of saying 'I am compassionate,' write an example of how you showed compassion to a sick person in the street. Selectors are more likely to connect to such examples.
Need Help In Writing Nursing School Personal Statement? Contact Us
Bonus Tips from Experts!
Seek A Second Opinion on Your Completed Personal Statement
Most often, you wouldn't realize the mistakes in your writing until someone points them out to you. There is always room for improvement. Hence, it is good to seek a second opinion on your nursing personal statement.
You can consider the following people for a second opinion.
Private tutors or professional writers
Any of your peers who are applying for further studies in nursing
Any of your friends who are currently in the nursing schools
Any of your educated family members or friends
Top Ten International Institutions for Nursing Education
University of Pennsylvania
Johns Hopkins University
The University of Manchester
Yale University
University of North Carolina at Chapel Hill
Duke University
King's College London
University of Washington
University of California, San Francisco
University of Southampton
Most popular Nursing Programs
Accelerated Programs for Non-Nurses (BS & MS)
Doctor of Nursing Practice (DNP)
Nurse Practitioner Program (MS)
Clinical Nurse Leader (MS)
Legal Nurse Consultant Course
PhD in Nursing & Health Practice
Nursing Education (MS)
Health Care Organization Management and Leadership (MS)
Care Manager Education
Did You Enjoy Reading This Blog?
We truly hope that this blog has helped you get a comprehensive understanding of writing a nursing school personal statement.
Are you confident to write your own personal statement for nursing now?
We are excited to know that. Remember, a strong personal statement is imperative to make your way into the best nursing school that you dream to enroll on.
If you have any questions or doubts, let us know in the comments below.