If you want to build your career in the promising field of cyber security, writing a top-notch cyber security personal statement is your first step.
Wondering what it has got to do with your career aspiration?
Well, with competition becoming tougher in admission to top institutes offering cybersecurity programs, you got to fight your way to cement your seat. Don't be discouraged though.
Through this blog, we will help you improve your writing process for this document with the help of a cyber security personal statement sample.
We will also cover a series of topics in this blog such as:
How to write a personal statement for cyber security?
The complete structure
How to format an MSc cyber security personal statement in the correct way?
Cyber Security Personal Statement Examples
What is Cyber Security? Why is it Important?
Cyber security is a collective term used to describe the various steps and practices implemented in order to ensure safety while using a computer, mobile devices and the internet.
The world that we live in has become too dependent on the internet and digital devices. Cyber security has become not just a concern for tech companies but for everyone in the world now.
What Is a Personal Statement for Cyber Security? Why Do You Need It?
A personal statement for cyber security program is a document you will be asked to produce by a college or university when you apply for a graduate-level or postgraduate-level program in cyber security with them. It has got the power to break or make your admission because the admission panel of the respective institutes assess your personal statement cyber security to learn about your:
Suitability for their UG or PG program in cyber security
Your personality and personality traits
True motivations behind applying for the program – whether you are serious about the course or not
Academic background – whether you have gained sufficient knowledge about cyber security programs to take up a dedicated course in it.
Career aspirations in cyber security for the immediate future as well as years down the line
Looking for Cyber Security Personal Statement Writers? Click Here
How to Write a Personal Statement of Interest in Cyber Security Like a Professional?
Step 1: Learn what your chosen university wants you to share
Step 2: Finalise what to include
Step 3: Understand the structure and format
Step 4: Learn How to Eliminate Errors from Your Cyber Security Personal Statement
Learn What Your Chosen University Wants You to Share
Every institute has its own unique selection criteria. They select candidates who meet their criteria. For instance, some would be too particular about the candidate's involvement in extracurricular activities while others give priority to leadership qualities and communication skills. Learn what your chosen institute is expecting from its applicants and try to customize your cyber security personal statement for university accordingly.
Finalise What to Include
Besides understanding the specific aspects that universities focus on, there are a few points that an ideal cyber security personal statement should address. Some universities would share a list of questions or prompts with the applicants so that they can include answers to all of them in their write-ups.
7 Prompts to Help You Write a Comprehensive Personal Statement for Cyber Security Course
Here is a list of the most common questions or prompts to help you write a comprehensive personal statement for masters in cyber security.
How will this program in cyber security influence your career?
What are your career aspirations?
Where do you see yourself 10 years down the line as a professional in cyber security?
How do you plan to achieve your pre-set career goals?
What sparked your interest in cyber security?
What makes you think cyber security has got significance today?
How do your past experiences align with your interest in cyber security?
Need Help In Writing Cyber Security Personal Statement? Contact Us
List Your Relevant Achievements
Talking about your key achievements that align with your interest in cybersecurity will make your write-up look more impressive. In your personal statement for MSc cyber security, you can consider including the following types of achievements
Academic achievements or recognitions
Fellowships or Scholarships
Promotions you have received at the workplace
Any published works in cybersecurity or related fields
Awards and Honours
Any other official recognitions that can be proved
Looking for Personal Statement Writers for Cyber Security? Click Here
Talk About the Challenges You Have Faced
If you have faced any challenges during your previous academic formations or professional life, you can include them and highlight how you overcame them in your cyber security masters personal statement.
Here are some suggestions for you to consider:
Learning challenges
Financial problems
Social discrimination or prejudice
Physical disabilities
Family issues
Understand the Structure and Format
As you have gathered from the sample personal statement for masters in cyber security, one of the important factors that determine the appeal of your write-up is its structure and format. A good structure will not only make your document pleasant to go through but also will influence the first impression it can make. Take a look at the below sample personal statement for cyber security and analyse how it is structured logically.
Paragraph 1
As we step into a digitized future with sophisticated information technology defining our civilization's landscape, we invite even more potent online vulnerabilities. Ransomware attacks, malware, information theft and hacking continue to jeopardize global organizations and individuals. Even hacking of servers and IoT poses a severe threat to users. Each day, billions of people turn to their systems and handsets to carry out activities that we deem indispensable in the age of information. Having completed my Bachelor's degree in IT from India, I prioritize my specialization in cyber forensics and information security. Cybersecurity is a necessity in the fast-digitizing world, given that personal information and financial credentials are no longer secure. I fancy myself walking in the shoes of an accomplished cyber forensic professional in the next five years.
Q1: How to Write a Perfect Introduction for Your Cyber Security Personal Statement for University?
The first paragraph is where you will introduce yourself and your document to the reader. You must start it by invoking the interest and attention of the reader and then move on to turn it into your personal story. The first paragraph should:
Show how your interest in cyber security developed into a strong passion
How do your future aspirations in cyber security align with your personal background?
The introductory paragraph can be somewhere around 100 words.
Paragraph 2
My experience working as a database security manager at Wipro for the last couple of years motivated me significantly to delve into this industry. While operating in this profile, I significantly contributed to the company's efforts to secure their clients against cyber-attacks. Apart from basic debugging of programs, I was involved in testing, administering and deploying computer databases. It was a gratifying learning experience for me, as I coordinated, planned and implemented advanced security measures to secure the systems.
Q2: How Should You Develop the Second Paragraph of Your Personal Statement for Masters in Cyber Security Pdf?
Make your second paragraph flow naturally from the first. In this paragraph, you can focus on your academic and professional experiences and how they shaped your skills, choices and motivations. In this given sample, the candidate has tried to focus on:
Explaining his specific work experience
What specific roles he handled during his professional tenure
How his experiences helped him mould his passion
Paragraph 3
Over the last decade, I have witnessed online adversaries evolve in terms of severity and attack mechanisms. What started as simple Facebook and email ID hacks presently encompass IoT and automated device hijacking, clickjacking, server hijacking and ransomware attacks. Besides, I have also observed my professional scope in a fast-digitizing environment in India. With the 'Digital India' campaign picking up pace, enterprises and government organizations are more vulnerable than ever before. Another attack like the WannaCry ransomware can jeopardize international business operations. With my exposure and industry experience, I am well-versed in the basics. The fact is, information technology will keep gaining sophistication throughout the coming decades. This would expose organizations and internet users to more adverse attacks.
Q3: How to Compose the 3rd Paragraph of a Personal Statement for Masters in Cyber Security?
Continue to the third paragraph as naturally as you can and maintain the chronological order for listing out your points. In this specific example, the candidate has:
Demonstrated his capacity as a proactive learner
Talked about the research he has done to keep himself updated about the evolution of cyber-attacks and cybersecurity implementations
Listed out the challenges that today's world faces in the field of cybersecurity.
Paragraph 4
The other reason I would like to dig deeper into the field of cybersecurity is the fact that I can remain within the learning loop throughout my career. As always, I remain open to knowledge acquisition, and it would be a gratifying experience for me to stay abreast with the trending technologies throughout my career. I look forward to working with some of the globally reputed IT companies like Accenture, IBM and Cognizant in the coming years. Besides, I have plans to launch my start-up, offering cybersecurity services to start-ups and small businesses in India. In an effort to gain comprehensive industry knowledge and technical superiority over cybercriminals, it is imperative for me to pursue this course.
Q4: What Should I Discuss In the 4th Paragraph of My Cyber Security Masters Personal Statement?
Like your previous paragraph, keep the length of your fourth paragraph to about 100 to 120 words. Discuss your career aspirations and goals in this paragraph. You must make it specific by:
Identifying your aspirations and being honest about them
Demonstrating your immediate and long-term goals
Telling what you expect to gain from the course and how you hope the information would help you?
Paragraph 5
Well, I know the value of translating the manager's language to that of a technician. Having worked as a database security manager with one of the globally reputed companies, I have the confidence and commitment to scale higher professional pedestals. Considering the necessity to strengthen cyber forensics, I need to strengthen my soft skills, along with growing my core abilities. Confidence, accountability and effective communication would take me to my professional goals. Apart from being a good employee, I wish to be a responsible cybersecurity leader. The advanced program in cybersecurity that your university offers would largely help me realize these goals.
Q5: How to Draft the 5th Paragraph of a Personal Statement for MSc Cyber Security?
In this paragraph, talk specifically about your skills and strengths. Again, the length of this paragraph can be about 100 to 120 words. Develop this paragraph by:
Listing out your skills and strengths
How the professional roles you handled helped you improve your skills
What major skills or strengths you want to focus on and enhance through your formation in this particular cybersecurity course
Paragraph 6- A perfect Conclusion
As an individual, I am energetic and enthusiastic. I always look out for a better version of myself, and try to walk in his shoes. With relevant industry knowledge and maturity, I would be able to deliver the needful to my organization for a larger goal. I value the privacy of information of every being in the world. Technological sophistication may be a boon to us, but that must not rob people of their basic rights. Specializing in cyber forensics and security will elevate my profile substantially. It would be a great opportunity to align my passion and professional goals to craft a challenging yet eventful career for myself. A berth in your esteemed institution would complement my efforts, as I strategize adequate countermeasures to address online adversaries.
Q6: How to Write a Perfect Conclusion for MSc Cyber Security Personal Statement?
Conclude your personal statement for cyber security by clearly showing your enthusiasm for taking up the course and how it will boost your career prospects.
Remember to summarize the whole essay into one or two sentences in your conclusion
Note that the conclusion is what will remain in the memory of the reader and influence his judgement about your application
If you want to analyse another personal statement for masters in cyber security PDF, here is another one for you to read. Click the download button to save your copy and review it whenever you like.
Need Help In Writing Cyber Security Personal Statement? Contact Us
Sample Personal Statement for Masters in Cyber Security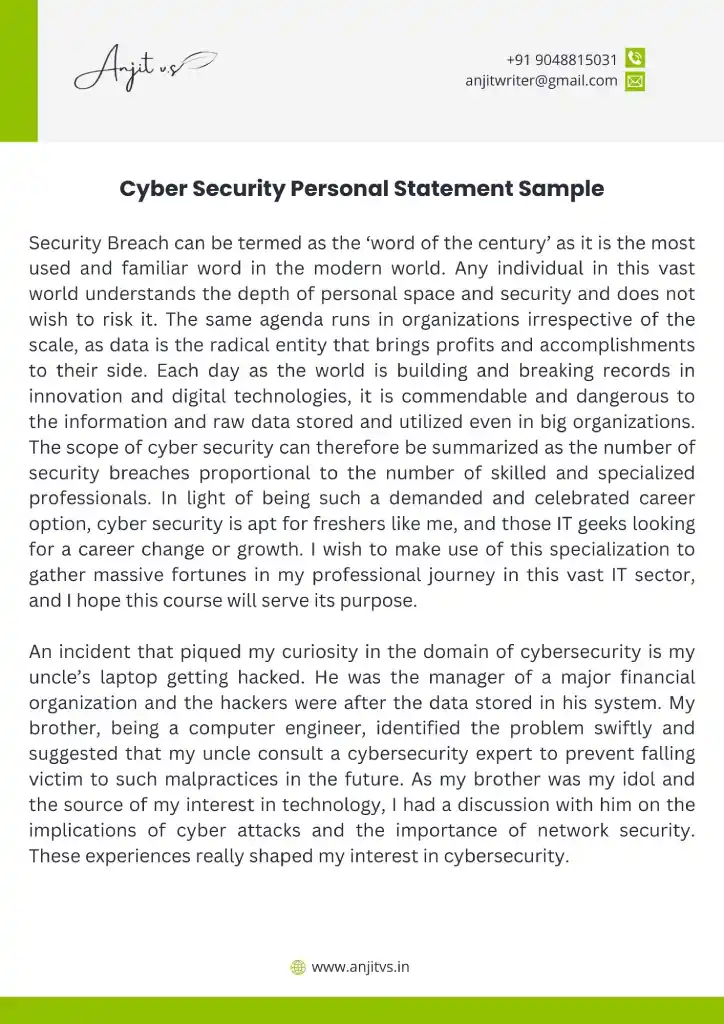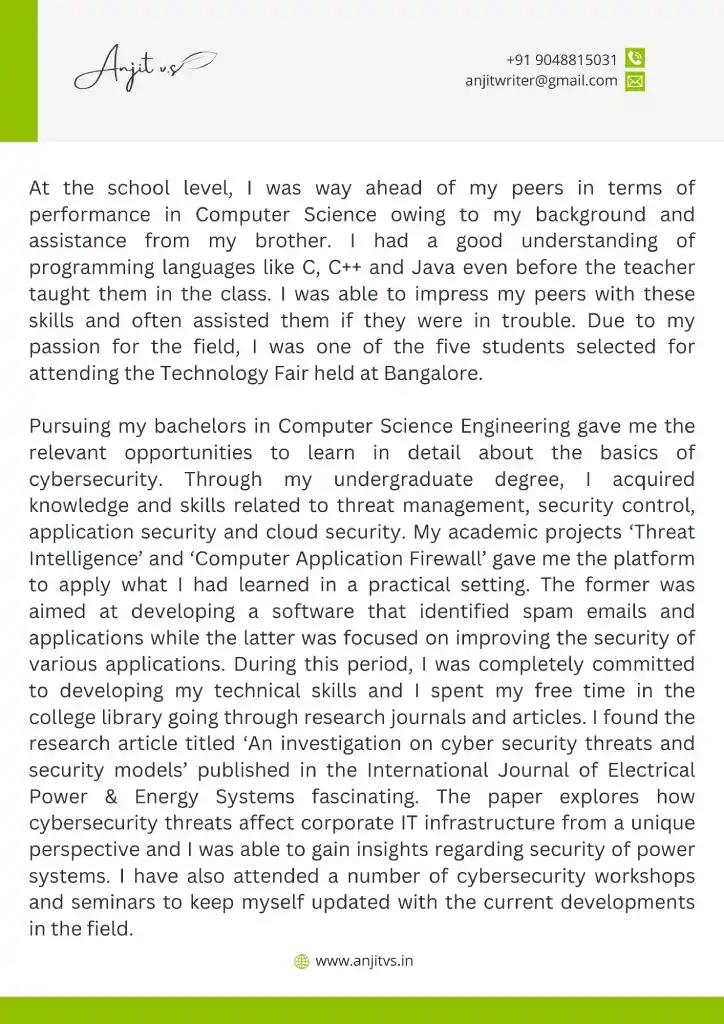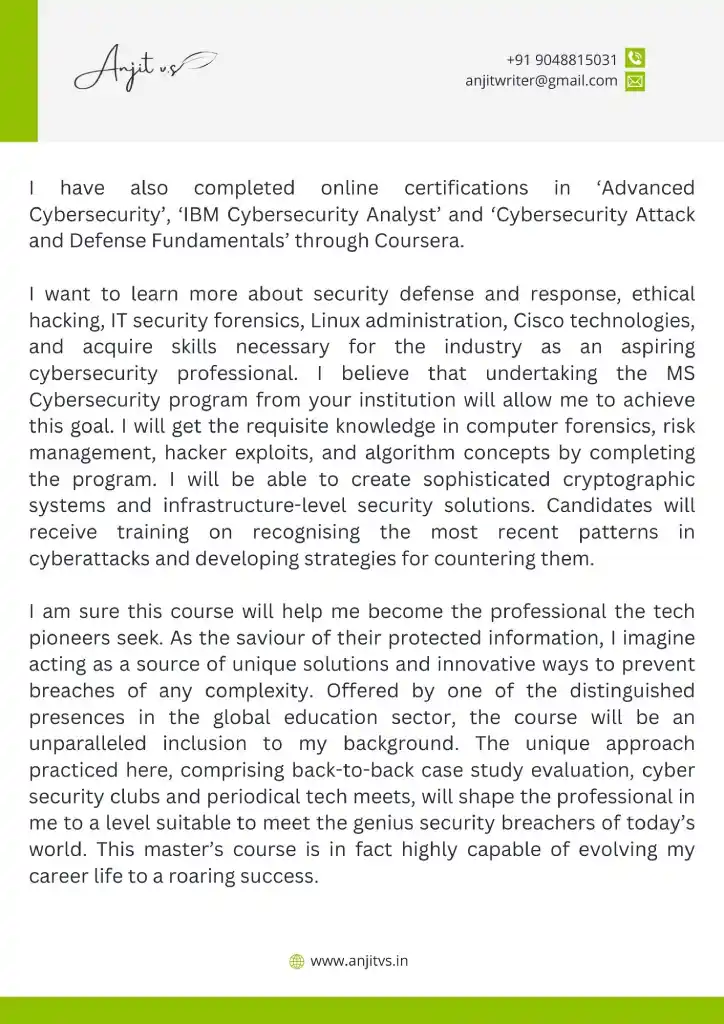 Security Breach can be termed as the 'word of the century' as it is the most used and familiar word in the modern world. Any individual in this vast world understands the depth of personal space and security and does not wish to risk it. The same agenda runs in organizations irrespective of the scale, as data is the radical entity that brings profits and accomplishments to their side. Each day as the world is building and breaking records in innovation and digital technologies, it is commendable and dangerous to the information and raw data stored and utilized even in big organizations. The scope of cyber security can therefore be summarized as the number of security breaches proportional to the number of skilled and specialized professionals. In light of being such a demanded and celebrated career option, cyber security is apt for freshers like me, and those IT geeks looking for a career change or growth. I wish to make use of this specialization to gather massive fortunes in my professional journey in this vast IT sector, and I hope this course will serve its purpose.
An incident that piqued my curiosity in the domain of cybersecurity is my uncle's laptop getting hacked. He was the manager of a major financial organization and the hackers were after the data stored in his system. My brother, being a computer engineer, identified the problem swiftly and suggested that my uncle consult a cybersecurity expert to prevent falling victim to such malpractices in the future. As my brother was my idol and the source of my interest in technology, I had a discussion with him on the implications of cyber attacks and the importance of network security. These experiences really shaped my interest in cybersecurity.
At the school level, I was way ahead of my peers in terms of performance in Computer Science owing to my background and assistance from my brother. I had a good understanding of programming languages like C, C++ and Java even before the teacher taught them in the class. I was able to impress my peers with these skills and often assisted them if they were in trouble. Due to my passion for the field, I was one of the five students selected for attending the Technology Fair held at Bangalore.
Pursuing my bachelors in Computer Science Engineering gave me the relevant opportunities to learn in detail about the basics of cybersecurity. Through my undergraduate degree, I acquired knowledge and skills related to threat management, security control, application security and cloud security. My academic projects 'Threat Intelligence' and 'Computer Application Firewall' gave me the platform to apply what I had learned in a practical setting. The former was aimed at developing a software that identified spam emails and applications while the latter was focused on improving the security of various applications. During this period, I was completely committed to developing my technical skills and I spent my free time in the college library going through research journals and articles. I found the research article titled 'An investigation on cyber security threats and security models' published in the International Journal of Electrical Power & Energy Systems fascinating. The paper explores how cybersecurity threats affect corporate IT infrastructure from a unique perspective and I was able to gain insights regarding security of power systems. I have also attended a number of cybersecurity workshops and seminars to keep myself updated with the current developments in the field. I have also completed online certifications in 'Advanced Cybersecurity', 'IBM Cybersecurity Analyst' and 'Cybersecurity Attack and Defense Fundamentals' through Coursera.
I want to learn more about security defense and response, ethical hacking, IT security forensics, Linux administration, Cisco technologies, and acquire skills necessary for the industry as an aspiring cybersecurity professional. I believe that undertaking the MS Cybersecurity program from your institution will allow me to achieve this goal. I will get the requisite knowledge in computer forensics, risk management, hacker exploits, and algorithm concepts by completing the program. I will be able to create sophisticated cryptographic systems and infrastructure-level security solutions. Candidates will receive training on recognising the most recent patterns in cyberattacks and developing strategies for countering them.
I am sure this course will help me become the professional the tech pioneers seek. As the saviour of their protected information, I imagine acting as a source of unique solutions and innovative ways to prevent breaches of any complexity. Offered by one of the distinguished presences in the global education sector, the course will be an unparalleled inclusion to my background. The unique approach practiced here, comprising back-to-back case study evaluation, cyber security clubs and periodical tech meets, will shape the professional in me to a level suitable to meet the genius security breachers of today's world. This master's course is in fact highly capable of evolving my career life to a roaring success.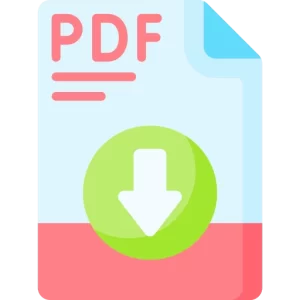 Cyber Security Personal Statement Sample PDF
How to Perfectly Format Your Cyber Security Personal Statement?
Adhere to the below steps and format your document as perfectly as the cyber security personal statement sample we have shared with you.
Keep the font size to 12 points so that it is readable.
Justify the text properly so that it remains equally between the margins on either side
Use an academically approved font style – preferably Times New Roman or Arial
Don't add any other colour than black to the texts
How to Eliminate Errors from Your Cyber Security Personal Statement?
More often than not, mistakes will happen in your personal statement if you don't really pay attention. Being aware of those mistakes is the best way to keep them out of your way. Here are some remedies to help you. When you compose your statement for specific programs like UCAS, be prepared to review a couple of UCAS cyber security personal statement examples.
| | |
| --- | --- |
| Start early: | Even if you think you can write a perfect personal statement for cybersecurity, begin your writing early and complete it at least a couple of days ahead of the deadline to submit your write-up. |
| Analyse samples: | Reading a few personal statement examples for cyber security is quite helpful before you start to write your essay. By doing this, you will have a preconceived idea about how the write-up should develop and progress. |
| Avoid cliches: | Don't let your personal statement be strewn with cliches. Rather, it should be unique and written from your very own personal point of view. When you reflect your personality in it, there won't be any room for cliches. |
| Proofread: | Proofreading is the best remedy to help you identify mistakes and correct them. Reread your essay at least four to five times. With each proofreading, you will be able to correct the mistakes and improve your sentences. |
| Get reviewed: | Finally, before you finalise your personal statement, have at least a second person to go through your write-up and give you feedback. A second person's opinion is always helpful to improve your writing. |
Need Help In Writing Cyber Security Personal Statement? Contact Us
Does Your Personal Statement Tick These Checkboxes?
Finally, you have finished writing your personal statement. Don't rush to submit it yet. Make sure that your document ticks the below checkboxes.
Have you proofread and made sure that it contains no grammatical or spelling mistakes?
Have you structured and formatted it correctly?
Have you compared it with cyber security personal statement examples and validated it against readability and engagement?
Have you had it reviewed by a second person?
Have you ensured that it meets all requirements?
Where Should You Get Trained in Cyber Security? The Best Cyber Security Institutes in The World
University of Texas
Nova Southeastern University
Depaul University.
University at Buffalo
Shanghai Jiao Tong University, China
Leiden University, the Netherlands
ETH Zurich, Switzerland
Georgia Institute of Technology
University of Maryland
George Mason University
The University of New South Wales, Australia
Aalborg University, Denmark
University of Glasgow, Scotland
King's College London, the UK
Need Help In Writing Cyber Security Personal Statement? Contact Us
Career Paths to Choose After Getting Graduated in Cyber Security
Once you have completed your graduation or post-graduation in cybersecurity from a reputed institute, there are a plethora of career paths to hop on to.
Here is a list of popular roles you can consider:
Security Analyst
Security architect
Chief Information Security Officer (CISO)
Data Protection Officer (DPO)
Security Engineer
Security Administrator
Chief Security Officer (CSO)
Security Consultant/Specialist/Intelligent
Final Thoughts…
The path to securing your admission to cybersecurity programs is straight.
Write a convincing cyber security personal statement and thereby make your application strong.
Do you think there is anything we missed to cover on this topic?
Don't hesitate to tell us what it is in the comments below.
We also welcome all your suggestions and feedback.