Are you struggling to write the best personal statement for interior architecture and design?
Before you get admission to your favourite institute for training in design and architecture, you need to convince the selectors about your preparedness for the program through your personal statement.
Don't worry if this proposition seems challenging because we are bringing together all you need to know about personal statement for interior design course in this blog.
In this blog, you will get a:
A perfect guide on how to write an interior design personal statement
A sneak peek into its structure and format
Interior design personal statement examples
And a checklist to help you validate your write-up after completing
What Is an Architecture and Interior Design Personal Statement? Why Is It So Important?
Architecture and interior design personal statement is an essay you develop to demonstrate to your host institute how much you know about the course and how prepared you are to take it up. It is crucial for your admission as:
It is much more decisive than all other admission documents
No other documents but personal statement represents the candidate from a personal angle
The personal statement shows how the candidate is unique from other applicants
Your interior design personal statement proves how much you will be able to contribute to the host institute
Your personal statement is tested for its ability to communicate your thoughts clearly and straight to the point.
How Does Interior Design Personal Statement Facilitate Your Admission?
You need to have the best interior design personal statement to impress the admission council because they review hundreds of them every day.
When you present a unique personal statement for your interior design, it would help the admission committee know in what ways you are different from other applicants
Personal statement lets the selection committee know your true intentions behind the application.
Universities prefer candidates who can contribute to their student community. Through your interior design personal statement for university, you can show how you can contribute.
Need Help In Writing Interior Design Personal Statement? Contact Us
Looking to Write Your Own Interior Design Personal Statement? We Have Here the Perfect Strategy for You
Drafting an impeccable personal statement for interior design and architecture isn't a walk in the park for most students.
But if you approach it with a perfect plan, it won't be that hard.
We have compiled here the best strategy, inspired by the insights of industry experts, to help you write your personal statement for interior architecture and design.
| | |
| --- | --- |
| Step 1: | Understand the requirements and guidelines by the university |
| Step 2: | Figure out What the Admission Committee expects you to cover? |
| Step 3: | Learn the correct Structure from realistic Samples |
| Step 4: | Beware of cliches and avoid them |
| Step 5: | Format your Interior Personal Statement |
| Step 6: | Validate your personal statement against a few criteria |
Looking for Interior Design Personal Statement Writers?
Understand the Requirements and Guidelines of The University
In the majority of the cases of admissions, the university or college would give certain requirements to fulfill in your interior architecture and design personal statement. Therefore, it is imperative to read their guidelines carefully and follow them.
Figure Out What the Admission Committee Expect You to Cover?
Though you have the freedom to talk your heart out through your interior architecture and design personal statement, the first priority should be to answer everything that the admission committee wants you to answer. Develop your essay accordingly.
Learn the Correct Structure from Realistic Samples
Have you ever wondered how the best interior design personal statements are crafted, that too without any mistakes and maintaining readability throughout?

The right way to learn the correct structure and format of an interior design personal statement is to examine a couple of interior design personal statement examples.
How to Write Your Introductory Paragraph of Interior Design Personal Statement
My fascination with creating dimensions has been one defining element of my career choice. Being a meticulous, creative and ambitious individual, I have an inherent passion for designing. Consciously channelizing these virtues towards productive shores, I am all set to embrace the field that has appealed to me the most. I aspire to establish myself as a successful designer, growing my competencies over domains like architecture, spatial design and interior design. My initial obsession with physics has further complemented my efforts to explore interior designs. Through several projects and internships, I have acquired relevant industry knowledge to demonstrate my creativity and manage projects. Eventually, this would help me contribute to the academic environment of your institution through peer knowledge sharing. I am in the final year of my Bachelor's program of Engineering in Electrical Engineering. My projects and marksheets speak for my research skills, conceptualizing ideas and maturing them, as well as meticulous techniques for design. Channelizing my problem-solving abilities and incepting fresh ideas, I would love to capitalize on what the industry brings to me.
The first sentence of your personal statement is like a hook. It should captivate the reader to read further. It should be very personal and intriguing for the reader. In the introduction, try to incorporate the following points as well:
Your brief background
What is this essay going to discuss
Your Motivation
Paragraph 2 – Reflect Your Aptitude and Professional Skills
I believe that my strengths to interpret, perceive design concepts and calculate perceptions within the innovative creative field make me ideal for the course. In the past, I have been a part of a cross-functional project team during my internship at National Designers, Mumbai. Blending technology and imagination, I can come up with natural concepts. Backed by my degree in engineering and interest in Physics, I believe that it would be a logical decision for me to pursue this program. Particularly, I am interested in this course at your university, as it will refine my professional skills in terms of endurance, functionalism and the propensity for precision.
The second paragraph should illustrate your aptitude and professional skills. You can go up to 100 or 120 words. Don't forget to write this paragraph:
By adding enough evidence to your skills and aptitude
Choosing the most relevant of your skills and strengths
Being specific on how they matter to your formation.
Third Paragraph – Tell How Did You Strengthen Professional Skills
As a goal-oriented and organized individual, I have taken adequate measures to scale up the professional hierarchy in the coming years. Online courses at Coursera have further bolstered my understanding over the last couple of years. Besides, I have completed a certificate program on interior designing from The Interior Design Institute, India. In the process, I have developed my rudimentary skills, working on different drawing techniques and interior elements. Besides, this training program also strengthened my visual vocabulary, which I believe, would leverage my profile significantly in the world of competitions. This course, along with my internship, has significantly helped me gain professional competence, as I worked on both commercial and residential designs for our clients.
In this third paragraph, you will bring more clarity to your acquired professional skills and aptitudes. You must write this paragraph:
Between 100 and 120 words in length
Showing the different steps you took to enhance your skills and strengths
Using simple words that easily get communicated
Fourth Paragraph – Mention Your Software Competence
Particularly, I would mention my interest in Vray Advanced Course and 3DS Max, both of which strengthened my skills at the industry level. Besides, I took upon myself the responsibility of mastering the standard industry tools that are necessary to create interior and architectural visualizations. During my leisure hours, I find immense gratification, as I deploy these tools to produce high-quality visuals to be applied in the practical field. Besides, I am familiar with working in various production environments for clients, deploying a wide array of materials and techniques. The endeavours I have taken over the last three years of my graduation have enabled me to produce realistic sources of light, texture models and render scenes. Perceiving the relevant compositional mechanisms, I can execute the needful in terms of visualization and deployment.
The fourth paragraph of the essay is centred around the software competence of the applicant. The applicant says:
How he improved his software competence
How he used his leisure time to work on his passion
Fifth Paragraph – Talk About Your Industry Skills
It was in 2019 that I received my professional certification, demonstrating my competencies in AutoCAD. This particular program bestowed me with comprehensive and intensive practical training. This included editing, building, organizing and managing drawings. I am also well-versed in object manipulation, selection, surface rendering and 3D modelling. Working on multiple academic projects, I mastered industry-oriented skills like productive plotting, dimensioning and annotating. Last year, I also completed a course on architectural sketching. All these comprehensive programs have infused me with the ability and zeal to live up to industry standards. However, considering the value of a professional degree and the necessity to master the skills in depth, I aspire to pursue the course from your university.
Coming to the fifth paragraph, you can see that here the applicant has focused on talking about his industry skills. He elaborates
Various career development activities and exposure he has managed to avail for himself to develop industry skills.
Examples of the skills he has mastered
And explains why he wishes to get a professional certification in design.
Sixth Paragraph – Express the Proactiveness of The Applicant
The world of design is dynamic indeed, and it appeals the most to my intellect. To be a part of a progressive learning ambiance at your institute would be a privilege for me. I would like to work on the projects and gain advanced skills from my internship. This would help me acquire a greater degree of proficiency, gaining a competitive edge over my peers in India. Given that the industry looks competitive, I would gain an edge when it comes to tapping the professional opportunities in my homeland. Besides, it would be amazing for me to master the relevant skills, being a part of the global academic setting.
The candidate opens the sixth paragraph on a positive note telling how learning the design course at the particular institute would benefit him. He adds on:
How he will utilize the resources offered to him at the institute
How he wants the institute to help him grow and get trained in the trade of designing
What makes the institute suitable for realizing the applicant's ambitions
Seventh Paragraph – Explain Your Professional Experience and Strengths
Apart from my internships, I have worked as a project advisor at Blue Wood Designs, an interior designing company based in Pune for five months. Here, I became familiar with the latest trends and techniques for designing commercial spaces and office units in complexes. I am aware of the fact that industry proficiency comes from practice, I spend my leisure hours chalking out fresh concepts. After all, there's nothing as gratifying as innovating designs based on my perspectives. Well, I would acknowledge that I draw inspiration from various journals and magazines like FX, John Wardle Architects and Idfx.
In this paragraph, the candidate talks about his professional experiences and strengths. When you compose this part of the personal statement, make sure to
List the experience with backing up information such as what exactly you did in that role
How has the role helped you to become more mature and serious in your decision to take up designing as your career?
How to Write Brainstorming Conclusion Paragraph for Your Interior Design Personal Statement
A shear blend of technical design abilities and engineering skills define my career path. Strengthening this aspiration with my imaginative design concepts and passion to shine as an interior designer, I am looking forward to pursuing this program from your university. Interior designers are in high demand worldwide, and I fancy myself walking in the shoes of a successful professional in this domain. With my natural curiosity and creativity pushing me to success, I love deploying my innovative approach to come up with effective, substantial and striking art forms and designs. However, the virtues of social sensitivity in the modern society and the requirements of physical environment guide me on my pursuit. These qualities and skills, I believe, would propel me to success, given that I get an opportunity to pursue the interior designing course at your university.
The conclusion of a personal statement is very important because this is what is going to remain in the thoughts of the reader. The conclusion of your interior designing personal statement sample PDF should be:
A brief summation of the entire essay you presented to the reader.
Engaging and highly enthusiastic
Showing confidence and hope about studying the course from the given university
Need Help In Writing Interior Design Personal Statement? Contact Us
Interior Design Personal Statement Examples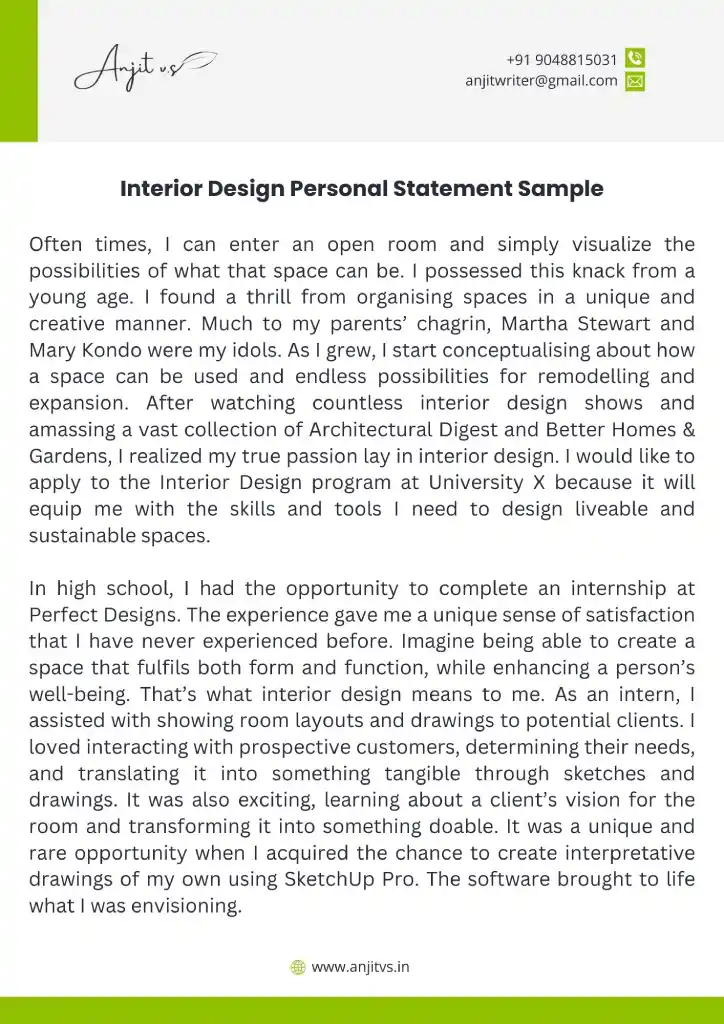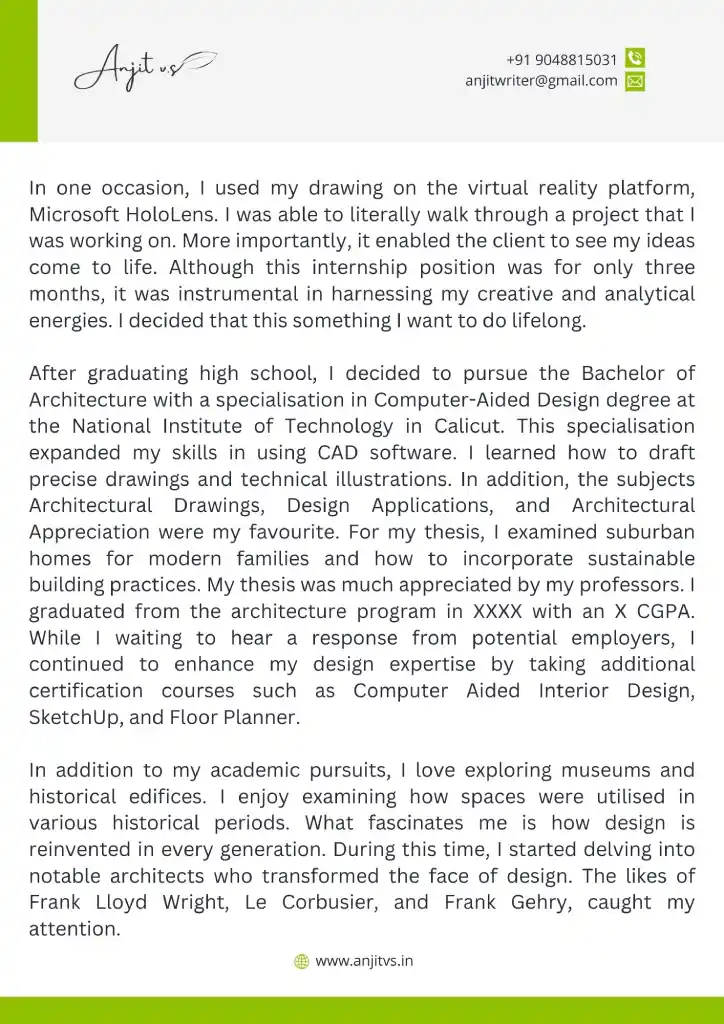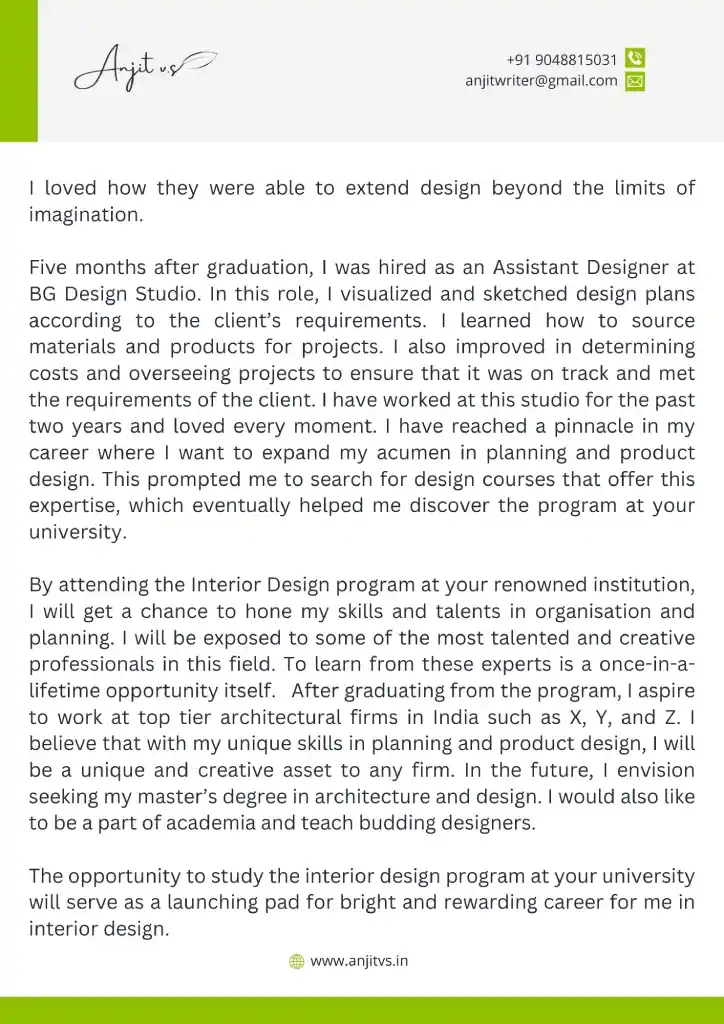 Often times, I can enter an open room and simply visualize the possibilities of what that space can be. I possessed this knack from a young age. I found a thrill from organising spaces in a unique and creative manner. Much to my parents' chagrin, Martha Stewart and Mary Kondo were my idols. As I grew, I start conceptualising about how a space can be used and endless possibilities for remodelling and expansion. After watching countless interior design shows and amassing a vast collection of Architectural Digest and Better Homes & Gardens, I realized my true passion lay in interior design. I would like to apply to the Interior Design program at University X because it will equip me with the skills and tools I need to design liveable and sustainable spaces.
In high school, I had the opportunity to complete an internship at Perfect Designs. The experience gave me a unique sense of satisfaction that I have never experienced before. Imagine being able to create a space that fulfils both form and function, while enhancing a person's well-being. That's what interior design means to me. As an intern, I assisted with showing room layouts and drawings to potential clients. I loved interacting with prospective customers, determining their needs, and translating it into something tangible through sketches and drawings. It was also exciting, learning about a client's vision for the room and transforming it into something doable. It was a unique and rare opportunity when I acquired the chance to create interpretative drawings of my own using SketchUp Pro. The software brought to life what I was envisioning. In one occasion, I used my drawing on the virtual reality platform, Microsoft HoloLens. I was able to literally walk through a project that I was working on. More importantly, it enabled the client to see my ideas come to life. Although this internship position was for only three months, it was instrumental in harnessing my creative and analytical energies. I decided that this something I want to do lifelong.
After graduating high school, I decided to pursue the Bachelor of Architecture with a specialisation in Computer-Aided Design degree at the National Institute of Technology in Calicut. This specialisation expanded my skills in using CAD software. I learned how to draft precise drawings and technical illustrations. In addition, the subjects Architectural Drawings, Design Applications, and Architectural Appreciation were my favourite. For my thesis, I examined suburban homes for modern families and how to incorporate sustainable building practices. My thesis was much appreciated by my professors. I graduated from the architecture program in XXXX with an X CGPA. While I waiting to hear a response from potential employers, I continued to enhance my design expertise by taking additional certification courses such as Computer Aided Interior Design, SketchUp, and Floor Planner.
In addition to my academic pursuits, I love exploring museums and historical edifices. I enjoy examining how spaces were utilised in various historical periods. What fascinates me is how design is reinvented in every generation. During this time, I started delving into notable architects who transformed the face of design. The likes of Frank Lloyd Wright, Le Corbusier, and Frank Gehry, caught my attention. I loved how they were able to extend design beyond the limits of imagination.
Five months after graduation, I was hired as an Assistant Designer at BG Design Studio. In this role, I visualized and sketched design plans according to the client's requirements. I learned how to source materials and products for projects. I also improved in determining costs and overseeing projects to ensure that it was on track and met the requirements of the client. I have worked at this studio for the past two years and loved every moment. I have reached a pinnacle in my career where I want to expand my acumen in planning and product design. This prompted me to search for design courses that offer this expertise, which eventually helped me discover the program at your university.
By attending the Interior Design program at your renowned institution, I will get a chance to hone my skills and talents in organisation and planning. I will be exposed to some of the most talented and creative professionals in this field. To learn from these experts is a once-in-a-lifetime opportunity itself. After graduating from the program, I aspire to work at top tier architectural firms in India such as X, Y, and Z. I believe that with my unique skills in planning and product design, I will be a unique and creative asset to any firm. In the future, I envision seeking my master's degree in architecture and design. I would also like to be a part of academia and teach budding designers.
The opportunity to study the interior design program at your university will serve as a launching pad for bright and rewarding career for me in interior design.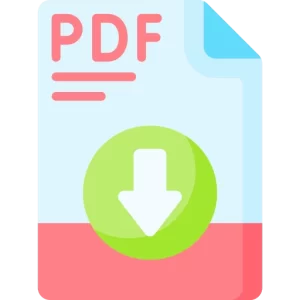 Download Interior Design Personal Statement Sample PDF
Beware of Cliches and Avoid Them
If you have read too many interior design personal statement examples from online or untrusted sources, you may have the tendency to get inspired by them. Make sure you don't copy or get inspired by any cliches in them such as:
Using complicated vocabulary or technical jargon
Using quotes to start your personal statement
Writing too long
Writing cooked-up stories to impress selectors
Format your Interior Design Personal Statement
Set the text to readable size. 12 points is ideal.
Justify the text to make it appear equally between the margins on both sides
Choose any academically acceptable fonts – Arial or Times New Roman
Use only black as the colour for your fonts
Validate Your Personal Statement Against These Criteria (Checklist)
Have you finished writing your interior design personal statement? Before you tie up your file, make sure that it ticks the below checkboxes.

Have I met all the requirements?
Is my personal statement engaging?
Does my personal statement contain any grammatical or spelling errors?
Have I started and concluded my personal statement in an impressive fashion?
Have I used an engaging writing tone throughout?
Top 10 Institutes to Do Interior Design Courses
New York School of Interior Design
College of Media Arts and Design Drexel University
The Savannah College School of Art and Design
Rhode Island School of Design
Parsons School of Design
University of Cincinnati
Cleveland Institute of Art
Fashion Institute of Technology
Pratt Institute
How Did it Go?
We are positive that we could help clarify some of your serious concerns about writing an interior design personal statement.
Did it answer all your doubts? Or do you still have anything else to get more insights into?
Feel free to share your feedback and suggestions with us.
Your input will help us immensely in improving this blog.