How is the admission board going to evaluate an anesthesiology personal statement? No one knows. But you know that it has to be strong and convincing.
To write a powerful personal statement, you need to know what to include in the statement and what not.
We are here to help.
In this blog, we help you understand:
How to write
How to structure it
3 different samples
A few useful writing tips
What is anesthesiology? What does an anesthesiologist do?
Anesthesiology is a branch of medicine which deals with a patient's medical care before, during, and after surgery.
Here are the five key duties that an anesthesiologist is expected to perform.
Comprehensive preoperative evaluations of the patient prior to the surgery.
Ensure the safety of the patient during the surgery.
Continual assessment of the patient during the surgery.
Control and monitor the consciousness as well as the pain of the patient during the surgery.
Evaluate the effect of anesthesia after the patient is moved to the intensive care unit.
What is a personal statement for anesthesiology? Why you should have one?
An anesthesiology personal statement is a document which demonstrates why you want to pursue a career in the domain of anesthesiology. Generally, it could be around 800 words, unless there is any guideline by the institute.
Universities put great emphasis on this document while screening your admission application for the following reasons.
Admission committee wants to verify whether you are passionate about the program.
They want to evaluate how much you know about anesthesiology and that you are aware of the duties and responsibilities it involves.
Selectors assess the statement to determine what makes you better than all other applicants.
Personal statements reveal many aspects about you that your resume or other documents don't.
Anesthesiology residency personal statement also helps selectors know what your career plans are after the course.
Need Help In Writing Anesthesiology Personal Statement? Contact Us
4 Questions that will decide your future in anesthesiology!
Rather than writing the statement generally, you must customize your personal statement for anesthesiology to convince the selectors. For that, you should address certain important questions that the admission committee has for you.
By answering these questions in your anesthesia residency personal statement, you can make it case-specific and comprehensive rather than sounding generic.
The questions are as follows:
What are your motivations behind choosing a profession in anesthesiology?
What attracts you to this particular anesthesiology program?
What and how would you contribute to this field and profession as a prospective anesthetist?
What relevant experiences and exposures have you got in the domain of anesthesiology?
Looking for Anesthesiology Personal Statement Writers? Click Here
6 effective steps to write an anesthesiology residency personal statement
If you know what structure to use and what points to answer in your personal statement for anesthesiology residency, you are good to go.
Follow these six steps to start writing your document.
Create notes:
You must first prepare notes regarding your strengths, experiences, exposure etc. Have an outline for how you are going to organize them in your statement.
Reflect positivity:
Negativity in the personal statement anesthesia residency will make it look underwhelming. Reflect on how enthusiastic you are and keep that positivity throughout your write-up.
Be professional:
Keep your document professional and engaging at the same time. If you are not completely confident to bring humor into the writing in a natural way, it is better to avoid forcing it in.
Be informed:
Gain a good grasp of anesthesiology and its potential benefits to your career. Your convictions will add to the overall appeal and strength of your residency personal statement anesthesia.
Do not sound repetitive:
Avoid repetition in your personal statement as it will spoil the readability of the document. Be choosy about what you write and avoid repetition by all means.
Be on time:
The earlier you have your personal statement for anesthesia residency ready, the better it is as it will give you additional time to check if it lacks anything important and rectify them.
How to format an anesthesiology personal statement?
| | |
| --- | --- |
| Step 1: | Write your document precisely and professionally |
| Step 2: | Divide your write-up into five to eight paragraphs |
| Step 3: | Use an academically accepted font and font size |
| Step 4: | Comply with the formatting requirements of the institute |
Need Help In Writing Anesthesiology Personal Statement? Contact Us
Anesthesiology Residency Personal Statement Examples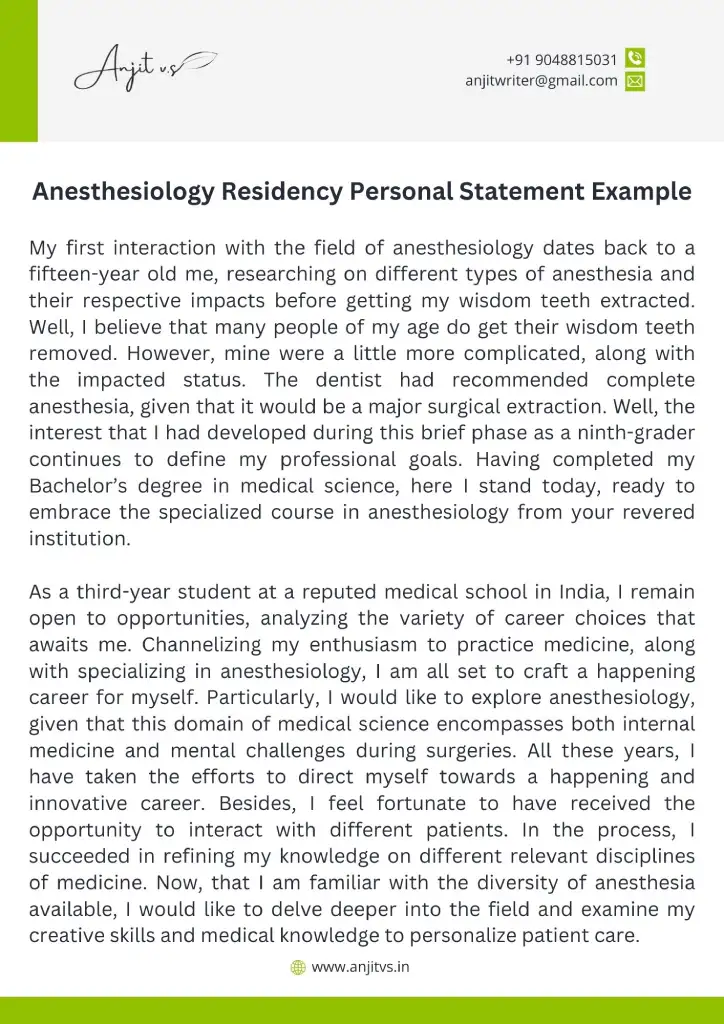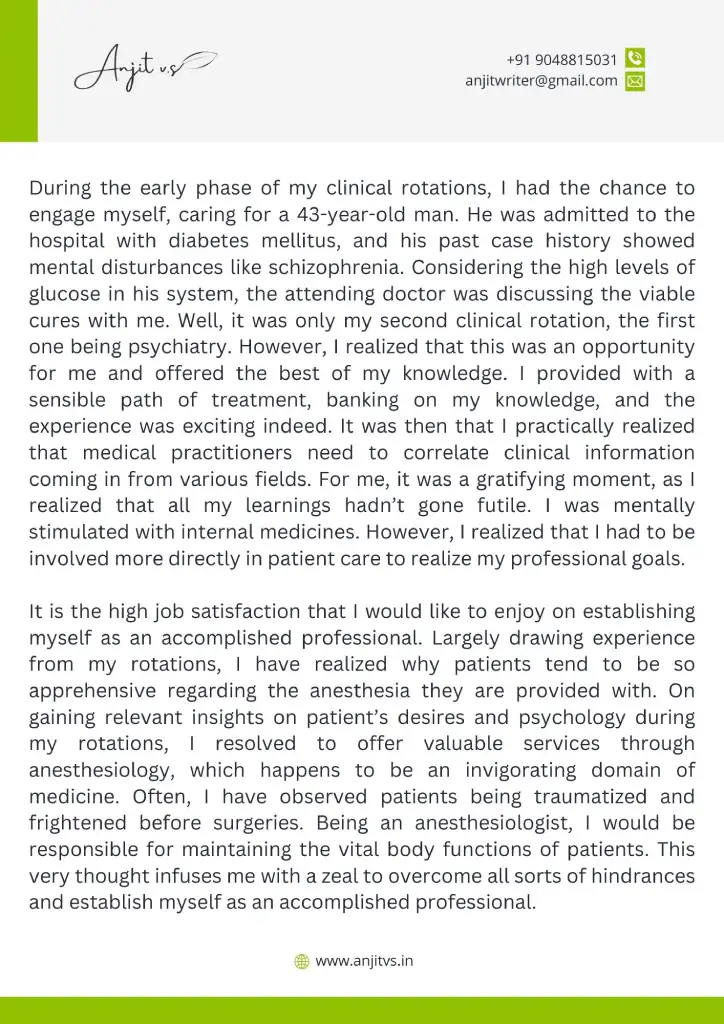 My first interaction with the field of anesthesiology dates back to a fifteen-year old me, researching on different types of anesthesia and their respective impacts before getting my wisdom teeth extracted. Well, I believe that many people of my age do get their wisdom teeth removed. However, mine were a little more complicated, along with the impacted status. The dentist had recommended complete anesthesia, given that it would be a major surgical extraction. Well, the interest that I had developed during this brief phase as a ninth-grader continues to define my professional goals. Having completed my Bachelor's degree in medical science, here I stand today, ready to embrace the specialized course in anesthesiology from your revered institution.
As a third-year student at a reputed medical school in India, I remain open to opportunities, analyzing the variety of career choices that awaits me. Channelizing my enthusiasm to practice medicine, along with specializing in anesthesiology, I am all set to craft a happening career for myself. Particularly, I would like to explore anesthesiology, given that this domain of medical science encompasses both internal medicine and mental challenges during surgeries. All these years, I have taken the efforts to direct myself towards a happening and innovative career. Besides, I feel fortunate to have received the opportunity to interact with different patients. In the process, I succeeded in refining my knowledge on different relevant disciplines of medicine. Now, that I am familiar with the diversity of anesthesia available, I would like to delve deeper into the field and examine my creative skills and medical knowledge to personalize patient care.
During the early phase of my clinical rotations, I had the chance to engage myself, caring for a 43-year-old man. He was admitted to the hospital with diabetes mellitus, and his past case history showed mental disturbances like schizophrenia. Considering the high levels of glucose in his system, the attending doctor was discussing the viable cures with me. Well, it was only my second clinical rotation, the first one being psychiatry. However, I realized that this was an opportunity for me and offered the best of my knowledge. I provided with a sensible path of treatment, banking on my knowledge, and the experience was exciting indeed. It was then that I practically realized that medical practitioners need to correlate clinical information coming in from various fields. For me, it was a gratifying moment, as I realized that all my learnings hadn't gone futile. I was mentally stimulated with internal medicines. However, I realized that I had to be involved more directly in patient care to realize my professional goals.
It is the high job satisfaction that I would like to enjoy on establishing myself as an accomplished professional. Largely drawing experience from my rotations, I have realized why patients tend to be so apprehensive regarding the anesthesia they are provided with. On gaining relevant insights on patient's desires and psychology during my rotations, I resolved to offer valuable services through anesthesiology, which happens to be an invigorating domain of medicine. Often, I have observed patients being traumatized and frightened before surgeries. Being an anesthesiologist, I would be responsible for maintaining the vital body functions of patients. This very thought infuses me with a zeal to overcome all sorts of hindrances and establish myself as an accomplished professional.
My experiences during my rotations have bestowed me with valuable skills, that would prove vital in the broader domain in the industry. I appreciate the value of organized efforts and teamwork from medical practitioners. In this context, I would point out playing soccer for my college team, where each player in a team contributes his share for a mutual goal. Besides, I value leadership skills, which prove vital for proficient anesthesiologists. While operating in critical situations, I keep my thought processes clear. Along with professional adroitness and coordination, I succeed in my endeavors. Communicating with patients, helping them remain free from stress and ultimately, contributing to better patient care define my perspective of my career.
As always, I remain committed to lifelong learning, adhering to my professional ethics to realize my ambition. While pursing my graduation from the medical school, I worked on several projects, which eventually elevated my qualitative values. At this juncture of my profession, I look forward to master the traits of a successful anesthesiologist. On completing this program, I would go for post-residency fellowship training, specializing in pain management or pediatric anesthesia. Pursuing this advanced program from your university will steer me to my professional goals.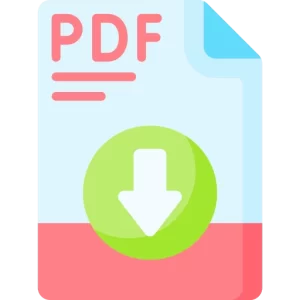 Download Anesthesiology Residency Personal Statement Example PDF
Confused after reading unprofessional anesthesia personal statement examples online? Here is a case-specific anesthesiologist personal statement sample pdf for you to download and review.
Example 2 – Anesthesiologist Assistant Personal Statement
Tips to make your personal statement unique
Writing a winning personal statement for anesthesia residency is all about presenting your story in a convincing manner to the selection committee.
Follow these expert tips to turn your write-up into a unique one like the above given anesthesia residency personal statement example.
Connect with your background:
The more you connect your goals as an anesthetic with your academic and professional background, the more convincing it will turn out to be.
Avoid overused quotes:
Refrain from including overused quotes as in some online anesthesiology personal statement examples to start your document. Use your own personal story as the milieu.
Extracurricular activities:
Talk about your involvement in extracurricular activities that improved your soft skills such as leadership, communication, and teamwork.
Seek professional help:
If you are not confident to write a winning personal statement for anesthesiology residency, there is nothing wrong with seeking professional support.
Be genuine:
Do not fake to impress selectors. It won't work. Write your personal statement from your heart and be true to yourself throughout.
Need Help In Writing Anesthesiology Personal Statement? Contact Us
Top universities for anesthesiology residency programs
The institute where you pursue your anesthesiology residency programs will have a great influence on your future. So, choose a place which meets your goals and dreams.
Here is a list of the top ten universities for anesthesiology residency programs.
McGill University
Johns Hopkins University
University of Kentucky college of medicine
Harvard University
University of Ottawa
University of California–San Francisco
The Royal Melbourne Hospital
Duke University
McMaster Faculty of Health Sciences
University of Pennsylvania (Perelman)
Wrapping up
We truly hope that you have found this blog helpful in understanding about anesthesiology personal statement.
Have you got anything else to clarify in this regard?
Feel free to let us know.
We are excited to hear your feedback, suggestions, or comments about this blog.
You can leave them all in the comment section below.