An above-average personal statement is the trump card to cement your seat at your favorite place for a master's program. And that's exactly what you are here for. To learn about writing a personal statement for masters application. In this blog, you will learn about
The personal statement structure
Personal Statement for Masters in education Example
Dos and Don'ts
What is Personal Statement for Masters? Why Do You Need One?
A personal statement for masters is a comprehensive essay that a candidate writes to demonstrate to the admission committee that he is a perfect fit for the Master's program. Approximately 500 words is the ideal length for this document.
Why Does a Candidate Require an Outstanding Personal Statement for Masters?
An average or poorly written personal statement for masters can lessen your chances of getting selected for the following reasons.
Personal statement makes the selection of candidates with similar GPAs easier.
Personal statement helps selectors understand the personality of the candidate.
From a personal statement, selectors understand the candidate's communication skills.
Personal statement is used to discern a candidate's integrity and honesty.
Need Help In Writing Masters Personal Statement? Contact Us
Five Basic Questions You Must Answer in Your Personal Statement for Masters Program
What motivates you to pursue masters program?
Is the course compatible with your skill set?
What makes you different from other applicants?
What are your plans for the future?
How would you add value to the goodwill of the institution?
Simple Steps to Write a Personal Statement for Masters
Follow these simple steps to crack the daunting question 'how to write a personal statement for masters.
Get familiar with guidelines:
The program you are applying to will provide you with some guidelines for writing a personal statement for masters. Read them carefully and familiarize yourself.
Use a proper format:
Your personal statement should be written in a formal essay format and be detailed. The selectors want to know more details from you than what a resume can offer.
Know the requirements:
Get a clear picture of the master's program and customize your personal statement accordingly. It shouldn't sound like a generic personal statement for masters sample.
Keep it professional:
Keep your personal statement professional by eliminating all mistakes and making it seem interesting and coherent from start to end.
Match your background:
If you have a background in the master's program you are applying to, match your profile with the program. If not, explain your reasons for the domain change.
Reflect your personality:
Your personal statement should be unique and personal. Add your personal touch to it by indicating your strengths, weaknesses and how you overcome them.
Need Help In Writing Masters Personal Statement? Contact Us
Structure of a Personal Statement for Masters
The structure of your personal statement is an important aspect to look into. Follow these guidelines to ensure a high level of authenticity and professionalism in your document's structure.
Write your personal statement as a reflection of yourself.
Do not exceed the recommended word limit, which is not more than 500 words or do not go beyond one page of an A4 size paper.
Keep your personal statement logically sequenced. An appealing introduction that captures the reader's attention followed by a detailed body that throws light on your experience and motivation for choosing a certain master's program. Finally, a reiterating conclusion that explains why you are the right fit for the course.
Label each paragraph with appropriate headings. For example, academic background, experience, why this course, future plans etc.
Make your essay easy to read with simple language, short sentences, and the use of active voice.
Ensure accuracy in your personal statement by eliminating all grammatical and spelling mistakes.
Personal Statement for Masters Example
Having seen how to write a personal statement and what to talk about in it, you may now want to see what a real personal statement for masters example pdf will look like. Here is one for you to go through and analyze.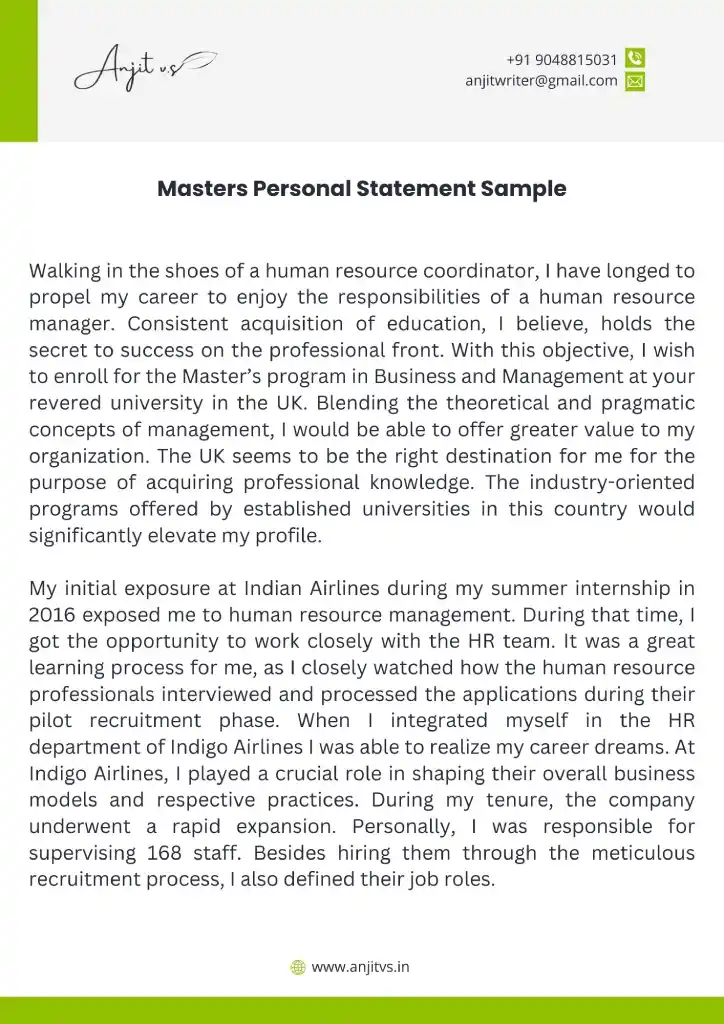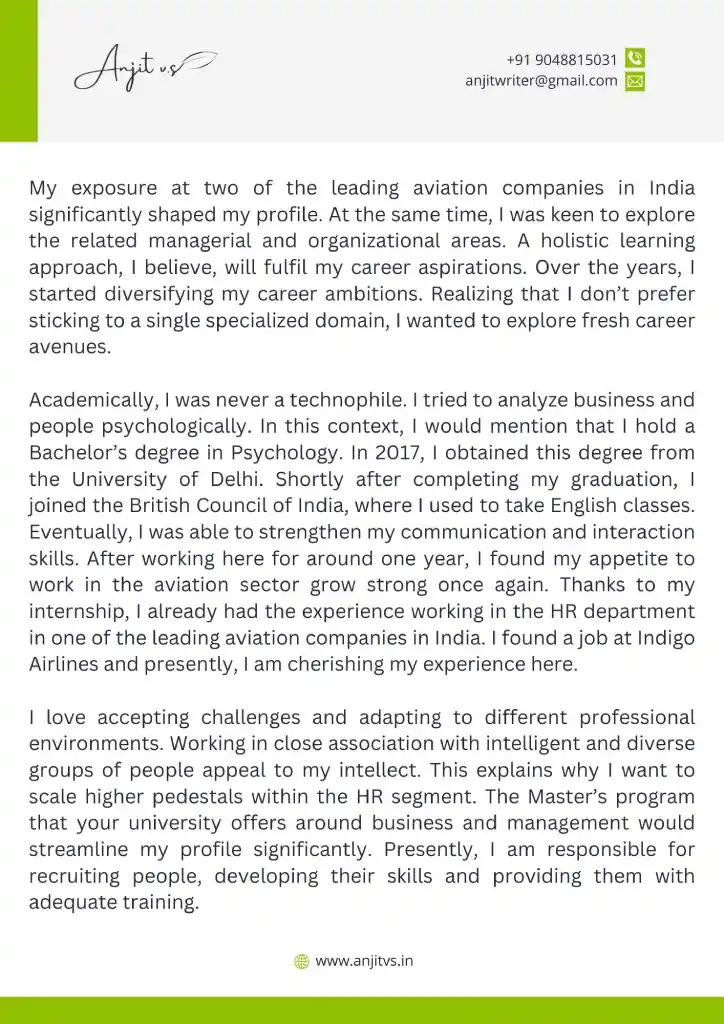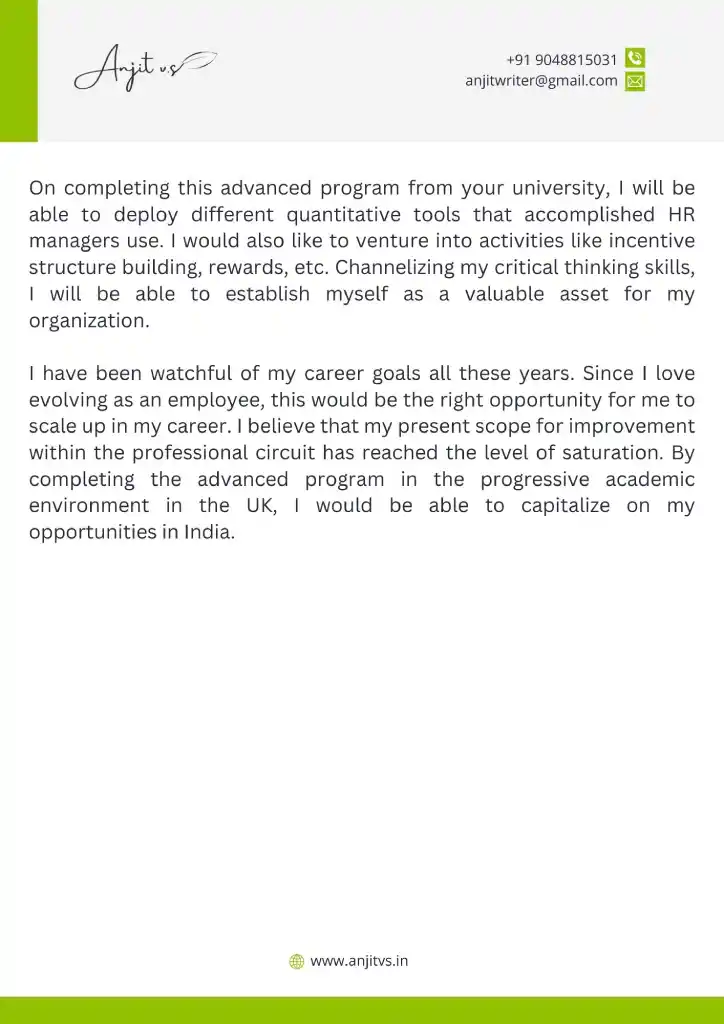 Walking in the shoes of a human resource coordinator, I have longed to propel my career to enjoy the responsibilities of a human resource manager. Consistent acquisition of education, I believe, holds the secret to success on the professional front. With this objective, I wish to enroll for the Master's program in Business and Management at your revered university in the UK. Blending the theoretical and pragmatic concepts of management, I would be able to offer greater value to my organization. The UK seems to be the right destination for me for the purpose of acquiring professional knowledge. The industry-oriented programs offered by established universities in this country would significantly elevate my profile.
My initial exposure at Indian Airlines during my summer internship in 2016 exposed me to human resource management. During that time, I got the opportunity to work closely with the HR team. It was a great learning process for me, as I closely watched how the human resource professionals interviewed and processed the applications during their pilot recruitment phase. When I integrated myself in the HR department of Indigo Airlines I was able to realize my career dreams. At Indigo Airlines, I played a crucial role in shaping their overall business models and respective practices. During my tenure, the company underwent a rapid expansion. Personally, I was responsible for supervising 168 staff. Besides hiring them through the meticulous recruitment process, I also defined their job roles.
My exposure at two of the leading aviation companies in India significantly shaped my profile. At the same time, I was keen to explore the related managerial and organizational areas. A holistic learning approach, I believe, will fulfil my career aspirations. Over the years, I started diversifying my career ambitions. Realizing that I don't prefer sticking to a single specialized domain, I wanted to explore fresh career avenues.
Academically, I was never a technophile. I tried to analyze business and people psychologically. In this context, I would mention that I hold a Bachelor's degree in Psychology. In 2017, I obtained this degree from the University of Delhi. Shortly after completing my graduation, I joined the British Council of India, where I used to take English classes. Eventually, I was able to strengthen my communication and interaction skills. After working here for around one year, I found my appetite to work in the aviation sector grow strong once again. Thanks to my internship, I already had the experience working in the HR department in one of the leading aviation companies in India. I found a job at Indigo Airlines and presently, I am cherishing my experience here.
I love accepting challenges and adapting to different professional environments. Working in close association with intelligent and diverse groups of people appeal to my intellect. This explains why I want to scale higher pedestals within the HR segment. The Master's program that your university offers around business and management would streamline my profile significantly. Presently, I am responsible for recruiting people, developing their skills and providing them with adequate training. On completing this advanced program from your university, I will be able to deploy different quantitative tools that accomplished HR managers use. I would also like to venture into activities like incentive structure building, rewards, etc. Channelizing my critical thinking skills, I will be able to establish myself as a valuable asset for my organization.
I have been watchful of my career goals all these years. Since I love evolving as an employee, this would be the right opportunity for me to scale up in my career. I believe that my present scope for improvement within the professional circuit has reached the level of saturation. By completing the advanced program in the progressive academic environment in the UK, I would be able to capitalize on my opportunities in India.
Remember that the masters application personal statement example given above is reference only. Beware that copying any point from it will result in plagiarism.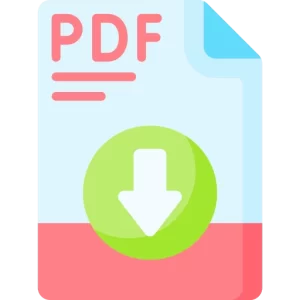 Download Personal Statement for Masters Example PDF
Postgraduate Personal Statement Example UK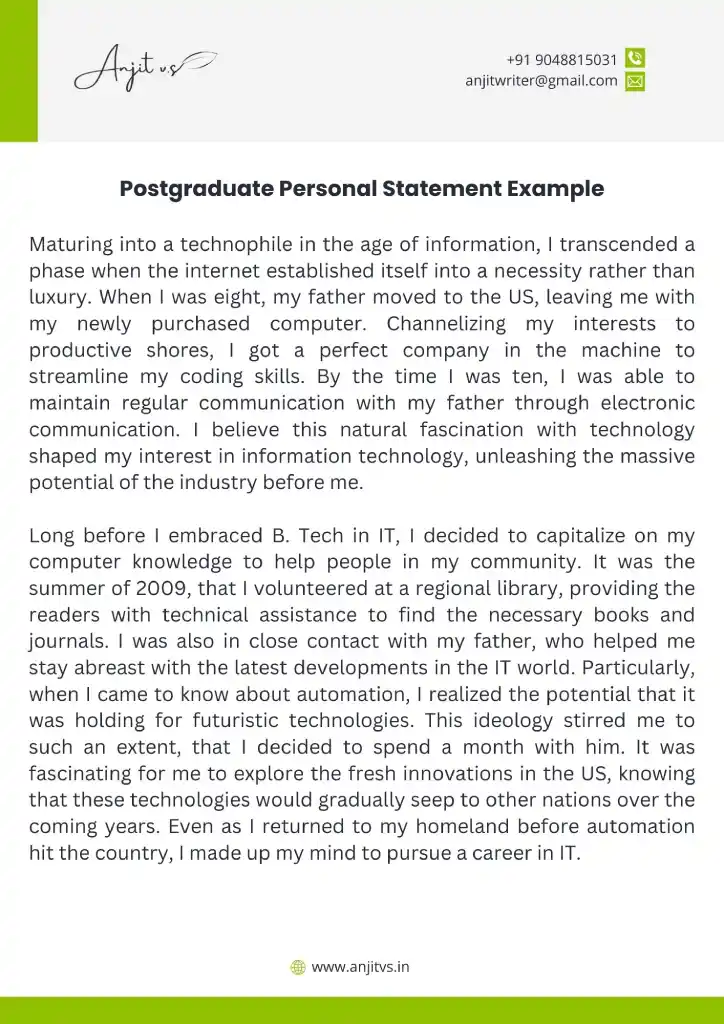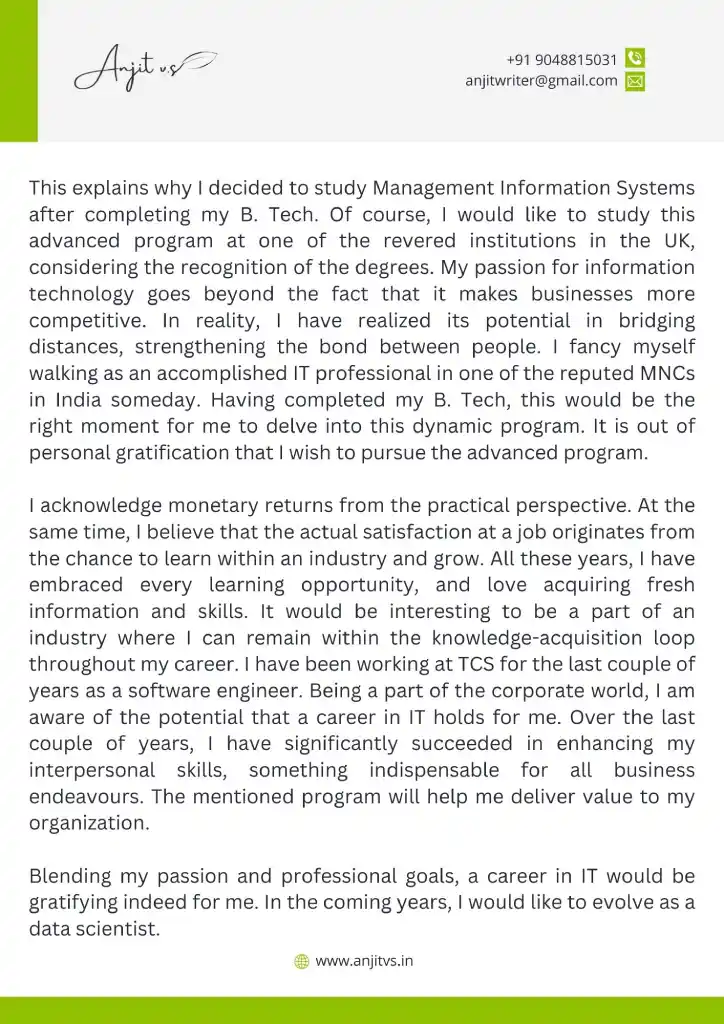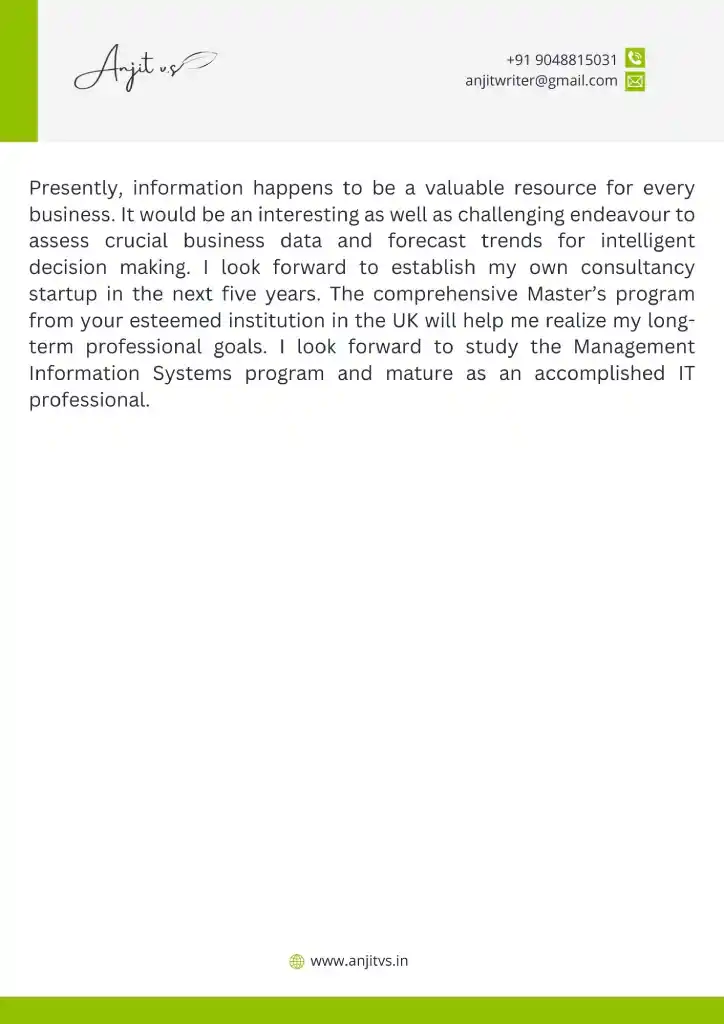 Maturing into a technophile in the age of information, I transcended a phase when the internet established itself into a necessity rather than luxury. When I was eight, my father moved to the US, leaving me with my newly purchased computer. Channelizing my interests to productive shores, I got a perfect company in the machine to streamline my coding skills. By the time I was ten, I was able to maintain regular communication with my father through electronic communication. I believe this natural fascination with technology shaped my interest in information technology, unleashing the massive potential of the industry before me.
Long before I embraced B. Tech in IT, I decided to capitalize on my computer knowledge to help people in my community. It was the summer of 2009, that I volunteered at a regional library, providing the readers with technical assistance to find the necessary books and journals. I was also in close contact with my father, who helped me stay abreast with the latest developments in the IT world. Particularly, when I came to know about automation, I realized the potential that it was holding for futuristic technologies. This ideology stirred me to such an extent, that I decided to spend a month with him. It was fascinating for me to explore the fresh innovations in the US, knowing that these technologies would gradually seep to other nations over the coming years. Even as I returned to my homeland before automation hit the country, I made up my mind to pursue a career in IT.
This explains why I decided to study Management Information Systems after completing my B. Tech. Of course, I would like to study this advanced program at one of the revered institutions in the UK, considering the recognition of the degrees. My passion for information technology goes beyond the fact that it makes businesses more competitive. In reality, I have realized its potential in bridging distances, strengthening the bond between people. I fancy myself walking as an accomplished IT professional in one of the reputed MNCs in India someday. Having completed my B. Tech, this would be the right moment for me to delve into this dynamic program. It is out of personal gratification that I wish to pursue the advanced program.
I acknowledge monetary returns from the practical perspective. At the same time, I believe that the actual satisfaction at a job originates from the chance to learn within an industry and grow. All these years, I have embraced every learning opportunity, and love acquiring fresh information and skills. It would be interesting to be a part of an industry where I can remain within the knowledge-acquisition loop throughout my career. I have been working at TCS for the last couple of years as a software engineer. Being a part of the corporate world, I am aware of the potential that a career in IT holds for me. Over the last couple of years, I have significantly succeeded in enhancing my interpersonal skills, something indispensable for all business endeavours. The mentioned program will help me deliver value to my organization.
Blending my passion and professional goals, a career in IT would be gratifying indeed for me. In the coming years, I would like to evolve as a data scientist. Presently, information happens to be a valuable resource for every business. It would be an interesting as well as challenging endeavour to assess crucial business data and forecast trends for intelligent decision making. I look forward to establish my own consultancy startup in the next five years. The comprehensive Master's program from your esteemed institution in the UK will help me realize my long-term professional goals. I look forward to study the Management Information Systems program and mature as an accomplished IT professional.
Put an end to your unending search for masters personal statement example.
We have brought to you one customized sample to review.
Download your personal statement for masters example pdf here.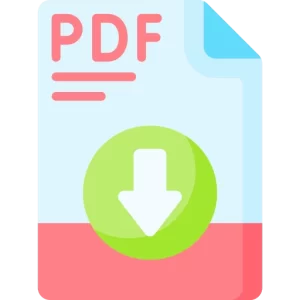 Download Postgraduate Personal Statement Sample PDF
Guidelines About Using the Right Language
Write the opening paragraph of your personal statement in an engaging tone, making the reader read the document till the end.
Be conscious to use simple and fresh language to make your personal statement stand out.
Be careful to rectify grammatical and spelling mistakes. Do not compromise on using the right punctuation.
Avoid using extravagant terminologies or jargon in your personal statement.
Short sentences written in active voice would make your document look more appealing.
Want to Make a Personal Statement for Masters Mistake-Free? Here are the Dos and Don'ts
Don'ts
Don't rely on online samples to draft your personal statement.
Don't sound negative.
Don't wait for the last minute to draft your personal statement
Don't try to praise the institute.
Do not sound like begging for admission in your personal statement
Do not plagiarize your SOP.
Do not let repetition of points in your document.
Do not exaggerate your achievements or skills.
Dos
Give strong and convincing reasons for your selection of the masters program
Talk about your goals.
Explain how the course will help you attain your goals
Underscore what makes you different from other applicants.
Add evidence while talking about skills and achievements
Give an account of relevant experiences, internships, or any other areas.
Highlight your soft skills – time management, leadership, communication etc.
Looking Experts for Writing Your Masters Personal Statement?
How to Start a Masters Personal Statement?
For most students, the question of how to start a masters personal statement is a big challenge.
Begin your masters application personal statement as naturally as you can, avoiding cliched phrases.
If you get stuck at the start, leave it there and continue writing the document. Once you are finished, come back to the introduction.
You will certainly find some interesting opening sentences to begin with.
How to Write Conclusion of a Personal Statement for Masters?
Wondering about how to conclude your personal statement for masters program? Consider these tips.
Make your conclusion a memorable one by writing it short, straight to the point and impactful.
Conclusion should give a brief summary of what you talked about in the entire essay in one or two sentences.
Make it simple and explain why selecting you will be an asset to the institution.
End on a positive note thanking the reader for considering your application.
Need Help In Writing Masters Personal Statement? Contact Us
Top Ten Masters Program Chosen for Abroad Studies
Masters in Cyber Security
Masters in Business Administration
Masters in Social Work
Masters in International Relations
Masters in Psychology
Masters in Engineering & Technology
Masters in Data Science
Masters in Interior Design
Masters in Computer Sciences
Masters in Economics
Top Ten Universities Abroad for Masters Program
California Institute of Technology
Stanford University
University of Cambridge
University of California, Berkeley
Imperial College London
University of Oxford
Harvard University
Massachusetts Institute of Technology
Princeton University
Yale University
Do You Have an Idea for Something not Available Here?
Now that you have learnt how to write a personal statement for masters application.
Are you confident to draft a personal statement on your own now?
Or are you stuck at some point while writing and you want to get some advice?
Whatever questions or concerns you have; we are excited to learn from you and help you further. Leave all your questions, comments and concerns below.