I provide superior quality letter of recommendation writing services, in other words LOR writing services in India to students and professionals in Kerala, India and even outside. Every letter written is planned strategically to endorse the qualities of candidates in the most professional and convincing manner.
How to write a letter of recommendation or reference letter? Checking some reference letter format or sample (example) won't always help. Expertise is imperative when it comes to creating such a crucial document. This is where I can assure you nothing less than excellence with my reference letter writing India based services.
I write reference (recommendation) letters for:
MBA
Medical School
Nursing
Pharmacy
Internship
Job (Employment)
Employee
Promotion
Professor
MS
MS in Mechanical
Manager
Coworker
Higher Studies
Masters
Scholarship
MS in CS
Friend
Character
reference
Teacher
Most common requirements in terms of LOR Writing Services
Letter of recommendation for student
Students encounter need for college recommendation letter, especially when they are planning to study abroad. It is actually meant to be written by their previous professor or employer. A solid letter of recommendation for student from his/her professor or previous employer can enhance his/her chances of getting picked up.
They will definitely be willing to endorse your skills. But mainly because of the lack of time, they would ask you to make the academic recommendation letter by yourself and get the matter approved by them. In such a scenario, you need professional assistance for writing a reference and this is where my writing skills as a LOR writer Kerala, India can be of help for you.
Backed by years of experience I can read the impulse of the foreign universities better than others. In case you require the services from an academic letter of reference writer India, free feel to give me a knock. You will get an insightful document that can break the ice. When you face stiff competition from meritorious students, a well-crafted letter of recommendation can
make the difference.
Scroll down to see the reference letter sample done by me.
Recommendation letter sample
Below reference letter sample may give you a basic idea regarding how to write a letter of recommendation for student. But never copy-paste the below sample and edit with your details. Every university check all the documents sent using best plagiarism checking software. Also, the letter of recommendation format varies based on the background of student and the
exact purpose.
LOR by Jean Jacob
Delivery Manager, TCS Kochi
Professional relationship – Onsite Manager, Team Leader
Madhav Raman is a name that is synonymous with dedication and hard work for me. Our professional association spans 6 years in TCS. As his onsite manager, mentor and team leader, I had been thoroughly impressed by his traits of thinking out of the box and applying himself relentlessly till the desired outcome is achieved. He had donned a plethora of roles ranging from .Net developer, Quality Assurance analyst to Automation engineer. He had matured as a discerning professional over the years.

Madhav had joined TCS as a fresher. Right after on-boarding, he set down to work with dedication and diligence that can only be attributed to a seasoned professional. His instinctive programming skills and willingness to walk the extra mile rendered him special among his counterparts. In his very first month, he had built a website hosted in our local server using C#, MS visual studio and MS access database. He had executed this in his leisure period after duly attending to his assigned chores. His attitude and professionalism are remarkable. I had received his mentor's feedback earlier which corroborated my conviction. During on-boarding process, he had scripted a program for retrieving complex data sets from backend out of his own volition.

Madhav's quick learning ability and ingenuity had inspired our team to entrust him with complex projects at the very beginning of his professional stint. He showed remarkable prowess in mastering applications and their functionalities within significantly shorter span. Riding on the back of this intellect, our team went on to cross many milestones.

He had showcased a spartan resolve in handling challenges and dealing with issues. His presence used to motivate other team mates and helped them be more productive and efficient. Our trust in him has always proved justified. This was demonstrated amply when he was assigned with a prestigious offshore project just after completion of his first year in the organization. He had to migrate to client's location in Markham, Canada for a period of 2.5 years. The role demanded a thorough understanding of the application and superb inter-personal skills which were both replete in Madhav. Another instance was when a client of TCS was breaking ground for new operations in Gurgaon, India and sought the services of a key Subject Matter Expert for assistance in automation. Madhav took it upon him and his strategies saw him succeed in it with flair. Madhav is also a talented, mellifluous singer. His team spirit, adaptability, agility, and empathy are outstanding.
I am strongly recommending the candidature of Madhav for MS from XYZ University and wish him best of luck.
Custom Heading
I am here to provide you with letter of reference writing services in Kerala at reasonable rates and you will be happy when you reap long term benefits in future. A reputed professional has the ability to mould the image of the applicant in a favourable way. So, you will benefit a lot in qualitative terms when you get the services from the letter of reference writer Kerala.
Professional reference letter (job reference letter)
Job seekers usually need professional reference letters from their previous teachers, colleagues, team leaders or managers. It serves as a testimony to the quality performance showcased by them during your previous tenure. Certain jobs make LORs mandatory and hence knowing how to write a letter of recommendation is important.
LORs or letter of references (recommendations) should serve the purpose of proving the efficacy and capability of the candidate in light of his prospective job position. It is always advisable to put in specific instances where the employee proved to be a valuable asset to the organization. The LOR must look professional and in proper letter of recommendation format.
While writing a job reference letter, I make sure that I use the best format and right template. I go through the job description and the requirements demanded by concerned designation. Even if it's a general letter, I will be writing it to suit multiple job application purposes in the best possible way. The whole tone will be kept positive and in case of any guidelines is there,
they will be followed.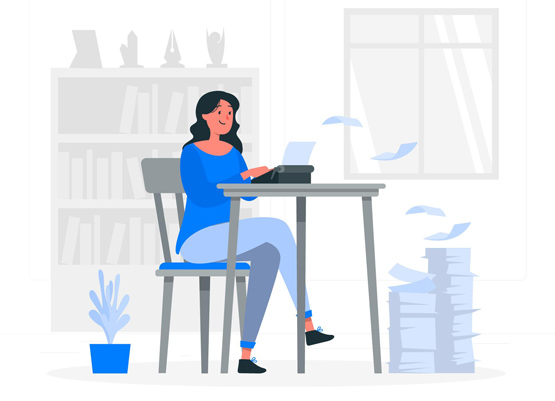 Hire the best LOR Writer in India
When you seek LOR writing services in Kerala, India from me, I can deliver an unbeatable write-up that will attract the attention of the selectors.
I respect the individuality of every professional and ensure that the matters are personal, factual, elegant and has the desired weightage. The achievements and skills are presented in a professional manner, so that the selectors can perceive his true value.
When you seek the services from me a Letter of recommendation writer Kerala, India you will surely land up in a formidable position among the competition. The letters highlight the character, achievements and skills of an individual in an optimal blend and you will receive the desired limelight. You need the best LOR writer in Kerala, India to craft the material in a professional attire.
Evidently, I will be of optimum help to you when you look out for a letter of recommendation writer India. With my experience and expertise, I can craft the documents with dexterity. You will get the best value of your money from my LOR writing services.