Use Our Resume Writing Services in Pune to Become a Priority Applicant
It is not easy to become a priority applicant on a recruiter's shortlist. But we can help you make it there. Our premier resume writing services in Pune can help your candidature get an edge over hundreds of job seekers. We: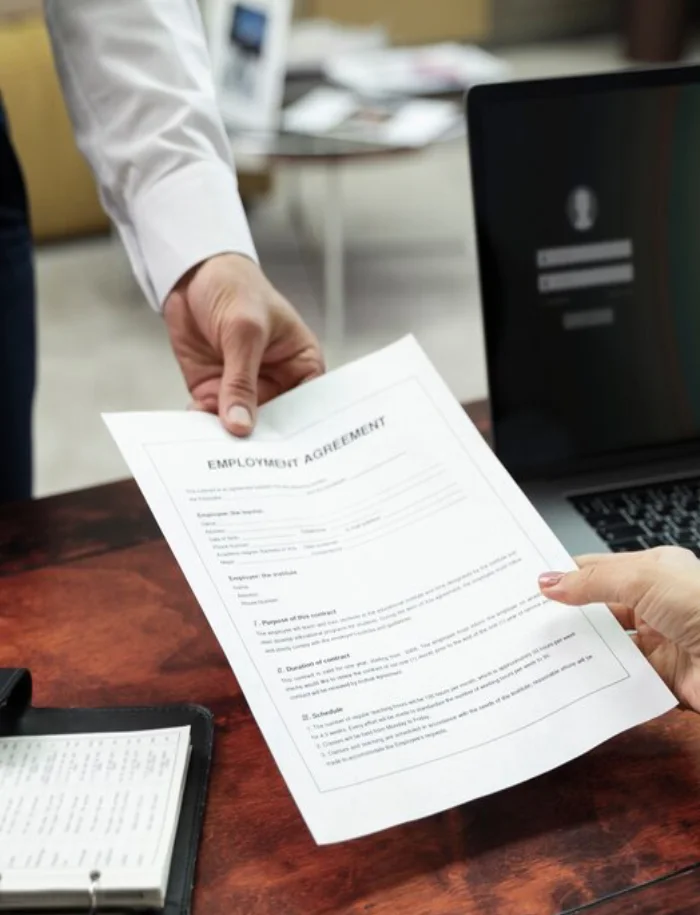 We Are the Most Trusted Resume Maker in Pune
We make resumes that effectively convert into successful job offers. And we do that with the highest level of professionalism and legitimacy. Helping candidates grab their dream jobs has been our motto since the very beginning. This has helped us win the approval of thousands of job seekers in and around Pune. Some of the factors that make us stand out from other professional resume writing services include: 
Quick turnaround time:
We offer multiple delivery schemes starting with a same-day delivery option to a standard delivery plan which gets you the resume in two to three business days.
Best customer support: From the time you contact us, we will keep you in the loop, guiding you with what the next course of action is and updating you about the resume writing progress.
Transparent policies and prices: Before you get started, we will give you a clear overview of how we work, how much we charge and how soon you will get the resume. There is complete transparency. 
Confidentiality of information: Any personal or professional information that you share with us will remain tightly confidential with us and are stored in highly secured and encrypted formats. 
100% Customer Satisfaction: We guarantee you 100% customer satisfaction with our professional resume writing services Pune. From the free consultation to free revision on legitimate requests. 
Counting Our Proudest Achievements!
Certified Professional Resume Writers
Our Professional Resume Writers in Pune Have Perfect Solution for All Jobs
Whether you are a recent graduate seeking an entry-level position or a C-level professional, we know what needs to be in your resume to strike a chord with the employer. From healthcare and hospitality to business to engineering, we have written resumes for over 300 different job positions. Take a look at some of our most frequently requested resumes. 
Resume for Software Developer/Engineer
Resume for Sales Representative
Resume for Marketing Manager
Resume for Human Resources Manager
Resume for Project Manager
Resume for Financial Analyst
Resume for Customer Service Representative
Resume for Graphic Designer
Resume for Registered Nurse
Resume for Operations Manager
Resume for Research Analyst
Resume for Administrative Assistant
Send Us Your Query to Get Started!
We Have Professional CV Writers In Pune Near You
Are you looking for professional CV writing services in Pune closer to where you live? We have certified professional resume writers (CPRW) available in over ten different residential areas in Pune. You can easily find us online by searching 'resume writing services near me.' Please note that our online services are not limited to any specific place. You can enjoy our premier resume writing services from anywhere in the world by booking them from the very convenience of your home. 
Our top-served locations in Pune include:
Here is How You Get Your ATS-friendly Resume from Us
To make it simpler and easier for you, we have evolved a six-step resume writing process. Here is how it works. 
You will send us your current CV or all the details we need. We will send you a checklist for the details we require.
We will carefully assess your profile and figure out how to optimize it for the recruiters of potential firms/companies.
We will give you the expected price and the payment details. You submit the payment to continue with your order.
Our resume maker in Pune will prepare a first cut of the resume and share it with you for your feedback. You can suggest changes you want.
We will finalize your resume and send it to our senior editorial team for quality testing, proofreading and validations.
We will email you the final soft copy of your resume in PDF or template word format as you require on or before the stipulated time.
Hear What People Who Trusted Say!
I am amazed by the attention to detail you have given to my CV. By far, your resume services in Pune outdo all competitors. Extremely happy to recommend your service to anyone who needs a formal ATS friendly resume.
Ajay Sandeep,
Pune
Thanks for drafting an outstanding resume and cover letter for me. Both look great and professional. I am excited to see how they are going to impress my hiring manager and help me ace my job application.
Vineeth Sebastian,
Pune
If it were not for my friend, I wouldn't have considered your resume writing services in Pune. My friend strongly recommended your service to me and I gave it a try and I am really impressed. I would like to especially thank Anjit VS for walking me through the intricacies of resume-making.
Muhammad Shakir,
Pune
Interested in Discussing How We Can Assist You? Let's Talk
Frequently Asked Questions
To give you an exact price quote, we need to evaluate your profile and figure out what sort of resume would best suit you. Once you share with us your details, we will conduct a free assessment of your profile and give you the exact price. You only need to pay if you are interested to proceed. 
Confidentiality and safety of your personal information is one of our key priorities. We store your information in an encrypted format and keep them highly confidential. 
Normally, you can expect to receive the final copy of your resume, CV (Curriculum Vitae) or biodata within two to three business days after placing the order. If you are in a hurry and need it a bit earlier, you can book the deluxe services of our resume writer in Pune. This will get you the final resume within 24 to 48 hours.