Accomplish Your Career Dreams with Our Best Resume Writing Services in Chennai
Is landing a job that aligns with your qualifications, experiences and dreams your longtime wish? Be assured that we can be your best companion in that pursuit. Our best resume writing services in Chennai help hundreds of candidates get noticed by the hiring managers of their desired companies or firms. Our resume writing services incorporate: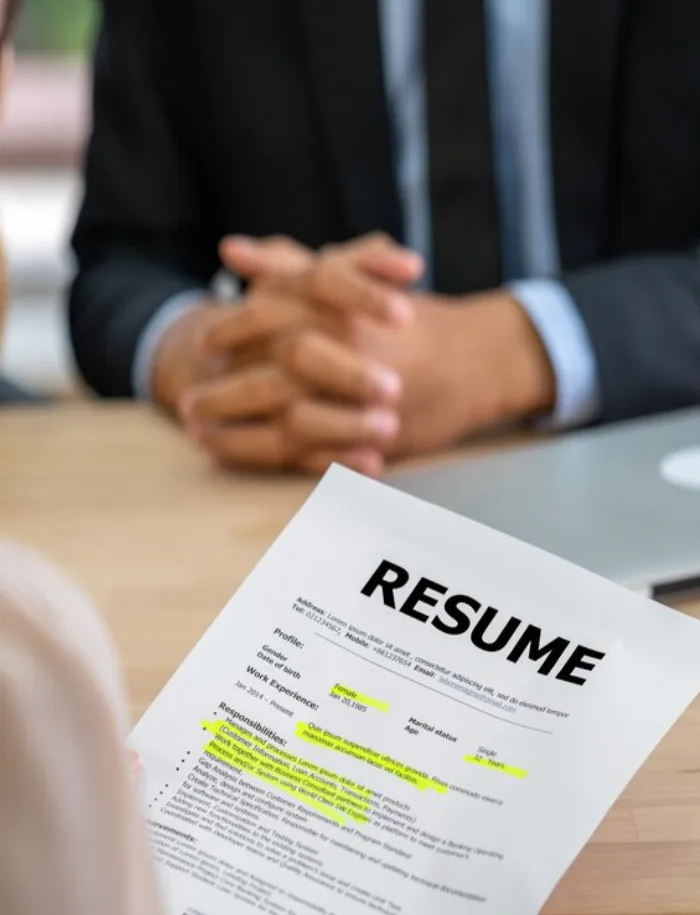 What Makes Our Resumes the Best in Chennai?
We incorporate the best job-hunting practices that most recruiters and employers in Chennai appreciate. Our more than 10 years of presence in Chennai offering premier resume writing services leave us with strong knowledge of more than 500 companies scattered across various outskirts and industries. Take a look at the key qualities we help you enjoy while buying CVs from our resume writers in Chennai. 
Measuring Our Success in Numbers!
Why Should You Start Job Search with A Professional Resume?
The most coveted benefit of a professionally written resume is that it helps you land your dream job 10x faster than a resume that you write by yourself. If you are wondering whether you should actually get a professional resume or use one that you yourself have made, here are some reasons to go with the former option. 
Want to hire our resume maker in Chennai to draft a perfect resume? Contact us now!
Major Locations Where You Can Find Our Resume Writing Services in Chennai
By looking for us with the keyword 'resume writing services near me,' you can locate us in your preferred locations in Chennai. On top of that, we streamline our online services, making it possible for you to purchase the best resume writing services in Chennai from anywhere in the world.
Our top locations in Chennai are:
We Craft Your Winning CV for Any Job
We take pride in creating a CV/resume portfolio for more than 200 different job titles across all the different industries. Here is a list of the top ten job titles for which we have made the most resumes in the past quarter of the year. 
Resume for Project Manager
Resume for Marketing Manager
Resume for Financial Analyst
Resume for Human Resources Manager
Resume for Resume for Executive Assistant
Resume for Registered Nurse
Resume for Digital Marketing Specialist
Our 6-Step Resume Drafting Methodology
Step One – Initial Consultation:
You contact us and we will discuss in length your unique resume requirements.
Step Two – Order Placement:
We give you the price and payment details. You confirm your order by completing the payment.
Step Three – Research and conceptualization:
We assign the project to our resume builder in Chennai. Research and conceptualisation of your resume are carried out.
Step Four – Review and Feedback:
The first draft of the resume is shared with you for review and feedback. Your suggestions are incorporated into the final soft copy.
Step five – Finalization and Validation:
Once your resume has been finalized, our senior editorial team validates, proofreads and QA tests it and makes it ready for delivery.
Step Six – Order Delivery:
You receive the final PDF copy of your CV in your email on or before the deadline we initially gave you.
What Do They Say? Customer Stories
As a fresher, I was not sure whether I needed a biodata or curriculum vitae or resume. Anjit VS helped me understand the differences between each and crafted a superb resume for me. If you are looking for reliable and professional resume writing services in Chennai, I recommend Anjit VS to you.
Ramesh S
Chennai
Thank you Anjit VS for your timely support in offering excellent cover letter and resume writing services in Chennai. I have been successful in landing my dream job with your help.
Sreevidya Nair,
Chennai
Anjit VS offered prompt support and delegated a team of excellent resume writers in Chennai to work on my engineering resume. So far, I have managed to get three interview invitations from reputed employers in Chennai. Great work team. Keep it up.
Ilyas Muhammad,
Chennai
Looking for Professional Resume Writers in Chennai? Let's Connect!
Frequently Asked Questions